I'm falling behind in my paddle blogging. I actually have two trips to tell ya'll about. My trip two weeks ago to Piermont is where I'll start.
Piermont is a small township in New York, just south of Nyack. Below it, on the south side of a lengthy pier, is a salt marsh, full of tall reeds and critters. Some of my Inwood friends have been up there a few times, and suggested it as a trip. Along with me were IL, AW, AA, BG, and LL. MH met us later in the day in his canoe.
The most notable thing about paddling up there, and later back down, was the wind. It was steady and mostly from the south, occasionally coming from the east. From the south was OK, but from the east, it would cock our boats when it picked up. While not dangerous, it meat that paddling up was some work, and for one of our less experienced paddlers, a hard introduction to the value of a sweep stroke.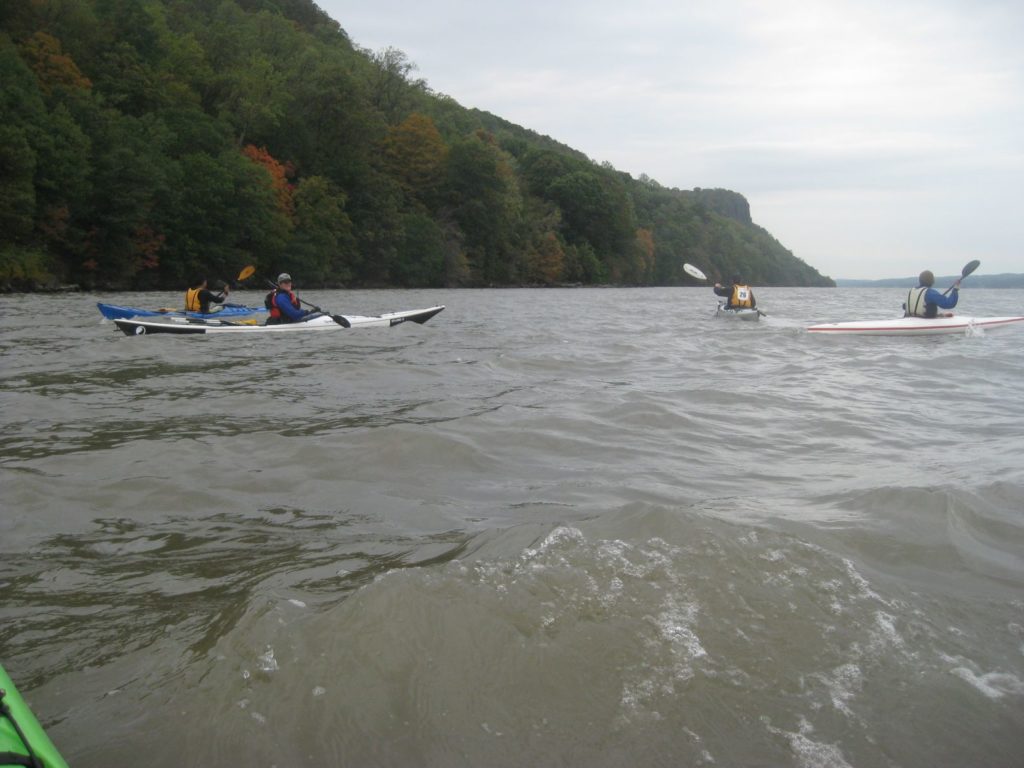 Once we arrived at the marsh, however, things were much calmer. The wind died down, for one thing, and once we were in the marsh, we were sheltered enough that there was pretty much no wind. There were a couple of canals that wind their way through the marsh, allowing us to penetrate pretty deeply, until the weeds narrowed or the water got too shallow – or in one case, a large treefall blocked our path. We maneuvered under branches, around logs, and pushed over mud flats for an hour or so, before heading south for lunch.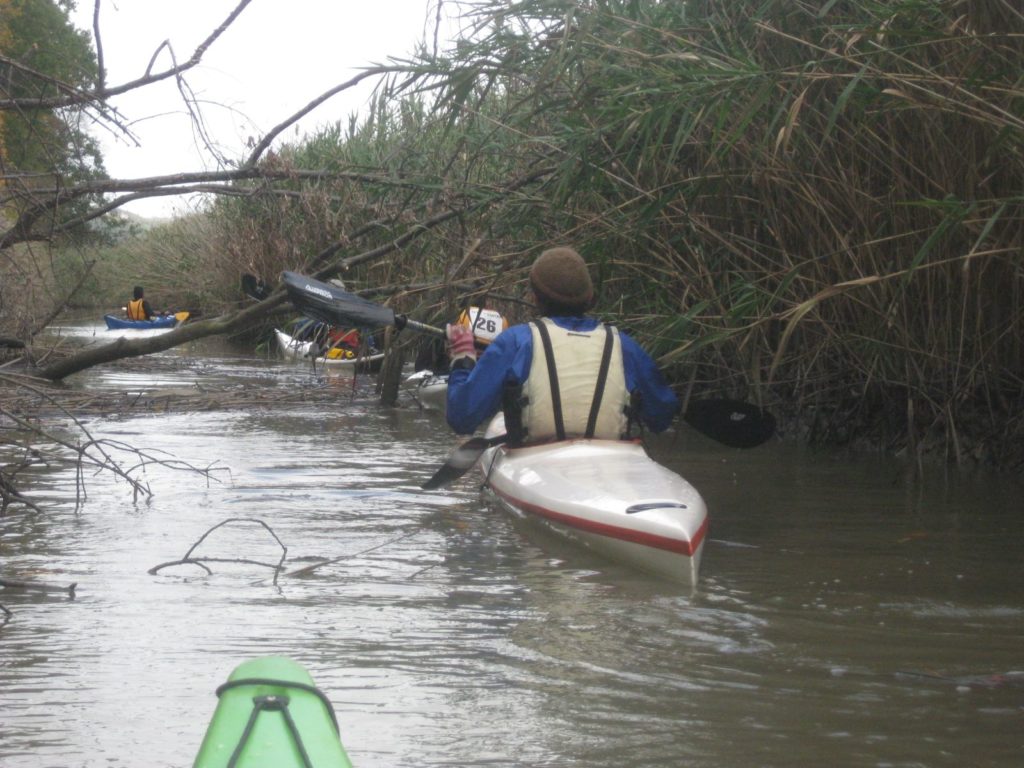 We stopped at a place called "Italian Garden". It's a little beach a couple of miles south of the marsh, part of a hiking trail near Alpine. We'd been there before, on a hiking trip in winter. Now we were landing there in our boats. We had lunch, rested, and waited for the tide to pick up. MH paddled up in his canoe, and by pure coincidence we met someone involved in the community-based testing of water quality, who knew some of the Inwood people from their participation in the program.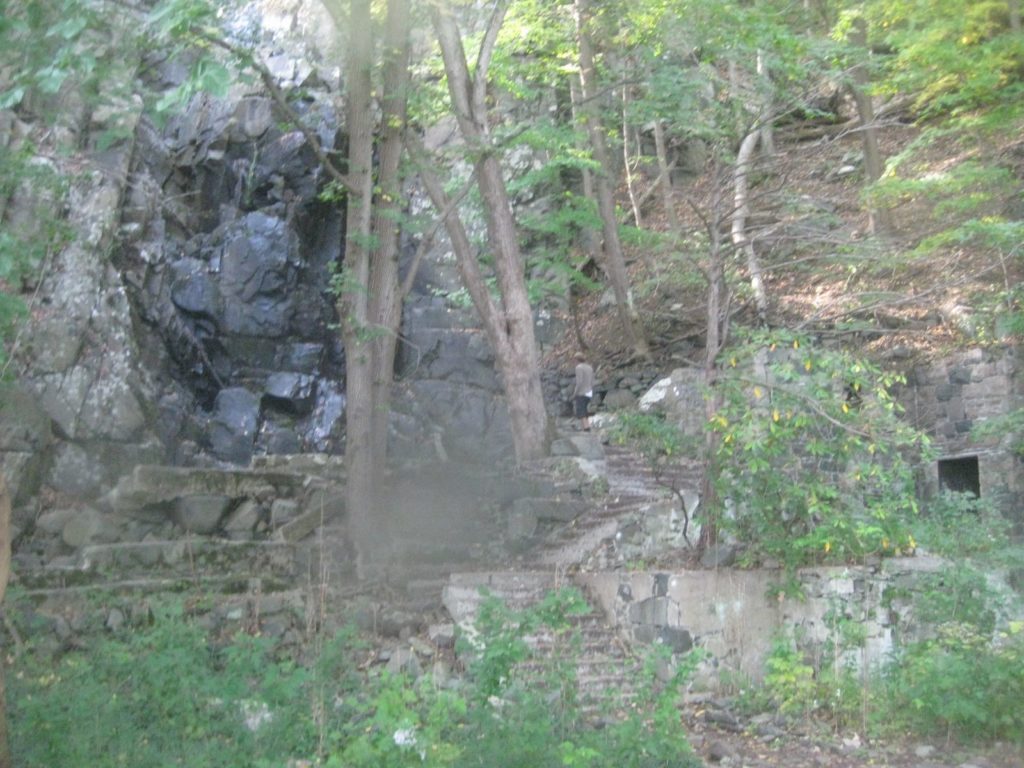 Eventually, it was time to leave and we set out, with the current in our favor but with the wind in our face, giving us some fun waves to play in.
I ought to mention that we also saw the results of a recent rockslide, north of Alpine but below Italian Garden. It occurred last spring, and it's clear from the color of the rock where it happened.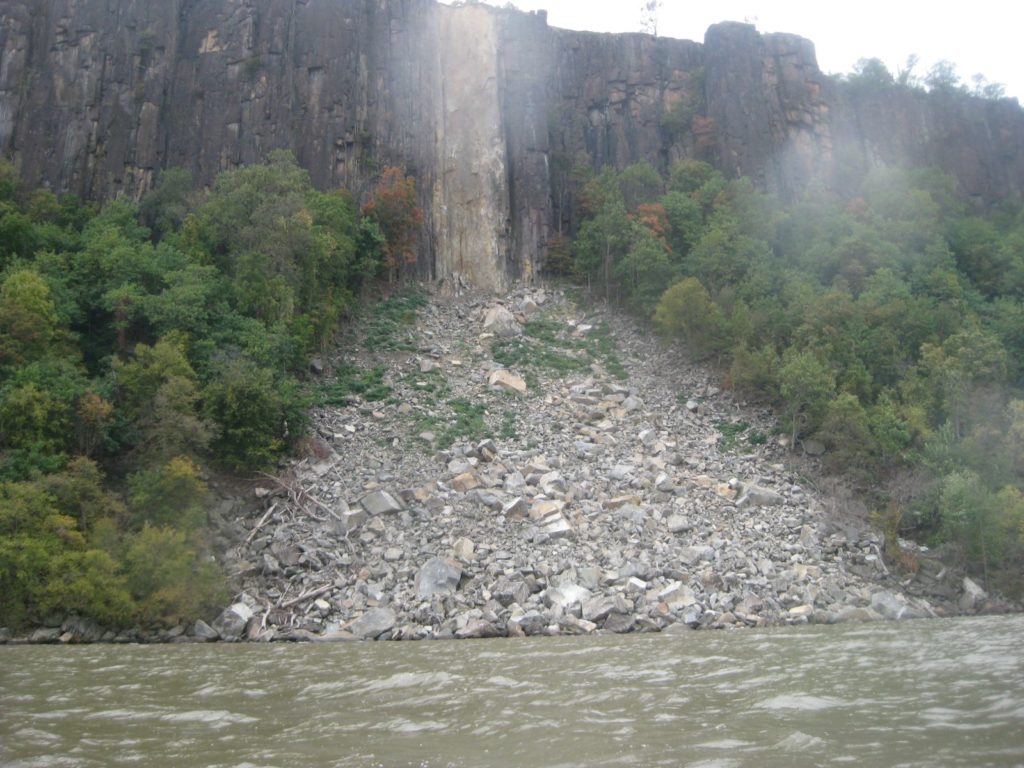 As we passed the marina at Alpine, we spotted the sloop Clearwater, the flagship of Riverkeeper, a non-profit organization devoted to environmental concerns on New York waterways. I actually paddled out to say hello – and get an indication of their intentions, because for a while it looked like they were going to make a U-turn and arc into our path. They weren't – they were heading to Alpine – which made it odd that the next day, we read that they'd run aground in the low tide.
As we came back, we saw familiar landmarks – the Henry Hudson bridge, the George Washington bridge, the New York City skyline in the distance. This was a great trip, one that, like our Bronx Kill trip, took me to an environment totally unlike the big-river paddling I normally do. If you're in the area, the Piermont marsh is a great stop on any itinerary.