I had an idea to go north. I am trying to get myself into the habit of open-ended trips, loading up my boat to support all contingencies and adapting my plan to suit conditions. That said, I wanted a long paddle, to see just how far I could go. I figured I would head for the Tappan Zee Bridge, and stop short if I needed to.
The original float plan was a little aggressive. High tide at Battery was 1300 on the dot, which meant I couldn't really get going before 1100 without fighting more than a little current. It also meant that I'd be arriving back at sundown, or later.
High Tide 1300
Low Tide 1900
Wind predicted to be 9 mph from the east.
1100 Depart
1200 Yonkers Water Treatment Plant
1300 Private Buoy
1400 Tappan Zee Bridge
Layover
1530 Return
1700 Piermont Pier
1800 Private Buoy
1900 Spuyten Duyvil
1930+ Inwood
I was looking forward to this trip all week, packed and ready early, so I was on the water by 1025. A friend of mine had left earlier on a shorter trip north and I hoped to catch up with him, eddy-paddling as much as I could up the eastern side of the Hudson River. I never saw him – turns out, he crossed and went back down on the other side.
I made good time, hitting my first two waypoints at the same relative time (+1 hour, +2 hours) as my original plan. The day was beautiful, near-clear blue skies, a warm sun, and a playful breeze. I passed some barges parked above Englewood Marina. There was hardly any other traffic on the way up.
In short order I was in Yonkers, then Dobbs Ferry, and then territory unknown to me. Most of the trips I've made up this far have been on the western side of the river. Here, I learned a lot of little township names, marking my way by train stations where I could see them: Greystone, Ardsley-on-Hudson, and so on.
I practiced landmark navigation, comparing what I saw with my chart. I found this to be really useful. I could see where I was by identifying landmarks on the chart. I could figure my aggregate speed by finding another landmark about a mile away and timing how long it took to paddle it, and also estimate how long it would take to get to a point by applying what I thought was my speed, +/- what I thought the tides were.
Onward I went, gradually realizing just how far I was headed. This was an open paddle, right? I wasn't dedicated to the Tappan Zee. I was just heading "north". But the bridge was right there. I was almost there.
Have I ever mentioned I am terrible at estimating distances? This was another thing I worked on. I could locate myself on the chart, and see how far I actually was from a landmark, telling myself, "that's how far a mile is".
Onwards I went. There are a a lot of neat little towns on the east side of the river – I don't know why my friends prefer the western side. But now I was opposite Piermont Marsh, a regular day trip for us, and soon north of Piermont Pier – into the "Tappan Zee", a sea, as the Dutch called it.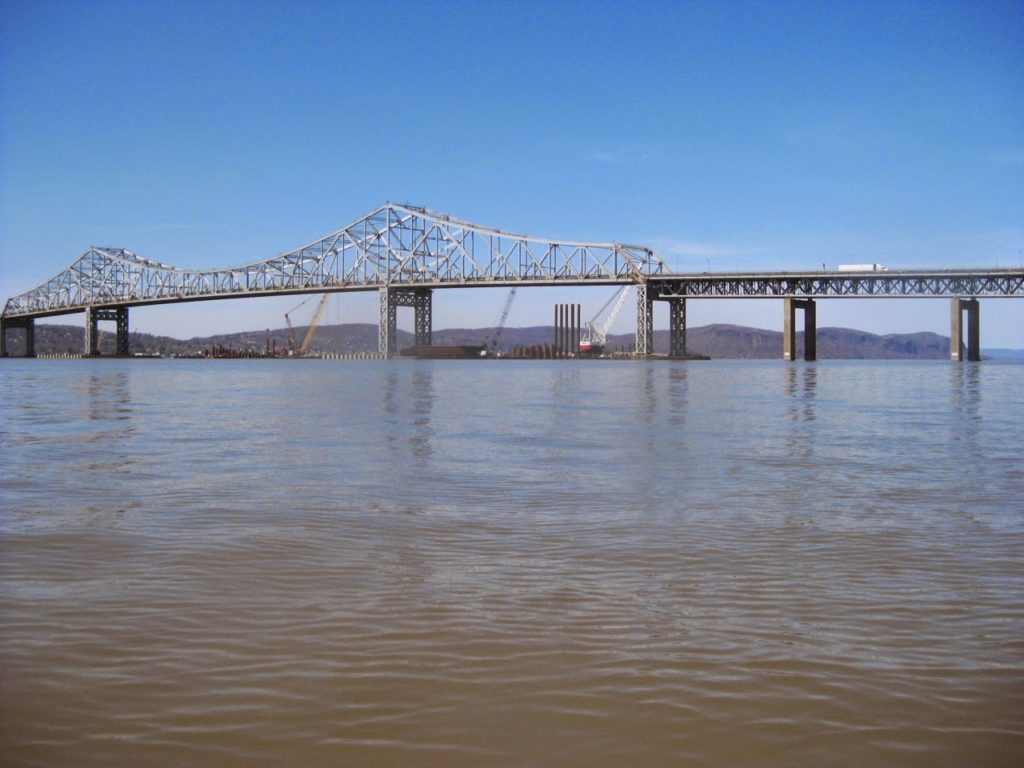 Passing under the bridge, I surveyed the various barges working to build the "new " Tappan Zee Bridge. I imagine that when it's finished it will be interesting to pass through, given a wider path over the river. As it turned out, President Obama made a speech with this bridge as a backdrop, a speech about infrastructure investment. No one asked why anyone ever thought building a multi-lane highway bridge at the widest point in the river was a good idea. NY State lore has it that the governor at the time did it so that he had a key piece of infrastructure, just outside the jurisdiction of the multistate Port Authority, through which he could hand out patronage jobs.
Anyway.
Now I could see Tarrytown Light – just another mile or so. I could write about it, but someone else has done a better job. Around the corner was a beach, where I landed for lunch.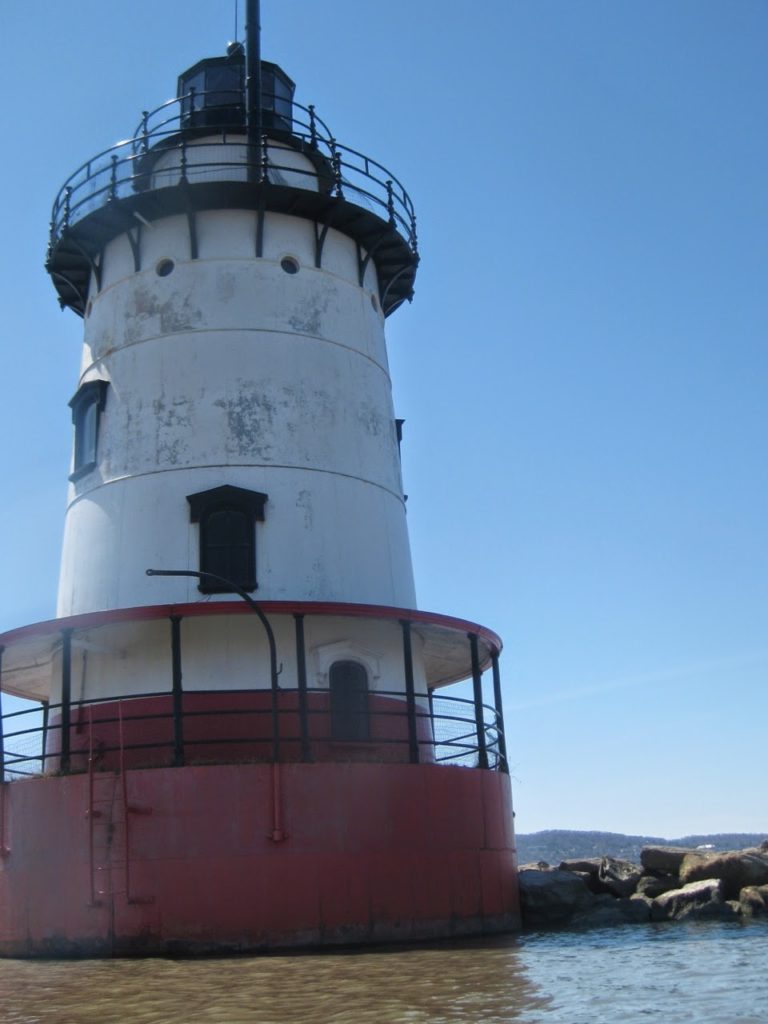 While there, I rested, and several passersby came along from a nearby park. A man with a camera walked past. Two fisherman went by; I would see them later having climbed out on the rocks of the lighthouse, catching a small fish after much effort. Some children came by and dipped their toes in the water, daring each other to drink it. None of them did.
The most interesting visitor was a Russian man, a big middle-aged bear of a man, who sat on a stump contemplating the water. He took off his shoes. He took off his socks. He took off his shirt, and then his pants! Now comfortably clad in only his skivvies, he waded into the water. He sat, soaking in the 44 degree water quite a while, before emerging and donning his clothes again.
I had marked the tide when I came in, and eventually noted its slow decline. Time to leave. I packed everything up, and set on my way. Heading out was pretty straightforward, but below the Tappan Zee I ran into a steady headwind. It would keep up for nearly two hours straight.
I rarely curse the weather. Sometimes I beseech it, like asking the water to talk to the wind and tell him to stop being a jerk. In my cosmology, they are siblings, sister and brother. But this wind would not stop. I muttered under my breath. I argued with the wind. The wind would stop when I stopped paddling and pick up again when I started. Finally, I yelled at the wind before hunkering down and just slogged through, muddling along until the current picked up and I got some nice little waves to play in on the way home.
I got back at 2000 or so – just a little later than planned, and not bad considering that after my head start, I fought a headwind for two hours on the return. MH was waiting for me. He paddles evenings and had already come and gone, but stayed bc he noticed I was out "north" a bit early and hadn't come back yet.
I was tired, but not exhausted, not hypothermic or hypoglycemic or any of that So we caught up, and I washed up. We saw two kayaks go by and only learned later who they were. My inspiration, on a trip I aspire to!
All in all it was a good trip. I took a chance, paddling along so far so early in the year, but the worst I expected, and encountered, was wind, and even that was more annoying than terrible. It was a bonnie day, and I proved to myself how far I could go. I do need to improve my long-term paddling posture, but I ate well and planned well. Which, life doesn't always cooperate this handily, but it's nice when it does.