I went paddling with a friend on the Friday after Thanksgiving. The air temperature was predicted to be relatively warm, in the low fifties, and the rest of the forecast was otherwise acceptable. AW and I met at the Inwood Canoe Club, and went out for a couple of hours, heading south against the current and crossing the river, before heading back with the flood tide.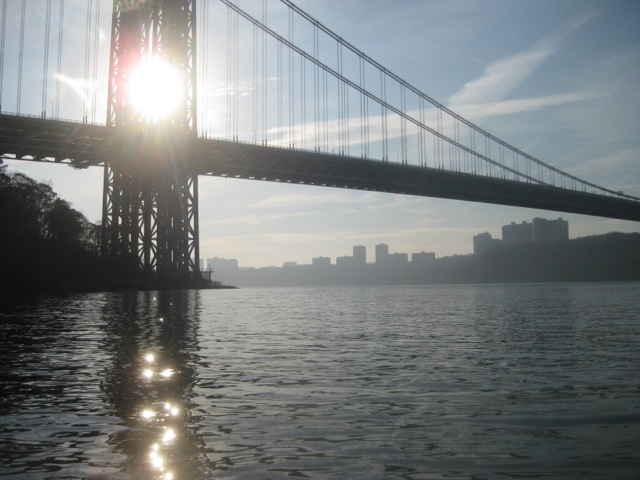 Details for the more technically inclined: because the water temperature is dropping, AW wore her drysuit over layers. I wore a wetsuit with a Kokotat Tropos jacket and waterproof pants, along with some new Kokotat water boots. Unlike scuba diving shoes, the sole is hard, making them better for bracing against foot pegs.
Since the Argonaut (my boat) is trapped at the still-closed Pier 96, I paddled a club Looksha IV. I have most of my gear, including my sprayskirt, so it wasn't too different from how I usually paddle. The main difference is that the Looksha has a rudder system rather than a skeg, as my boat does. I would be missing that skeg later in the trip. AW paddled her Tiderace Xplore-S.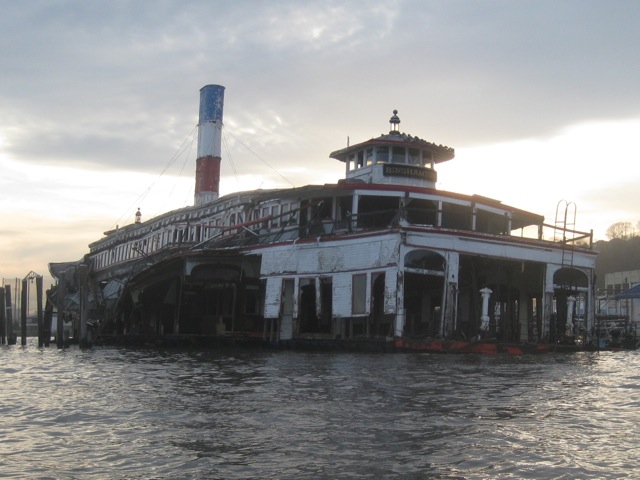 While we got ready, we saw another paddler in a short boat making his way down and across the river. We caught up with him later. His name was Dan Barron, paddling a surf kayak. He had launched at the beach at Dyckman, just north of us, and was on his way back when we caught up with him just north of Riverbank State Park.
We headed down on the Manhattan side, with no particular destination in mind. The current was already flooding in, and would hit max flood about two hours after we left, so the current was increasingly against us as we went. We figured we would get as far as 125th street, and maybe cross the river earlier. Since we felt like we were doing well, we crossed below the George Washington Bridge, and then made our way south. We made it as far as the Ferryboat Binghamton, but not to our reach hoped-for destination of Mitsuwa. While not much further, if we had gone there, we would have have simply turned right around in order to cross the river before it got too dark to be safe. We only had one light between us, and didn't want to risk crossing without more lights.
Traffic was on the light side. We only saw a couple of motor boats, and only one barge, much farther down the river than we were going. There was a DEP boat at Riverbank, which slipped its mooring and headed south while we were resting across the river. There was a NY Waterways ferry coming and going from Edgewater; we saw it a couple of times. Otherwise, however, traffic was very quiet, and we were able to enjoy the scenery.
The foliage along the river really was hitting its autumnal bloom. There were gorgeous red and orange leaves, many falling into the river. We took in some of the new construction along the bike path being created south of the boathouse, and spotted some new ramshackle fishing holes – bespoke wooden shanties along the river that locals fish from. We saw some guys fishing, and we also saw what looked like a volunteer trash cleanup on the rocks just north of the Manhattan tower on the GWB. We also saw some new decorative detritus – a guitar panel hanging from a tree, and a speed limit sign resting on a rock, facing out on the river. This was a land-based sign, mind you, advising speeds no faster than forty miles per hour.
Not too long after we left, I spotted a bottle floating in the water. I paddled close to look at it, becase it looked unusual. I was a wine bottle than someone had turned into a 'message in a bottle', complete with phone number to call. I kept it with me to look at when we got back.
As we paddled, the wind picked up, and after crossing the river, it tended to cock my boat to the left. I did a lot of sweep strokes to the left as we made our way down. On the way back, after crossing the river, the wind changed direction, and tended to cock my boat towards the right, towards Manhattan, when I wanted to go north. The wind didn't feel strong, but the apparent motion of the river was east-to-west, rather than north, as the current was flowing. It was frustrating, but by taking a couple of breaks, I managed to keep the boat headed in the right direction despite the wind.
When we got back, we tried opening the bottle, but it the message was wet inside. I took it home and, after washing the bottle, let it dry with my other gear, eventually using a hair dryer to dry the message out. It came out in two pieces, which, once put back together, spelled out a message of: Thanksgiving 2K12.
I've been considering a drysuit lately, and this paddle certainly makes me want to continue paddling through the winter – for self-maintenance if nothing else. I was surprised at how out of shape I felt after just a month of not paddling. I want to continue paddling in order to keep my skills up, as well as to stay in good physical shape. I have a lot of paddling planned for next summer, and I can't be starting over physically in May.