It's been more than a couple of years since I circumnavigated Manhattan. Whereas I used to manage about one per year, with clients or with my club, since the onset of Covid I've had less demand and even less motivation. I'm happy to say that when prompted by some friends, I got back to it, and rediscovered how joyful a day of paddling in one of America's biggest urban centers can be.
Every circumnavigation is unique, but there are some qualities they all share. They're generally an all-day affair, with about seven hours paddling time and two hours waiting time, broken into two or three segments. Most are counter-clockwise due to the nature of tidal currents. The distance is about thirty miles, and if you get the currents right it's the easiest thirty miles you'll ever paddle. If not, it's going to be a pretty long day.
What was unusual for me about this trip was that we started in midtown Manhattan. Friends from out-of-town CZ and RG were visiting, and mutual friend BK keeps a boat at Manhattan Kayak Company, which offers storage, classes, and walk-up paddling in a sheltered cove next to the Intrepid Sea, Air, and Space museum. Friend from Sebago EL joined as well, and the five of us set out early in the morning.
My car might've been confused, "we've never come here to paddle". Although, come to think of it, I did circumnavigate once by paddling here from Inwood with a friend, meeting two other friends, then taking out again at Inwood while those two friends carried on to MKC.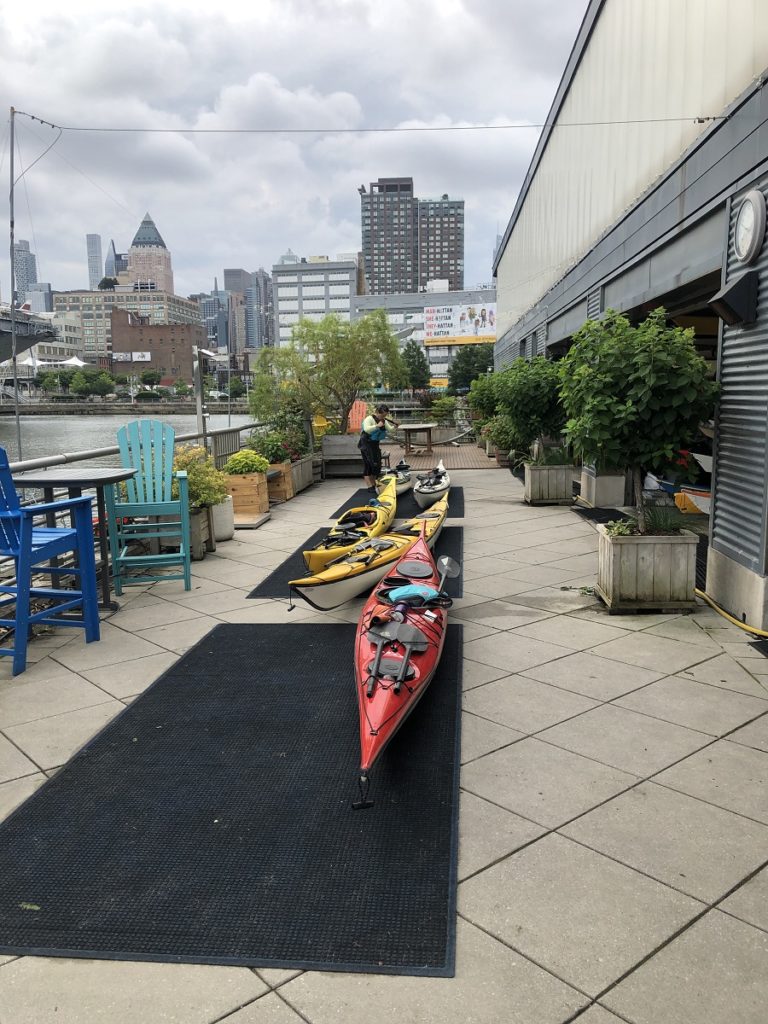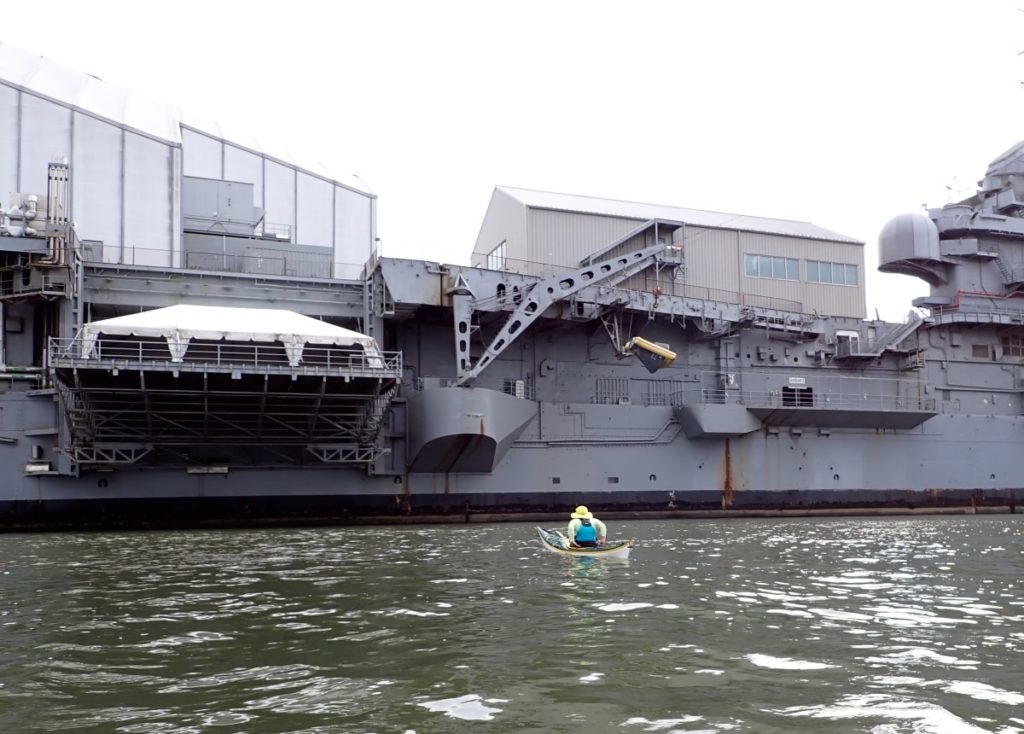 How often can you say you launched next to an aircraft carrier? The Intrepid is a long-retired US Navy aircraft carrier, which is now a museum. That's a replica Mercury space capsule hanging on the side, and a space shuttle is housed on the large garage on the left, on the upper deck.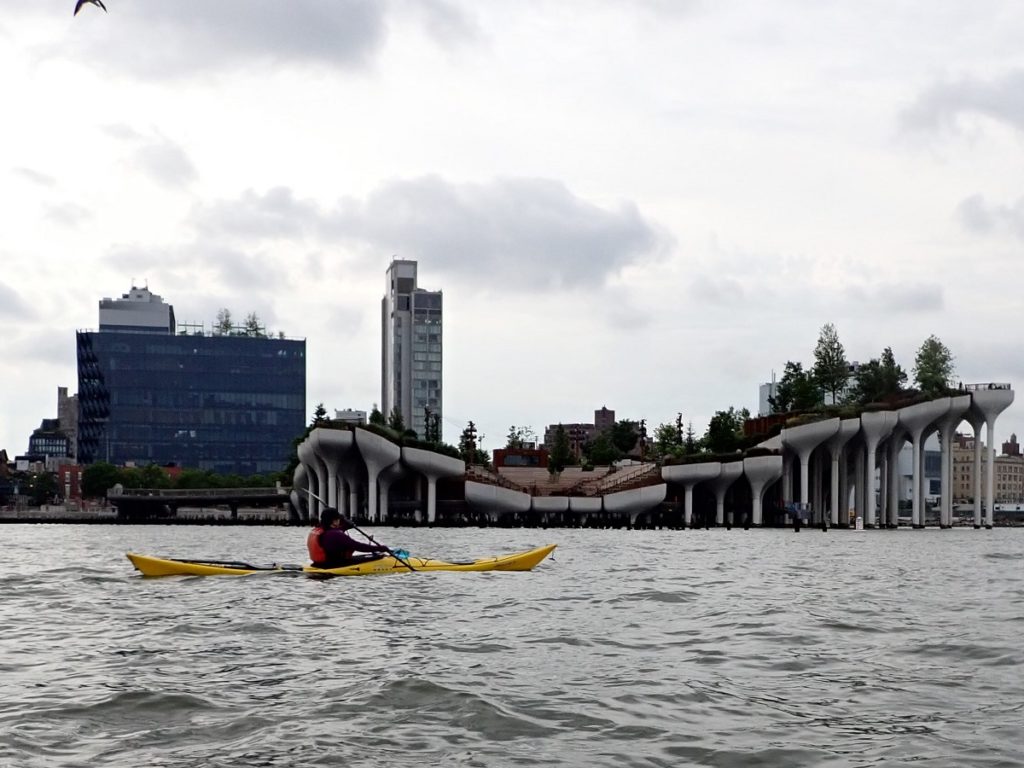 Unusually, we were bucking tide as we paddled south. We made good time, especially considering all the stopping to take pictures along the way. It was the first time for our out-of-town guests, so picture-taking was fully expected.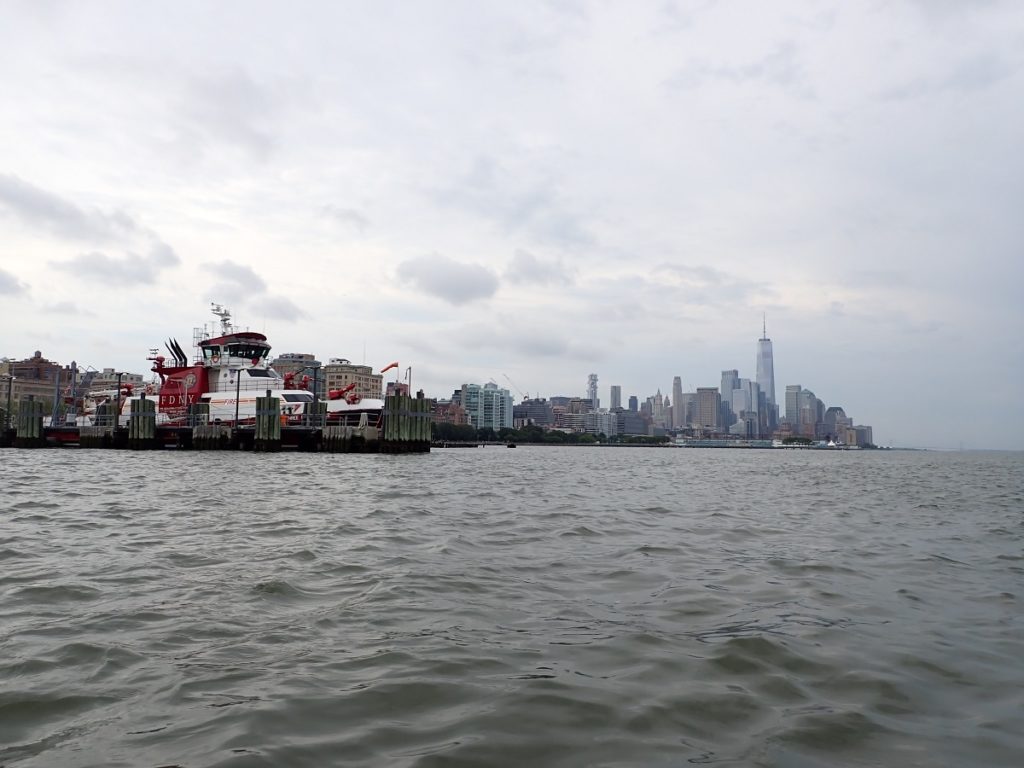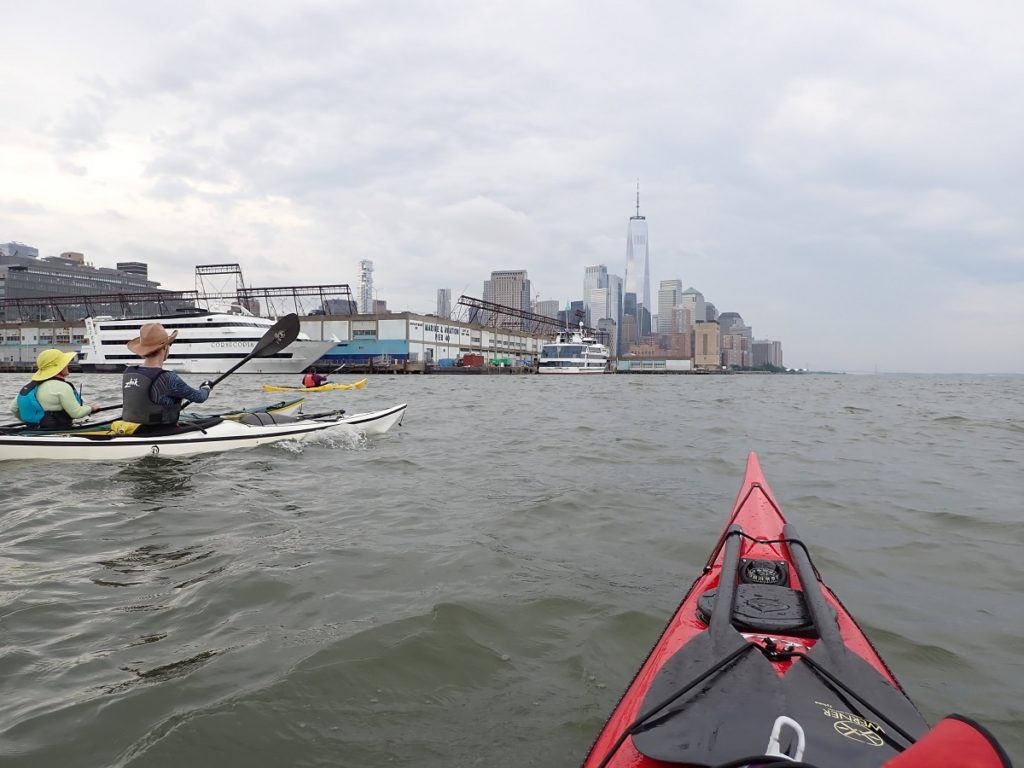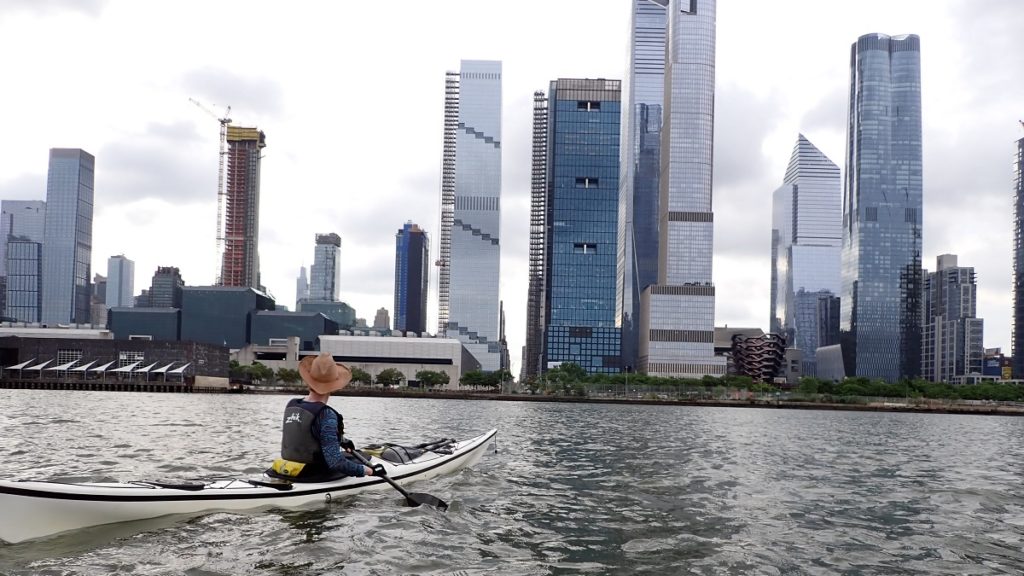 Our first tricky spot was Battery. The ferries for the Statue of Liberty leave from here, and a bit further along the shore is the Staten Island Ferry terminal and the Governors Island Ferry terminal. We had to wait a bit while one statue ferry finished loading and cast off, and its sibling came in to take its place.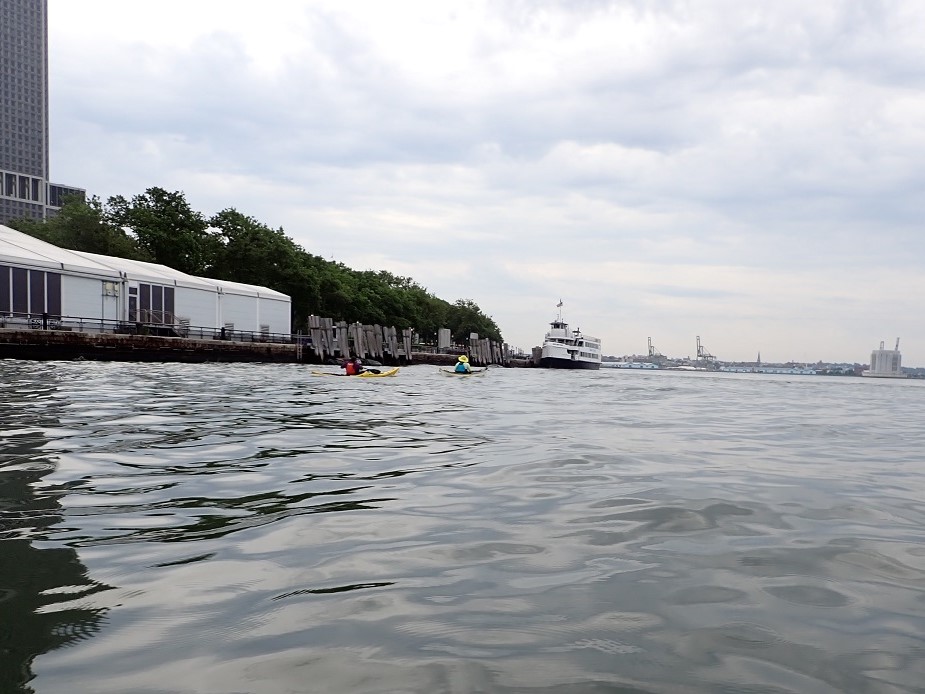 We waited a bit by the Staten Island Ferry as well, and were treated to that big orange beautiful beast departing and arcing around us as it left.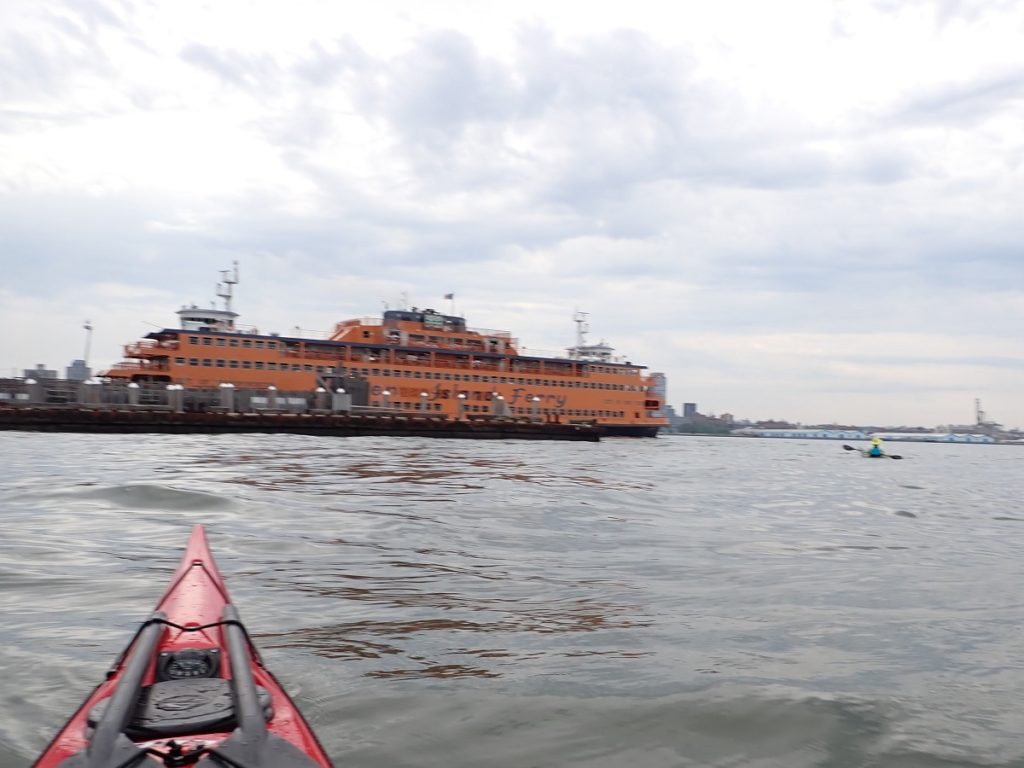 Rounding Battery, we had a lot of flood current, riding easily up towards Corlears Hook, past the South Street Seaport and the Financial District. The first of many bridges came into view: the Brooklyn, Manhattan, and Williamsburg bridges.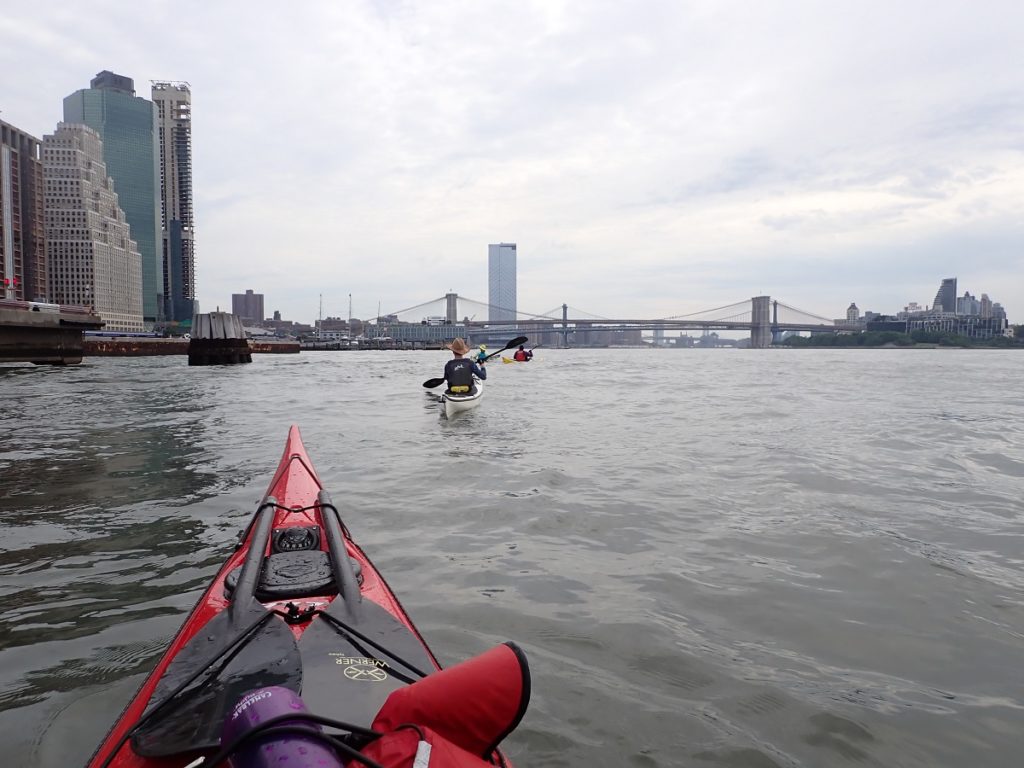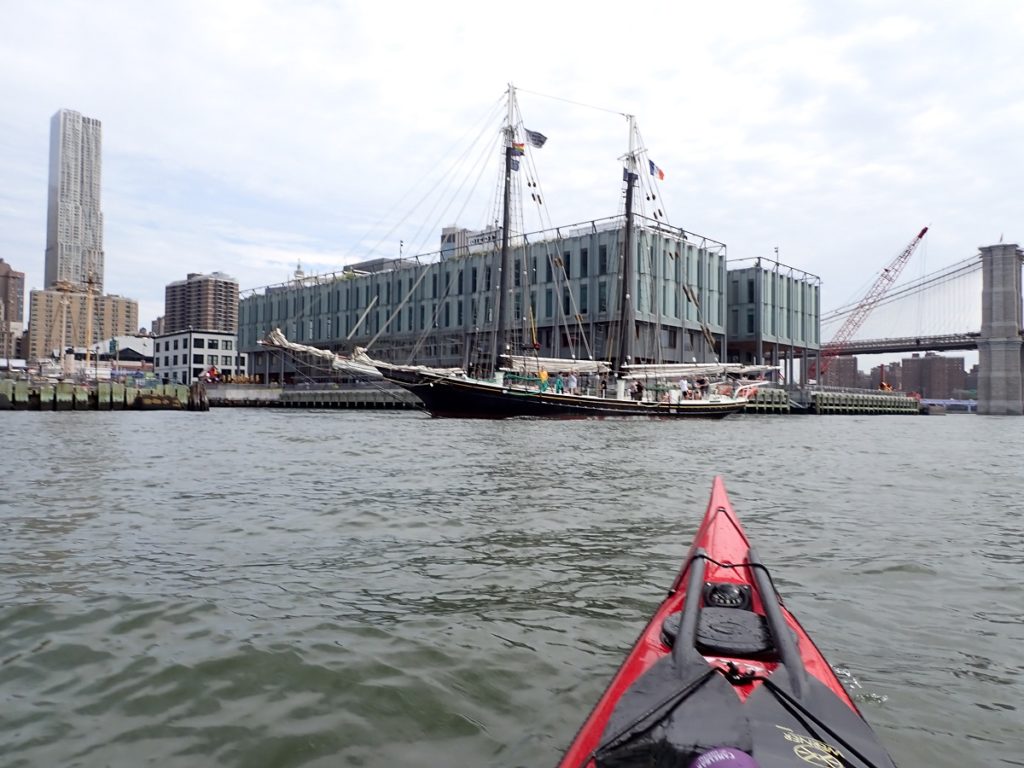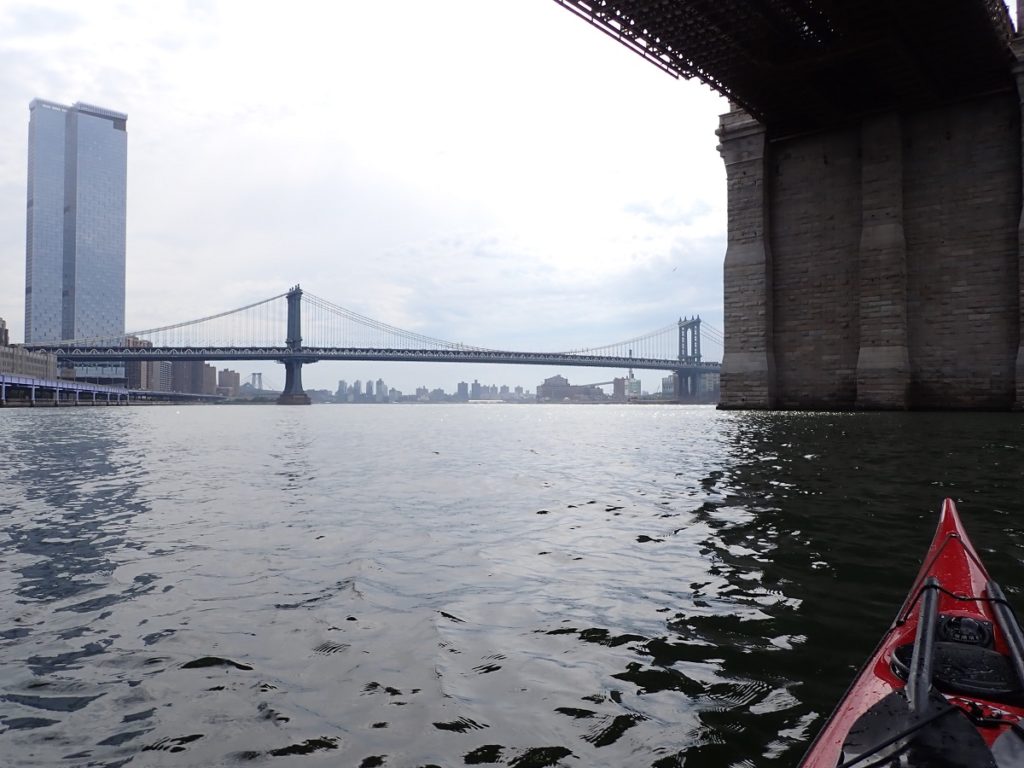 Heading up the East River, we had great current assisting us, but also had to keep our eyes wide open in all directions. It's much narrower than the Hudson, and has quite a bit of commercial traffic, including new water taxis funded by the city. That's a program that had only recently started the last time I circ'd, and there are many more terminals now on both sides of the river.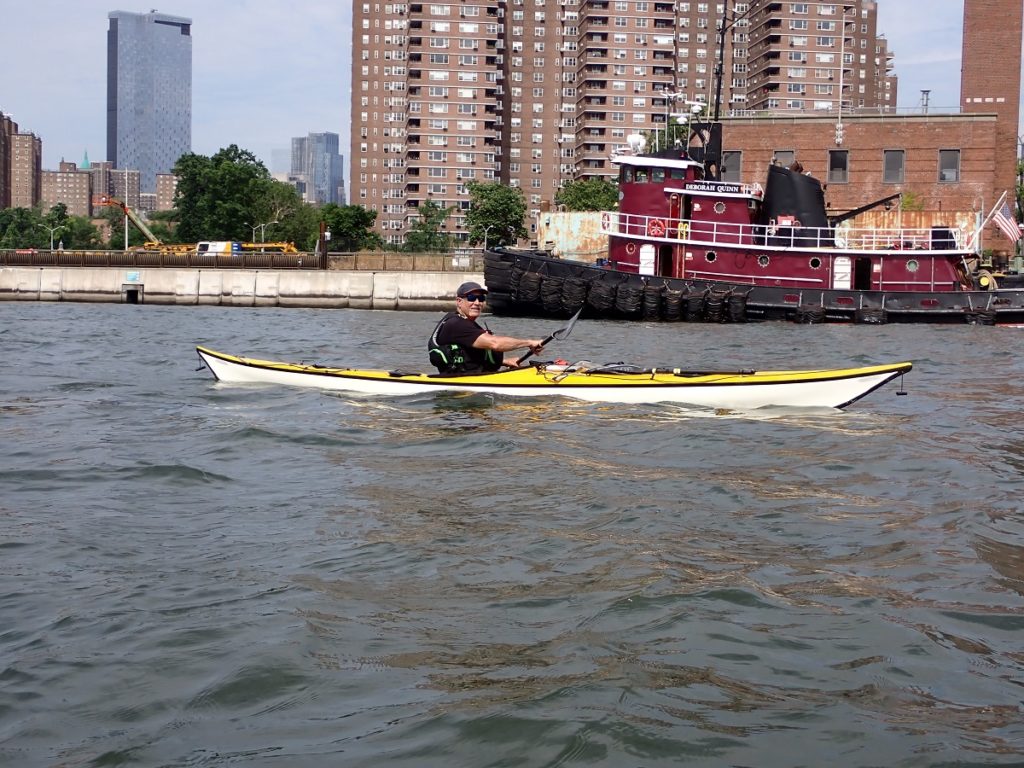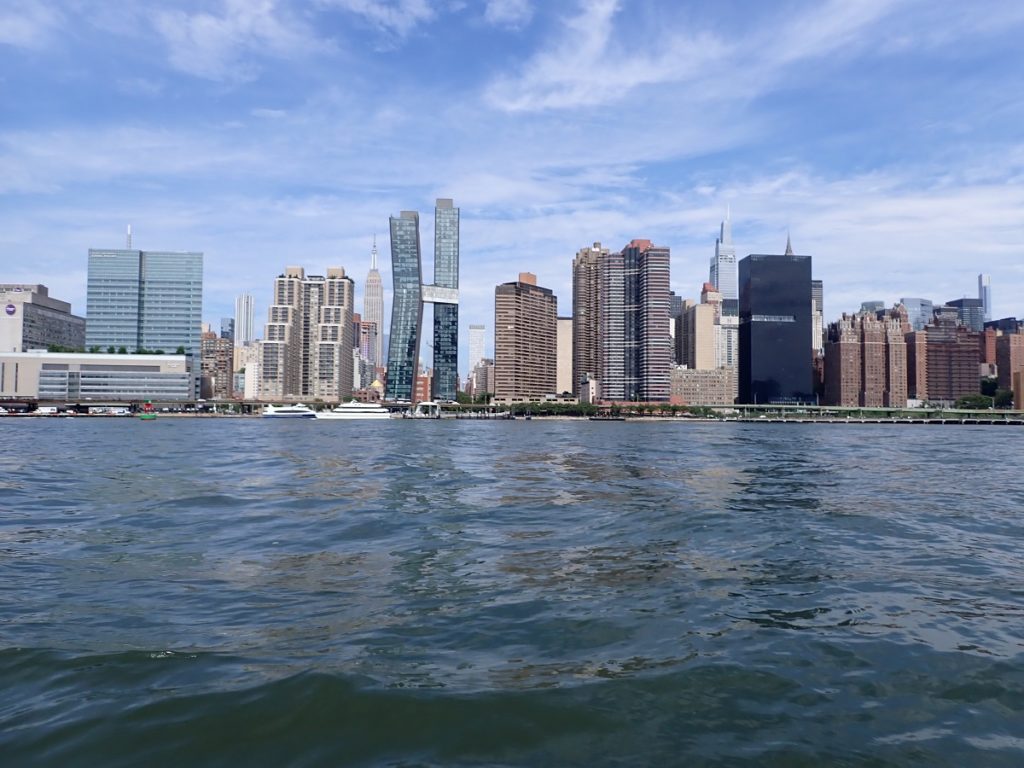 One part of the waterways that I rarely get to see is the seaplane landing field. There is a seaplane terminal in Manhattan, about 23rd street, and a special section of the river designated for them.
Because most of my circs are from Inwood, we usually take a short break in Brooklyn and end up on the eastern side of the East River. Starting farther south, we just carry on from Battery up the western side, which is where the seaplanes operate.
Not to worry, there's plenty of room.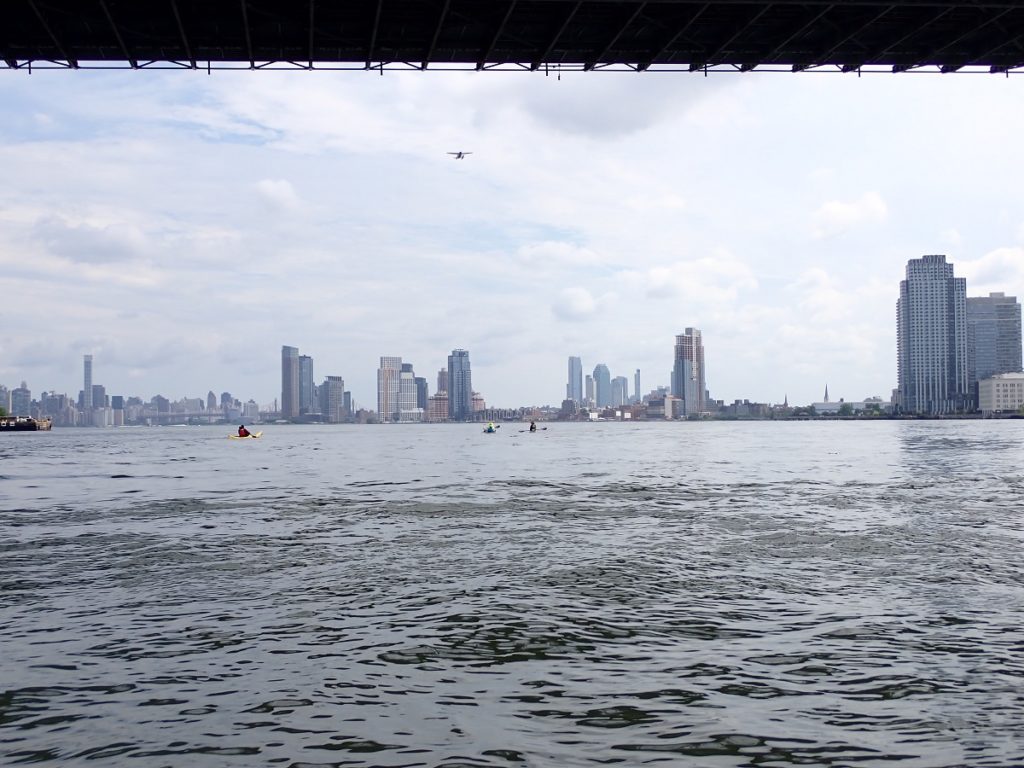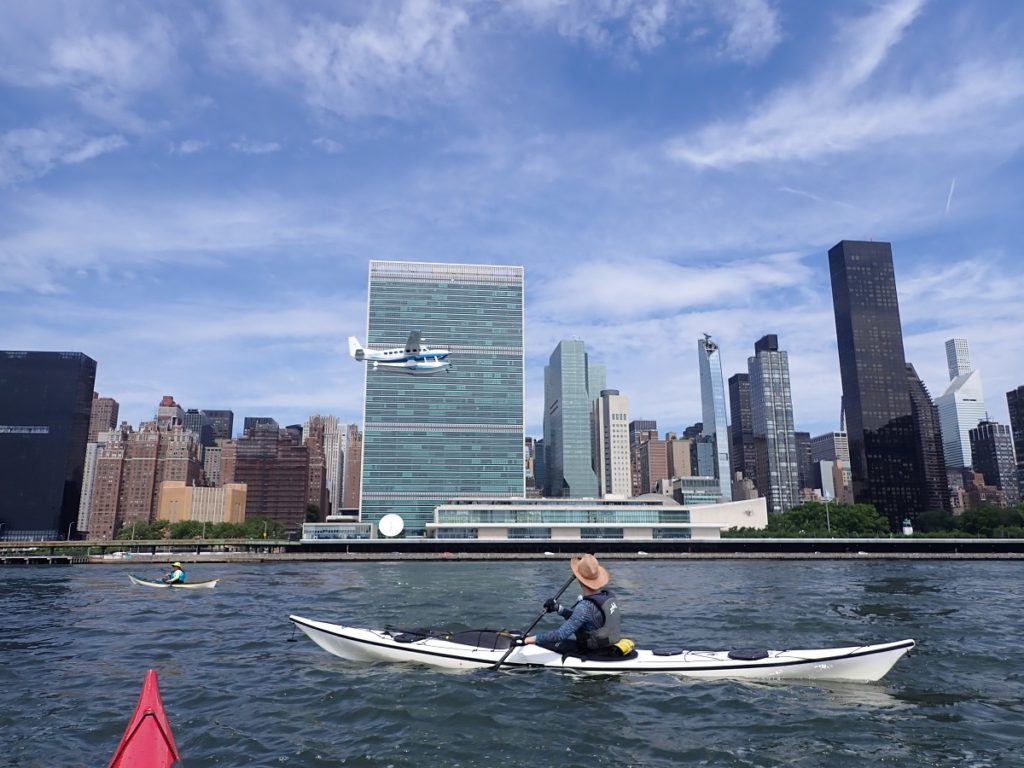 Moving on, we got to our first real decision point: where to land for lunch?
A common spot is Hallets Cove in Queens, but that was on the eastern side of the river, with Roosevelt Island between us. We were just below Hell Gate, where the current alternately floods to the upper East River or ebbs down to the harbor. There is a small island on which people land on sometimes, but we ultimately decided to press on against some current on the Harlem to take out on a small pocket beach, on Randalls Island.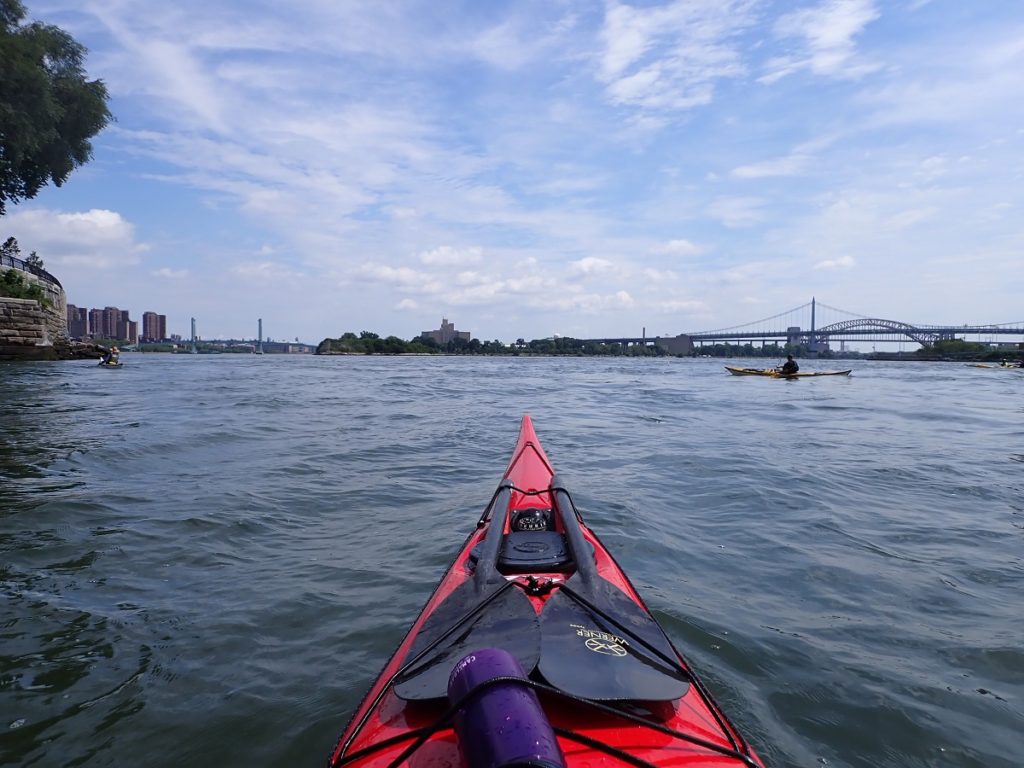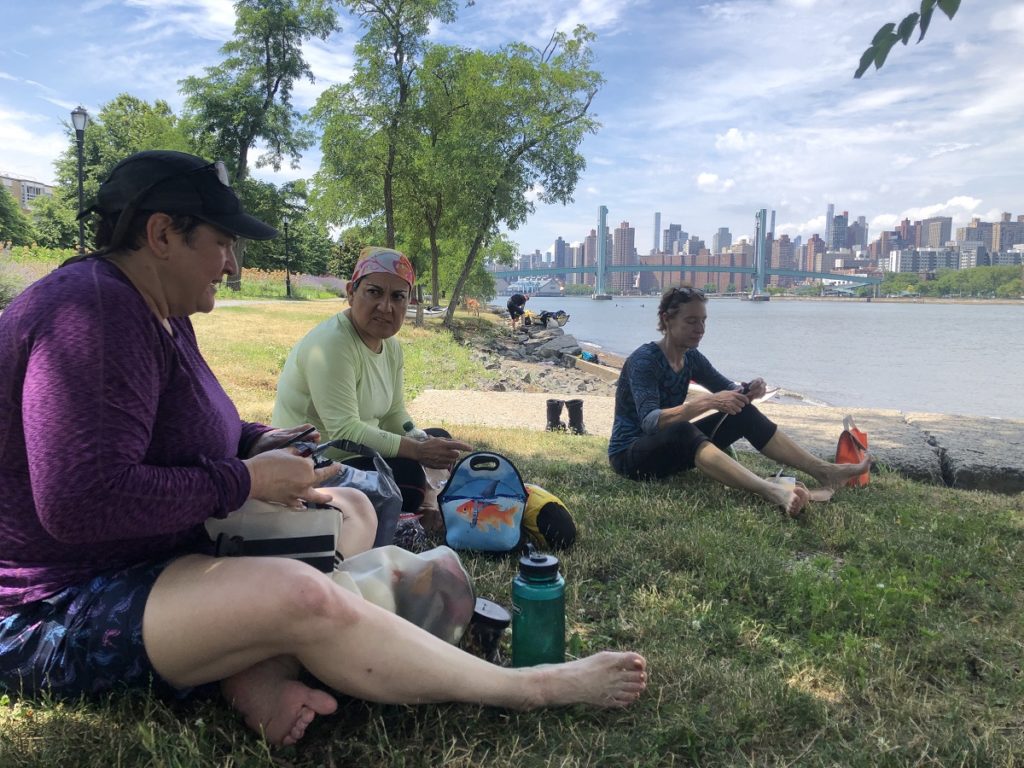 Here, we took an extended break. According to our tidal atlas, the Harlem would be flowing south for another two hours, about a knot and a half and diminishing. We'd been paddling for three hours. We had lunch, chatted, worked over a chart, and a few people napped.
By early afternoon, it was time to get going again.
Hmmm, wait, where had I seen that logo before?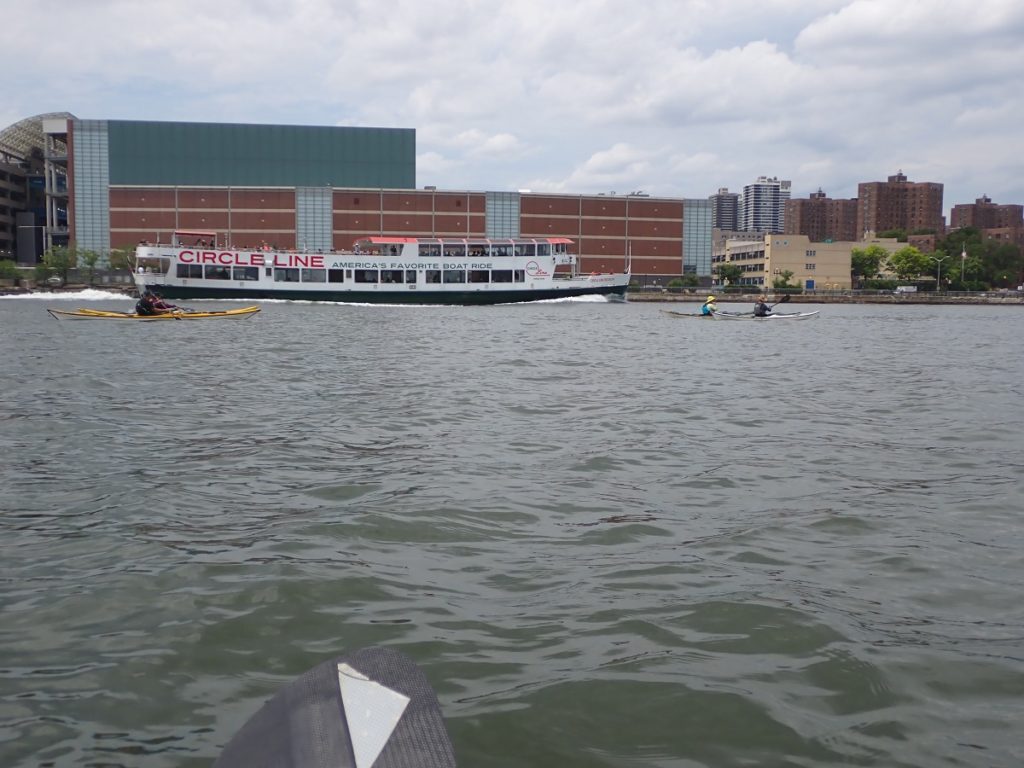 The Harlem is where most of the bridges connected to Manhattan are. There's a swim event around Manhattan referred to as "twenty bridges". More than half of them are over the Harlem.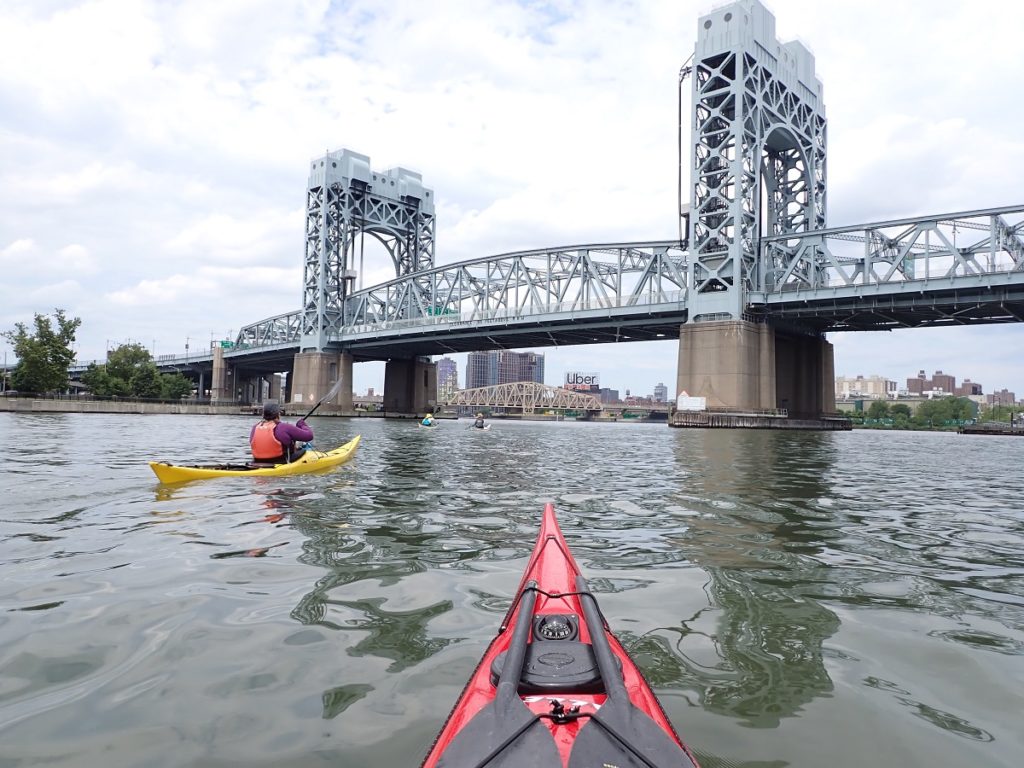 Here, I need to advocate for my paddling area; the Harlem gets a bad rap from a lot of NYC paddlers, particularly those who circumnavigate Manhattan. The Harlem's the "boring slog", or "not much current", or "gross and boring".
The Harlem can approach two knots in either direction at its peak, and while it's true that the lower portion essentially faces highways and the industrial back-ends of Manhattan and the Bronx, much of the northern stretch is parkland.
In the photo below, nearly all of that greenery is Manhattan. The brighter patch on the right is the Bronx.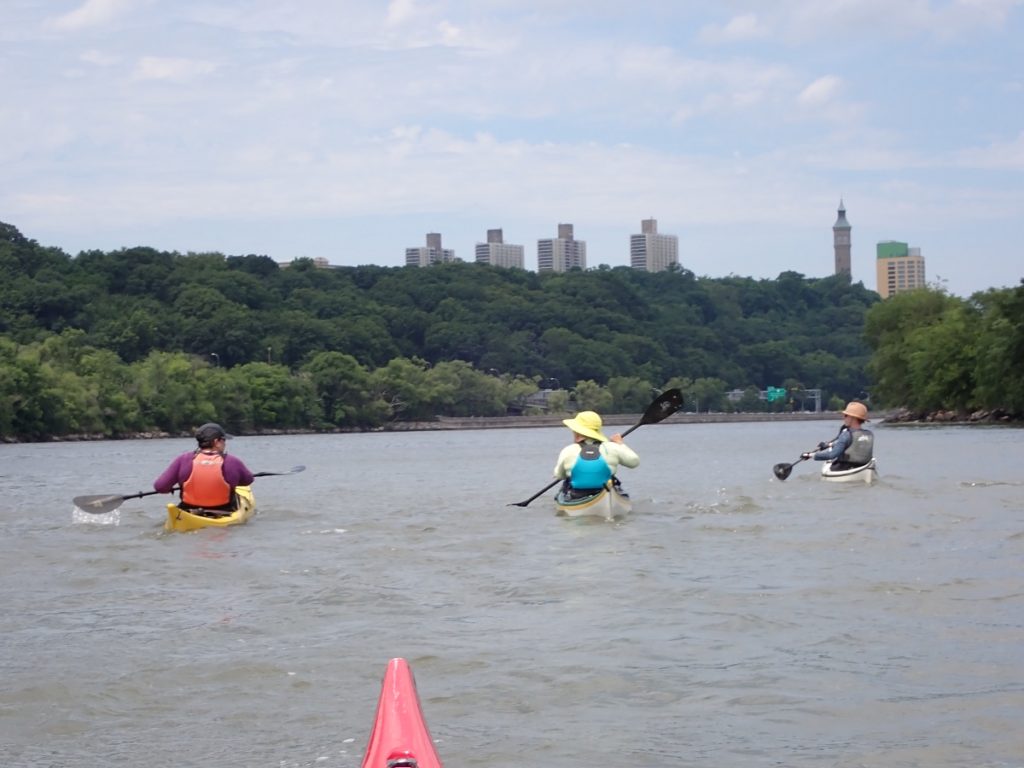 Coming around the northern tip, we passed a bluff that Columbia University's sports complex sits on, with the Henry Hudson bridge – and the Hudson river – just beyond.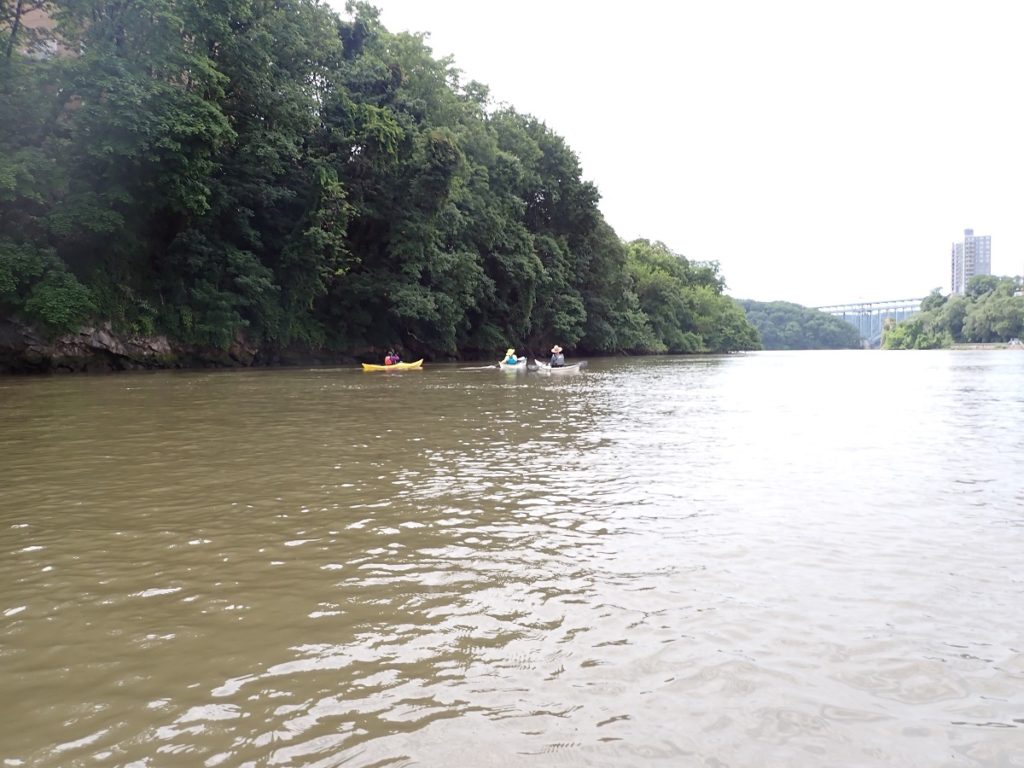 We took another short break at a small beach next to the Spuyten Duyvil railroad bridge. After watching it open and close to allow a Circle Line boat through, we set out, but just missed our chance to get run over by a train.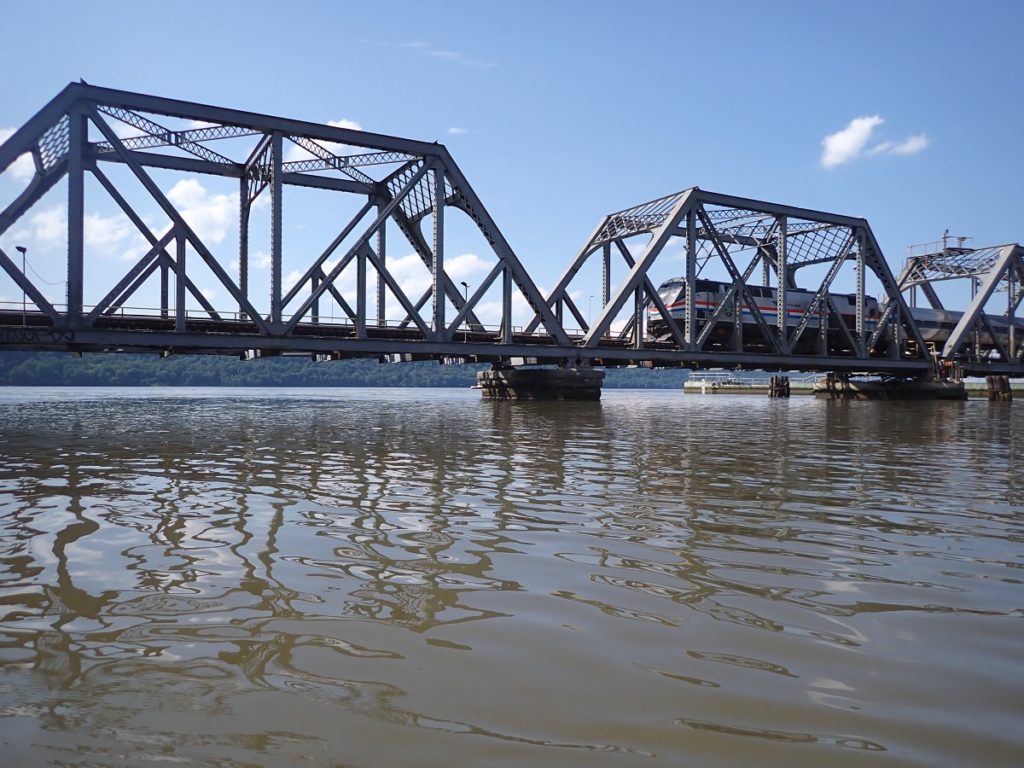 Back out on the Hudson, we set our course southward, with wider waters to share.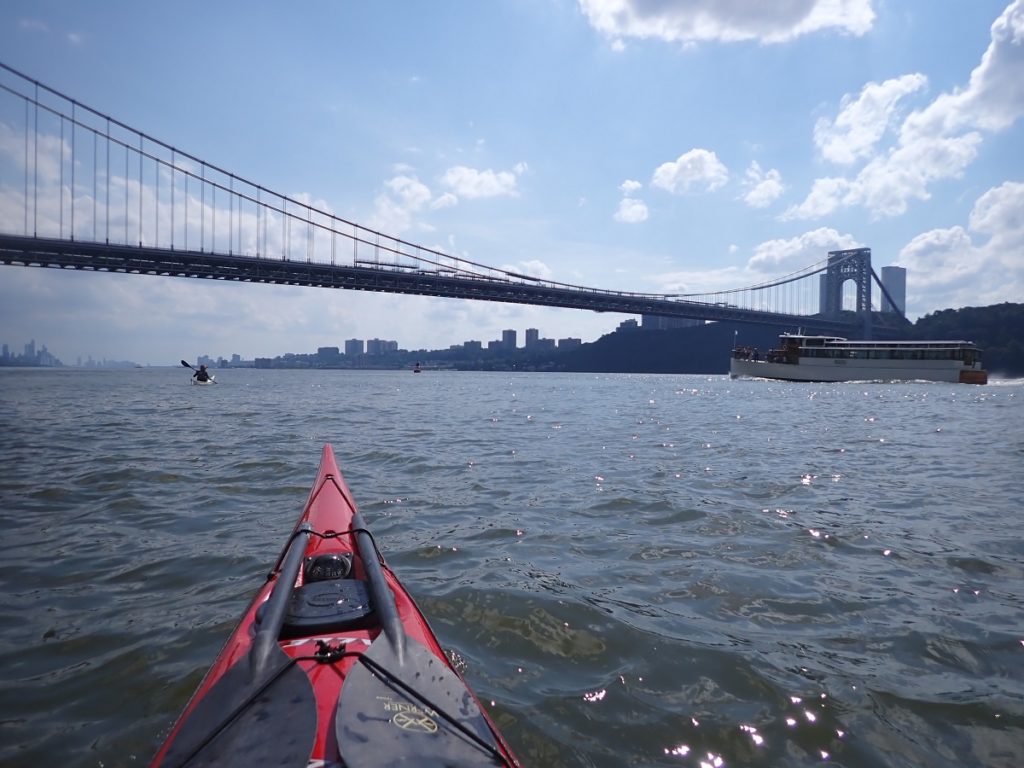 Under the George Washington Bridge is the Little Red Lighthouse, with a view of Manhattan stretching on into the visible humidity.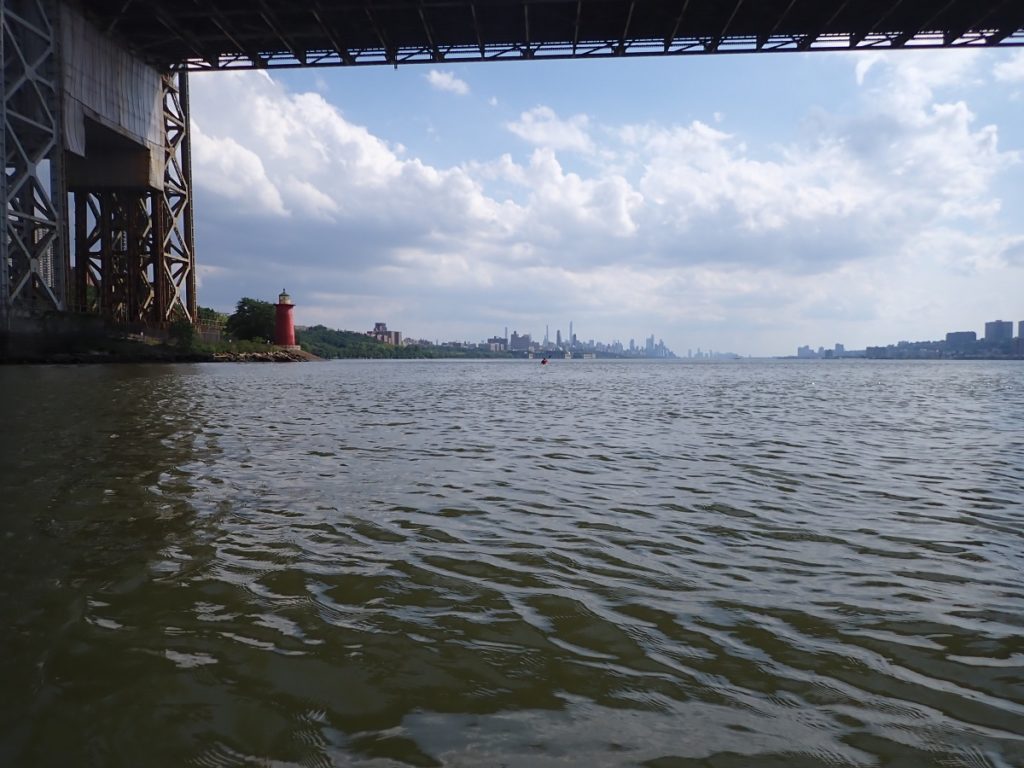 One of the more noticeable landmarks not typically known to people from out of town is Riverbank State Park. This is a massive water treatment facility, with a park and sports complex on top of it. Prior to Covid, a local paddling club held winter pool sessions there.
As we approached midtown, we passed 72nd street. This is where yours truly first started paddling, at a now-defunct program run off a floating dock on the northern end of the Hudson River Park Trust.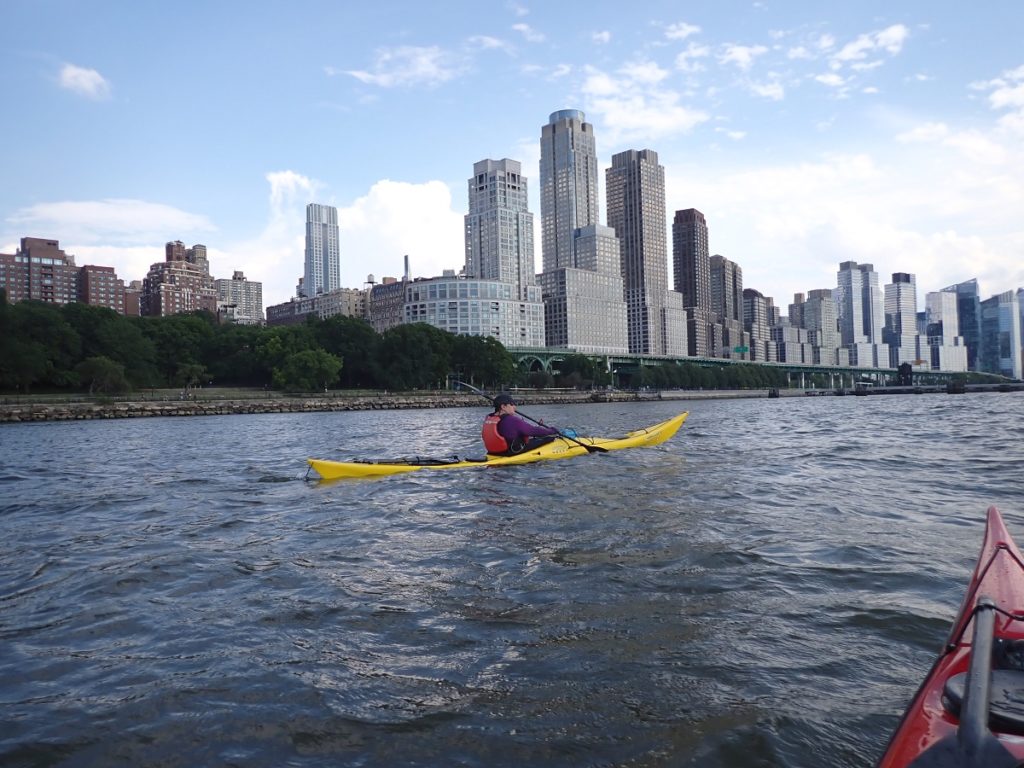 Update: I was so wrong about this ship initially, it's actually Italian.
A bit of a surprise was the presence of an Italian Navy destroyer, the Caio Duilio, named for a Roman politician and admiral who fought in the first Punic War. Caio Duilio was unusual in that he was a "novus homo", not of the Roman aristocracy, yet he was able to earn his way to be consul, a sort of executive leadership position in ancient Rome.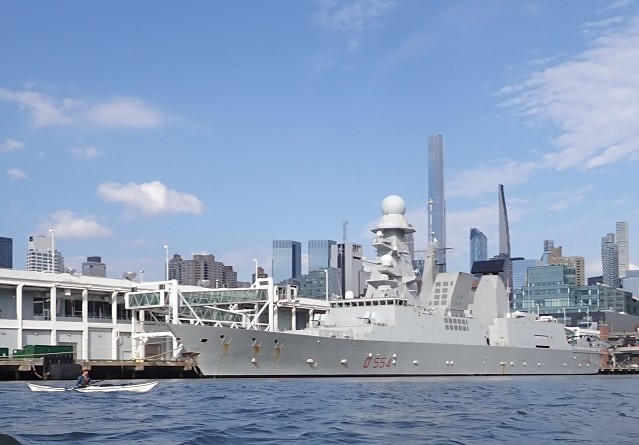 At long last, about 9 hours after we started, we paddled into the same cover from which we started. By now, paddlers in a variety of craft were out and about, enjoying the warm weather , and as we took out, we swiftly moved our boats out of the way.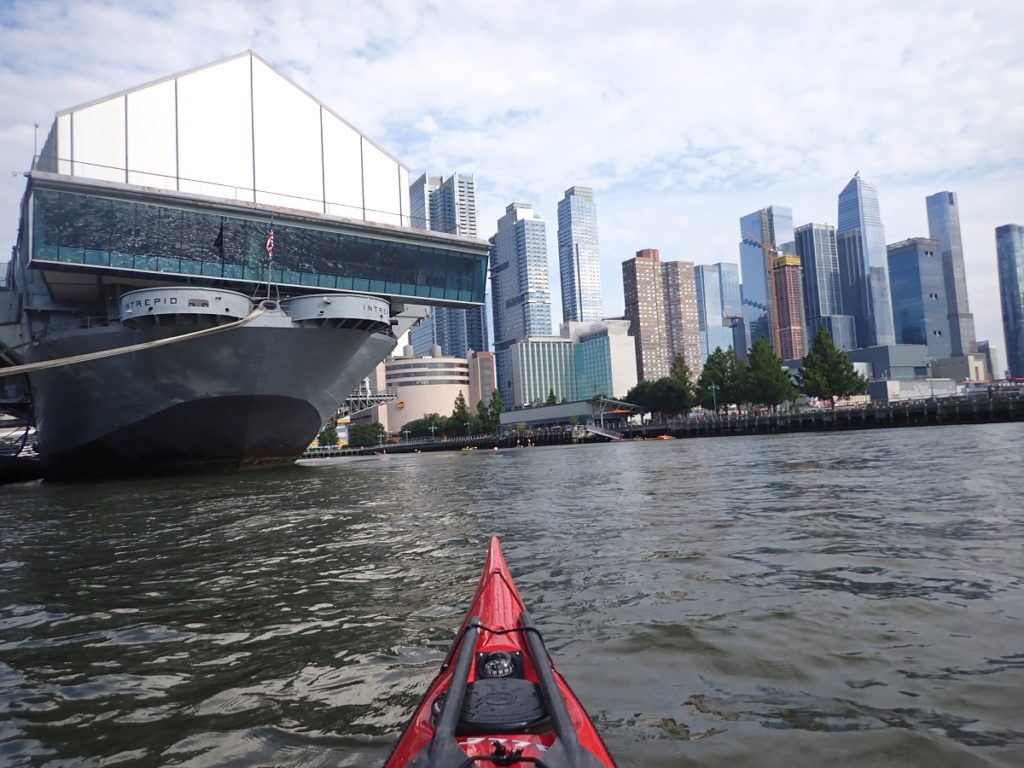 After a quick rinse with an outdoor shower, we relaxed at a local spot with some refreshing beverages, before starting the lengthy process of collecting our gear, putting our boats on vehicles, and departing amongst Saturday traffic. It wasn't so bad, considering we were right next to a parkway. Once driving, I was home in about fifteen minutes.
As I mentioned at the beginning, this trip rekindled for me the love I have not only for journeying in a sea kayak, but for the history of New York City and its waterfront. It was great company too, all experienced sea kayakers, with some local knowledge other than myself, sharing the journey with first-timers. I was happy to learn some of the new potential trouble spots, while affirming my confidence in being able to take a group around the island.