On the last weekend of July, I took off the following Monday in order to do some kayak camping with my friend MH. We'd been meaning to do this for a while. We departed Inwood late Sunday morning and arrived at Croton Point in the evening; camped and hung out, then returned early Monday afternoon, arriving at Inwood as the sun set. It was a great trip.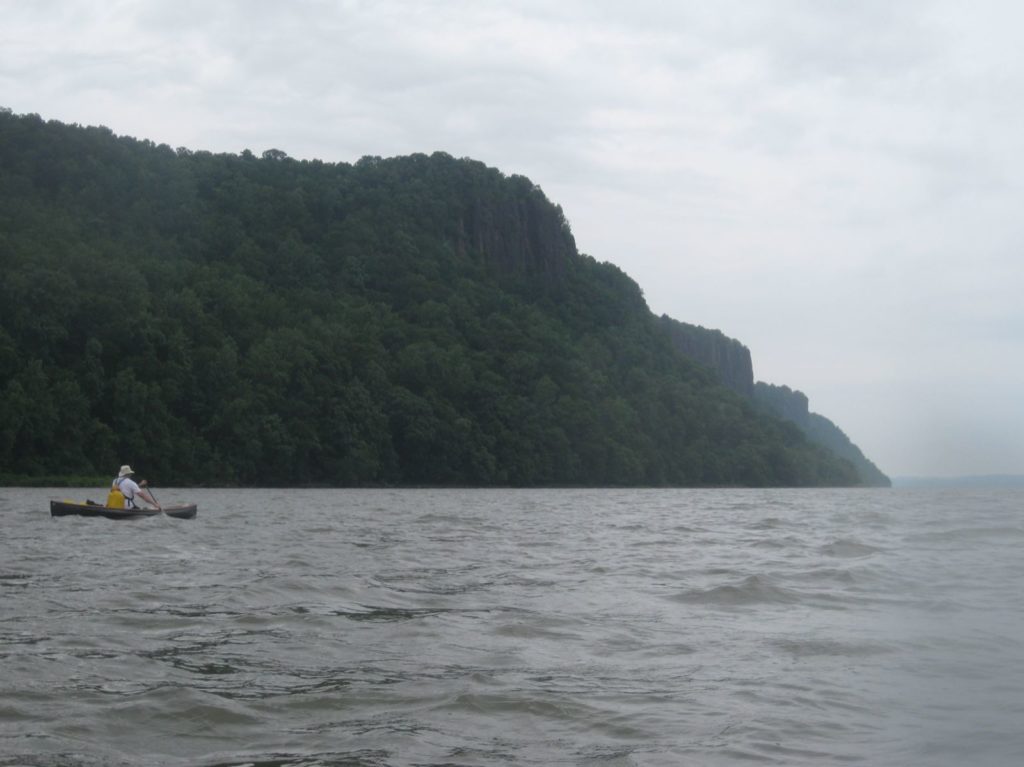 We crossed the river to the west side and paddled up along the Palisades. We were a little concerned about the weather; there were even odds of rain, and radar showed a major weather front moving east from Ohio. However, as the day went on it also appeared to be moving north, so we took our chances and simply enjoyed a cool day in place of the 90+ heat wave that had enveloped the city earlier in the week.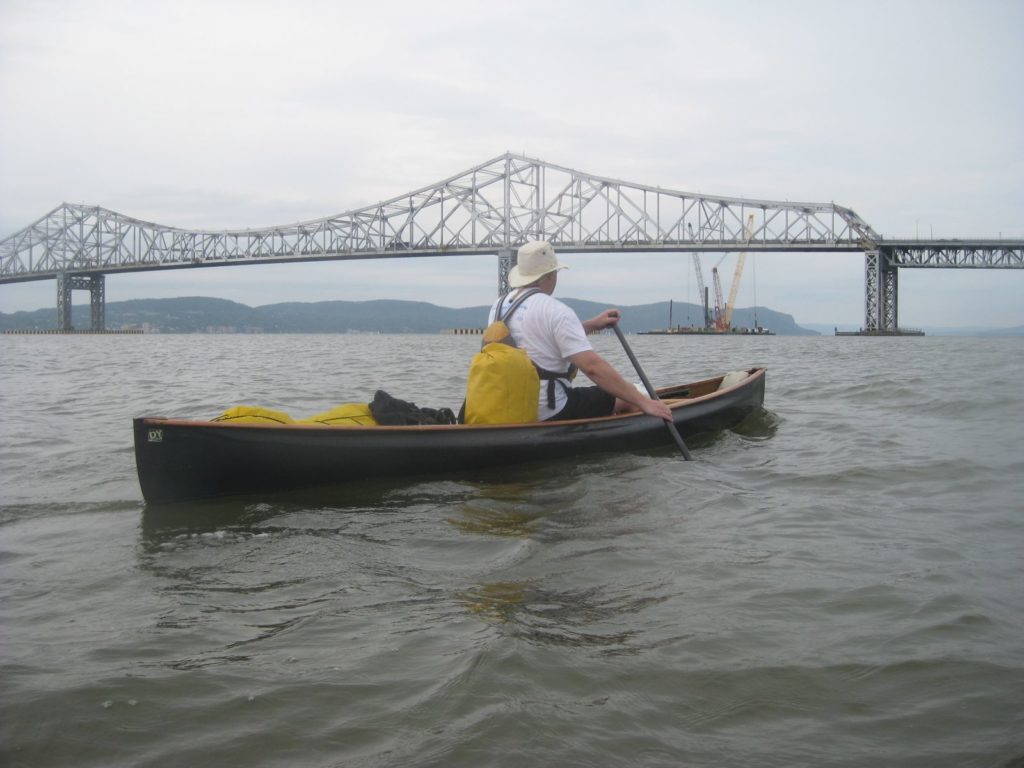 One of my goals for years has been to paddle to the Tappan Zee Bridge, just because it is such a recognizable waypoint. Here we approach the Tappan Zee; along the way we passed a friendly sailor who told us that Irvington, which we had passed already, was friendly to paddlers.
It was hard not to think of a sad story in the news the night before, wherein a bride and another in the wedding party were killed in a nighttime collision between a motorboat and a barge.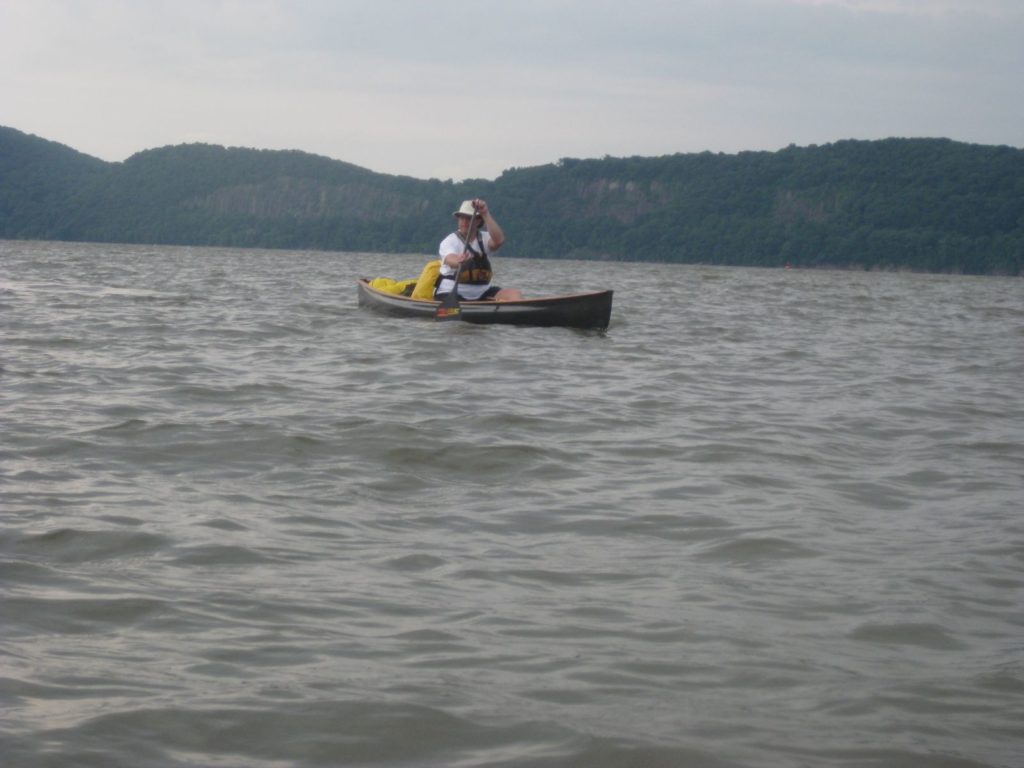 As we made our way up the river, we enjoyed generally benign conditions. There was hardly any traffic out, and wind was minimal. We had timed our trip to catch a fair amount of current, so even the paddling wasn't hard – all 5+ hours of it.
We stopped for lunch just above a lighthouse, landing on a small sandy shore. We had to move our boats a couple of times – we were there for less than an hour but the incoming tide threatened to float our boats away.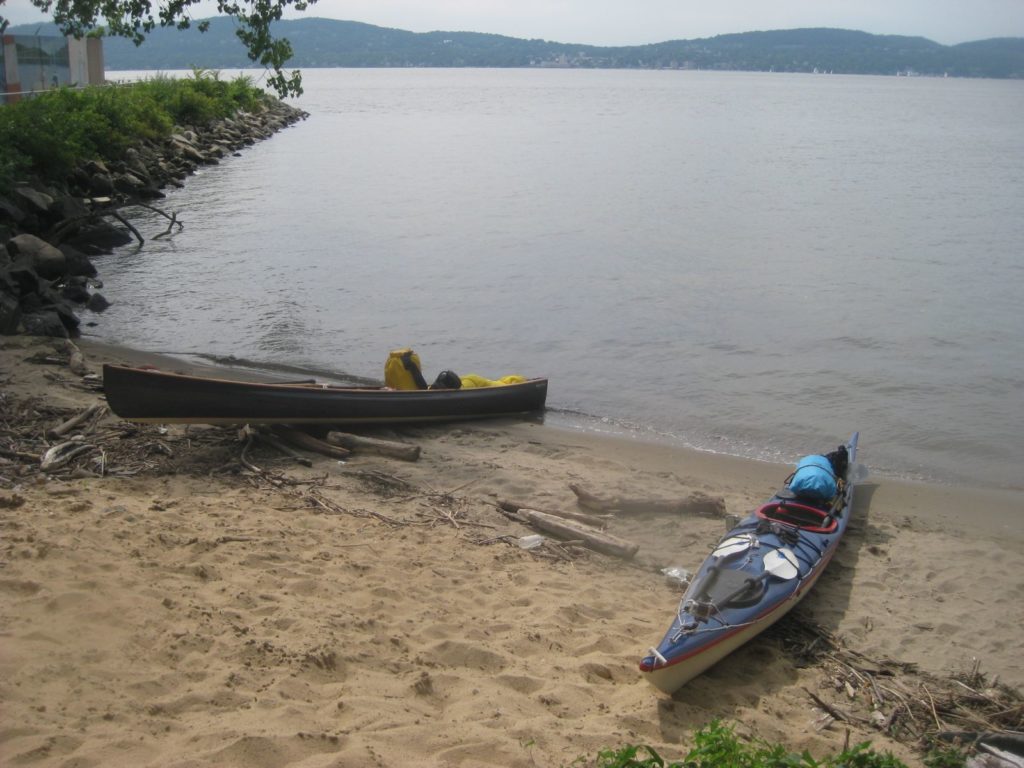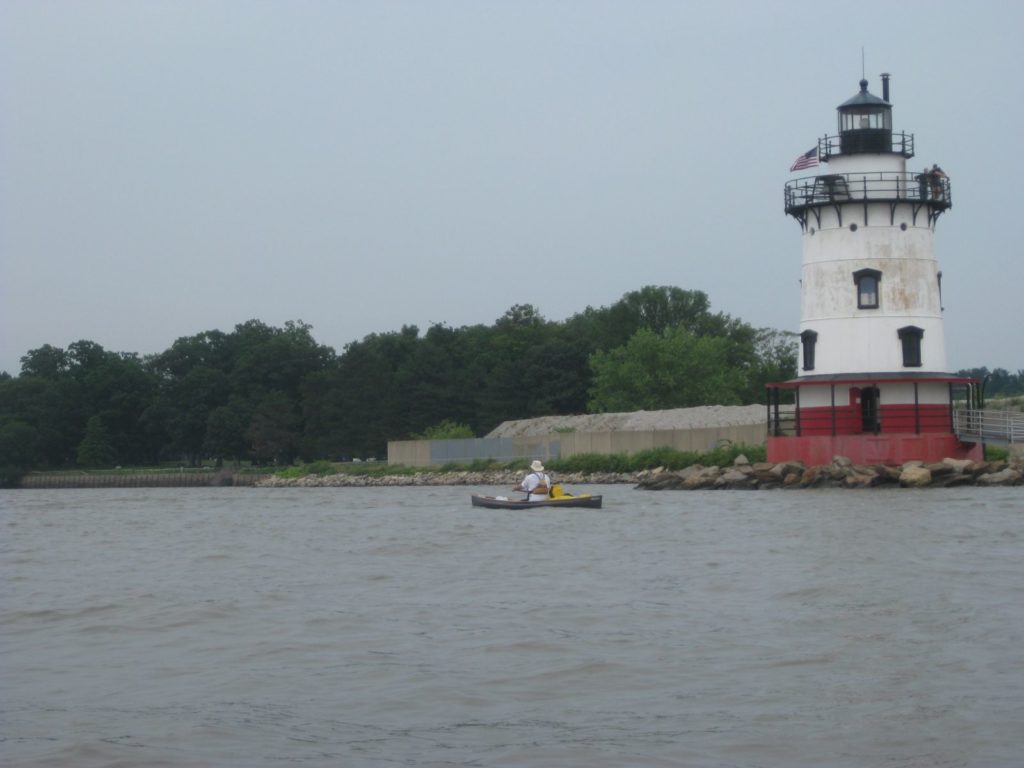 Lunch was at a small beach near Tarrytown  Light – a retired lighthouse just north of the Tappan Zee. Our lunch spot was just around the bend below the wall in the photo above.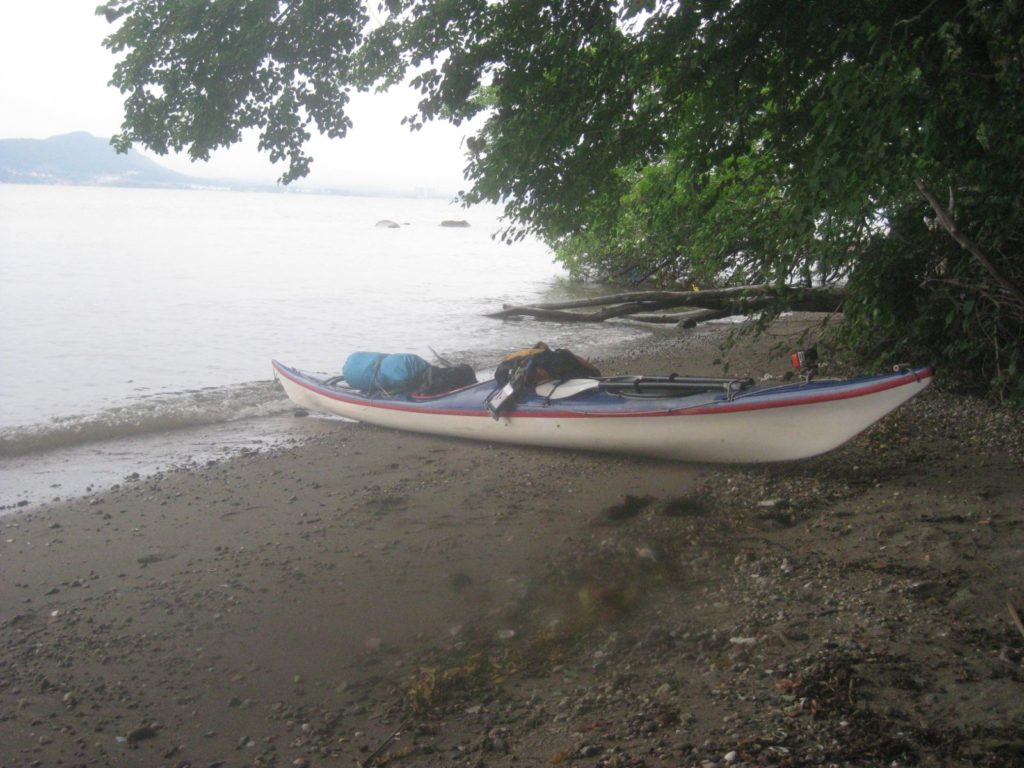 Eventually, we landed at Croton Point Park. We had paddled around trying to figure out the "Hudson River Watertrail" camping site, but as near as we could figure, that "campsite" was just sanctioned guerrilla camping. We found a spot, landed, and set up camp as the rain started to fall.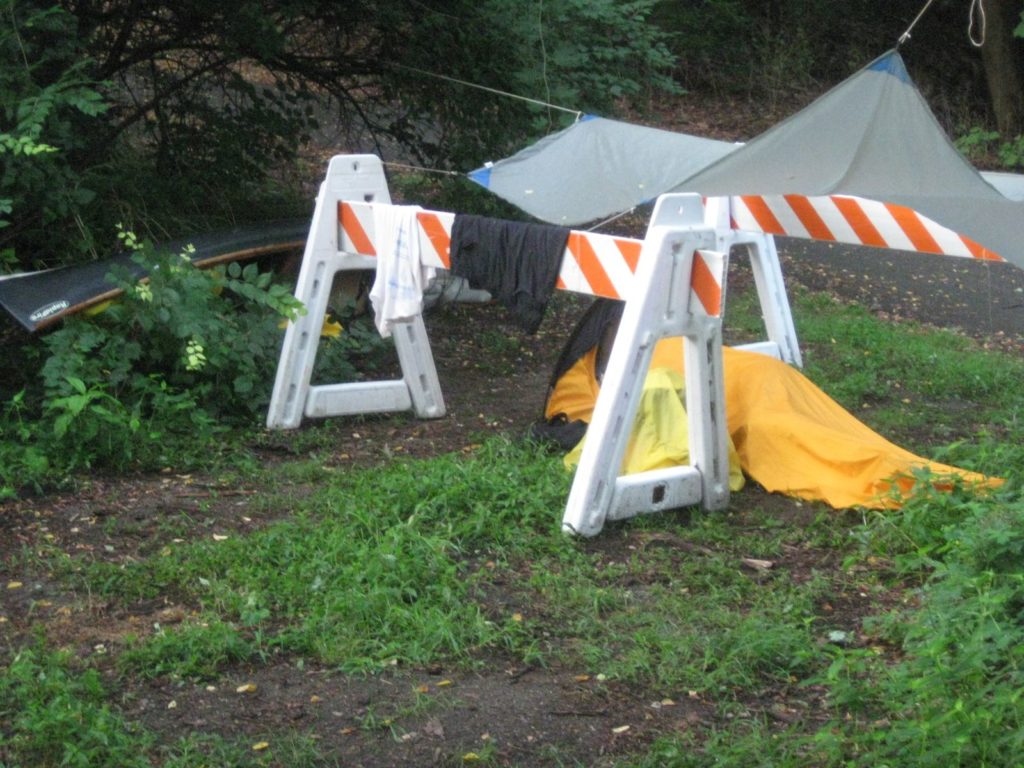 Here we have Camp MH (above) and Camp Cowgirl (below). The safety sawhorses turned out to be from some planned tree cutting we learned about the next day.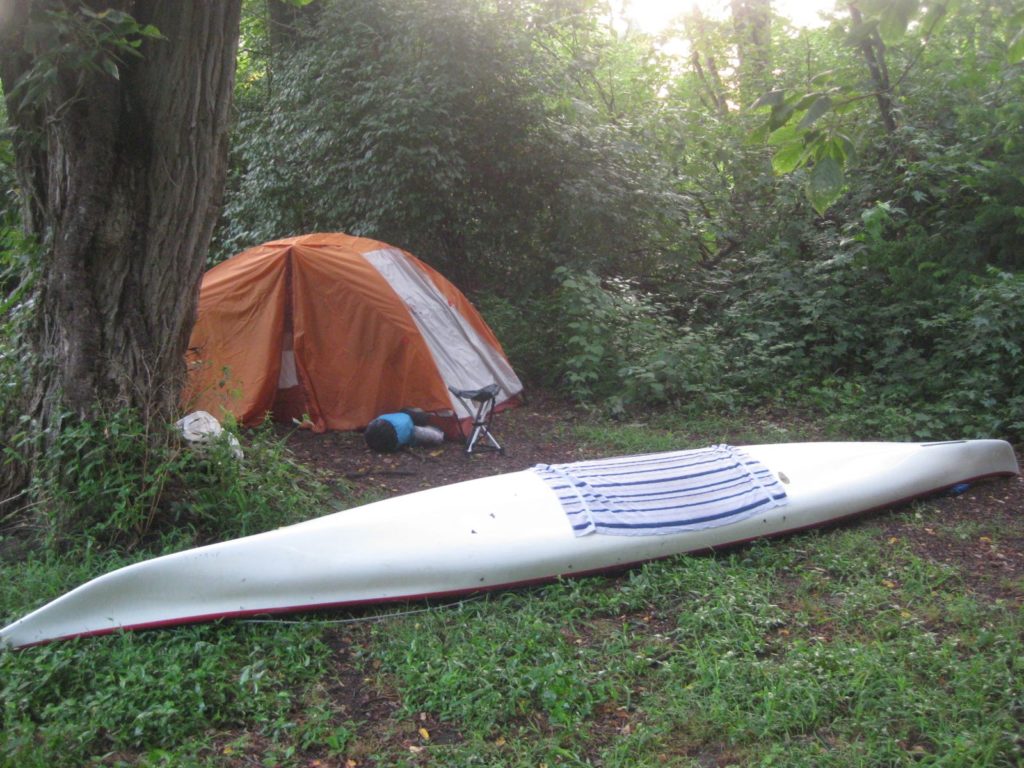 Since I set up my camp in the rain, I used my main towel to dry out my sleeping quarters. The next day I draped it over my boat.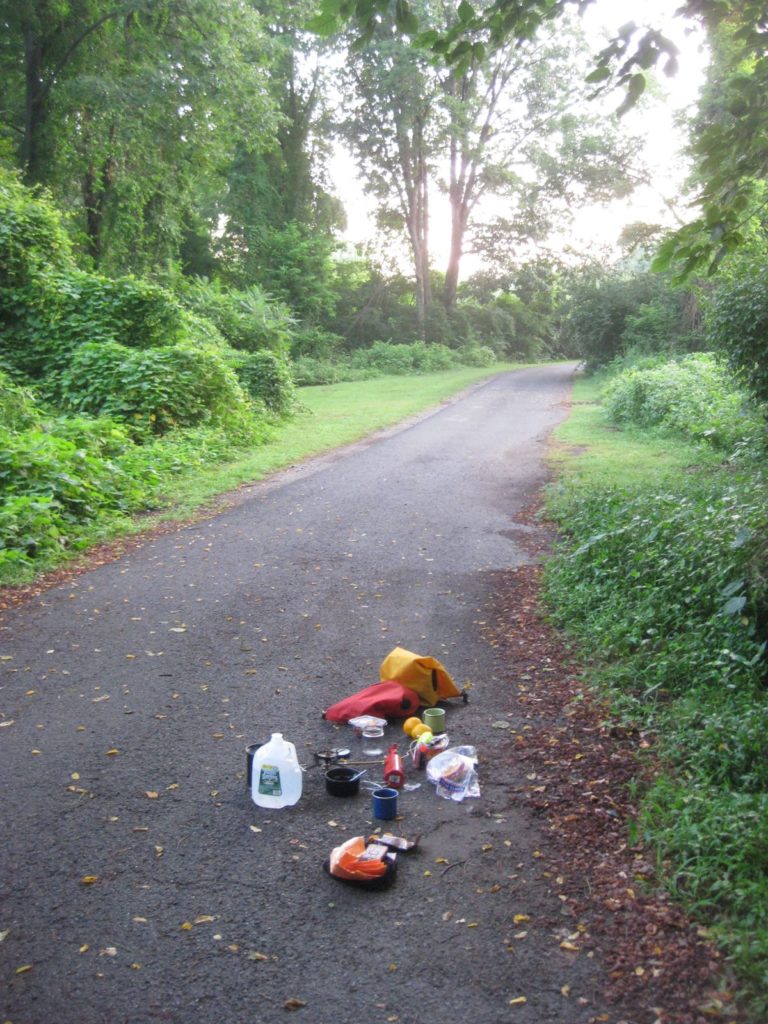 I made the road my kitchen. I figured in the worst case, I wouldn't be able to burn the road down.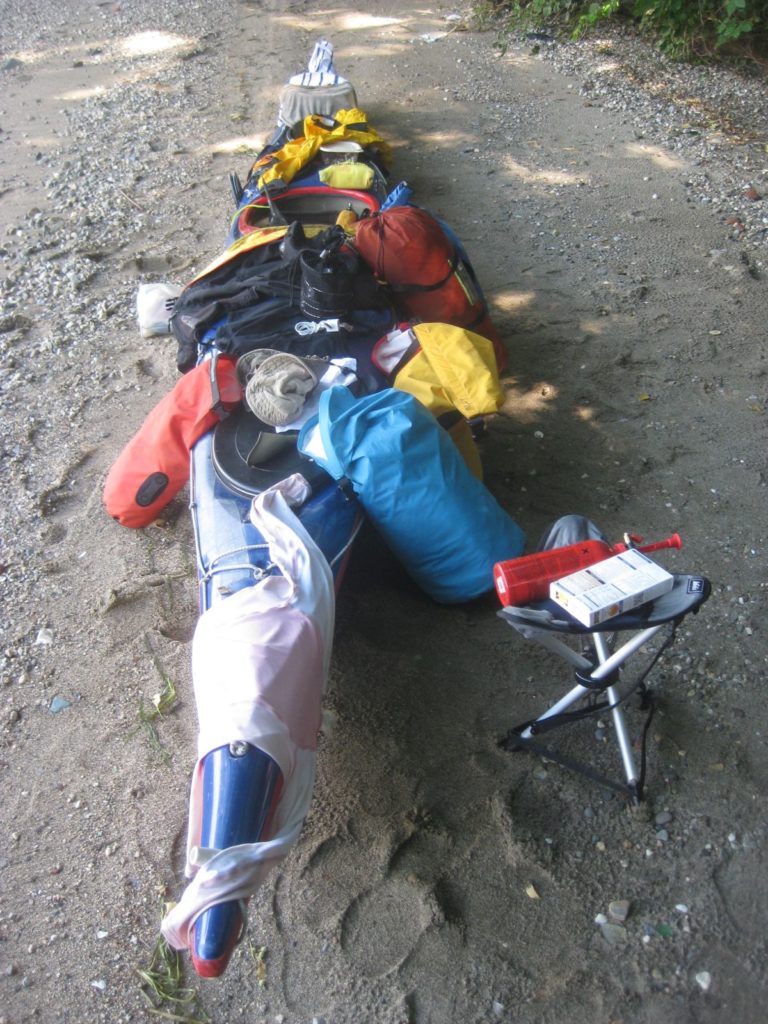 When we got ready to leave, I took time to repack my boat. I had a little less food and wanted to see if I could do a better job repacking. I did a little better but not a big difference.
When we were at Croton, I took some shots of the river. Above looking across Croton Bay.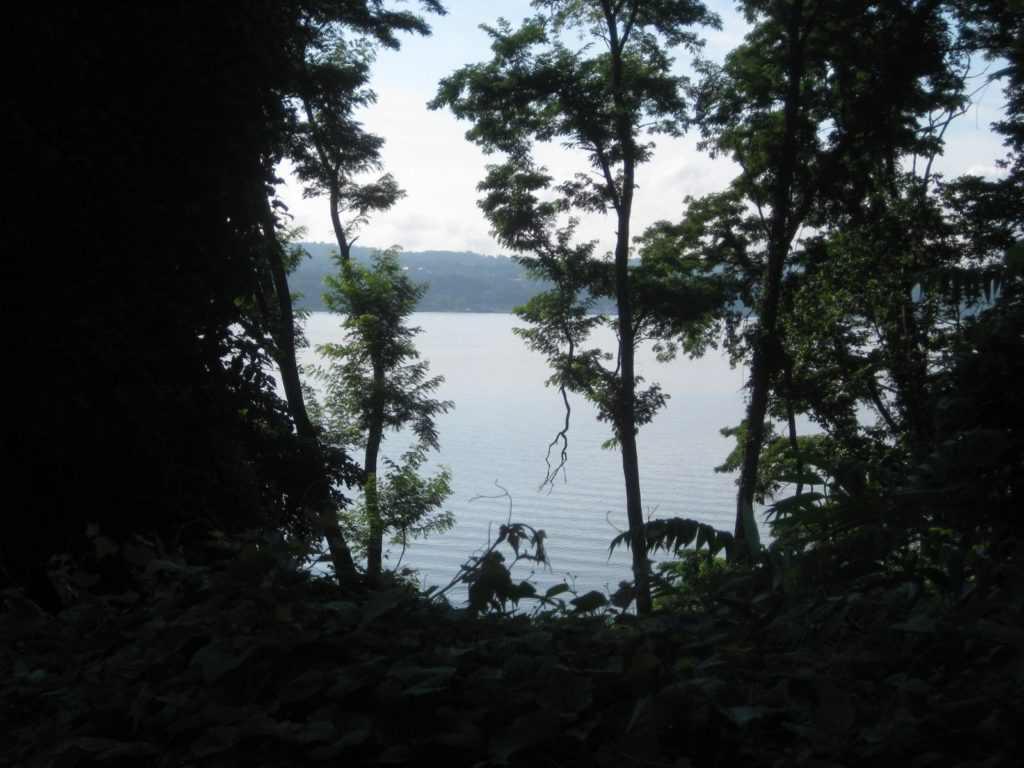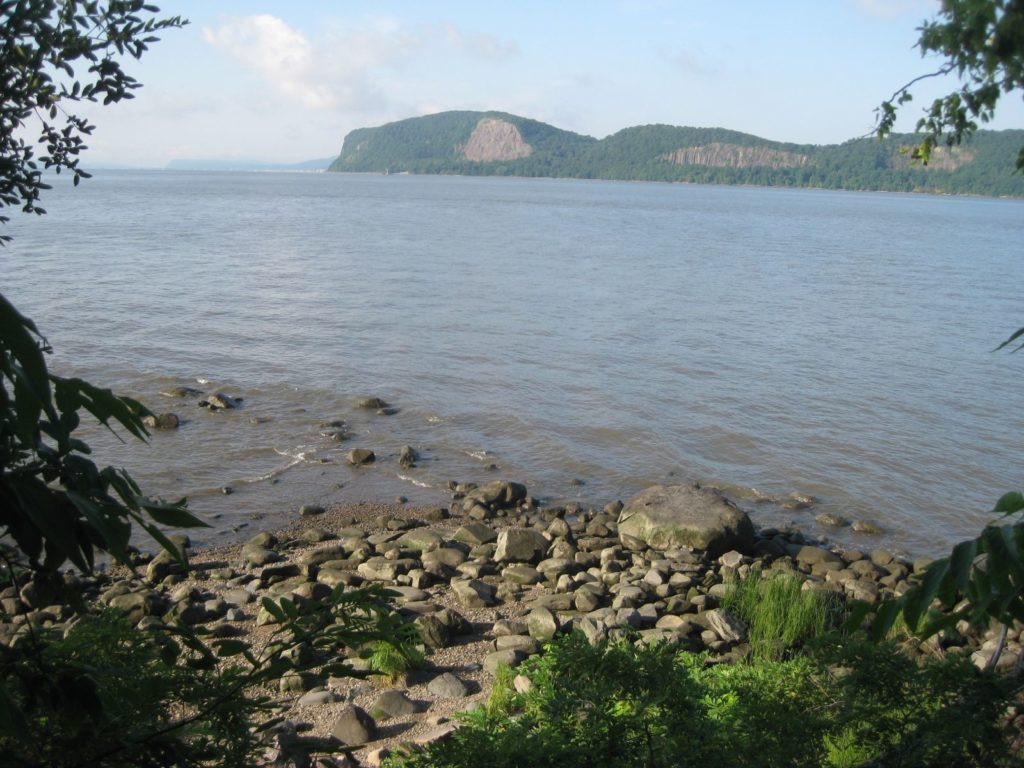 Here, looking south from the southernmost part of Croton Point. The landscapes in this part of the Hudson River Valley are the same as the art style that it gives its name to. It is a dreamy horizon of sky, rocks, and river.
I didn't take as many photos – well, as many good photos – on the way back. We left early and crossed to the western side of the river, paddling down along parkland quite a ways. MH was scouting for possible future guerrilla campsites – though when we asked someone who was official-looking, he did say camping was prohibited.
On the way back, we paddled through a large marina (or two, it was hard to tell) in Nyack. I took a shot at rolling my camping-laden boat. I succeeded, if you count as success "I came halfway up and then high-braced before I rolled back in." I also noticed I had to adjust my sense of where to place the blade in part, as far as I could tell, because the drybag on my rear deck was pushing the boat up a when capsized.
We stopped at Piermont Pier on the way back for lunch – this is a long pier that extends out from Piermont, nearly halfway across the river and acting as a sort of marker to the lower end of the "Tappan Zee." We rested, talked with another paddler, and then packed up for the final leg home.
There was quite a bit of wind from the west as we passed Piermont Marsh, and we charged past it to take windshade from the Palisades. The current went slack, and we picked up the pace. MH showed off his prowess, speeding ahead and waiting for me. We got home at dusk.
It took about six hours of paddling each way, plus an hour and a half rest, sometimes one stop, sometimes two. It was a pleasant paddle both ways, if a little windy on the way back. Total distance was about 46 miles, about 23 each way. I've paddled about 30-32 miles in a single day, but never such lengthy distances two days in a row.
It was good camping experience. I haven't camped in a long time, and never from a kayak. MH was a great mentor in this respect, and I hope to camp with him again some day.