I was invited by one of the coaches at the shop to come along on a nighttime circumnavigation of Manhattan. "Bring all your kit," he said. "All my kit will be off-limits". He further hinted that there would be some testing of trip management abilities.
Little did I know. "Welcome to Leadership Hell," he said when I walked up. Oh boy.
The first thing I had to do was fill out a bunch of trip planning data: high water and low water at various points around the city, the lunar cycle, water and air temps, and a plan – when we would hit certain places. I already knew the trickiest one would be Hell Gate – we'd want to get there in the narrow window when the tide changed and was at its weakest. Here, I made my first mistake.
"This is clockwise," said our lead. "Not counter-clockwise."
Most circumnavigations are counterclockwise. Basically, they are easier to figure out. Circumnavigations are fairly simple but must account for a lot of complex current dynamics. I worked out a decent counter-clockwise circumnavigation earlier this summer. Here I was, being asked on a moment's notice to work out a clockwise one.
So, I did.
The basic plan was this: We'd leave between 1900 and 1930, paddle up with the current pretty quickly, stopping at Pier 96 and 125th Street for rest before moving up to Spuyten Duyvil. Then we'd paddle along the Harlem, take a short break at Peter Sharp Boathouse, and then go through Hell Gate exactly when it was at its most hospitable, and then cruise down the East River with tons of current, rounding Battery, and then fighting a bit of current back to our starting point at Pier 40 – Houston, for the non-nautical.
Next, our lead had me and another coach introduce the trip. We were the trip leaders. We met our paddlers – all hand-picked by the lead for their ability, but mostly new to us. Some local kayaking starts but most I was meeting for the first time:
JJ, of a certain well-known paddling blog.
HKM, an acquaintance of hers.
D, a whitewater guy who works in the shop.
TJ, with whom I've paddled with before.
M, and W, one an ACA 4 Instructor and the other his assist.
J, a club member.
V, who also works in the shop and who I've also paddled with a couple of times.
My assist was JM and the lead was WP. All in, eleven people, one of the largest groups I've managed and the one of the largest group of experienced paddlers I've paddled with. Not only was I being tested, there was an audience of experienced people in front of me. Kayaking Kognoscenti, as it were.
I went around the room and asked everyone to introduce themselves and tell briefly about their paddling experience. I asked about medical issues, questions, concerns, and went over the basic plan. After that, we finished kitting out boats, and launched, a little late around 1940.
---
We paddled up as the sun was setting; it was dark by the time we got to Pier 96. I was trip leader for this first leg. The usual shenanigans took place.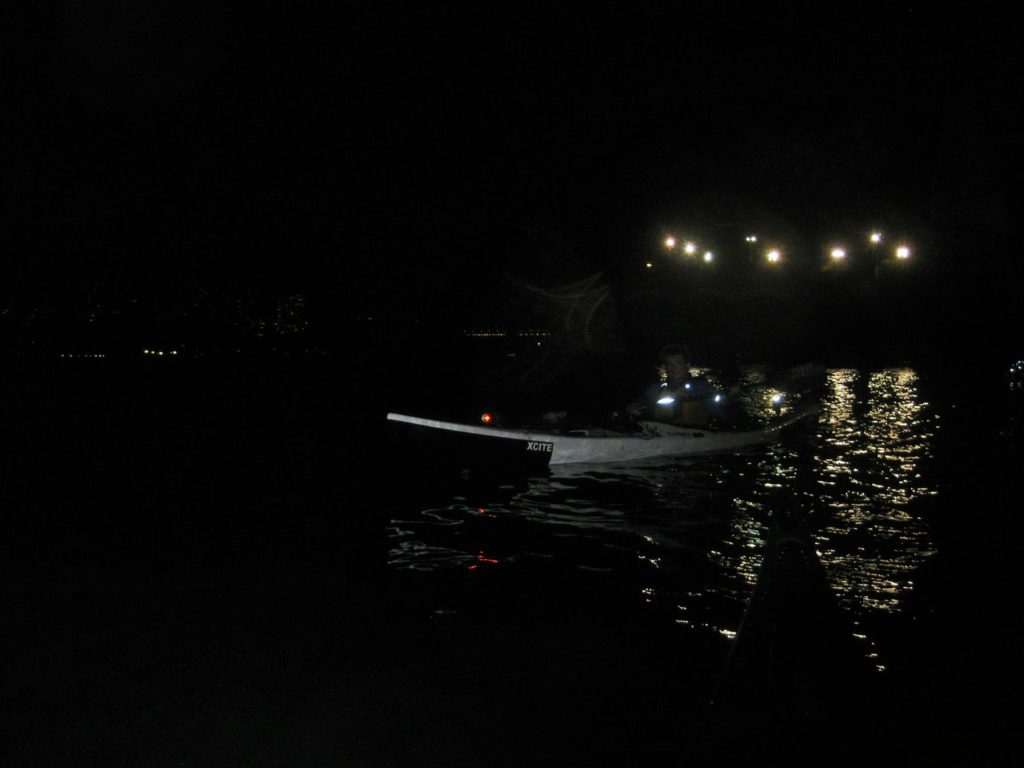 Basically, the lead went around and got people to be alternately: the slow paddler, the fast paddler, the disappearing paddler. I later he had some more elaborate tests in mind, including a mass capsize at Pier 66, which did not come to fruition.
I was already doing a constant count of people, and stayed in the rear letting my assist act as leader. How many times did I count? Two, three four five, there are three more, there's nine, ten, and I'm eleven. When I came up short, I counted again, then looked around if I was missing anyone.
For the slow paddler, I coached better paddling technique. For the fast paddlers, I asked them to dial it back, usually complementing their ability. Within this scenario, that generally worked.
HKM attempted a roll, flubbed it, recovered with an extended paddle roll. . . .I thought he was my first "capsize victim" but no, that was just him being himself. At one point, we had to stop together to wait for a couple of water taxis coming out of a terminal. Later, after assessing the course of one vessel, I was entranced by a large barge passing on the opposite side of the river, and lost track of one of my paddlers. I delegated responsibility while I chased him down.
We overshot Pier 96 and so didn't stop. Once above that, we didn't have any traffic to speak of, other than a large party boat well north of us and cruising north. People wanted to take a break, so I settled on the small dock at 125th Street – near the Fairway in Harlem.
While there, we took water, some snack, and I was given a final question – TJ is hyperthermic, what do you do? At first I heard that as hypothermic, but no, hyper-thermic, overheating – what's the easy solution? Fluids, cold water, maybe a bow dip to cool off.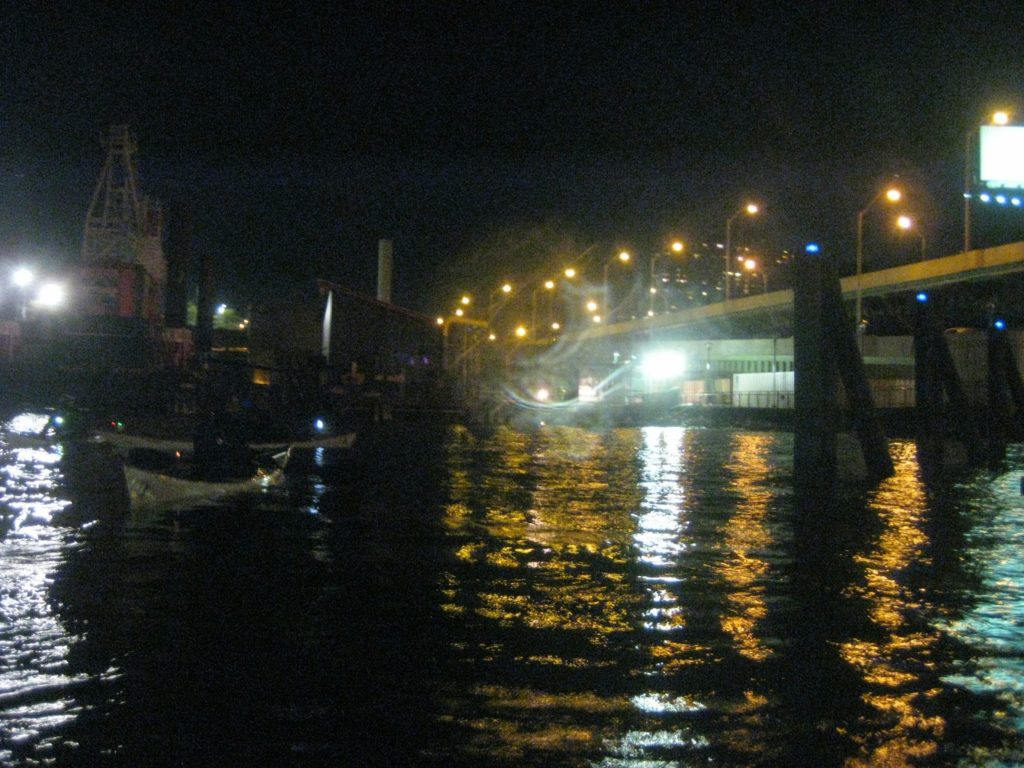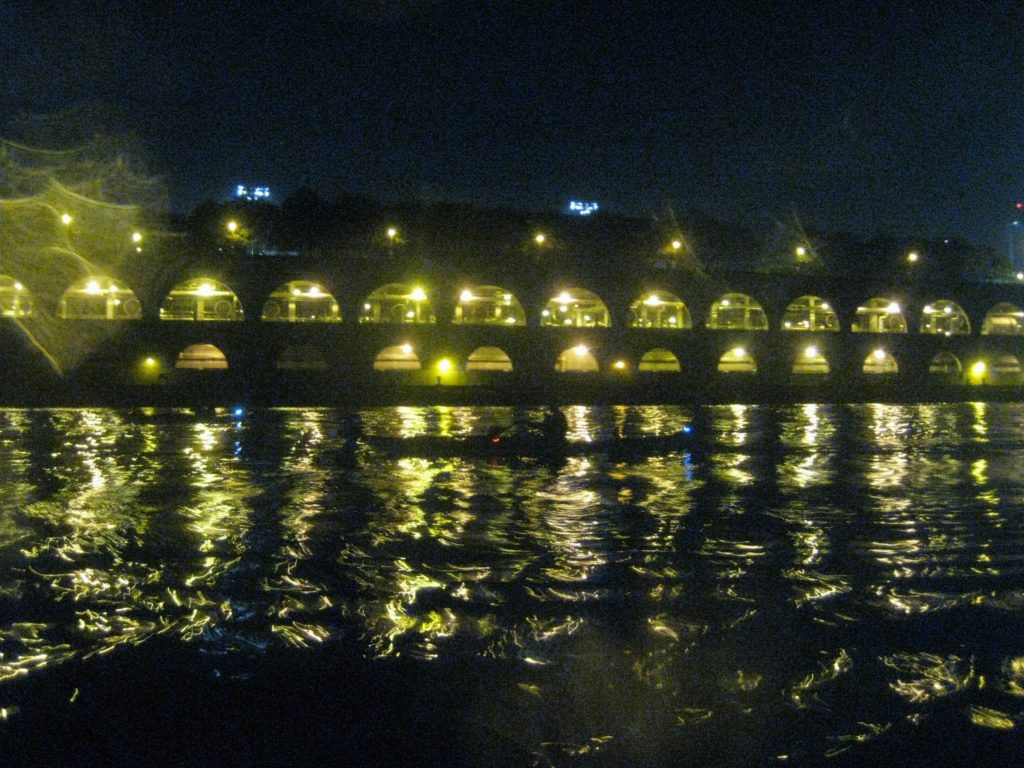 We continued on – I was no longer "trip leader" and was now simply assist. Thank goodness. In the next leg, we paddled with lights off.
Now, this is unusual, and strictly speaking breaks regulations, however:
It was a full moon. There was a lot of ambient light.
We were next to Manhattan, there was a lot of ambient light.
We stayed out of shipping channels.
As we moved forward, we crossed under the George Washington Bridge, aglow in light. Now we were in familiar territory, near the Inwood Canoe Club, my home turf. We paddled on, in the night, past the Palisades.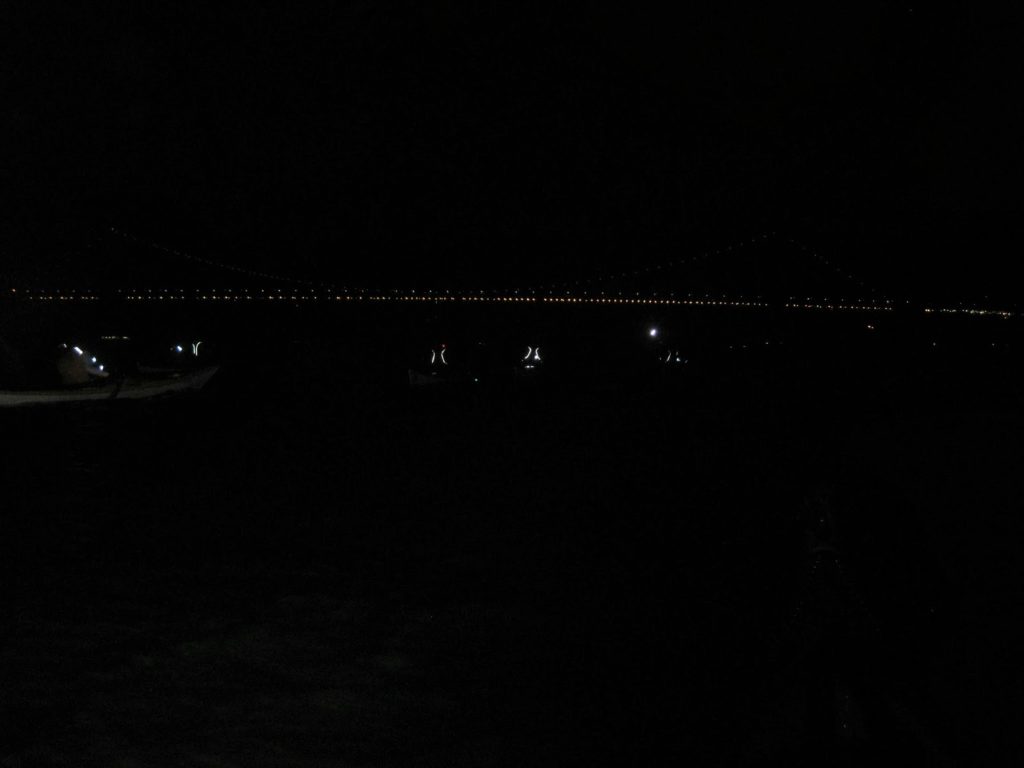 As we approached Spuyten Duyvil, I recognized a familiar problem – we were far enough out in the channel that we risked overshooting the Duyvil. I volunteered to lead us in, and headed towards the shore. "Follow me!"
Trouble is, folks didn't. Instead, they aimed at the railroad bridge. I was aiming about 50 yards south of it. As I looked behind me, I saw this long loop of kayaks extending northwards.
I called out; I blew my whistle for attention; I even held my paddle up in the "on me" signal position. A couple of folks moved; eventually everyone caught up, though some had to paddle back south a bit. I took a minute to explain my brief plan, one I've had to convey to novice paddlers a few times in the summer.
Basically, the Harlem and Hudson rivers connect perpendicular to each other, so going from one to the other means you're usually changing from current in one direction to current perpendicular. I advised everyone to paddle forward in line with the Harlem, and to keep to the right as they passed under the bridge, since the Hudson would be pushing them north a bit. Behind the railroad bridge is a small bay that is great for collecting people.
No problem. Everyone went in, I went last, and after a quick count we continued on our merry way.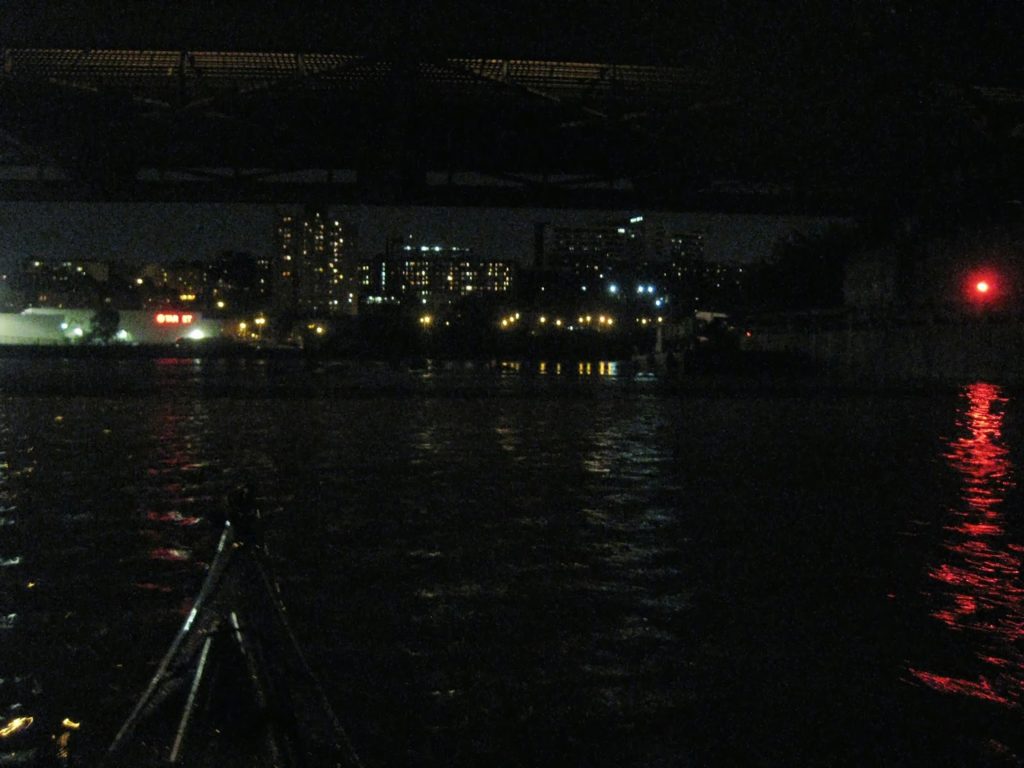 I like the upper part of the Harlem. There's a lot of parkland on the Manhattan side, it's narrow with high walls, and the Metro North railroad runs along the Bronx side. In addition to Peter Sharp Boathouse, there's also the trio of High Bridge, Hamilton Bridge, and Washington Bridge, and a little further down, a view of Yankee Stadium.
We stopped at Peter Sharp for about half an hour, taking a bathroom break and time for serious snacking. We talked boats, and experiences. For a bunch of strangers we all got on well through our mutual interest in sea kayaking.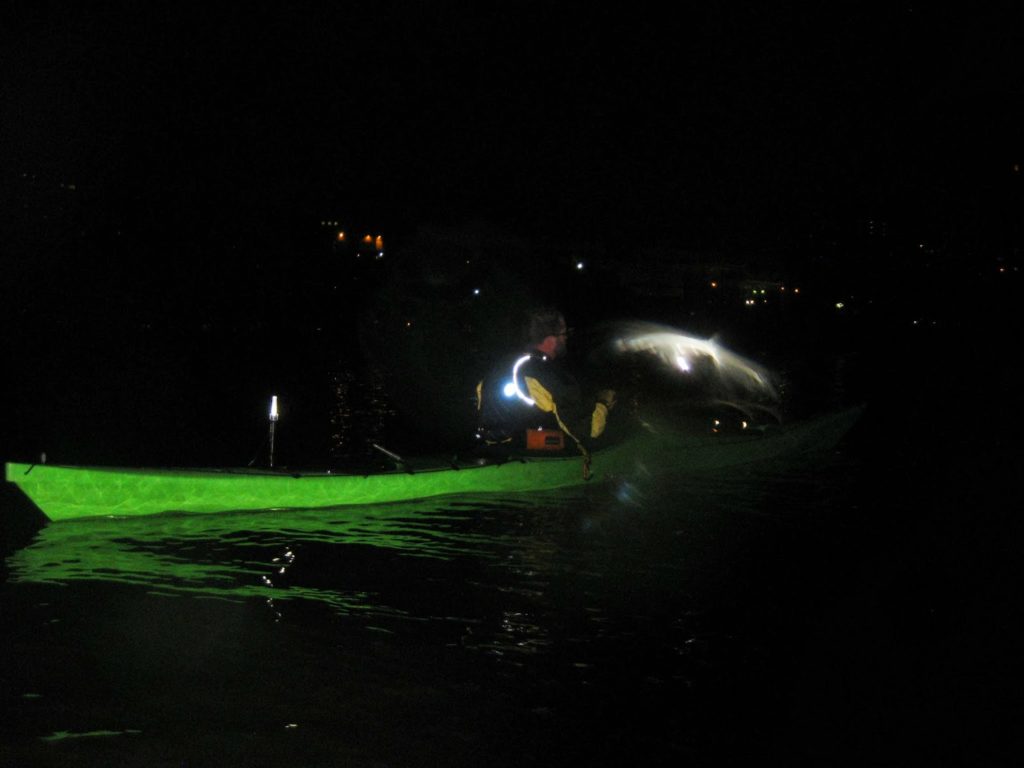 As we left, our lead announced that the leadership training portion was over, that "everyone is who they are", no longer playing trip roles. He was now the trip leader. Also, we were free to put lights back on now or later, but required after Hell Gate.
Ah, Hell Gate, a tricky bit of water that I have come to respect. At its easiest, on a circumnavigation it requires a bit of ferrying to cross. Last spring, I got a small group in a bit of a jam wherein we had to cross it at its near-strongest – ferrying across, missing, and then powering through about 200 feet of strong current to get to a spot of quiet west of Mill Rock. What would it be like at night?
Before we got there, we had another challenge: we were behind schedule, and the current in the Harlem turned against us, getting progressively more difficult from High Bridge down to Hell Gate. It's at this point that we started to have one genuine problem – not a training exercise – a fatigued paddler, I'll refer to as FP.
We did some coaching on his stroke, and when I worked with him he seemed alert and mindful, just tired. Our hope was that once below Hell Gate, when we'd have a lot of current with us, he'd be able to coast a bit and recuperate enough for the trip round Battery.
The group wanted another bathroom break at Hell Gate, so we dropped into a little nook at Mill Rock. Mill Rock is a small, rock-pile island shaped like the letter Y. We were in the top 'valley' of the Y. It took a bit of effort to negotiate the contrary currents. As the upper East River hits Mill Rock and Manhattan, all kinds of currents are created, resulting in strong eddy lines, boils, and vortices.
I climbed out of my boat. I pulled up next to a large, slippery rock, found some footing, and managed to clamber out to find a place to pee. So, yeah, I can say this: I've peed on a rock above Hell Gate in the light of a full autumn moon.
We didn't stop for long. Exiting our little nook was a little tricky. By now a strong current was passing laterally above Mill Rock. The result was that as soon as we poked out, our boats were immediately cocked to the left. Our lead advised us on it, and we had no issues, but it was pretty disturbing to watch all these boats depart with a sudden sharp turn, and exhilarating to experience.
After that, there were a few minutes negotiating the contrary currents. I was in the middle, so I could see from the boats ahead of me what to expect, and eventually made out some of the eddy lines. Once we were below the northern tip of Roosevelt Island, things were OK. We had fast current, but it was much more consistent. We were passing the United Nations by 0215.
Most of us were, anyway. FP was far behind, and getting farther. One of the more experienced paddlers was with him, and our lead joined him. Eventually, we fell into one large group up ahead, and three of them behind, with a fourth in between. As we cruised down the East River, we delighted in the current but were concerned about FP.
Right about the time we started to turn towards an inlet at the Brooklyn Bridge, the other assist came in with a message, to hold up at Pier 17, otherwise known as the South Street Seaport. The stragglers were in the channel, catching tons of current, and caught up in short order. We landed at a small beach and got out.
FP was ending his trip there. He was utterly fatigued, and ready to give up. I'm guessing it was hard; there's a certain pride all paddlers have, but especially good paddlers, about quitting. There's no shame in it, but no one wants to do it. We agreed to tow his boat around Battery, while our lead's wife picked him up in a car and took him back to the shop.
We took a short break for water and snacks, then proceeded on or way. By then the water was smooth, with little wind as we approached the Staten Island Ferry terminal.
There it was, the Staten Island Ferry. As I tell clients, "it's big, it's large, it's well lit."You don't want to get in front of it but it's not easy to miss. Of course, the question was, had it just docked, or ready to leave?
We took a couple of minutes to sort it out, then decided it wasn't leaving.
Suddenly, our radios crackled to life. "Staten Island Ferry to kayakers, any of you got a radio?"
JJ and I fumbled for ours; she beat me to it. "Yeah, we're on."
"You guys mind holding up, we're about to depart."
"Sure," she said into the radio. "HEY GUYS! HOLD UP! STOP!".
We stopped, the back-paddled a little to keep from drifting forward. The orange behemoth moved forward, to our left, curving out towards Staten Island. Once it was clear, we kept moving, and saw men fishing off the Battery. Oddly, the waiting-area tents for the Statue of Liberty ferries were lit up, though the boats were nowhere to be seen, presumably in their overnight homes at Liberty Marine near Liberty State Park. Americans – we like our liberty.
As we rounded Battery we slowed down, fighting the current in this last leg – though not as bad as it might have been, since we were behind schedule. We kept close to shore, popping out only to go around the ferry terminal at Battery Park City. After that, the blowers of the Holland Tunnel were in sight, signaling home, the lower edge of Pier 40's bay. We pulled in one by one, and I got out first, to assist others, including untying FP's towed boat.
---
Overall this was a good trip. Paddling at night was novel, as was paddling clockwise around Manhattan. It was a sizable group, and the first time I've ever managed (even if it was under supervision) a group of experienced paddlers this size. Newbies are one thing – they'll usually do what you tell them, but require extra supervision and instruction. Experienced paddlers can take light instruction, but need a little more guidance on when to tighten up. It was a good experience for me all around.
As near as we could tell, FP was hypoglycemic – low blood sugar. He's a skilled paddler, and did OK with extra caffeine and food, but would fade after a short boost. He was OK, waiting for us at the shop to put his boat away, and grateful for it all.
Some of the paddlers I only knew tangentially before were complimenting how I did, with of course some friendly advice on how I could have done better. I really appreciated our lead's feedback as well as JJ, TJ, and the ACA instructor. He even helped me on my cross-bow rudder.
With all of that, we unpacked out boats, washed them, and put them away, then piled all our gear in to take home (ultimately I left my clothes there on accident, thinking they were in my sea bag. I had a large sea bag as well as a nylon stuff sack). So much gear is involved in serious expeditions. You can get by without it, but when you need it, you'll miss it if it isn't there.
So, great trip, and a great opportunity. I'm sure I'll do it again some time, but for now, I'm still kind of astonished that I did. When I woke up the next day, it felt like a dream – but I have photographs, and witnesses, and therefore, it was real.