The other evening after work I took a short trip up and through Spuyten Duyvil. I'm making a methodical study of our local waterways for places to teach and practice, and the tides were such that I would get a good glimpse of the Duyvil around max ebb on the Hudson. I learned a couple of new details.
First, as one would expect, a strong current is a great time to see the Duyvil in action. Just west of the railroad bridge were patches of short standing waves, an expanding fan of eddies, and overall strong current. I used my typical approach, using a little cutout nook just south of the railroad bridge that is sheltered from the current, to get right up to the line.
Turning in to go against the current isn't difficult but requires a little finesse, edging away from the current while sweeping to take it straight on. Then, strong forward strokes and sweeps are required. I like to stay to the right so that a short burst lands me in a small sheltered area just below the railroad bridge. While incredibly shallow at low tide, it's still protected from the environment, and a good place to take a short break, and to collect a group if you're with one.
Second, the current in the Harlem itself before the bridge isn't terribly overpowering, and even beginner paddlers could cross it with little effort. This is good to know, because as it happens, the area on the north side of the Harlem, between the railroad bridge and the Henry Hudson bridge, was actually very still, making it a good place to practice even through the ebb current was nearing its maximum rate on the Hudson. Even better, according to my charts, and a little paddle sounding, it's deep enough to practice rescues, and maybe even rolling.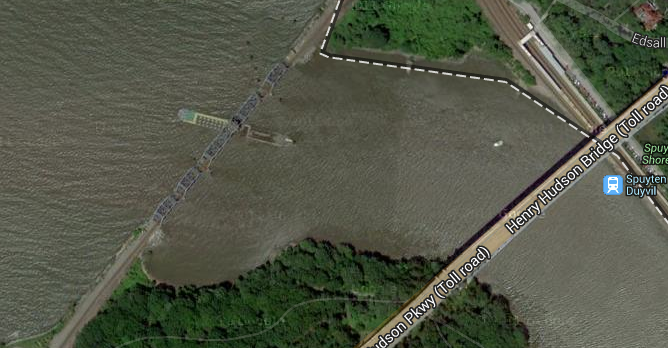 In the picture above, the bridge on the left is the railroad bridge, with the Hudson to the left of it. I approached along the edge of the shore and burst under the bridge into the U-shaped bay on the bottom, then paddled across to the shore on the upper side of the picture.
The little bay on the south has been a good place to practice maneuvers, rescues, and rolls, but it does get shallow – part of it becomes a mud flat. Knowing I've got another area to use is good to know – although, it's less protected from the channel, so I'd want to keep an eye out for traffic.
For more on the history of Spuyten Duyvil, check out Forgotten NY's article. Apparently there was a fire on the bridge a couple of years ago.
I think the Duyvil might also be a good place to practice rough water work, as long as we are mindful of traffic and inform the bridge operator ahead of time.