Temperatures were expected to climb into the high 60s Fahrenheit this second weekend of January. On the one hand some frigid days in November kept me shut in, but on the other hand, this was ridiculous. However, while Mister Cowgirl and I share deep concerns about climate change, at the same time we could not turn down an opportunity for a nice-weather paddle.
That said, the other part of the weather forecast was for high winds and a turn to being overcast. While we set off on a pretty day, our plans changed along with our experience of the weather.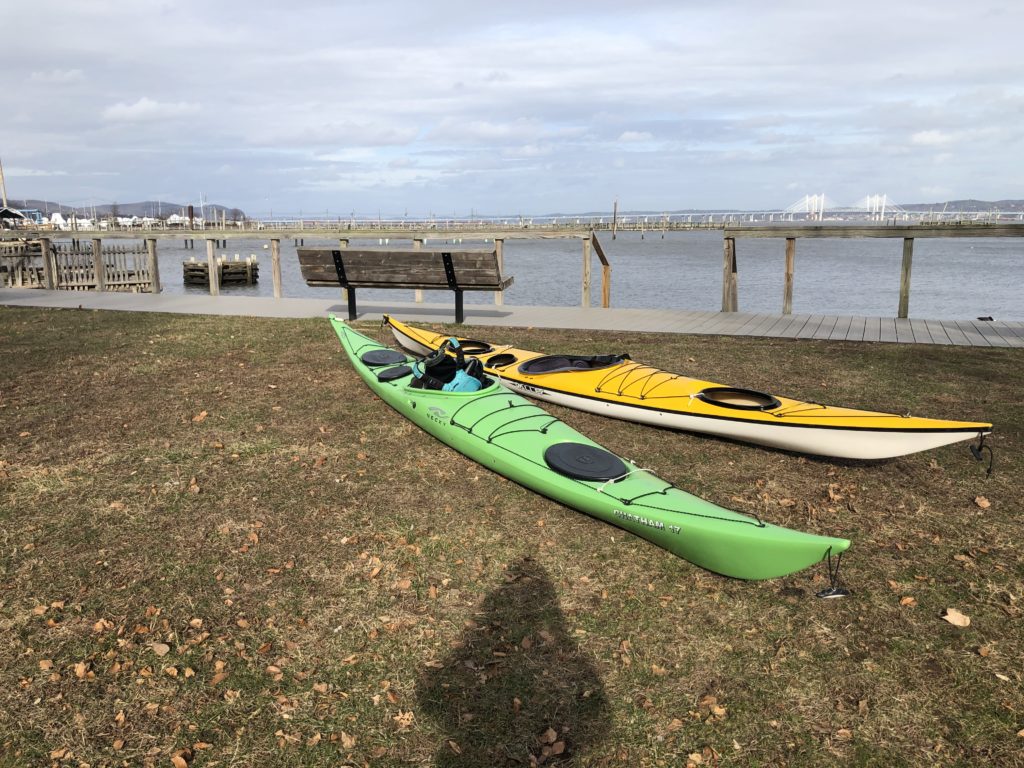 Since I was already staying at the house in Rockland County, we put boats on the paddle wagon and drove to nearby Piermont. There's a small public park that is also home to the Piermont Rowing Club, with a small muddy beach accessible. We staged our boats on the grass and loaded up, with no other paddlers in sight – just a few people on lawn chairs alternately enjoying the view and reading books.
The beach is in the northwest corner of Piermont Pier. It's a long wharf poking out into the "Tappan Zee", the old Dutch name for this part of the Hudson River that widens to nearly three miles, before narrowing back to about a mile as it finishes towards New York Harbor. It truly is like an inland sea, with a steady tidal current, so to say we were "paddling on a river" really does a disservice to the environment.
We have a friend who lives in one of the condominium developments on the pier, and as we paddled out we peeked to see if she was around, but we didn't see her, or any of our mutual friends.
Regular readers of this here blog may wonder what boat I was in, since neither my Gemini SP or Pace 18 are in frame. Those boats live at the club I belong to in Manhattan, so I used the Chatham 17 that I keep at the house. The Chatham is a big boat for me, which is funny because at one point in life I thought it would be just right.
Instead, when we came around the pier and got the full effect of the F4+ SSW wind, after a while I realized my boat was lee-cocking, not weathercocking; that is, my boat wanted to turn downwind, not upwind. When I mentioned this to Mister Cowgirl – David, since so many of my fans know who he is anyway – he took a look and said that the front of my boat was easily rising out of the water, and that from the front hatch forward he could see clear through to the far side, under the hull.
We had hoped for a bit of play in wind-on-current waves, but between boat control and having some very cold hands, due to no pogies, we opted to head towards Piermont Marsh and take a reconsideration of our plans for the day.
The Water Less Traveled
After a bit of a water break, we decided to paddle down a channel in the marsh. David was certain that it would eventually connect back to the river, further south, though all along we could see indications of current heading back towards where we had entered. With the water running out, there was a bit of concern that we would run ground, so after a while of meandering conversation and narrowing channel, we backed out to where we could turn around and returned the way we came.
So, where to next?
We were right next to a channel leading into Sparkill Creek, a narrow waterway that wound back into the picturesque town of Sparkill. It's the next town up from where David lives, and we had driven alongside the creek to get where we launched. It's essentially a fault line that cleaves the range of cliffs along the Palisades; the overall history is quite fascinating.
Not far up the creek was our first major landmark: the Sparkill Creek Drawbridge. It doesn't seem capable of being properly drawn anymore; it's drivable, and in fact the local commuter bus drives over it in a remarkably finessed ninety-degree turn.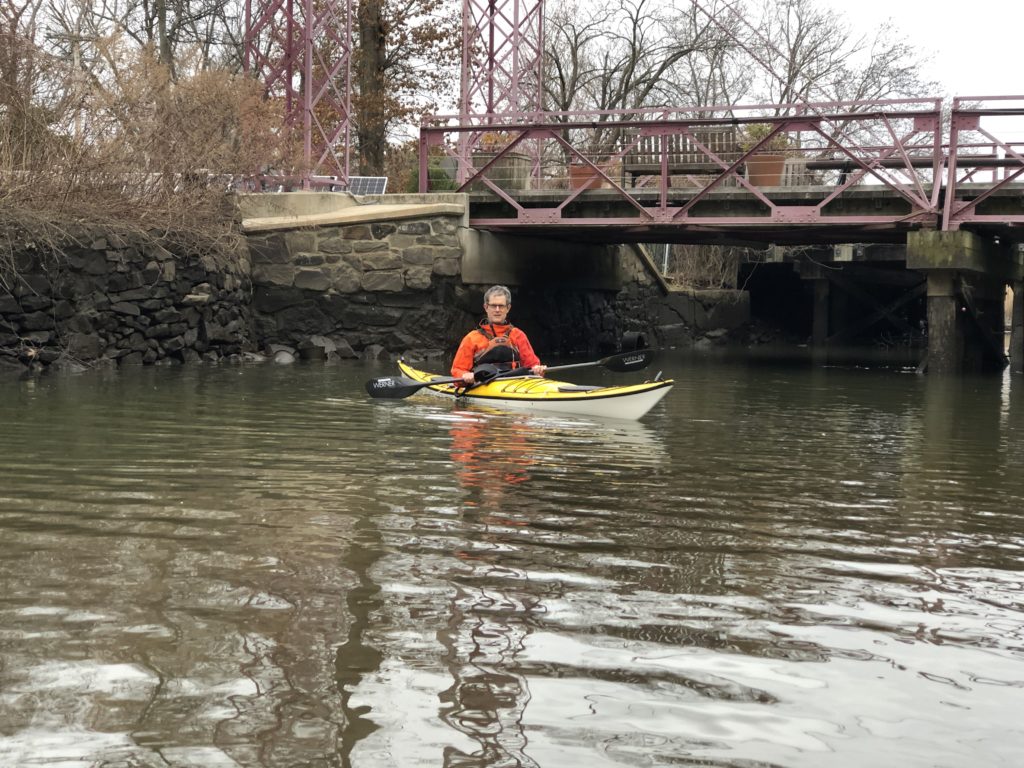 As far as we can tell, from previous land-based observations, it's not operable. It's a well-kept piece of history.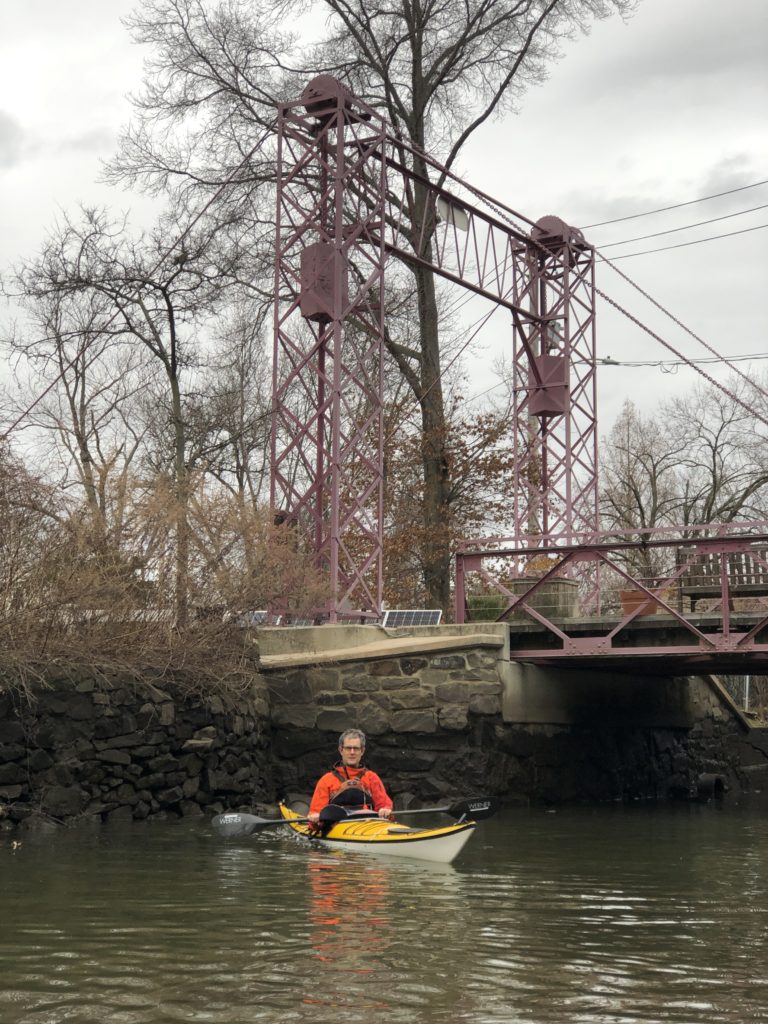 We met a woman in a rec boat on her way out, wearing cotton and an inflatable PFD. We chatted a bit and warned her the winds were quite strong outside the marsh, and she said she knew well enough to not go out there. One of us made a comment amounting to how we were very well equipped after her eyes widened when we said we'd paddled from the opposite side of the pier, but she still held fast that she was quite experienced.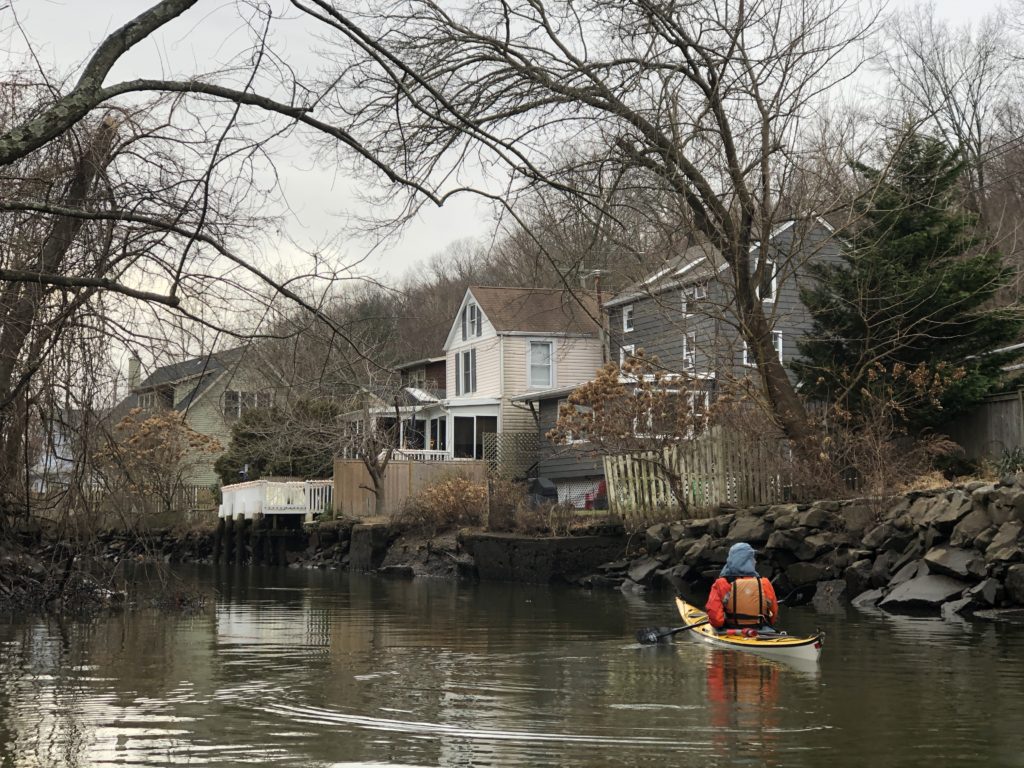 As we made our way up the creek, it got narrower and more shallow. Farther up is a tall dam, not a gushing waterfall, but a wall that water runs over, feeding the creek. We weren't able to get there, but I gave a shot at navigating the small eddies behind rocks. It was tricky only because it was so shallow!
We turned around at the point, heading back the way we came. We encountered the other paddler we'd met on the way in, who had turned around at the mouth of the channel but gotten stuck in the mud. She showed us her muddy feet, which she used to propel off. While the water was cold, the air was so ridiculously warm that it didn't matter much.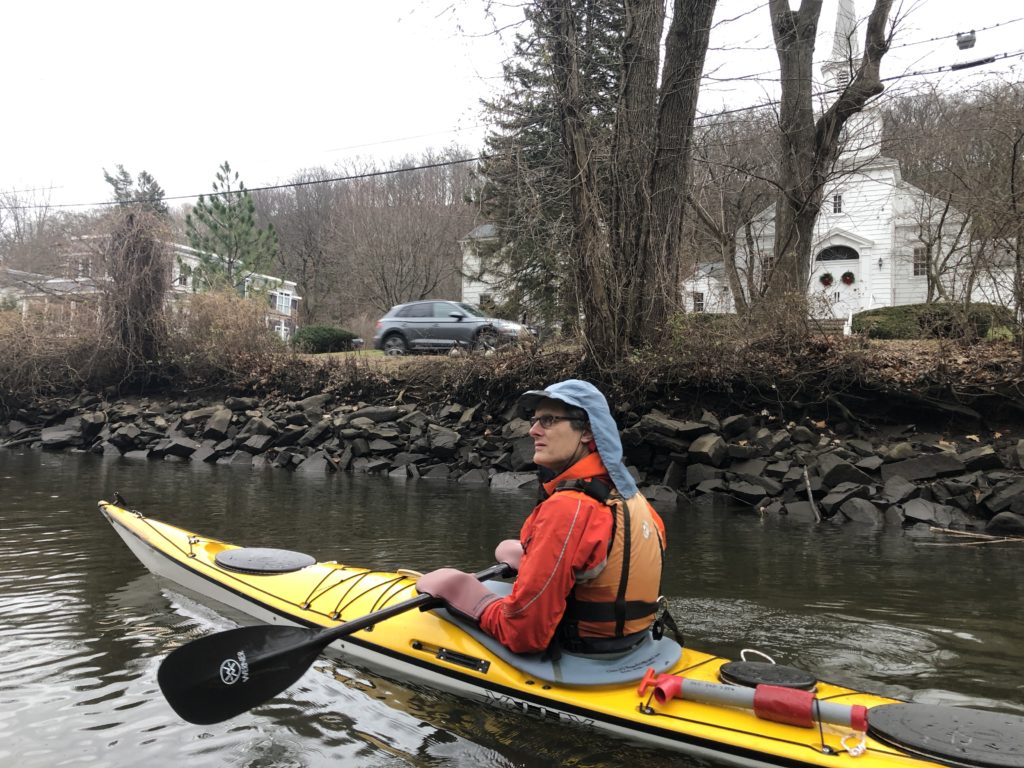 We headed back, with some wind coming now from the ESE, but not as strong as before. As we rounded the pier we found a bit of a wee tiderace, as the water rushed out of the shallow bay past the head of the pier. It wasn't substantial but it was distinct.
As we paddled in, we went by our friend's place again, and saw some of our friends heading in. Turns out there was a football party, and while we are not especially football fans, we did end up dropping by for game-day food and good company.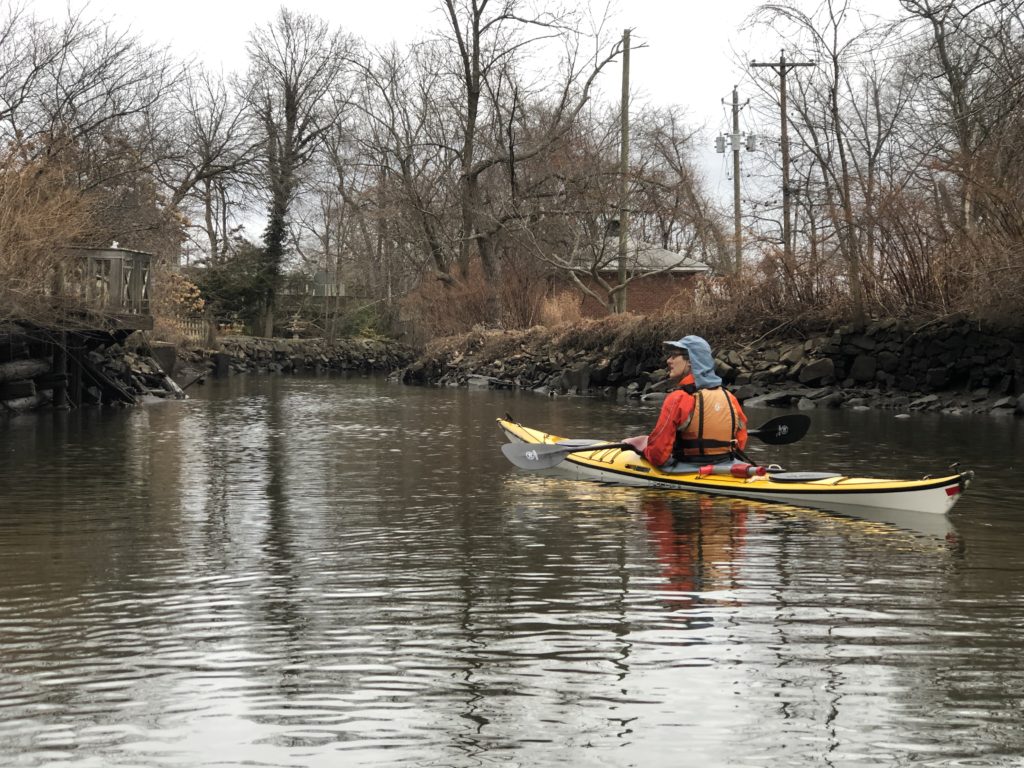 As we came in, a police boat sped by, and when we landed we saw some fire trucks leave the nearby station and drive down the pier. Whether drill or real event, it was a bit concerning, but we never determined what happened. Certainly when the water is cold but the air is relatively warm, that's when water-related accidents tend to happen.
I'd been concerned this would be something of a boring post. First, I didn't have my water camera, so any action-adventure wouldn't have pictures. The pictures I took were only because the water was so sheltered and shallow that I took my phone out of its case. And, at that, the journey was more interesting than expected because we were able to get as far up the creek to see part of town that were familiar to us – just from a novel vantage.