One of the reasons I wanted to return to Maine was the array of challenging conditions in close proximity to each other. From the camp were easy paddles to a nice tiderace, multiple eddies to work with, and islands and channels for navigation. Add in some cartopping and there was rock-hopping, surfing, and choppy conditions. We did a little of each, a couple every day.
For example, when practicing some trip leading, we found some nice little arrangements of rocks to paddle over. The trip leader had to scope out the path, then give simple instruction and shepherded us through. This was an elbow-shaped loop behind a rock. We each went through, twice, and on the last go, the paddler capsized (on purpose, for practice). The trip leader had to rescue him.
Another scenario had us landing in surf. Not "surf landing", but landing in surf. This was novel to the Cowgirl. The idea was to approach the beach in a controlled manner, rather than riding a wave to be deposited on the beach. Well,the surf reflexes of yours truly meant that she kept paddling forward in the trough to catch a wave. In so doing, her boat broached on the wave, yawing about sixty degrees, and she capsized in about a foot of water.
What was meant to happen, and which was eventually attempted, was to paddle backwards in the "big suck" of water rushing back from the beach. This gave the boat momentum into the next wave approaching from behind, making it more stable, and then paddling forward to get closer to the beach. In this manner, a successful landing was obtained.
We also did a fair amount of cliff surfing – as water rushes past cliffs, a little wave can push along but not into a cliff. That was a neat way to paddle – catch a wave but don't hit that wall!
The local tiderace was something we didn't get to until the very last morning, and it was an early one at that. To get the tides right, we had to be on the water and 0500! It was worthwhile though. There's a spot, called Lower Hell Gate, where the river kinda makes a little jog to the side, with a long slope narrowing down to a point at the water. There's an eddy to shelter in and a prime viewing spot for an instructor to do some land-based coaching.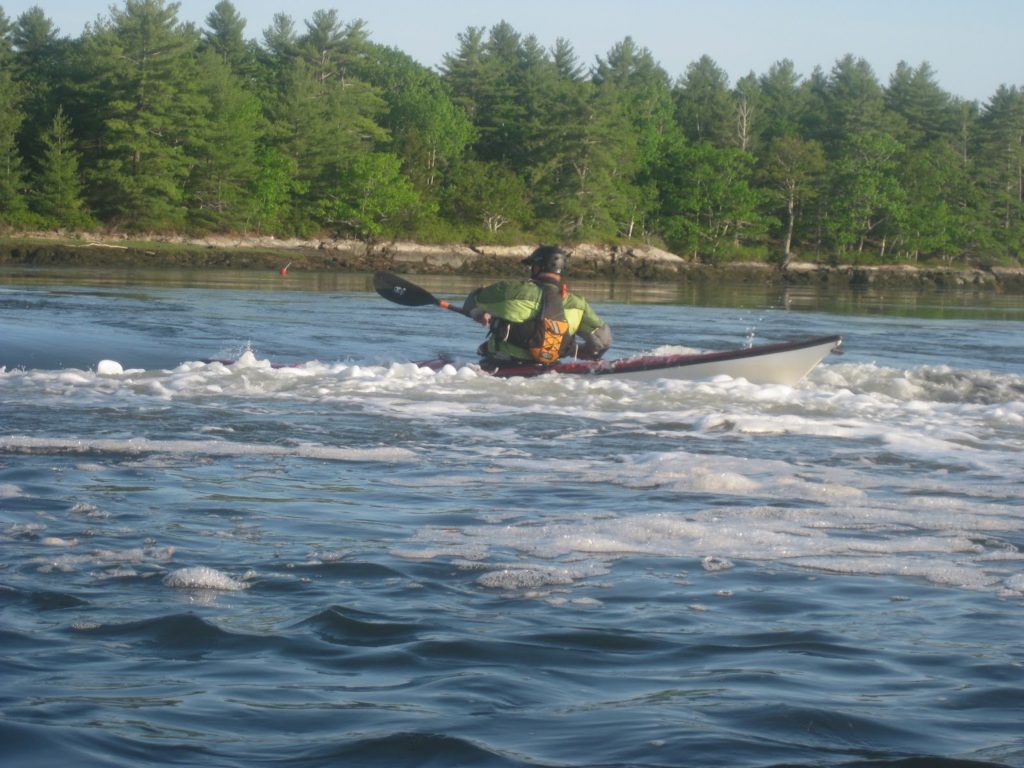 Last year, I capsized here once. I wanted a rematch. While the tide was a bit higher and I didn't try side-surfing, I did managed to keep in the stream and practice moving from side to side, saw my bow drive into the standing wave, and then back out with the current. It felt great. I then crossed the river and practiced moving sideways in and out of eddies.
The area of Knubble Bay, the Kennebec and Sheepscot rivers near Bath, are great and varied placed to practice sea kayaking. I fully intend to return.