I'd put the date on my calendar months before. The New England Slalom Series, or NESS Race, was holding a slalom kayak event in Tarifville, Connecticut, June 6. The two days before would be setup and practice.
I wanted to go because a club I'm involved with, the Kayak and Canoe Club of New York (KCCNY) recently received a trailer full of slalom gear, and no one was quite sure what to do with it. As it happens, I'm also the competition chair on the ACA Atlantic committee, the regional American Canoe Association chapter for our area. So, it was time to put on the ol' learning cap.
I wasn't sure what to expect. Racers? Whitewater? A bunch of people I'd never met before, for sure. I did not bring a boat, a decision I regretted in hindsight. However, that allowed me to focus more on the logistics of the event, from administrivia to setting the course to running the race, as well as to observe a variety of craft running the course, and the decisions each participant made as they did so.
Setting the Course
I took a lot of pictures, far too many for a blog post. The short version of setting the course is that it involved ferrying a line across the river, using that line to drag a wire and a second line across, fixing the wire on trees, then using the second line to pull the gates into position, then using two more lines to position the poles above the water. Multiple that times twenty, and you'll get an idea of the work effort involved.
In slalom, some gates are downstream and some are upstream. Downstream gates run with the main flow, and upstream gates are in an eddy. Green is for downstream and red is for upstream.
Once the course was set, there was time left on Saturday for early arrivals to practice the course.
I mean to draw a diagram, but essentially the course ran line this: the first four gates alternated from down to up, then a straightaway down to another up, ferry to river left for another straightaway and an up, then a fast straightaway alongside a set of ledges and holes to another up in an eddy, ferry to a river right upstream gate, and at last through a final downstream gate.
Several participants practiced the course, generally focusing on one or two sequences at a time, rather than repeatedly running the entire thing all in one go.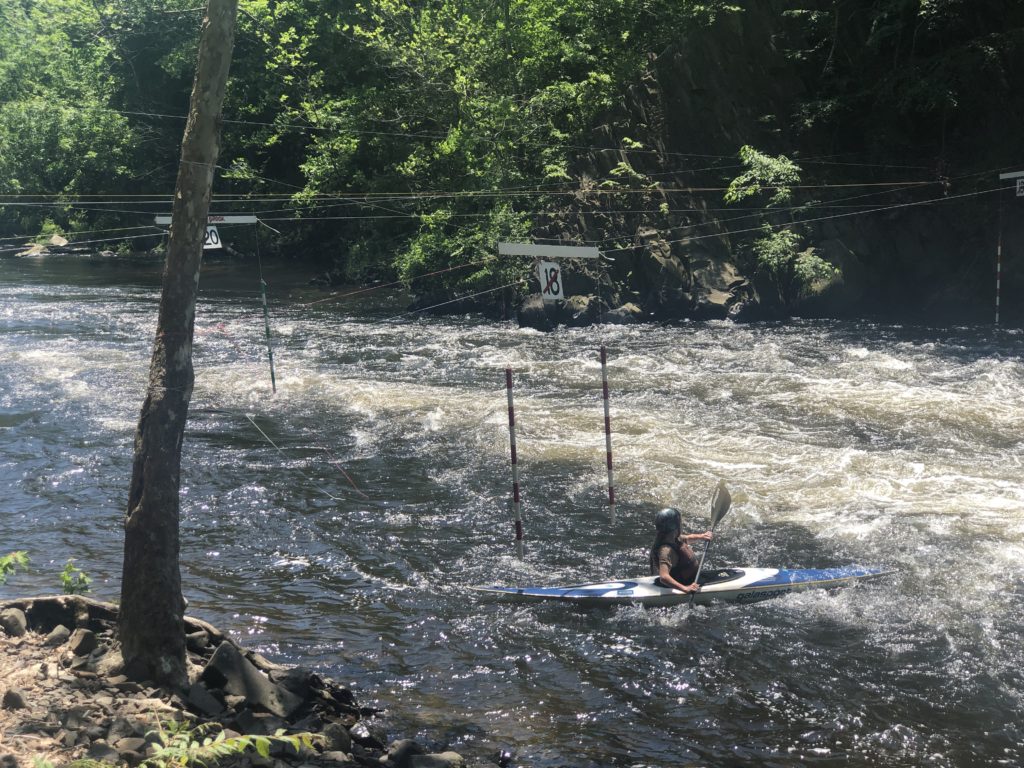 The Venue
The location of the race was a great venue for paddling. I'd never been, and while the big feature was a bit eye-opening at first, having a few days to observe it helped me realize how manageable it is.
A well-maintained gravel path leads down to the river from the parking lot above. There are at least three good put-ins, and the variety of features in such a short distance makes this a great place to stay and play. Several of the people I spoke with said some people run the river from further upstream.
A big feature near the end is a series of holes. From near to far: Rodeo (for play), Klingon (up a but, wide, and sticky) and Pencil Sharpener (strong and jagged).
Some paddlers played in Rodeo outside of the competition. This was pretty amazing to watch. I did see one perfect somersault, but not with the video rolling.
The People
I've been the new person many, many times in life: the new kid at school, the new person at work (several times over on each). Despite positive experiences, there's always a bit of apprehension when meeting new people, especially in the context of a discipline I know nothing about.
I'm happy to say the folks in this race were friendly, welcoming, and helpful. It probably didn't hurt that I was early and willing to help, but all the same, they explained a lot about how to set up the course, how the race gets run, and what the broader context is within the larger slalom community.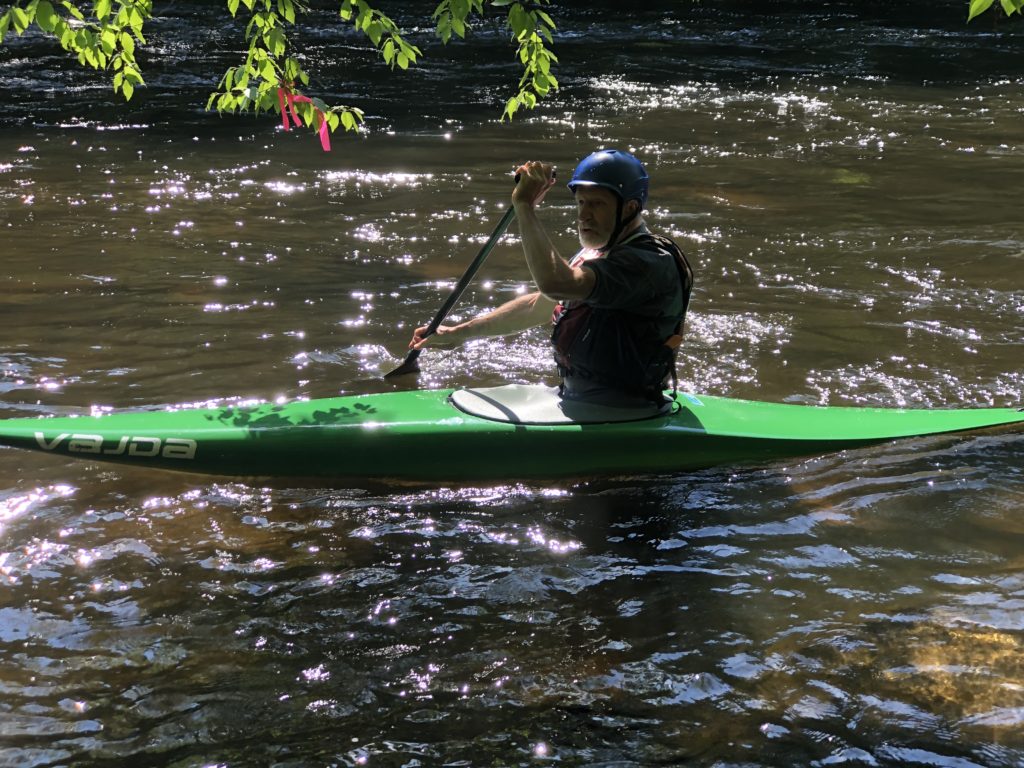 While there were some participants who compete in national and international events, for most this was a friendly race with participants ranging in age from the teens to retirement, and with a variety of skill levels and experience. One described these events as being more, "like a family reunion", than an event, and as we camped together and worked together, that aspect was amply demonstrated.
What's clear from this and other events I've learned about, as well as the trailer the KCCNY inherited: these events are passion projects, supported directly by the participants. There's no, "they" putting it on. These races do not occur without the people who run in them also running them.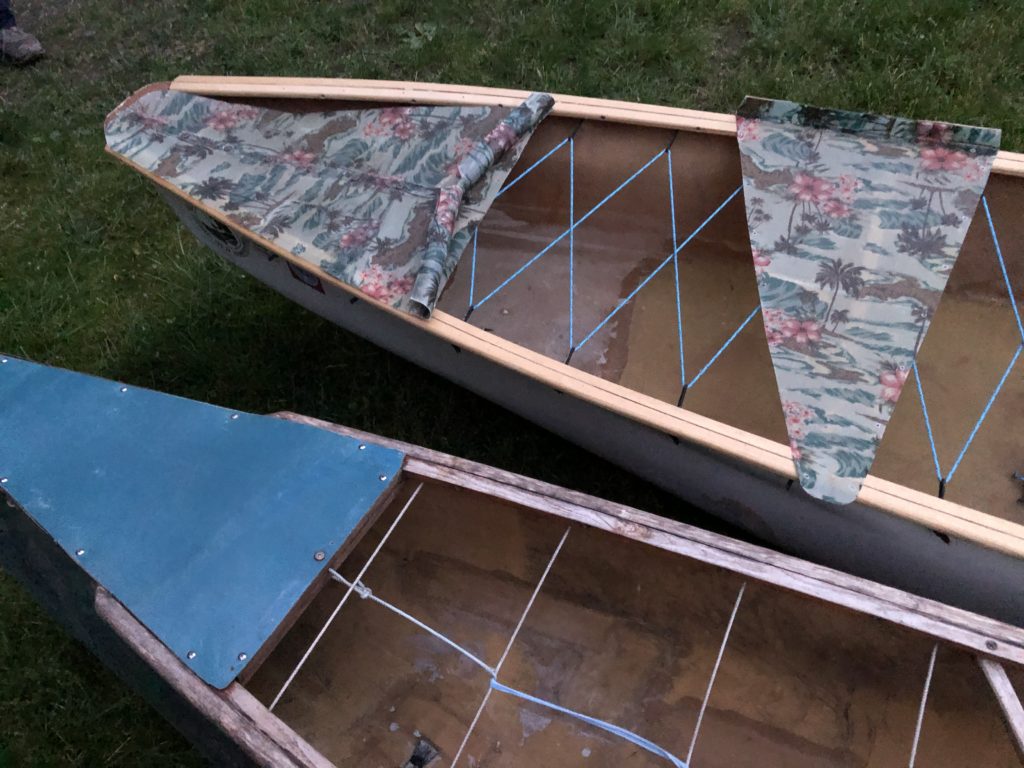 The Race
Once the course was set and there'd been some practice, race day was Sunday June 6. For this, I was positioned at the start, with a more experienced hand, at the far side of the river (river right) and upstream from the first gate. All my videos that day were of the start.
I rarely see anything other than kayaks and open canoes, so the variety of boats was very informative. Here's a C2 taking off on the course.
And here's a C1. There were several, and some participants switched between different classes of boats.
That was another thing I learned. I'd read "new classes available" as instructional sessions – not new categories of racing!
Summary
Altogether this was a very pleasant introduction to slalom kayaking. As I talked with several participants, one refrain I heard over and over was that it wasn't about competing against others, but competing with oneself, or becoming a better paddler.
Each gate is a goal; where a river running might pick a line and try to either survive or thrive on it, in slalom the focus is getting through the next goal without touching the poles. What's the strategy to set up for the next? What's the skill needed to thread through efficiently? It's a different mindset.
So this was exciting. Next time I'll bring a boat!