Just a couple of weeks ago, I was musing on how I don't go on long journeys anymore. In the past few years I've focused more on practicing in specific features like surf, and rocks, and tidal races, spending more time at a place than in getting to it.
Yet, my early trips were all about distance, and working out the tidal currents to maximize distances. It's a thing Manhattan paddlers are somewhat known for. Because the tidal currents approach and in some places exceed three knots, our trip mileage seems inflated to paddlers in areas where the maximum tidal currents are only a little over a knot.
Circumnavigations are a great example. Timed correctly, they're the easiest thirty miles you'll ever paddle. Of course, the inverse is true – get the tides wrong, and they'll be the hardest thirty miles.
I've become friends with Johna Johnson, one half of the Wind Against Current couple. Vlad and Johna were early sources of inspiration for me when I started paddling outside of club events. To them, a circumnavigation was a warmup; Vlad had a routine that would take him out around City Island in addition to a circumnavigation. They took me on my first (and so far, only) paddle from Pier 40 in lower Manhattan to Sandy Hook, New Jersey. These people ate nautical miles for breakfast, lunch, and dinner.
Imagine my surprise (delighted, to be sure) when Johna agreed to an early morning start, catching the flood current from Inwood out as far as the Throgs Neck. After a bit of discussion, Mister Cowgirl opted to come along as well, making it a group of three – perfect for a journey!
We got a late start – with traffic and winter gear, our 0715 launch time was pushed back an hour to 0815. However, in short order, we paddled north and then under the Spuyten Duyvil Railroad Bridge, with the Henry Hudson highway bridge looming next.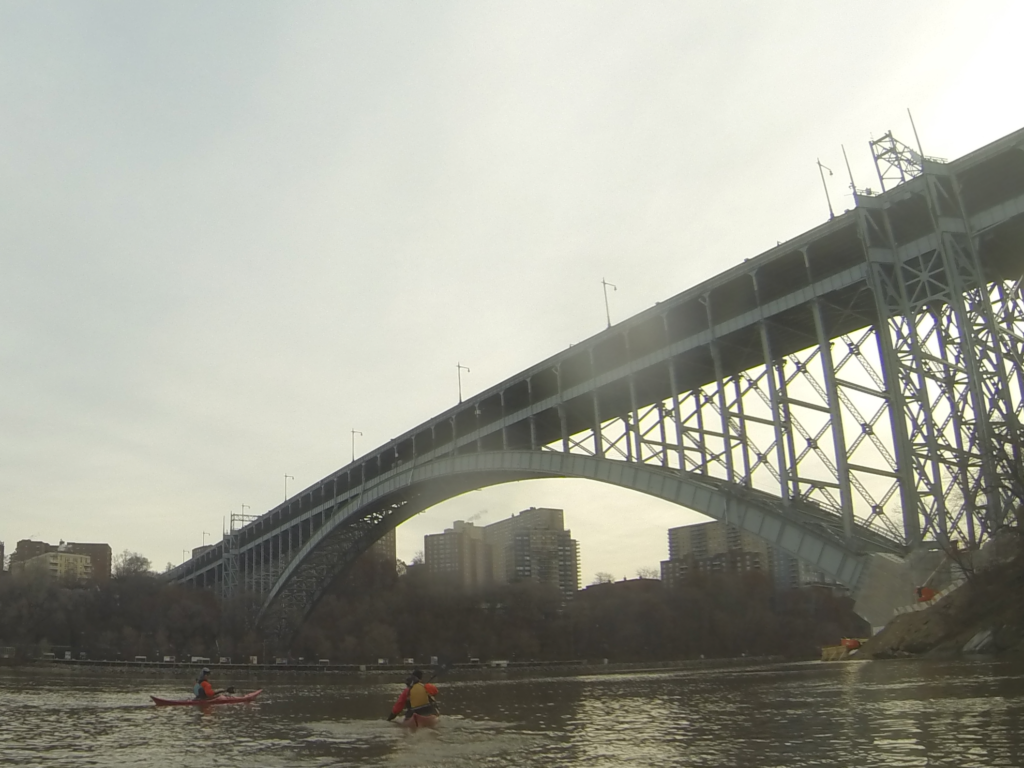 We paddled down the Harlem. The water was glassy smooth, and in several of these photos, you'll see the paddlers and their boats reflected in a mirror universe of water.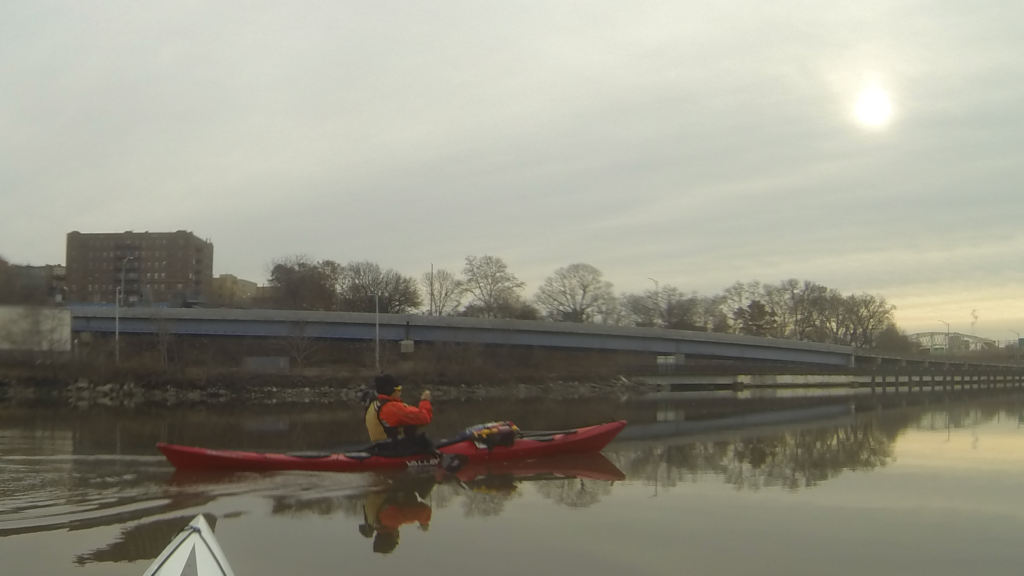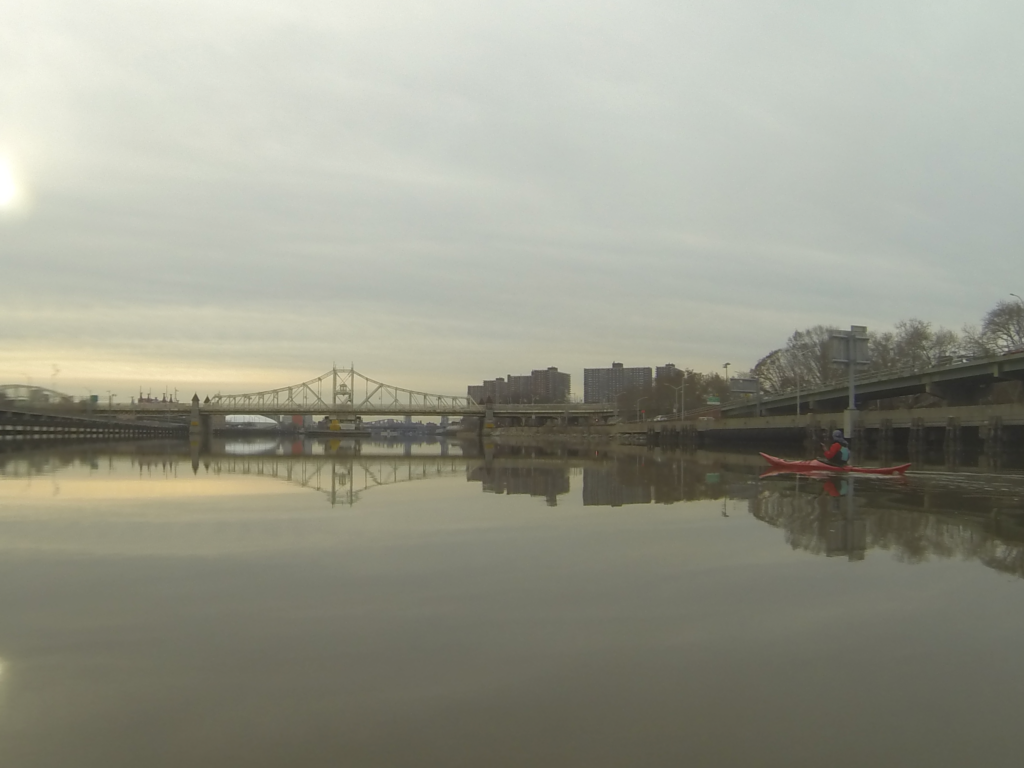 In short order, we passed the 138th Street Bridge and hung a left before the NYPD marina, to pass through the Bronx Kill. After paddling out a ways, we passed between the Brother islands. Looking back, we were treated to a view of Manhattan and the Hell Gate railroad bridge.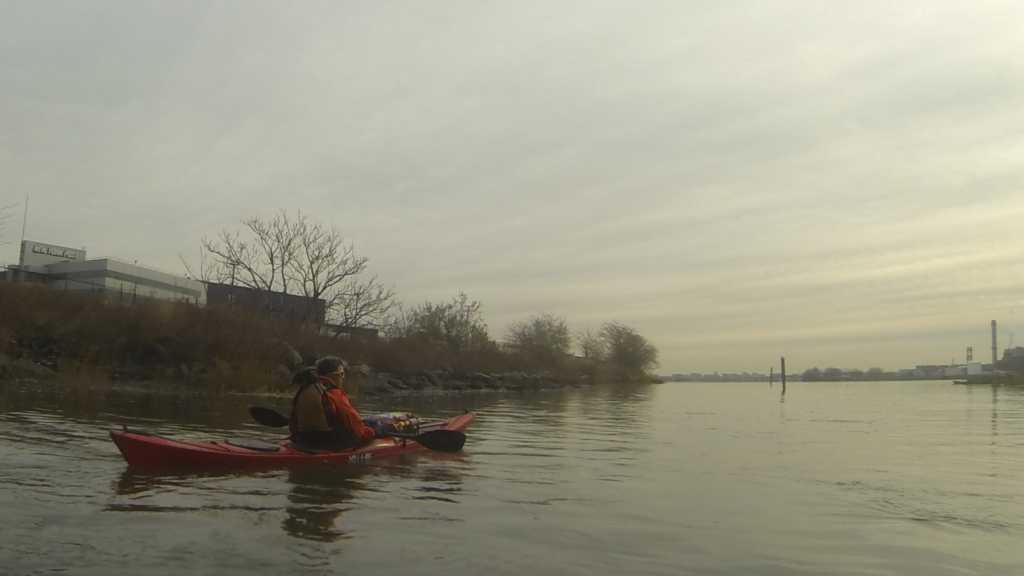 I was happy to see one of the artifacts on North Brother was still in place – a bit weathered, but still there. Someone's arranged an old television and a chair on the southern edge of North Brother Island. In the reflected light, for a moment it looked like the television was on and displaying a broadcast.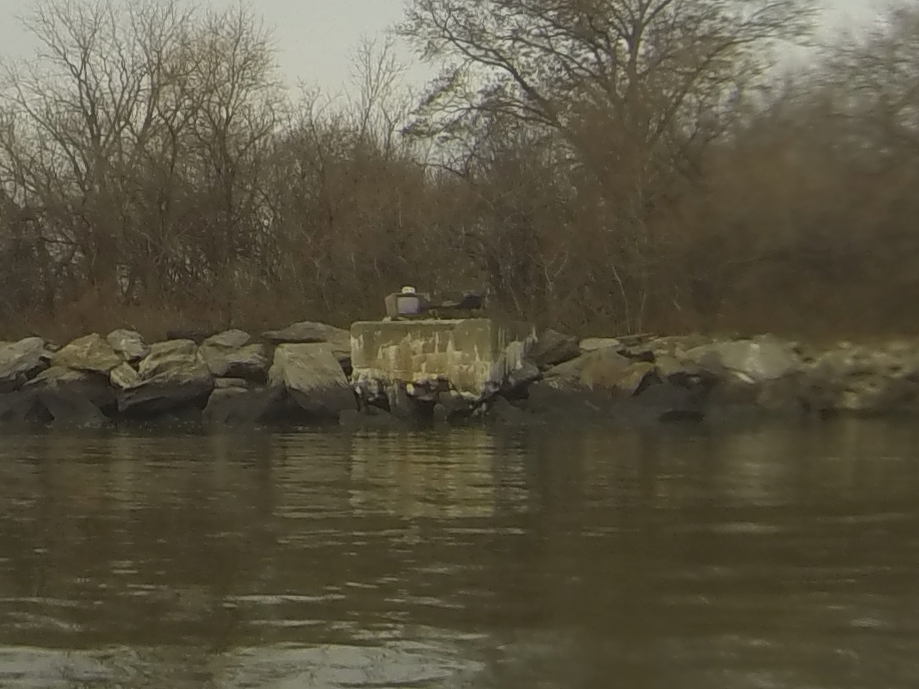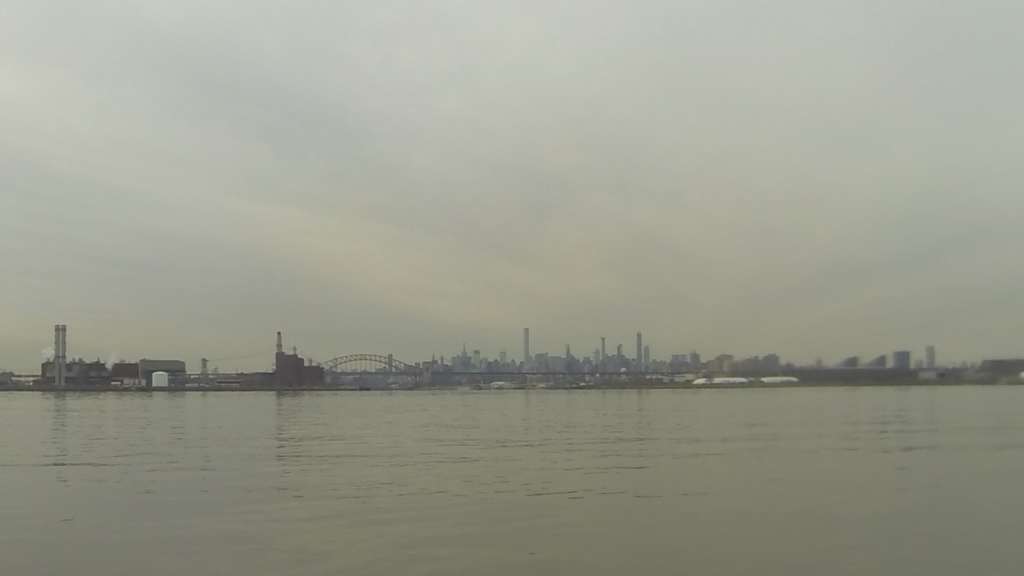 We weren't entirely decided how far we would go; we'd all assumed we'd see how we felt, and what kind of time we made. The good news is, we were making great time, and feeling much more comfortable than expected, given the below-freezing temperatures of the morning.
Once we were in sight of the Whitestone Bridge, we decided to press on a bit further, and once we actually arrived at the Whitestone, we decided to carry on the remaining two miles to the Throgs Neck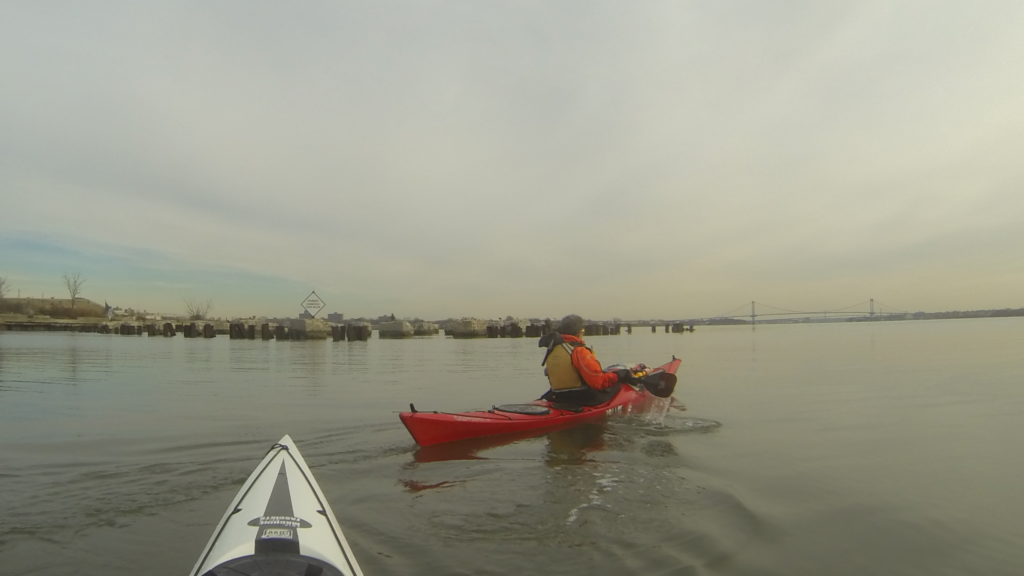 Along the way, we passed a new ferry terminal; looking it up retroactively, it was probably the Soundview terminal, at Clason Point in the Bronx. The NYC Ferries are new, in particular service to the Bronx; at first I thought it was still closed, but then we saw people milling about. As we got closer, we could see shimmering in the glass windows, reflected light coming off the water.
We spoke to a man who was waiting for the ferry. We had passed one heading towards Manhattan earlier, near Hunts Point. He was waiting for the next one – and taking friendly pictures of us!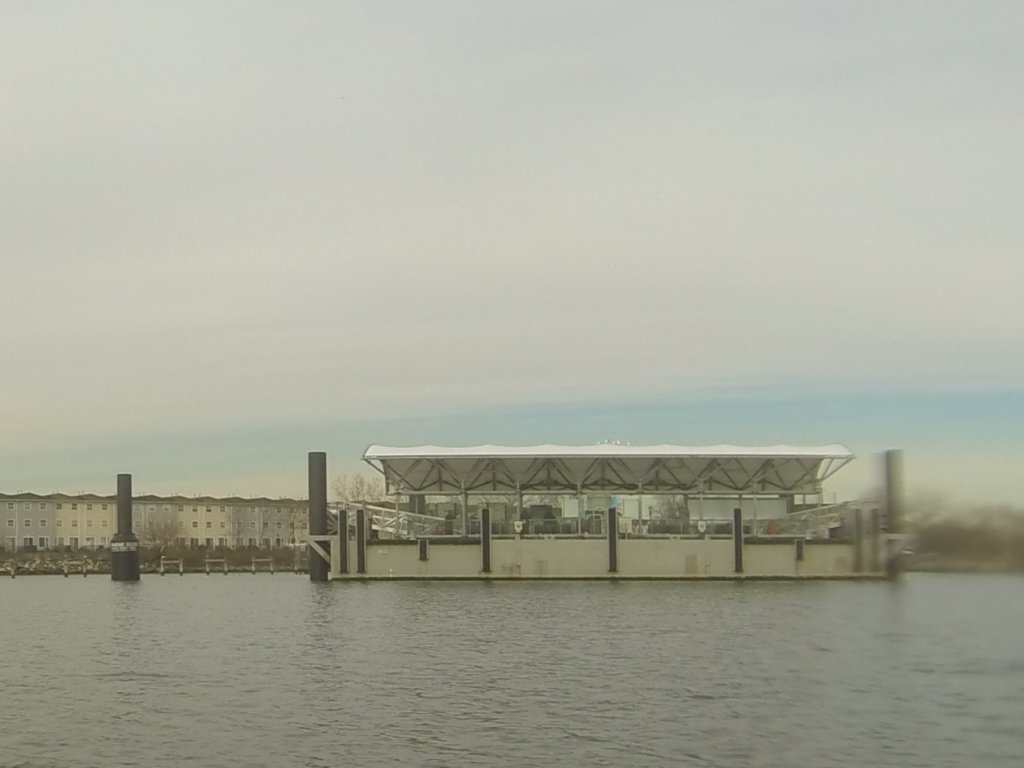 The Throgs Neck is home to SUNY Maritime (State University New York); it's basically a civilian naval academy. Curiously enough, on the other side of the strait crossed by the Throgs Neck Bridge is the United States Merchant Marine academy – the civilian counterpart to the Naval Academy at Annapolis. Both campuses are built on the sites of old forts which used to guard this eastern-most approach to New York City; much like the forts on either end of the Narrows, they were well-positioned to fend off approaching enemy fleets. Beyond this point lay the western end of Long Island Sound.
As we approached, we passed the SS Empire State (Empire State VI, officially), the training ship used by the school. Her long life story is well worth a read; in recent years she's been deployed to support hurricane relief efforts in New Orleans and Puerto Rico.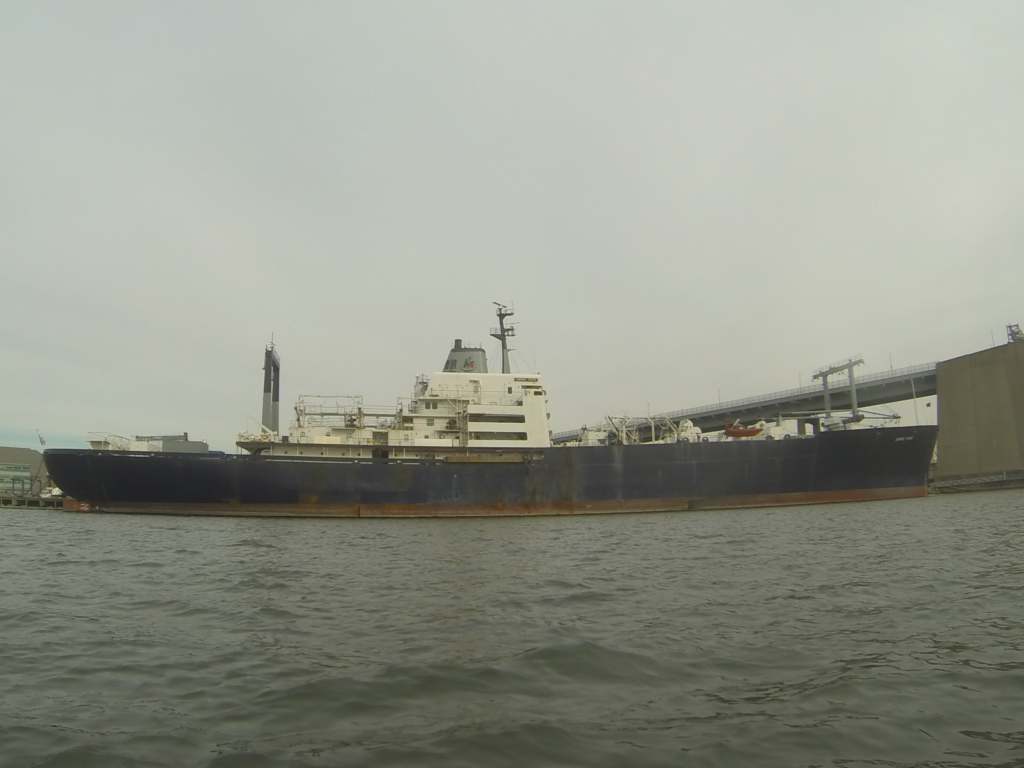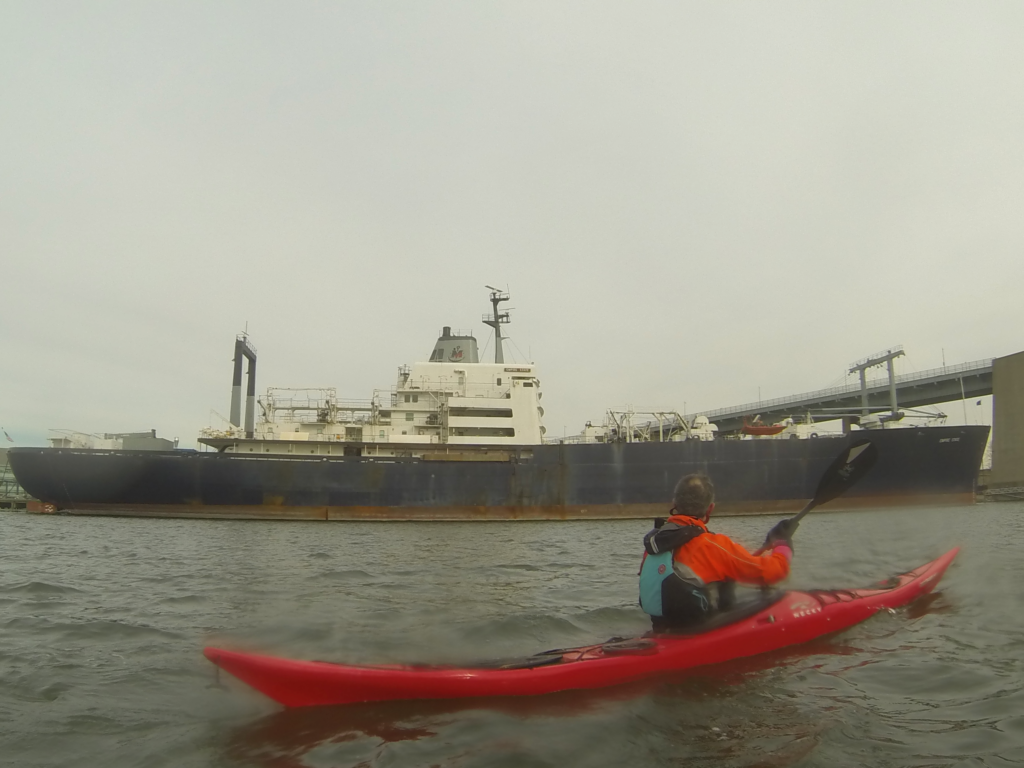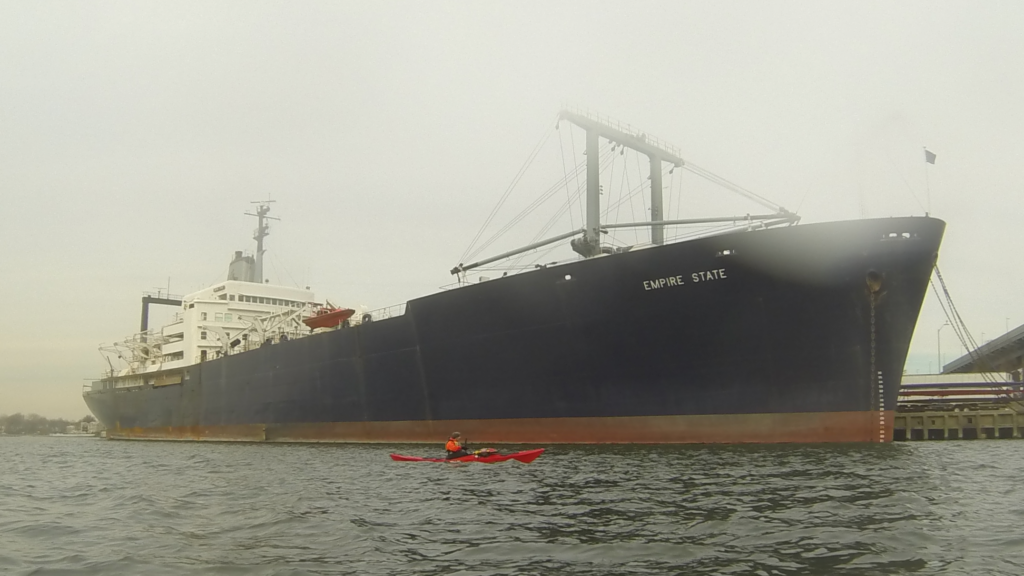 There is a small beach immediately east of the north end of the Throgs Neck Bridge. Because I'd made this journey a few times before, I knew to bring ID, in case security rolled by. Once or twice in the past, they'd ask for ID, just because most people who arrive at campus have to present that to enter from the land – fair's fair, for those of use who arrive by sea.
Sure enough, as we were pulling our boats up on the beach, an SUV marked "Security" rolled up. At first it wasn't clear if the driver was going to get out, or wanted us to go to him. Expecting the worst, I walked up with my wallet and mad introductions.
The fact that we were prepared helped. After a bit of chit-chat – where we'd paddled from, what our paddling experience was – we said our plan was to have lunch in the lee of the wind, then paddle back.
"You know there's a cafeteria up the road, right?"
Well, I'll be. I didn't know there was a cafeteria, and in all my paddling experience, I've never been invited to go to the school lunch room.
It didn't take much to convince us: near-freezing temperatures vs a warm building, a somewhat open beach vs lavatory plumbing. We moved our boats up high against the wall and took our valuables, then walked up to the cafeteria. We passed a sentry guarding the entrance to the Empire State along the way.
In the past, the farthest afield I've roamed is to a little model ship museum inside the old fort. The cafeteria is part of a larger dorm structure, and in short order we passed several young men and women in typical weekend college apparel. Both of my companions remarked on the pretty even distribution of gender; time was, going to sea was a man's trade. Johna and I both being fans of nautical adventure, it was nice to see the lists were open to our side side of the gender fence.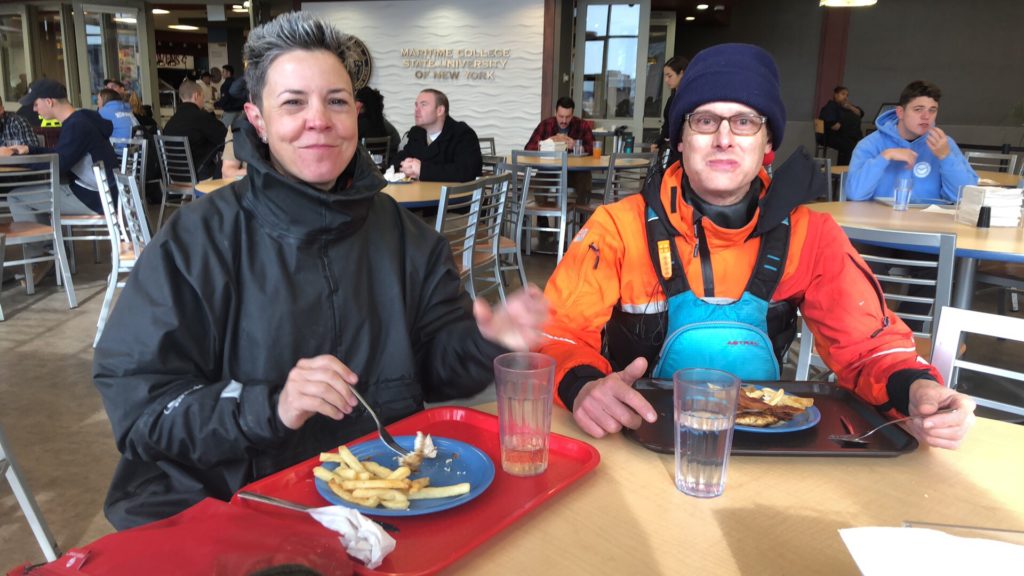 The cafeteria itself was on the second floor, with floor-to-ceiling windows looking south. The Empire State and the distant city skyline dominated our view. Johna and Mister Cowgirl opted to buy lunch, which was basically an open buffet. I tucked into the peanut-butter & jelly sandwich I'd brought, along with some potato chips and an apple.
In short order we were rested, fed, and warmed up. After some restroom breaks, we packed up and headed back to our kayaks.
The journey back was mostly uneventful. By now, our late start was catching up to us. We were about an hour behind schedule, and the water level in the kill was just enough to get through; indeed, on the western end of the kill we had to root around for a channel deep enough to paddle through (its's on the south after the constriction, and then northwest at the mouth), and we had diminishing current on the Harlem. In my estimation, if we'd been another forty-five minutes late, we'd have been fighting current on the Harlem.
We came back a bit after sundown, arriving at the Inwood Canoe Club by 1715. Rinsing our boats in the dark, in the cold, we nursed hot tea and cocoa, and finally changed into street clothes. The entire trip had taken pretty much all day, but it was well worth it.
Altogether, this was a trip of about twenty-four nautical miles, with about eight hours on the water. At times we paddled hard, but mostly we kept it casual, chatting along the way. And, to our happy surprise, we were not freezing. Mister Cowgirl and I swapped pogies for comfort (one set warmer than the others), and it is true that once off the water, we needed gloves quickly, before our hands got numb, but paddling? We were appropriately attired, and at points my companions felt a little overly warm.