Today I provided swim support for the NYC Triathlon. This meant I was one of a large number of kayakers on the Hudson, forming a sort of line to prevent swimmers from swimming into the seawall or swimming out into the channel.
This entailed paddling one or more boats up to the staging area on the afternoon before, and then coming back at about four-thirty in the morning to launch and get positioned. Swimmers started around five-forty-five and swam with the tide. After a quick 1200 meters, they were off to bike and later run in their quest for victory.
I set my alarm, pre-ground my coffee, and staged it in the french press. All I had to do was pour hot water, press, and transfer to a thermos, to get out the door.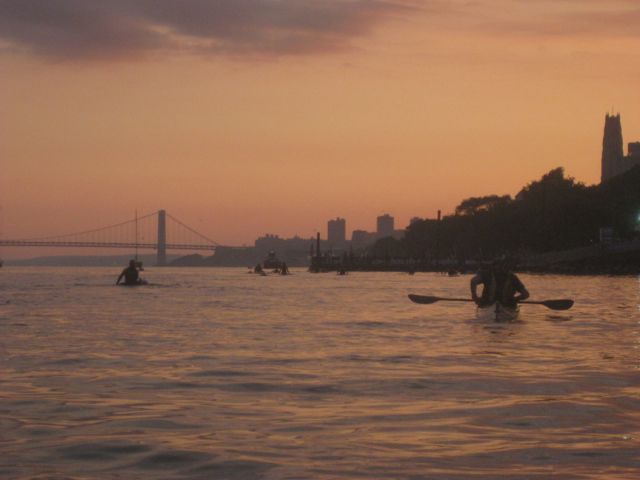 I've done this twice before. One year, there were tons of jellyfish, filling the water with hundreds of non-lethal yet still-painful burn points. Another year, two people died, one in the water, and the other after being pulled from the water. The New York Times wrote it up, and later pointed out that triathlons in general are somewhat lethal sporting events.
Supporting the Triathlon is filled with camaraderie, but not necessarily fun. The job is to keep the swimmers on course while they otherwise subject themselves to disturbing and dangerous conditions as part of the first leg of a three-part athletic competition.
I'm happy to say this year's swim stage went relatively well. As far as I know, no one died, or went into cardiac arrest, or suffered similarly negative outcomes. After a brief thunderstorm at midnight, the weather cleared and was rather nice at the time of the race.
I say relatively because this year, the water quality was disgusting. Any time immediately after a storm, the water is filled with surface runoff. This includes more dirt than usual, light trash, even sizable pieces of flotsam. I spotted small logs, shredded styrofoam, empty soda bottles, and a couple of oil slicks I couldn't associate with a recreational vessel.
There were also a lot of dead fish. No one was sure why; some linked it to the higher-than-average temperatures, and further to global warming. A lot of the fish looked broken, but that could happen to any small dead animal floating down the river. When I say, "a lot", I don't mean a stream of dead fish. Just enough that, at worst, two were within sight at a given time.
Some of the lifeguards who were on duty normally work out at Jones or Moses beaches, ocean-facing state parks that are quite a bit cleaner. I'm a little embarrassed for my city to have such filthy water. Even one of our more veteran kayakers said she could't be paid to go in this water. It was unusually bad.
The swim portion of the Triathlon starts from a barge at about 96th street. Swimmers swim to a landing dock just north of the 79th Street Boat Basin. The area north of the Boat Basin is a mooring area, with several sailboats and mooring balls. Our job was to keep the swimmers from swimming into the seawall, out into the channel, or into an obstacle such as a ship or mooring ball.
With the current moving along at about three knots, things could happen quickly. Additionally, while the swimmers were wearing swimcaps, from a distance, all we could see were arms: loops of flesh pumping up and down like narrow pistons. As they got closer, the colors of their skin caps became visible.
Situated as I was on the channel side of the swim lane, most of what I did was yell, "SWIMMER ! LEFT !" This usually got them to realize they needed to turn a bit to go straight down the lane.
I didn't have a conversation. I didn't say hi, or get pleasant. I needed to 1) get their attention and 2) give a direction.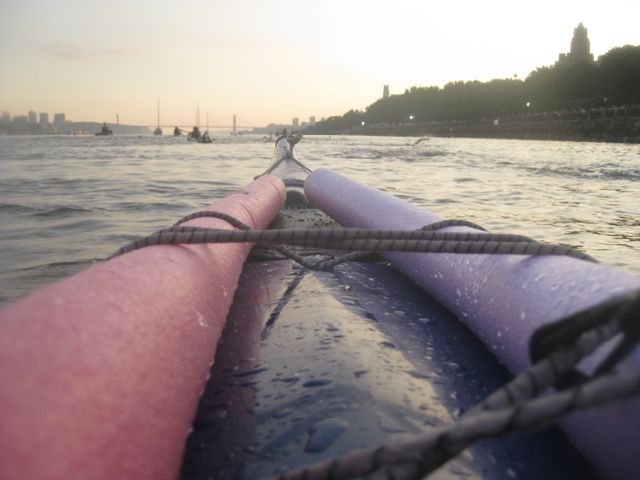 Sometimes, they didn't hear, or didn't realize I was talking to them. I noticed that the pros and semi-pros in the first wave were more responsive than the amateurs. A couple of people kept swimming until they ran right into my boat, which I positioned to keep them from bonking directly into a mooring ball.
I was also there to provide support for tired swimmers. They could hang off my boat, or take a swim noodle, although any forward motion assisted by me disqualified them. I had three people hang off my bow for a few minutes; one opted out of the race entirely, and I transferred him to a lifeguard sled towed by a jetski. The other two continued on after a brief respite.
As the event wound to a close, we closed up ranks and followed the last swimmers in to the finishing line. We chatted, enjoyed the now-nice weather (and uniformly talked about how badly we needed to pee, after nearly three hours in the water, with coffee, water, and juice beforehand).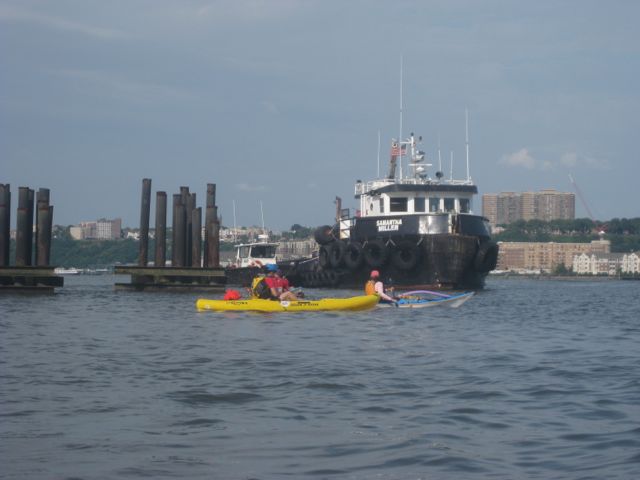 If you kayak in the Manhattan area, the Triathlon is a worthwhile event to take part in. You meet other kayakers; you are part of a larger logistical operation that is somewhat amazing in its scale; you see miraculous events, like blind swimmers, paraplegic athletes, even just regular everyday people challenging themselves.