I had an idea to paddle to Peter Sharp again, or at least to points north. We're also at the end of the season, not long before the combination of water and air temperature drops below the threshold for more specialized protective gear. I've already been paddling with my paddling jacket lately, and planned to start using my wetsuit soon. So, I thought it might be a good idea to invite some other people along, just to make sure I'm not out all by my lonesome, in case something bad happens.
After sending out a group invite, I had two takers: MA and DS, both experienced paddlers. These ladies are getting up in their years but they are strong, and can paddle long. They'd be great companions.
I ought to mention that this was just a couple of days before a tropical storm was to hit New York City, or at least the eastern seaboard. TS Sandy, aka the "frankenstorm" was floating somewhere off the coast of Georgia, so we figured this would be the last day we could safely paddle before the storm hit.
We set off early, around 0820, to catch as much tide as we could. The skies were gray and cloudy, but temperatures were not bad – about 60 F for both air and water. We passed some barges parked in the river – as well as one moving south, unusually, on the Manhattan side. There is a large charted shipping channel on the New Jersey side of the river. I don't really ever seeing a barge that big, that far north, on the east side of the river. We paddled further out into the middle of the river to pass it on our right.
By now, this route is familiar, old hat, dare I say routine, keeping in mind that no day on the water is ever routine (see above paragraph about the barge). However, the paddle north was pretty straightforward: we passed Fairway, Riverbank State Park, Inwood Canoe Club, and passed under the railroad bridge to take a short break in a cove at Spuyten Duyvil.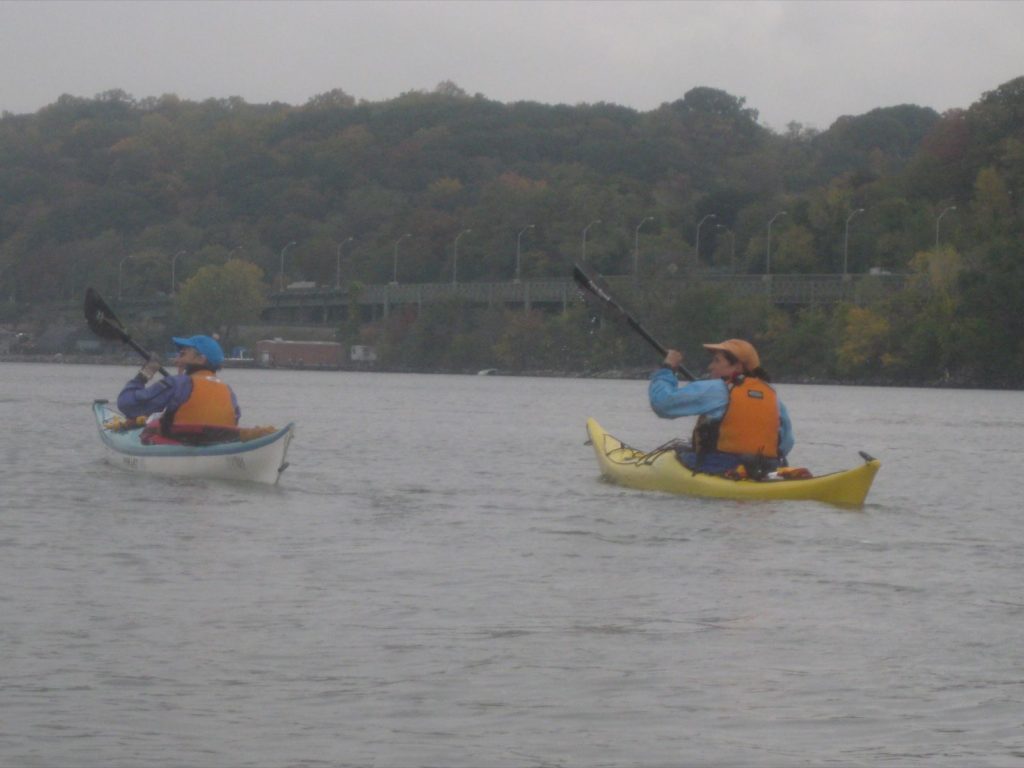 I tried getting close to a flock of geese in the water.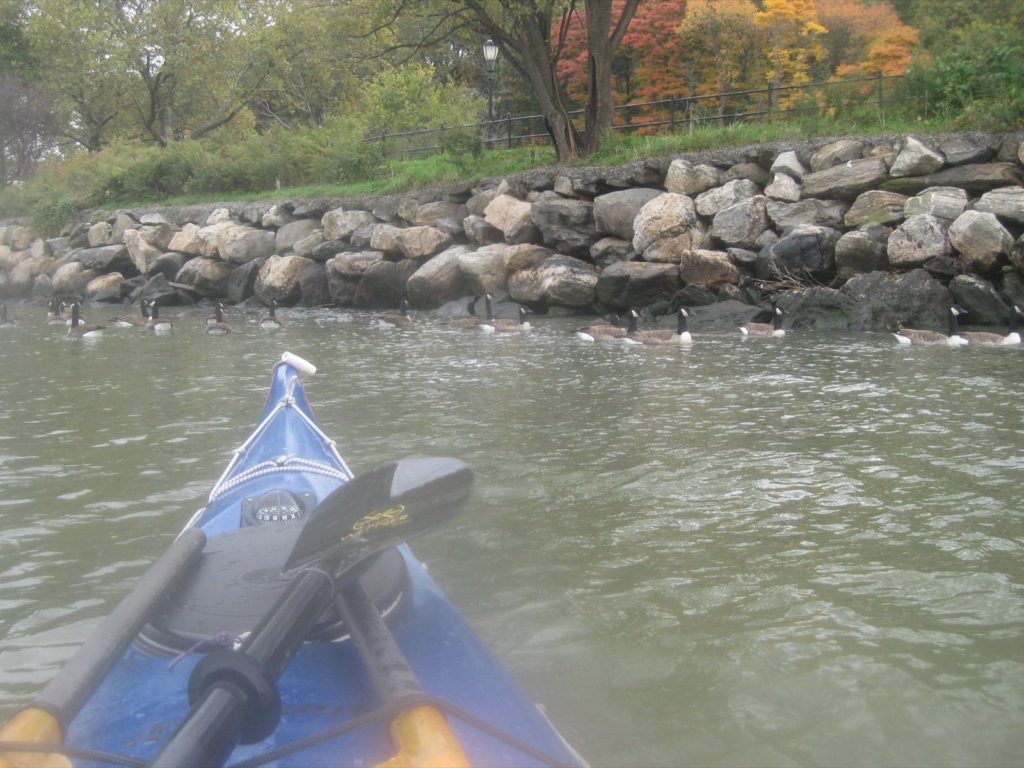 At this point, the current picked up against us. Water was flowing out of the Harlem and into the Hudson. While it wasn't bad at first, it did become progressively harder, and as we slowed down, we tucked in to the shore, where the current was less strong.
We passed some crew boats, presumably from Columbia University. Later, near Peter Sharp, we spotted some people on the Bronx side of the river dismantling their dock. It was the Harlem River Rowing Club, a non-profit focused on rowing, based out of (I believe) Roberto Clemente Park. They were dismantling their dock in anticipation of TS Sandy.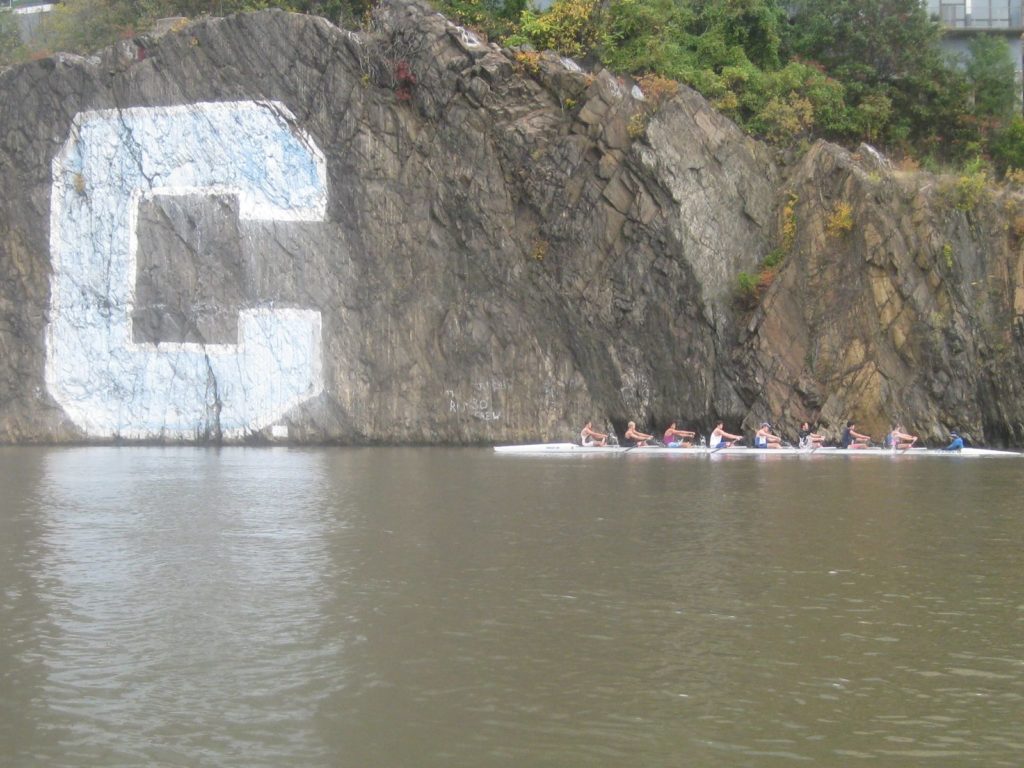 We landed at Swindler's Cove – a small beach that is part of the park near Peter Sharp. Peter Sharp was in use, and in any case, the bathrooms are in the park – although this day we would learn that they were out of order, leading us to use some more dismal portable facilities about a five minute walk away.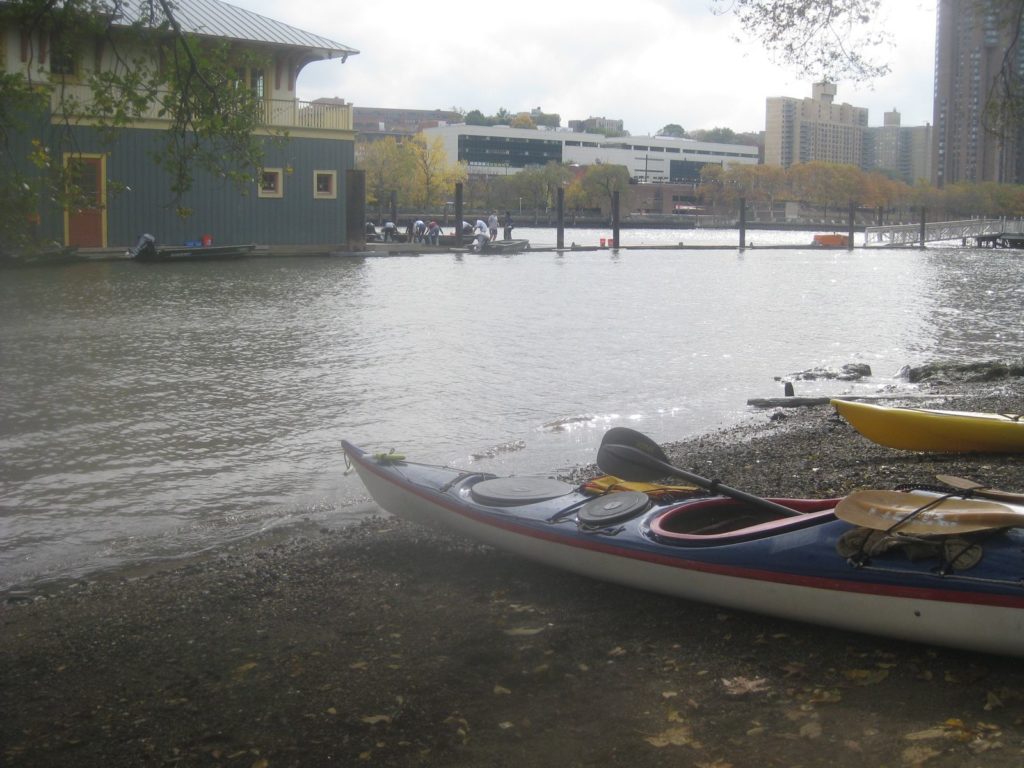 Some volunteers were weeding and re-planting. We sat at a picnic table and ate our lunch. I had one of my civilian MREs – Creamy Chicken Tetrazini, which was actually quite good.
Because we'd run into current coming in, our stay was foreshortened, and we left about an hour after we landed. Now, we had the current with us, not only in the Harlem but on the way back. We were passing under the George Washington Bridge just before maximum ebb. To give you an idea of the difference this made, it took us three hours and fifteen minutes to get to Peter Sharp, but only about two hours to get back.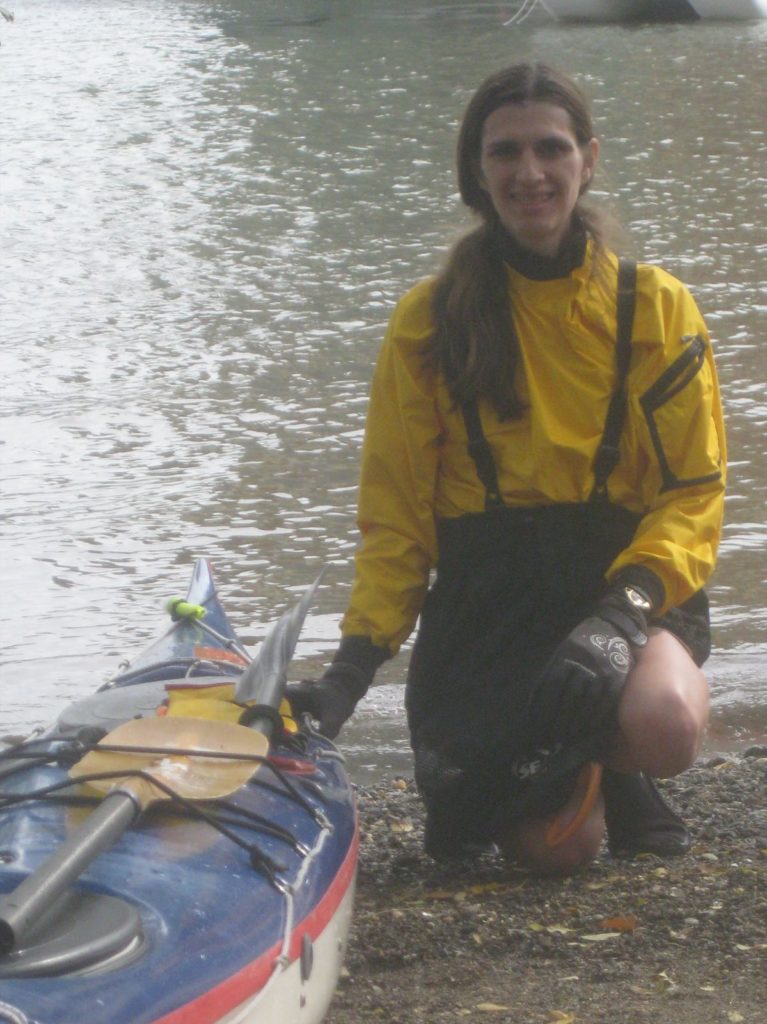 On the way back, we stopped to take pictures in front of the autumnal foliage. Between the Palisades on one side, and Washington Park on the other, there were ample instances of yellow, red, and even green leaves, against a somber gray sky, with just enough sunlight to bring out the colors.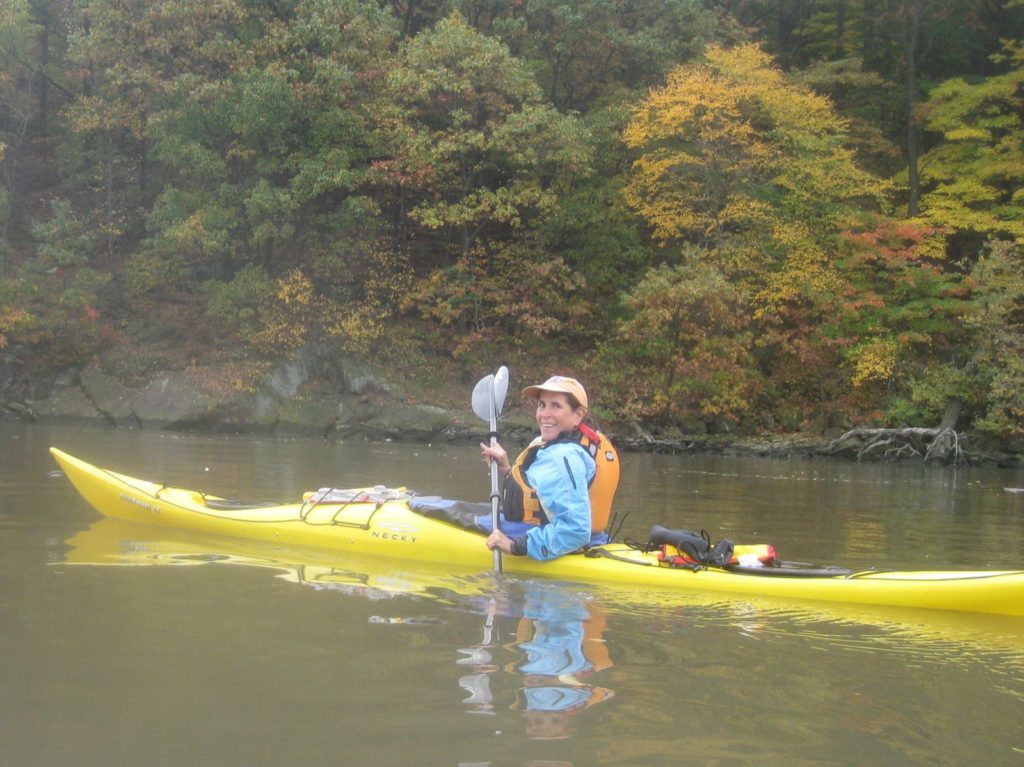 We also stopped briefly at Inwood to say hi to some of my friends there, who were working on the dock, upgrading the flotation. They warned me not to linger, lest I get pressed into service.
As we rocketed back, I realized we were going to want to get in close to the shore well before we got to Pier 96, or else the current would carry us past it. As it was, we ended up making a sort of ferry crossing in – paddling straight at the shore while the current carried us down. Along the way, we saw a fish jump out of the water – a big one too, about 15 inches long as far as we could tell. He made it a good foot or so out of the water, and I scared one of my co-paddler, because I yelped "fish!" right as I was turning to check on our other paddle-mate. I wish I'd gotten a picture, but fish are pretty unpredictable.
This was a good trip – a nice distance, a bit of a challenge on the current, and for some, possibly the last paddle of the season. While it's a familiar trip by now, it is by no means routine. It's definitely one I'll keep in my back pocket as a sort of extended trip to invite others on.