I went out for a short paddle the Saturday of Saint Patrick's Day weekend. It was about as impromptu as these things get for me, especially in the off-season. With so much more gear required, and conditions being a little more challenging, I usually plan in advance whether I will paddle.
I was at the Inwood Canoe Club finishing up a repair on a boat I've been working on – something I will blog about later – and it started to snow. There was very little wind, and a fog was rolling over the Hudson River Valley. I dithered a about – I was going to have to be home by 1800, and it was already past 1300, and I would have to go home, grab my gear, and eat, meaning only a couple hours of paddle time.
Time on the water is time on the water, so I did it. I raced home on the subway, had a quick tunafish sandwich and chips, and then stuffed most of my gear into one sack – mostly protective gear, leaving my PFD and paddle at home. I took only one sack because I broke out my bicycle. Rather than risk the MTA's timing, I'd take a ten minute bike ride back to the boathouse.
By the time I got there, dressed, and kitted out a boat, it was just a little short of 1500. High was at 1300, so there ought to have been some current still flowing north, so I headed north. Seas were glass smooth, and the fog obscured everything from the GWB to the Palisades, and even the marina at Edgewater was not visible until I was further out in the channel and up by Spuyten Duyvil. It was eerie, and quiet, like the short paddle I took with MH a couple of months ago.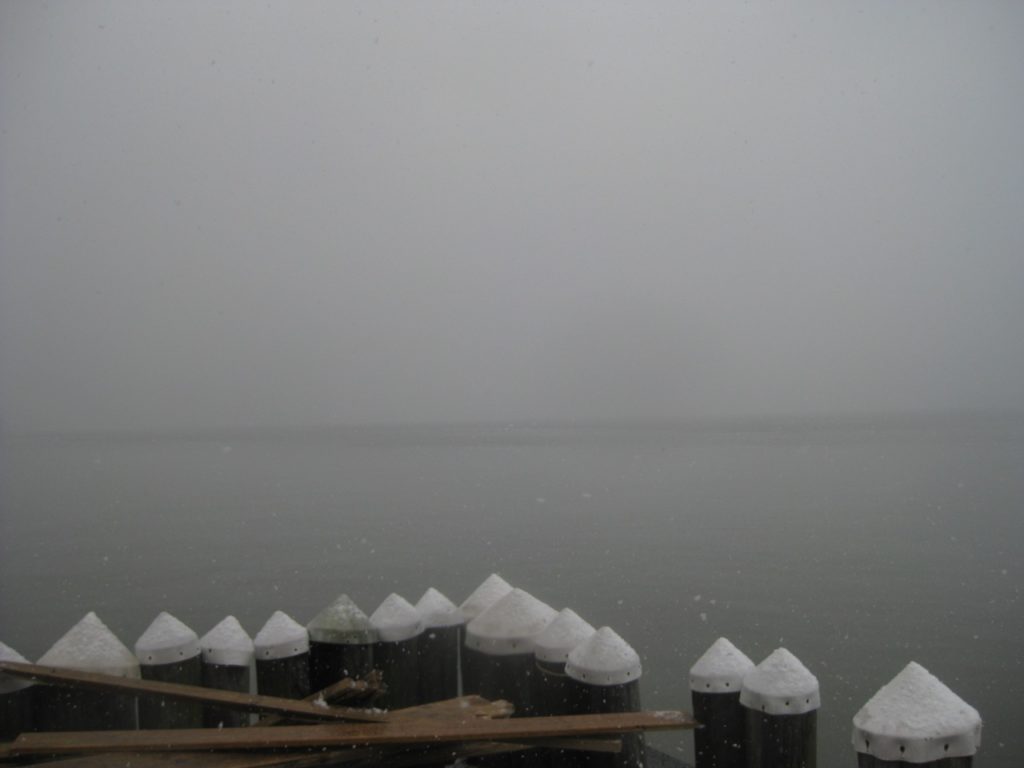 I expected the fog would provide some sublime photo opportunities for spots north of Spuyten Duyvil. I had one in particular: the "Bridge to Nowhere", that used to connect a rail station to a ferry landing.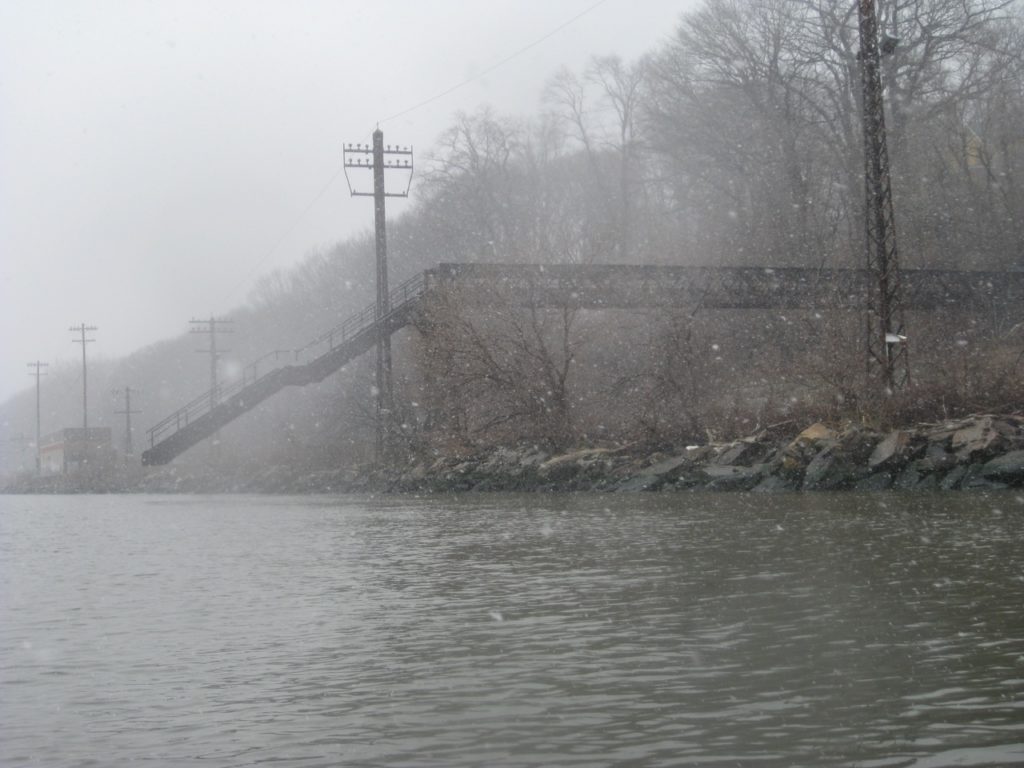 Then I turned and went back in to the Harlem. The current seemed to have turned prematurely, flowing out of the Harlem into the Hudson. Knowing I had to be back home in just a couple of hours, I decided to noodle around a bit more in the area of Inwood Hill Park, not going past the Broadway Bridge.
I paddled into the estuary near Columbia University's crew boat houses. Here, the water grew very shallow. I stuck my paddle in to take a sounding. By my estimation, I had about five or six inches of draft, and I wasn't feeling it against the hull.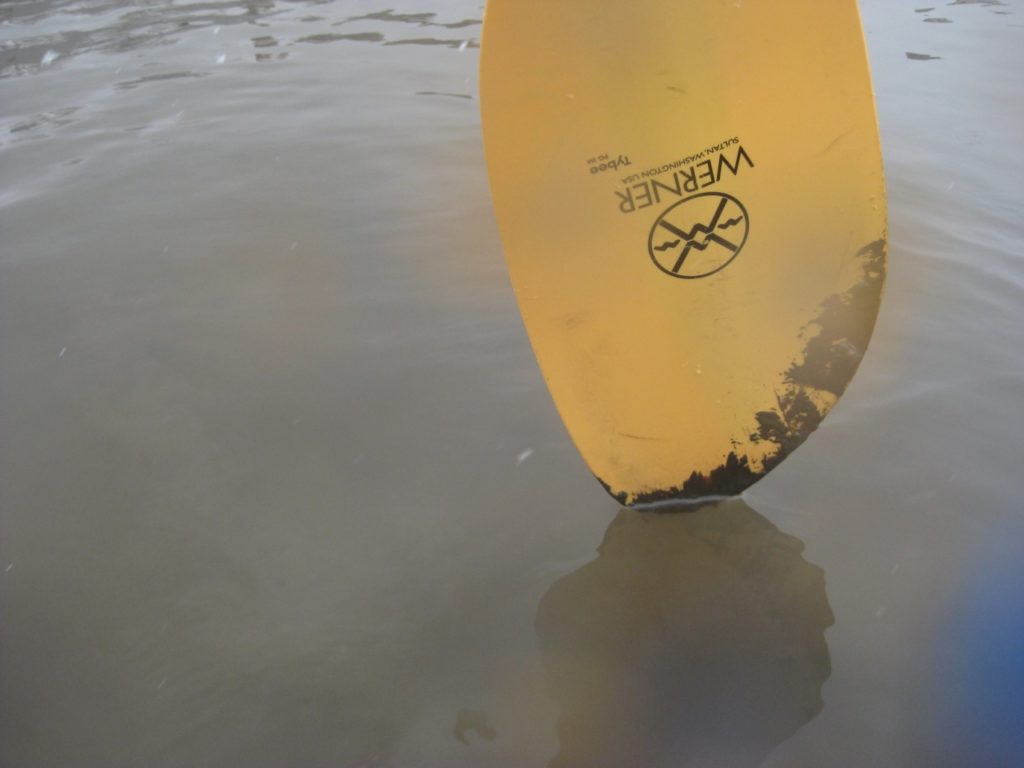 I turned and began to paddle back. I stopped in another estuary, one known to become a mud flat at low tide. I could already see birds standing, rather than floating, in the middle of the estuary.
With that, I turned around, and headed back, under the railroad bridge.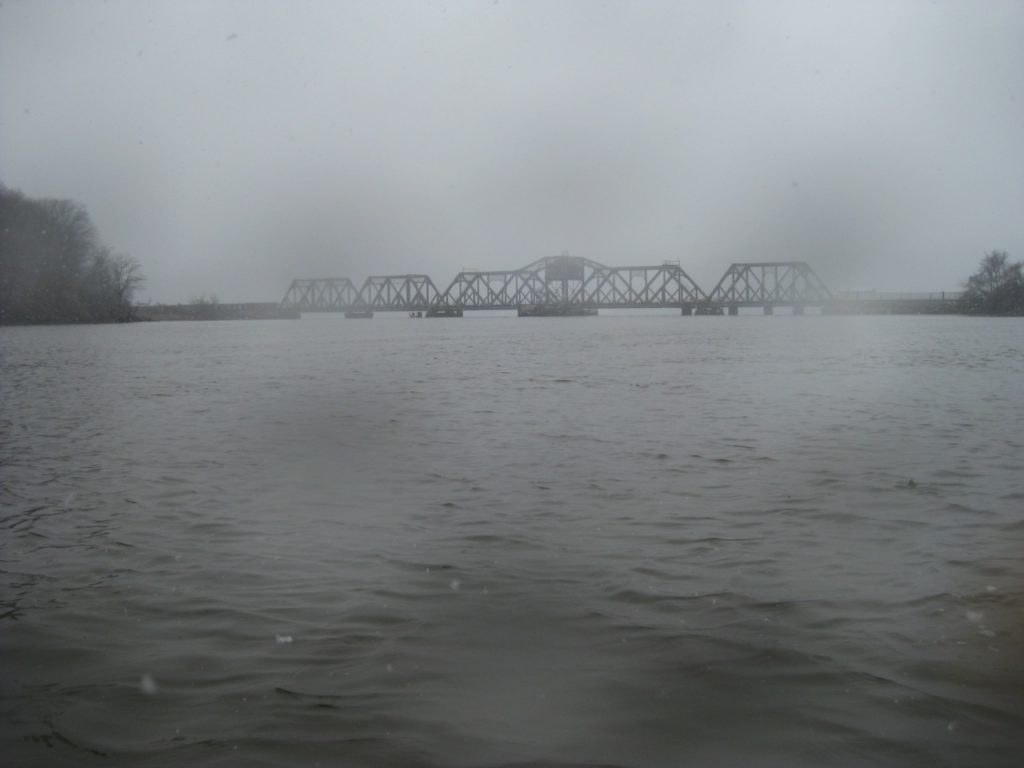 In short order I was back at the boathouse. By the time I cleaned and stored the boat, the snow was starting to stick. I left the door open a little bit longer, sipping my tea, and enjoying the view.