Robbin's Reef is a lighthouse near the southern end of the NYC upper harbor, north of Staten Island and next to New Jersey. One Friday night I paddled with some friends out to it after work.
We left at 6 or so, and set out with a fair amount of current taking us down. We crossed the Hudson, headed south past Morris Canal, through some chop by Liberty, and onwards. At one point in our crossing there was some monster wake – 4 or 5 feet at least – to glide over; that was fun.
Once below Liberty, the water actually relaxes out a bit, and we simply paddled south-ish across Jersey Flats. The sun was going down, and I managed to capture this shot – I took many but only a few came out right: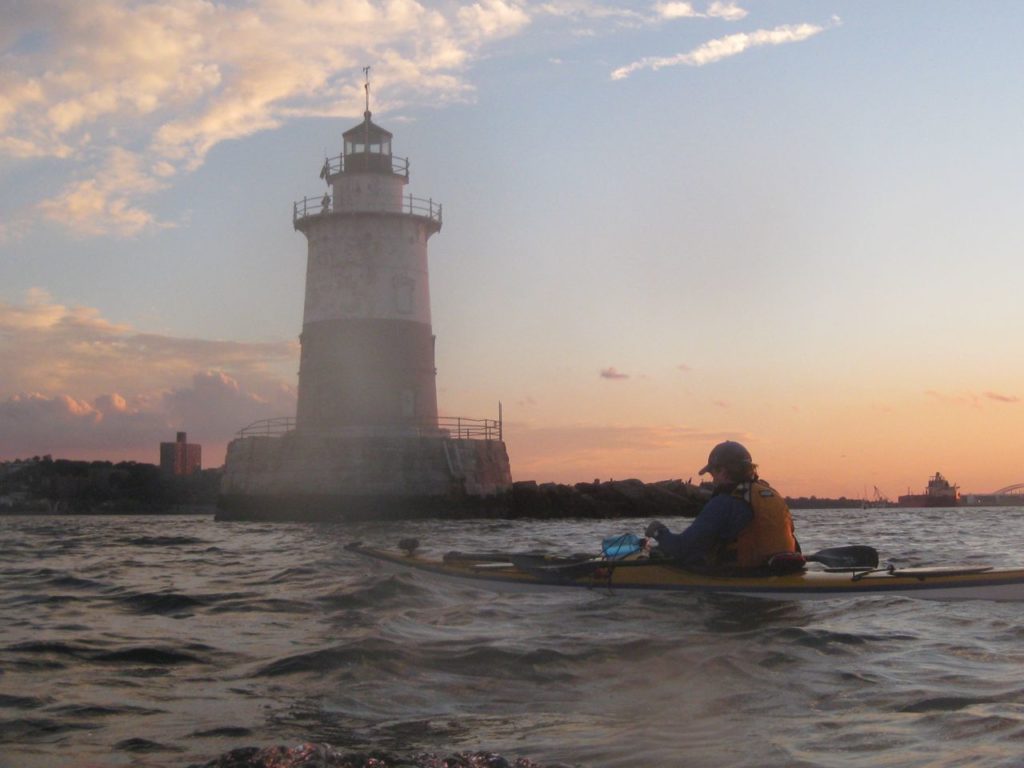 We paddled back, against some current, and as the sun set we stopped to put on lights. We paddled past Liberty at night, with a brilliant view of lower Manhattan, all lit up along with Liberty. My shots of these were terrible.
As we paddled back, in the dark, we managed the usual conditions – in the dark. At one point I noticed a wall of blank approaching us. "Guys," I said, "Wave coming broadside." Sure enough, we went up and down as the darkness passed us.
I've only been out that way once before, and far too east to have noticed Robbin's Reef. Its last keeper was a woman named Katherine Walker, and her name was given to a local Aids to Navigation vessel that services in the NYC area. It's a fascinating little stop in an otherwise-crowded harbor, and I hope to see it again.