Had a delightful trip today, with three of my regulars: TS and IB from the Inwood Canoe Club, and special guest SS from NYKC. SS and I worked together quite a bit last year, and I was able to get her to join us for a trip out of Inwood to Randalls Island.
The plan was to leave as soon after ebb current as possible, which amounted to two hours before High Tide at Battery. We'd paddle there in about two hours, hang out for a couple of hours, and then return with the ebb. That's pretty much exactly how it worked out.
There was a chance of rain in the afternoon, but otherwise conditions were predicted to be perfect for a spring paddle. Sunny to partly cloudy, temperatures in the mid-sixties Fahrenheit, low wind, and only a 25% chance of rain late afternoon. Water temperatures are just over fifty, so protective clothing is still a necessity.
After departing Inwood, we quickly rounded Spuyten Duyvil and went around the northern tip of Manhattan, passing Peter Sharp Boathouse. There were some people learning how to row crew. Their boat was tied to the dock for practice. We would pass them again on the way back, only by then they were on open water.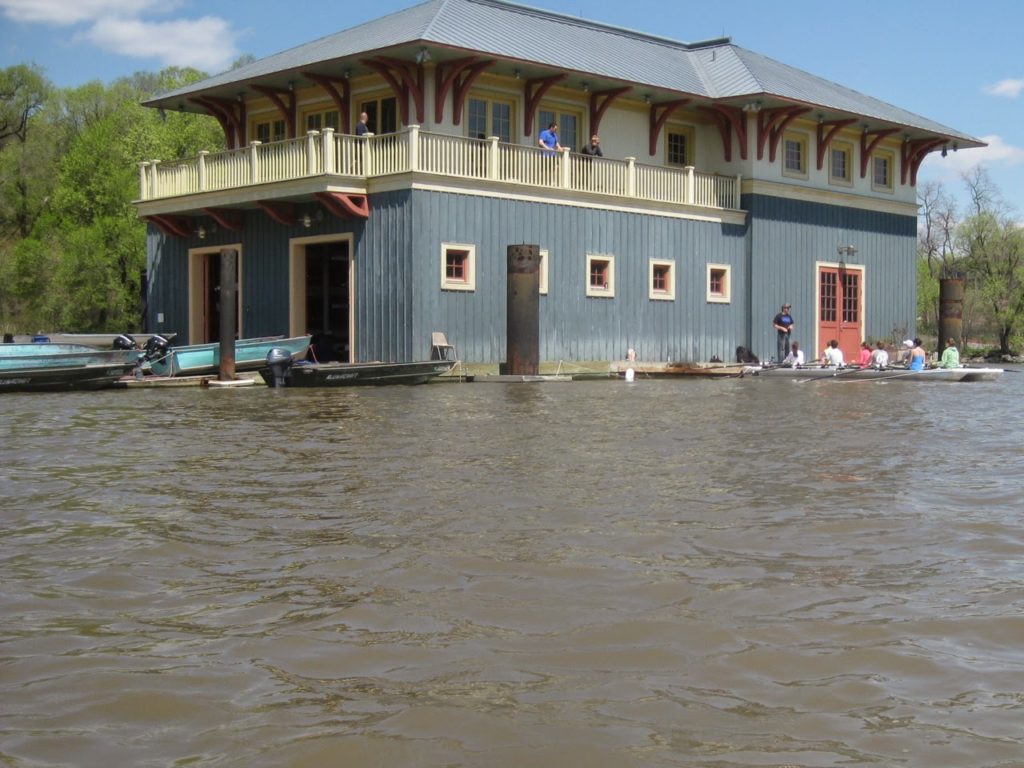 Paddling down the Harlem was mostly uneventful. We did run past a line of river cruise boats, two from the Classic Harbor Line and one of the larger Circle Line boats immediately behind them. We continued along, past the usual landmarks: The Lighthouse building, Yankee Stadium, Macombs Dam Bridge, and the Willets Bridge.
Eventually we arrived at Bronx Kill. To our surprise the water level was still high enough to make it easily passable but with some visible fast water. We went through, and following on to near the end, looking out at the upper east river, before turning around and heading to the central marsh on Randalls Island.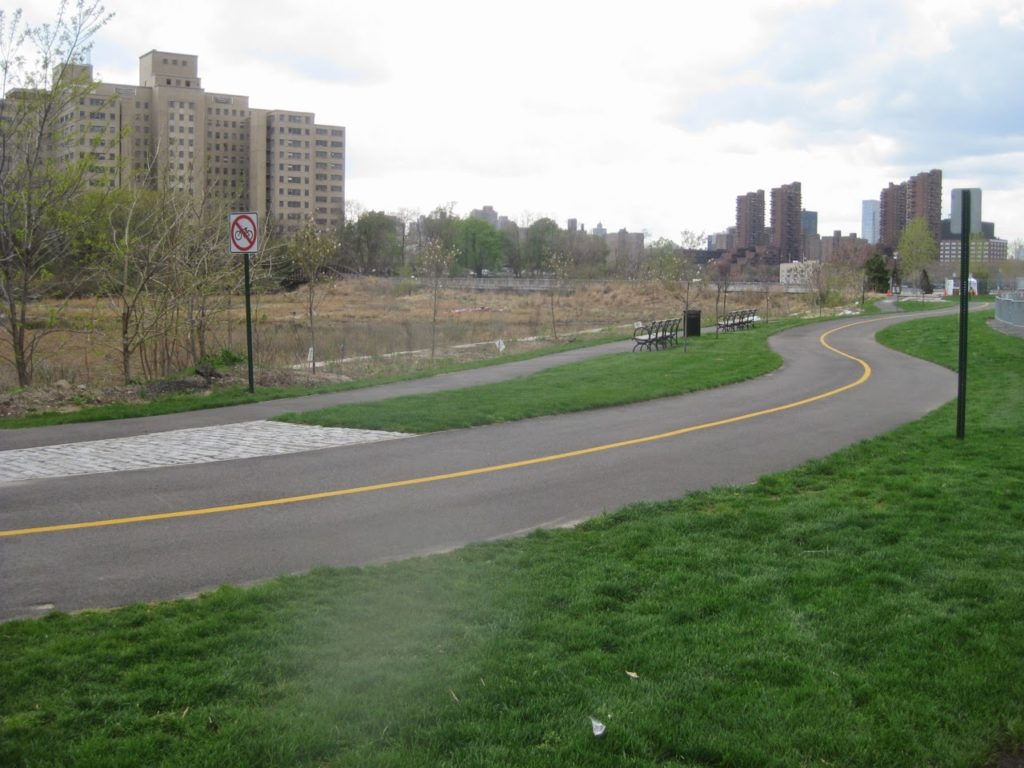 We took pictures. Here is the Manhattan Center for Science and Mathematics, across the river.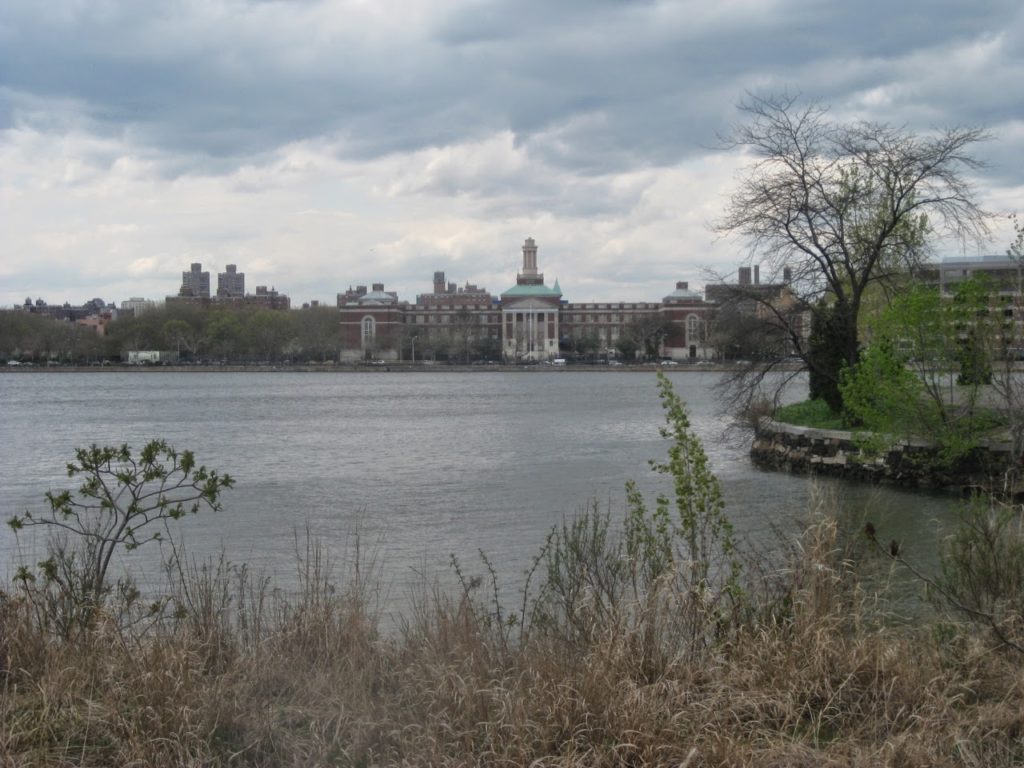 A little further south are apartment buildings overlooking the convergence of the Harlem and East rivers.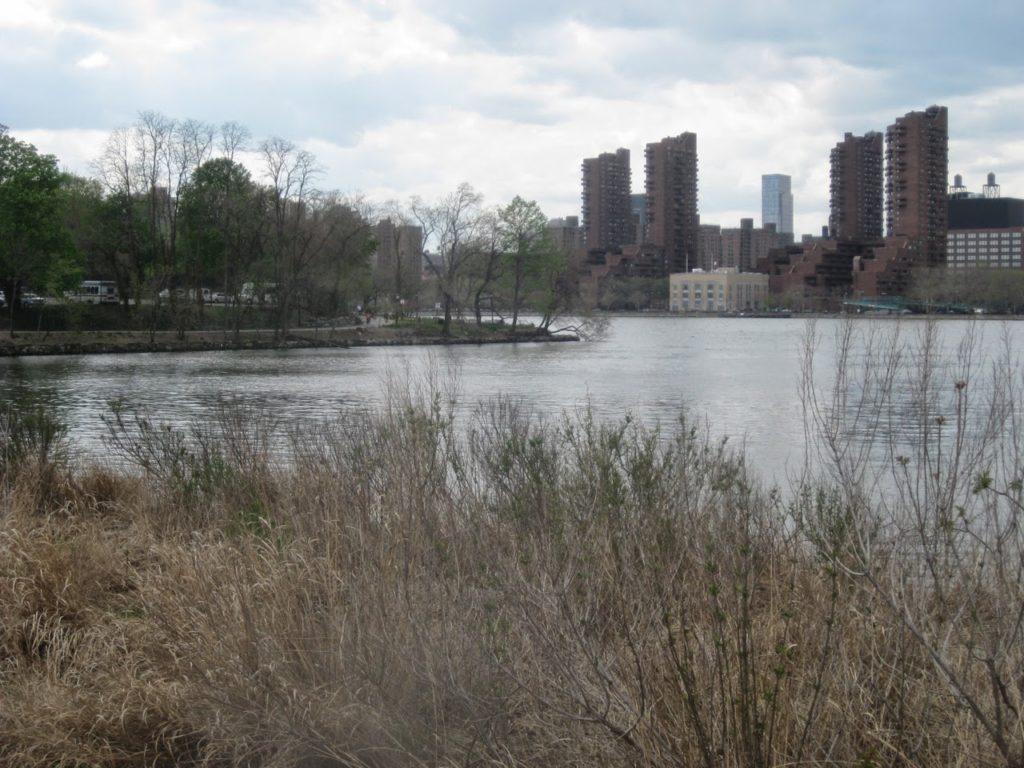 The marsh is in an area that used to separate Wards Island from Randalls Island. The modern Randalls is actually the two islands connected by landfill. As it turns out, the marsh we were paddling to, on the western side of Randalls Island, was originally part of the channel that separated the two, a passage called Little Hell Gate.
So, we could say we've been to Hell Gate!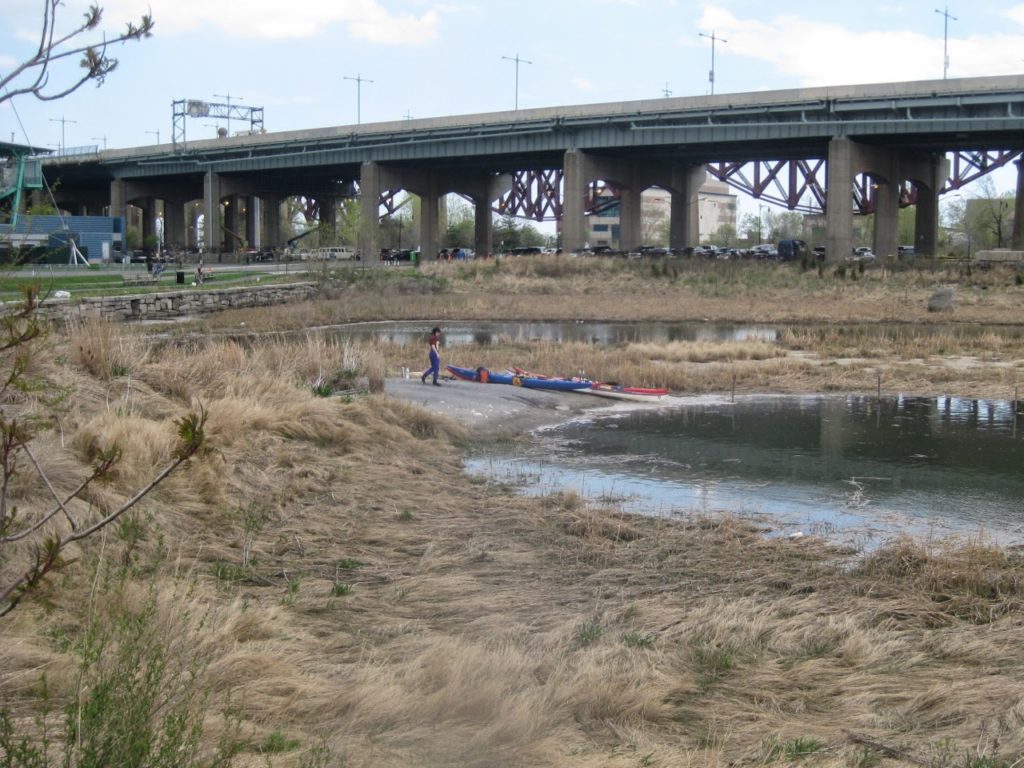 The marsh has a passage that swirls in, with another branch that switches back but comes to a dead end. In the center is a small hill leading up to a bridge that runs over the entry channel, connecting "Randalls Island" with "Wards Island". We had lunch, schlepping over to the far side of Icahn Stadium for restrooms when we needed to.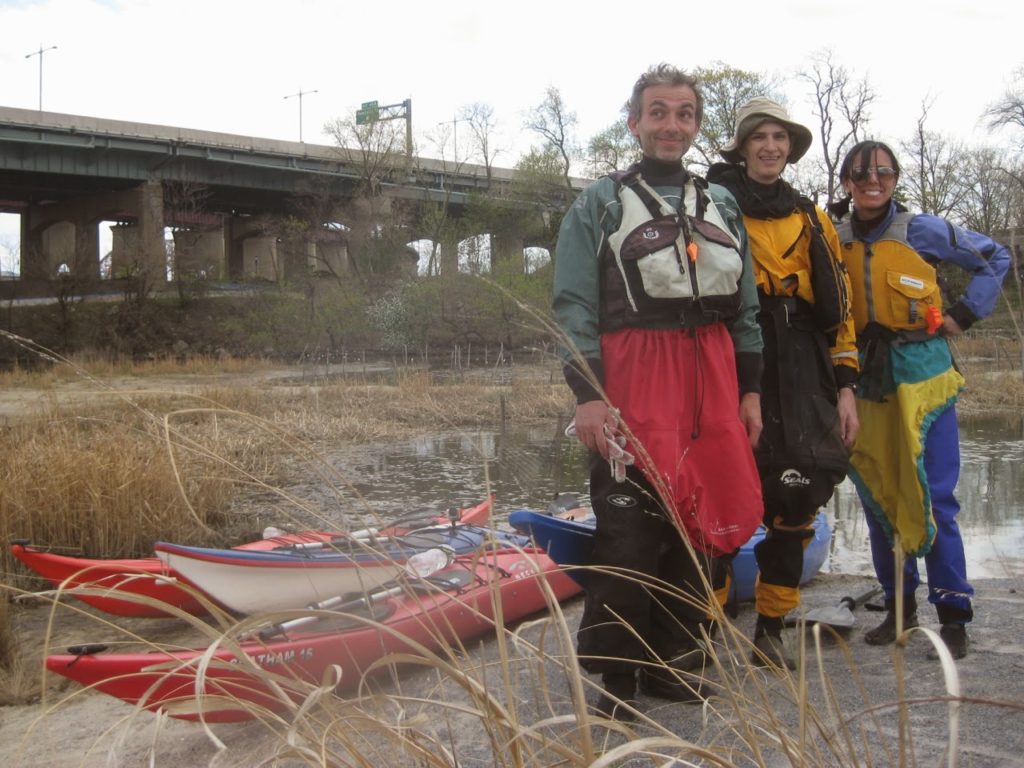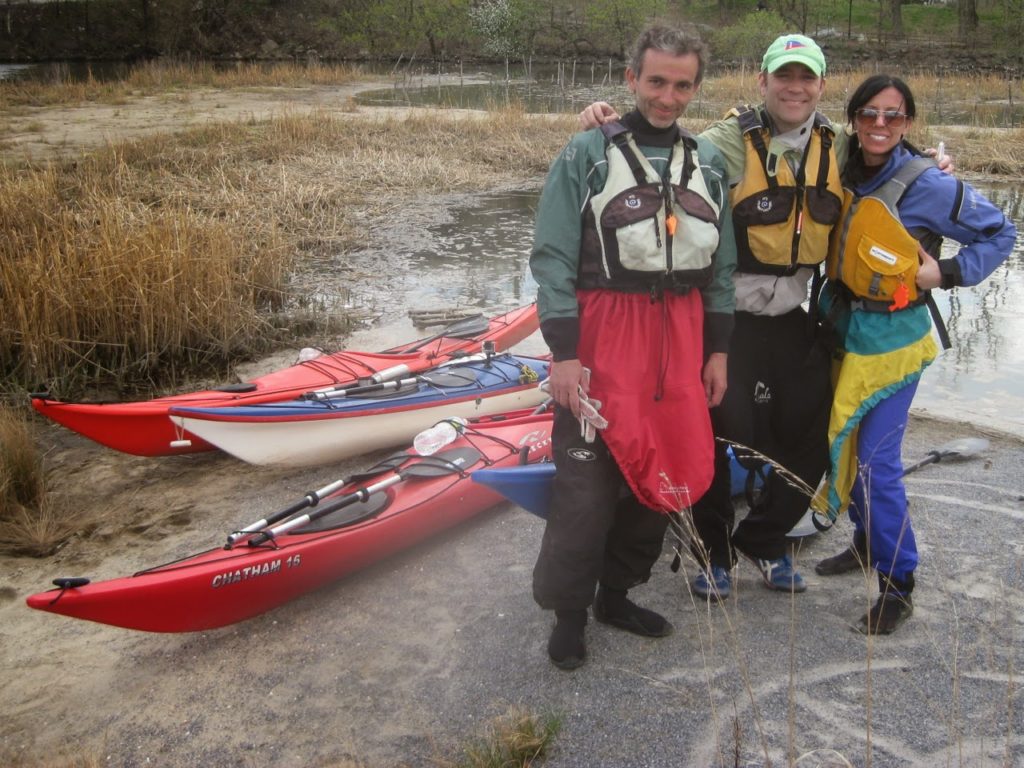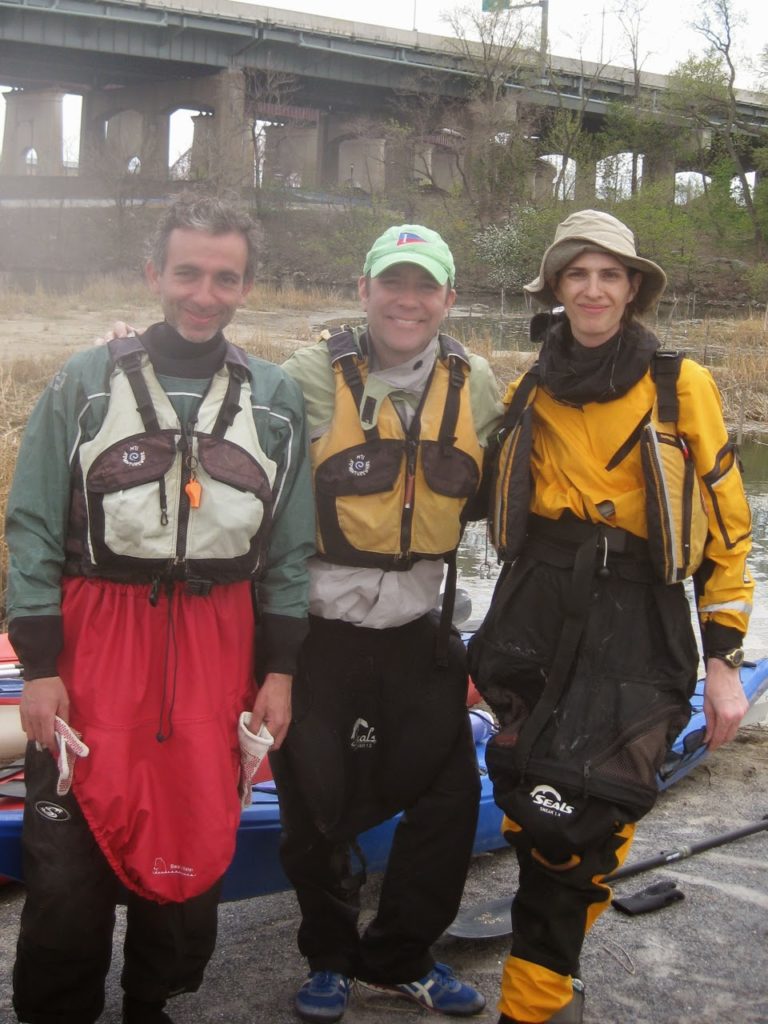 We headed straight back, looking over our shoulder for river vessels. There was little traffic, but we did have a nice conversation with one of the cruise vessels. I'll call it Gary for anonymity. It went something like this.
"This is Gary, approaching Willets Point Bridge."
"Gary, Gary, this is kayak four. We'll keep to the right."
I got the group to move to the right side of the river.
"Is that the kayaks?"
"Affirmative, this is kayak four, we'll keep to the right."
"Thanks. And thanks for being on radio, that's pretty awesome."
"No problem Gary, have a good day, over and out."
Later on we were passed by another Circle Line boat, but she wasn't nearly as communicative.
We passed the crew team again.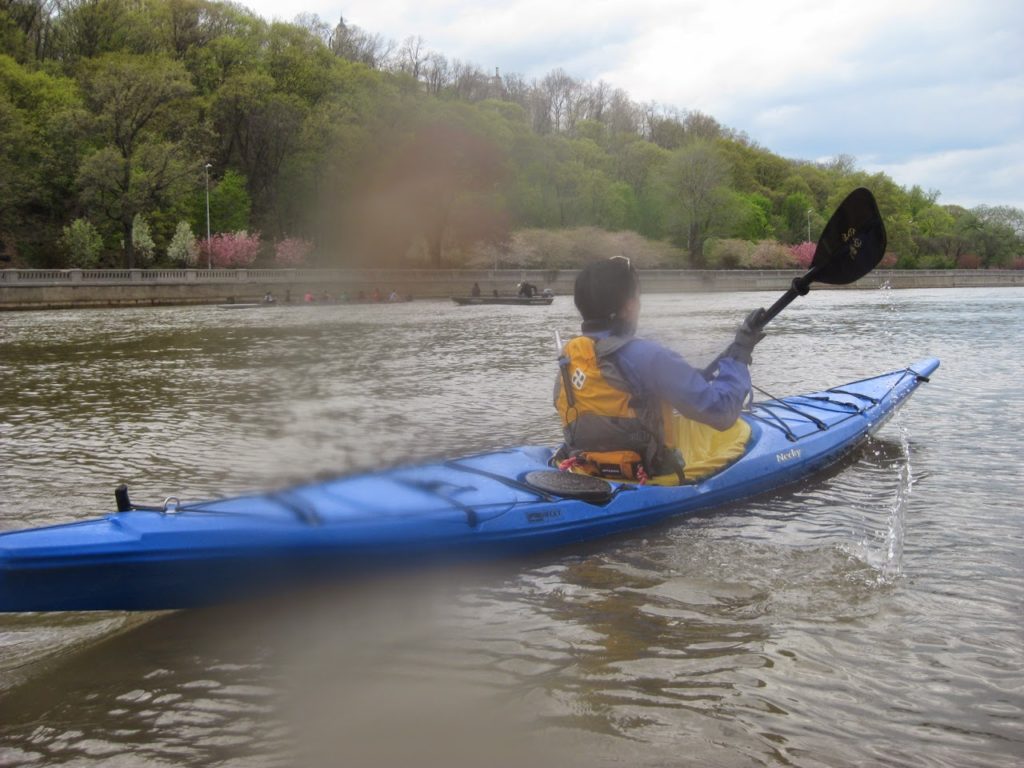 Another Classic Harbor Line boat passed us. We could hear her asking several times for Spuyten Duyvil to open up, until finally the bridge operator said there was a train coming and they wouldn't be able to open for a while. As it happened, the bridge didn't open till we'd caught up and passed under it ahead of her. Kayaks: we're short!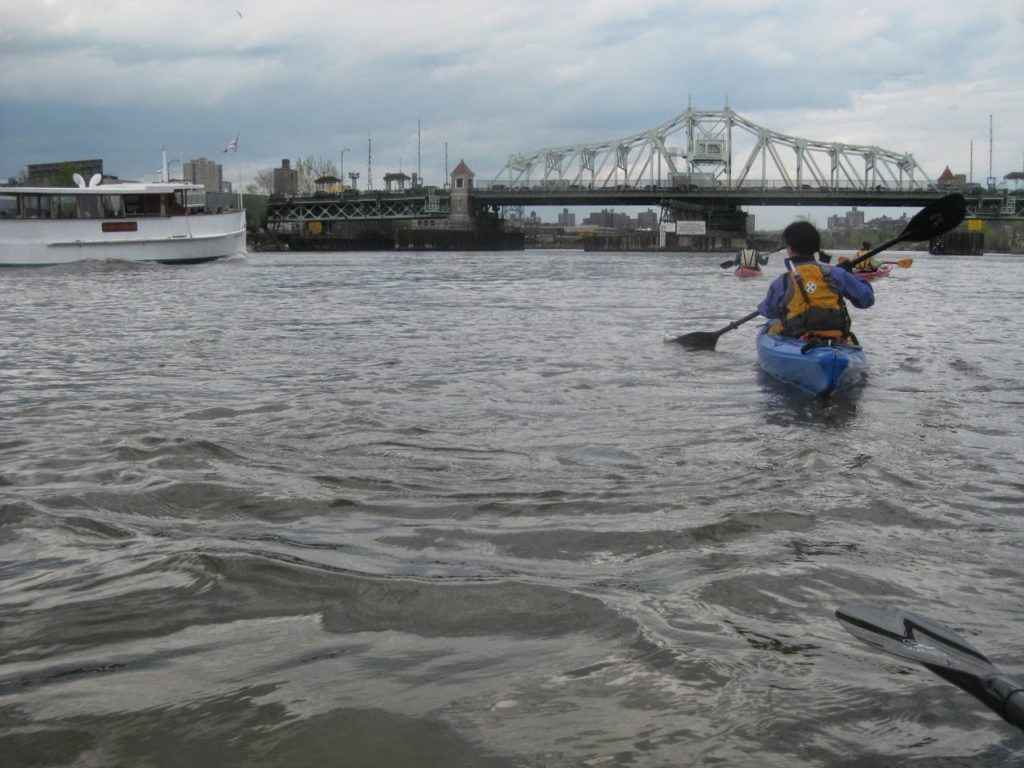 Once out on the Hudson, we hit a stiff headwind, 12-15 mph in my opinion. Breezy at first, it built some decent wavelets, under a foot, but steady. Rain never materialized but that wind made us work for the final mile.
When we landed, several club members were there, having completed a work day. They were firing up the grill. We washed and put away our boats, talked to people, then packed up and left. By then, the sun was peeking out over the Palisades.
This was the first trip that was truly a spring trip. It was truly a grand day out.