Low wind, air temp in the high fifties, sunny to partly cloudy? Sounded like a perfect day for a paddle to me. I sent out an invite to my regular cold water paddling coterie. I only got one response, and even he later dropped out, so Saturday March 8 ended up being a solo paddle.
I could tell it was going to be great when I looked out my living room window. It was sunny! The snow on the ground had been clear for a week. After packing all my gear, I walked up through the Cloisters, looking down from the heights at the Hudson. I saw no big patches of ice.
When I got to the boathouse, I could only make out little "berglets" – not the chunky ice bisque of February, or the great slabs of ice in January. I packed up the Argonaut and set out.
I set out south, catching the very last of the ebb tide current as it went slack. I had a couple of destination ideas in mind, inspired in part by Frogma's meander paddling in Jamaica Bay last week. Since I was on my own, I wouldn't have to worry about other people's schedules or stamina. I had lunch – a Beef Stew MRE pack and plenty of water and tea. Where would the day take me?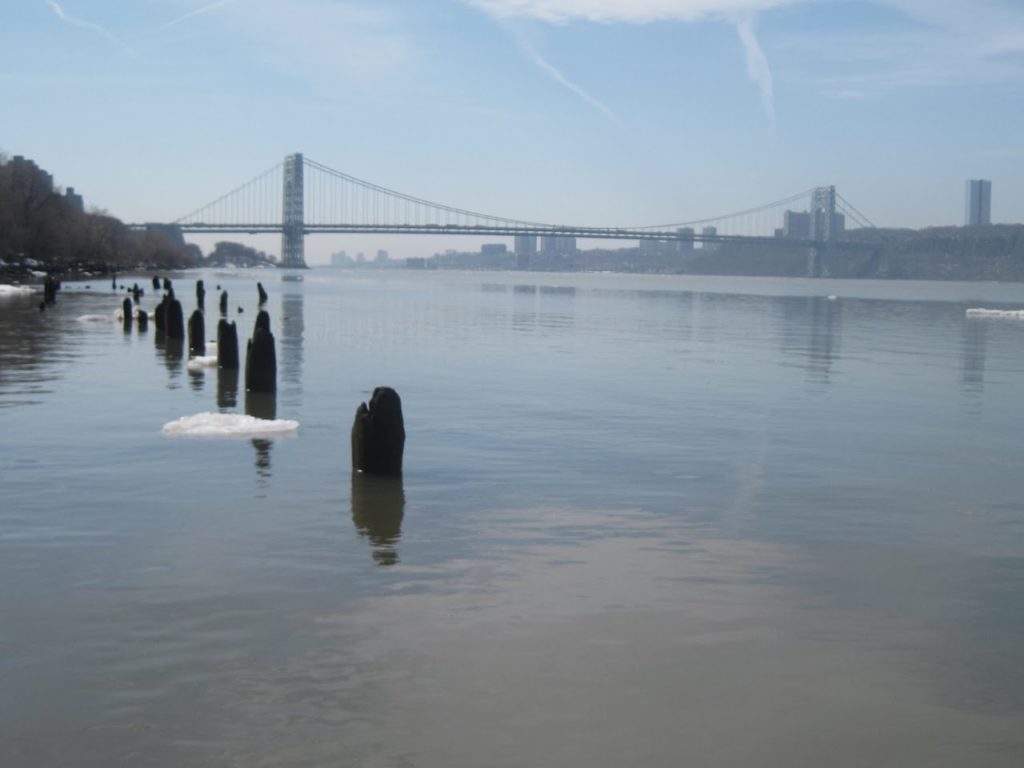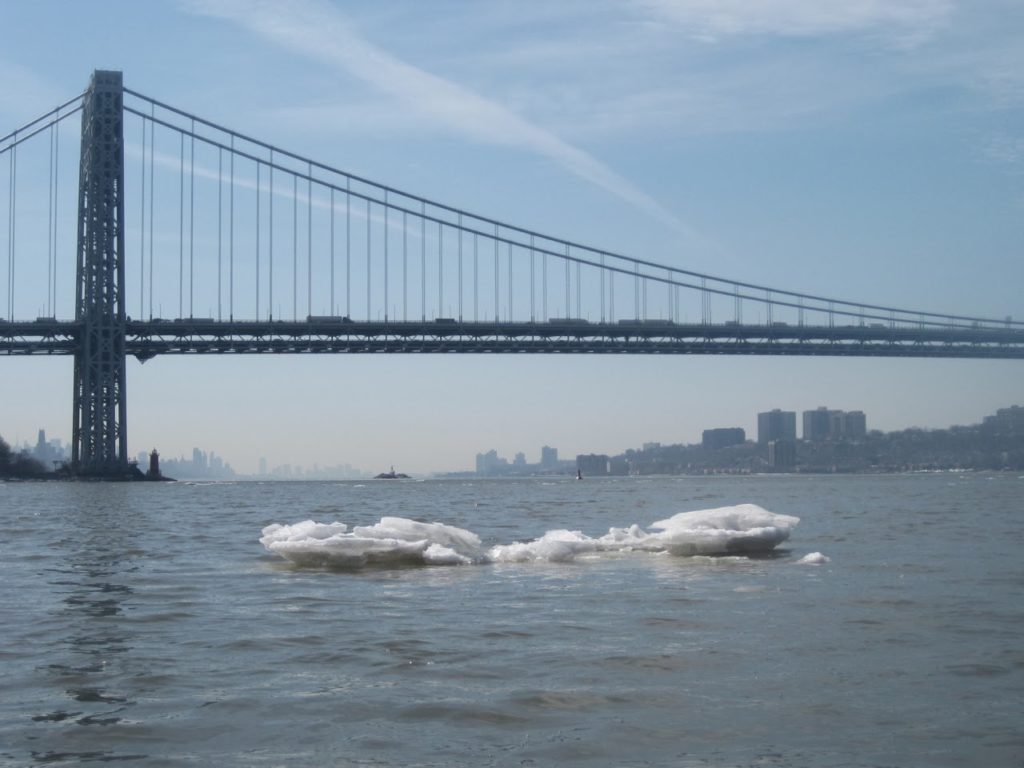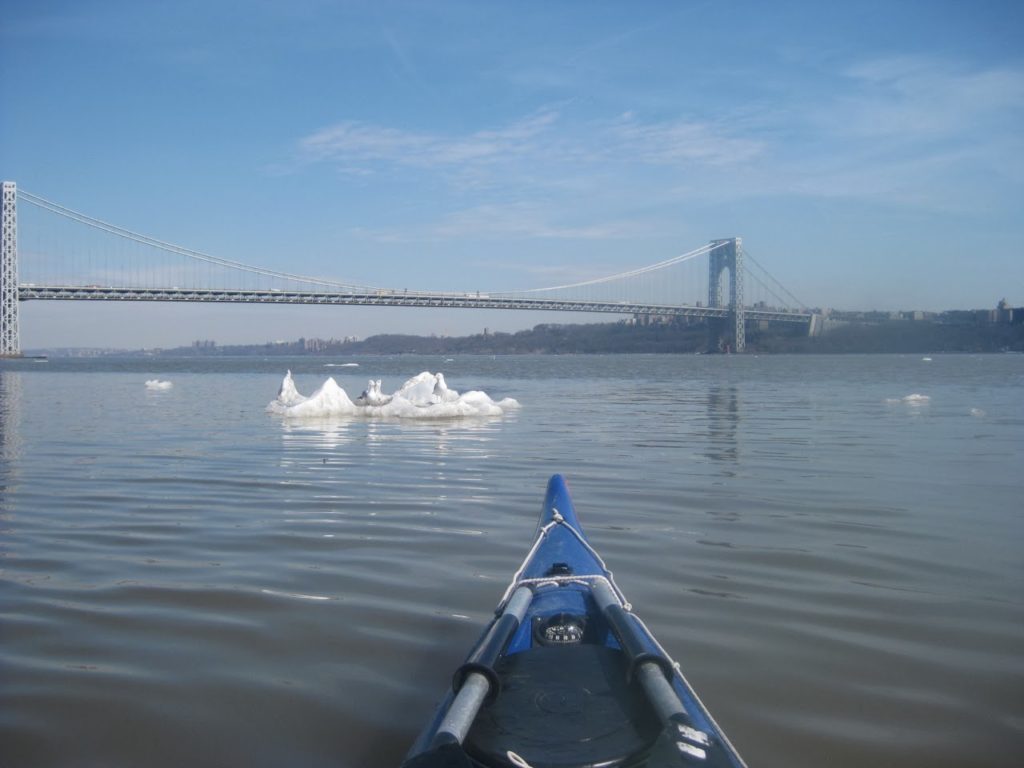 I decided to cross the Hudson above the George Washington Bridge. My thinking was that I wanted to get to that side anyway, and it was a nice enough day that there was very little risk. I also wanted to avoid some funny little shoals on the eastern side of the channel. I waited for a barge to pass, and then crossed.
I made for the ferryboat Binghamtom, one of my more sentimental stops on the Hudson. Sadly, I don't expect her to be around much longer, and she looks worse every time I see her.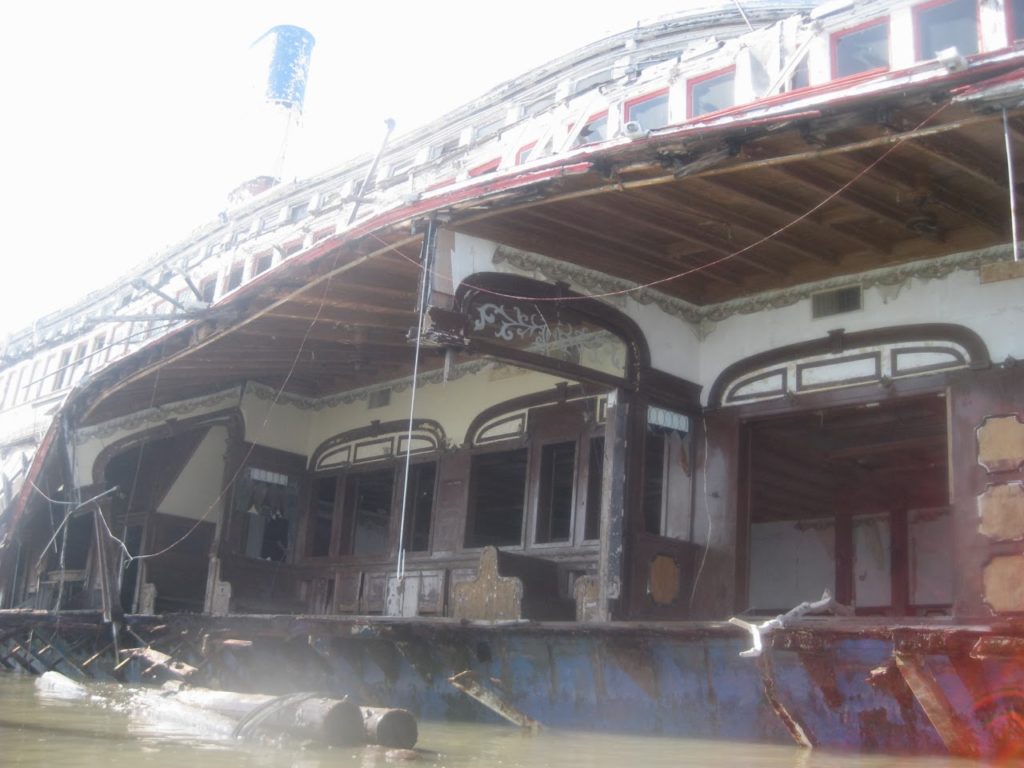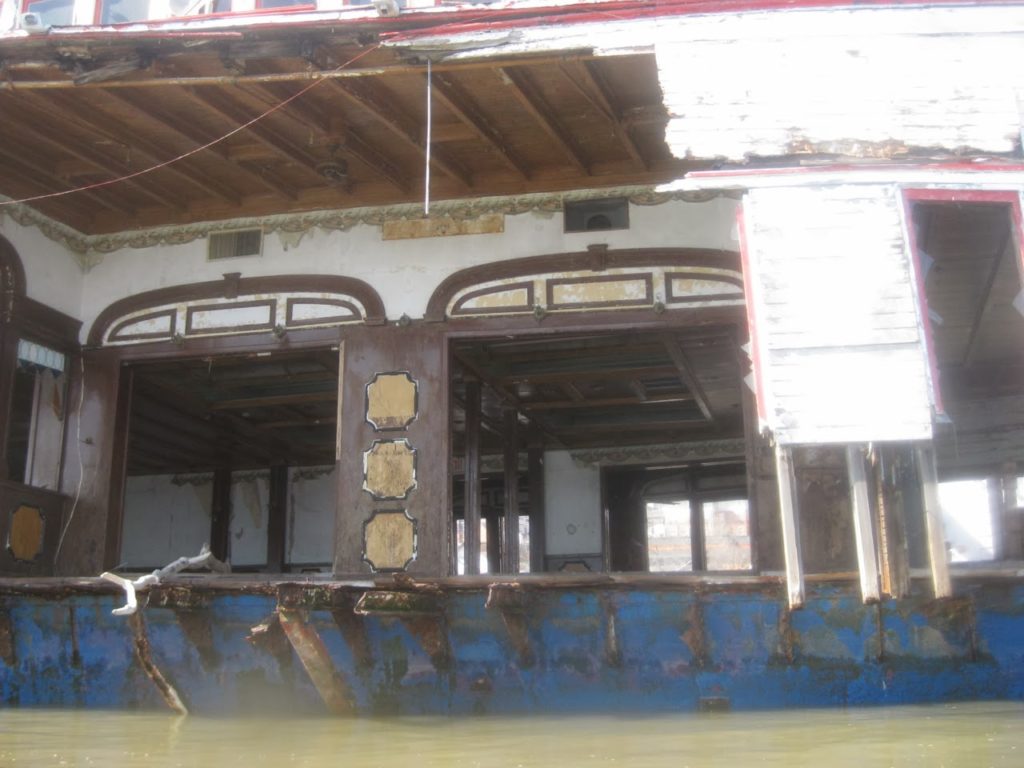 I made a stop at Mitsuwa, not getting out but deciding my next course. Mitsuwa is a Japanese supermarket in Fort Lee, New Jersey. There is a small beach kayaks can land on. I didn't need food though, and I wanted to explore further south to see if there were other places to take out. Unfortunately more of that side of the river is shored by big rocky boulder beaches. Yes, I can take out there, but if I were shepherding a group of beginners, I wouldn't rely on it.
I came out of a cove to this view.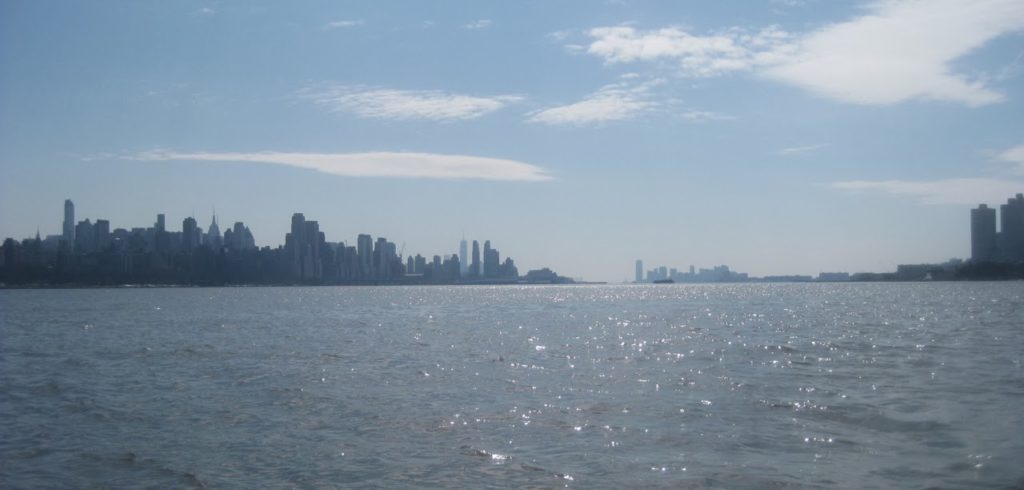 I spoke to a woman and her little girl on shore. It being International Women's Day, I was sort of hoping I'd inspire my gender to take up sea kayaking, even though when dolled up in a drysuit, PFD, and and wool cap, I look more like an androgynous egg yolk.
I knew the tide had already changed, and decided I wanted to cross back before it got too strong. I was concerned that a faster current might bring ice towards me while I was trying a ferry crossing. The current was not nearly as strong as I expected.
I was able to make it pretty easily to the 79th Street Boat Basin. I was hoping for their kayak launch as a potential takeout point, but I didn't see it where I thought it was meant to be. So, I paddled past their icebreakers, and took this photo.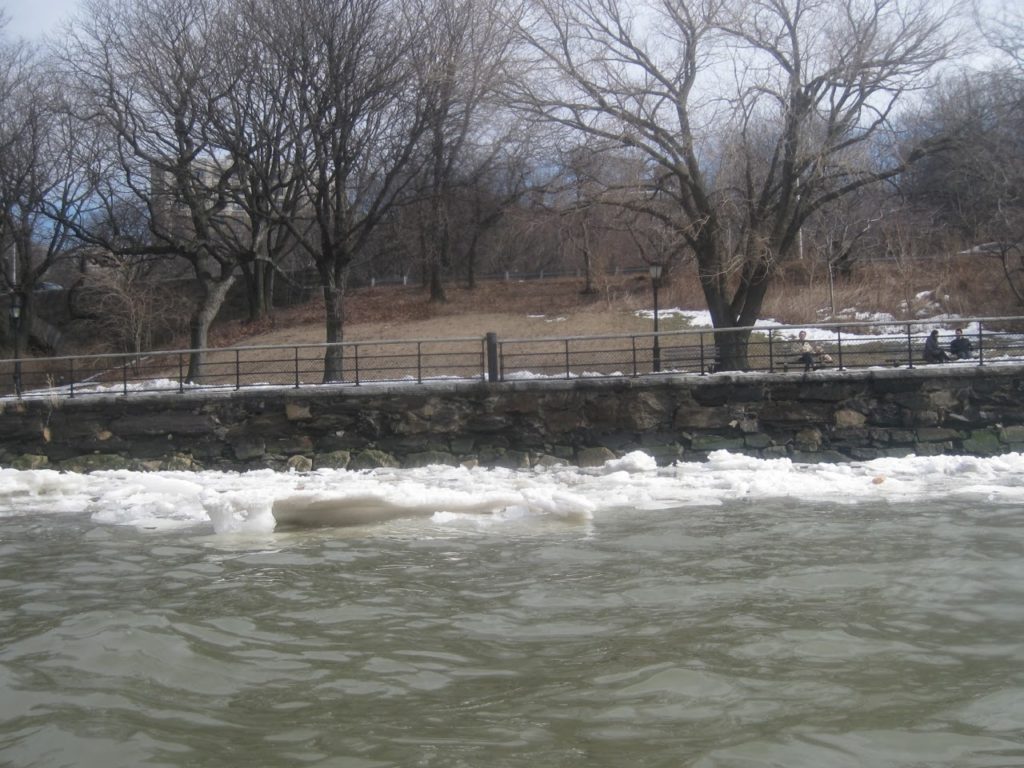 Onwards I went. By now I was definitely getting hungry. I watched one southbound barge pass another, and afterwards paddled out into the current to expedite my path to Fairway, where there is a small kayak launch jutting out from the park. You know, "like no other market". From there I took this picture of yet another berglet.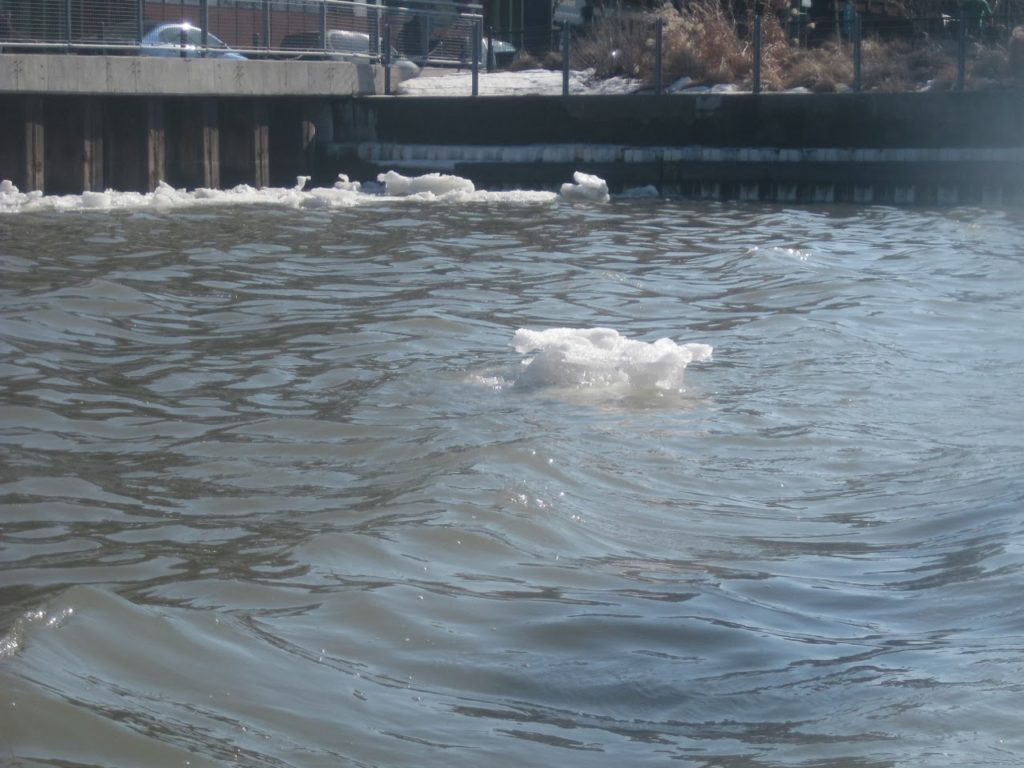 A friendly passerby pointed out that the gate to the dock was locked. "No problem, mate," I thought to myself, "I've got all I need with me." I found a patch on the dock that wasn't covered in goose poop and pulled out my rations, heating up the beef stew while I nibbled on crackers and peanut butter, followed by an oatmeal cookie, all washing down with hot tea. Once again, I found a milkshake mix in the MRE. I will have to try one of those sometime.
After reseting and digesting, I set out again, with much stronger current. This was a good thing, because I am not in peak condition, owing to less frequent paddling in this icy winter. The wind picked up a bit and I did a lot of sweep-forward sweep-forward, in some cases sweep-forward-forward-forward, till I got up to the Little Red Lighthouse, where a surprising number of people were sunning themselves on the rocks, taking selfies, lovers kissing. I waved at some kids, and then rounded the hook, moving on past the red marker boy and on back to Inwood.
All in, it was a great paddle. I ran into fellow club member and SUP'er ML on the way out. I packed up, cleaned the Argonaut, and went into a paddle come when I got home. Next week is the official start of Spring. I can't wait.