I've had this jar of Hungarian-style goulash in my freezer for months. I made it back in November, jarred it, and had it in doses in the early winter. Once, I took some on a paddling trip, and it was great. Ever since then, this jar has been staring at me, insisting, take me with you. I'll be a warm meal on a chilly day's paddle.
I finally did.
Yesterday I paddled to Randalls Island. I made the decision late, having had several options and new constraints. What I really wanted to do was paddle north on the Hudson, perhaps as far as Piermont Pier. However, the tides this weekend made that impractical without a later return than I wanted, and additionally strong winds, with gusts up to 30 mph, were predicted. I didn't want to go south.
I headed north out of Inwood, with some wind at my back but nothing terrible. I popped under Spuyten Duyvil and literally went back and forth, thinking of where I wanted to go. I decided Randalls because if the winds did kick up there wouldn't be as much fetch.
Heading down the Harlem was very straightforward. I knew it would be flowing my way by then, and the markers went by quickly: Peter Sharp, the High Bridge, Yankee Stadium, and so on. Since I don't know the lower half very well, I took notes of possible emergency egress points: there are some rocky shores where an ambulatory but sick paddler could get out below High Bridge, and Macombs Dam Bridge has wide steps leading up out of the water. The Manhattan-side greenway between 125th and 145 has some new caged riprap, but also "eco steps" separated only by a fence from the sidewalk. These are good things to know when running a trip along these waters.
I took a peek at Bronx Kill. I arrived at just over an hour before Battery high water, and the water here was very, very low. A small island had appeared at the mouth of the Kill, and not too much further in was a wider island with birds walking on it. The water was shallow enough that my paddle tapped mud easily. I considered going through the Kill, but backed out because I was more interested in seeing the south shore of Randalls.
Below the RFK bridge, no far from a small barge sticking out from Randalls, I saw an unusual sight:  dinghy with two women. I didn't get their names, but one of them had built the boat! They'd put in at Randalls, and while there weren't affiliated with a club, they mentioned some work with the North Brooklyn Boathouse. In a refreshing sight, both were wearing properly fitted PFDs. So many people I've met on the water don't have basic safety in mind.
I continued on, planning to peek at Hell Gate. In short order I spotted Mill Rock, and hugging the Randalls coast, I came around the southern edge. The water was flat though certainly moving. I watched a ship chug in against the current. I decided to stay closer to shore since I didn't want to go into a fast moving shipping channel that I didn't know very well. Turns out, that was a mistake.
There is a triangular area that sticks out from Randalls where the water is very shallow – 2 feet MLLW. Conveniently, there is a pile of rocks at the point of this triangle, marking the channel for ships. I thought I could pass over his area, being in a kayak. However, as I got closer, I saw a line of breaking waves.  Not Good, I thought. Can I handle breaking waves? Sure, but why were they breaking? Were they rocks? I wasn't certain. I paddled backwards to give myself time to think, then decided to turn to and ferry glide to Randalls.
I paddled back, against the current, and landed at a small tidal beach for lunch. I pulled out my lunch, put my PFD and paddle up on the seawall, and then spotted a Circle Line ship passing Mill Rock.
That ship was kicking up some beautiful bow wake. A lot of bow wake.
Bow wake coming towards me, and the water was shallow.
I grabbed the front toggle of my boat and one deck line, dug my feet into the beach and kept clear of where my boat would get carried. Sure enough, a series of waves arrives and wrapped around my ankles and lower calves, and cocked my boat up the beach while I held onto it.
Now, these weren't violent waves. They weren't dangerous. However, I didn't want to have to swim after my boat. When it was all done, I looked for a patch that was still dry, and carried my boat over there, nestling it between some rocks to keep it safe while I sat on the wall eating lunch.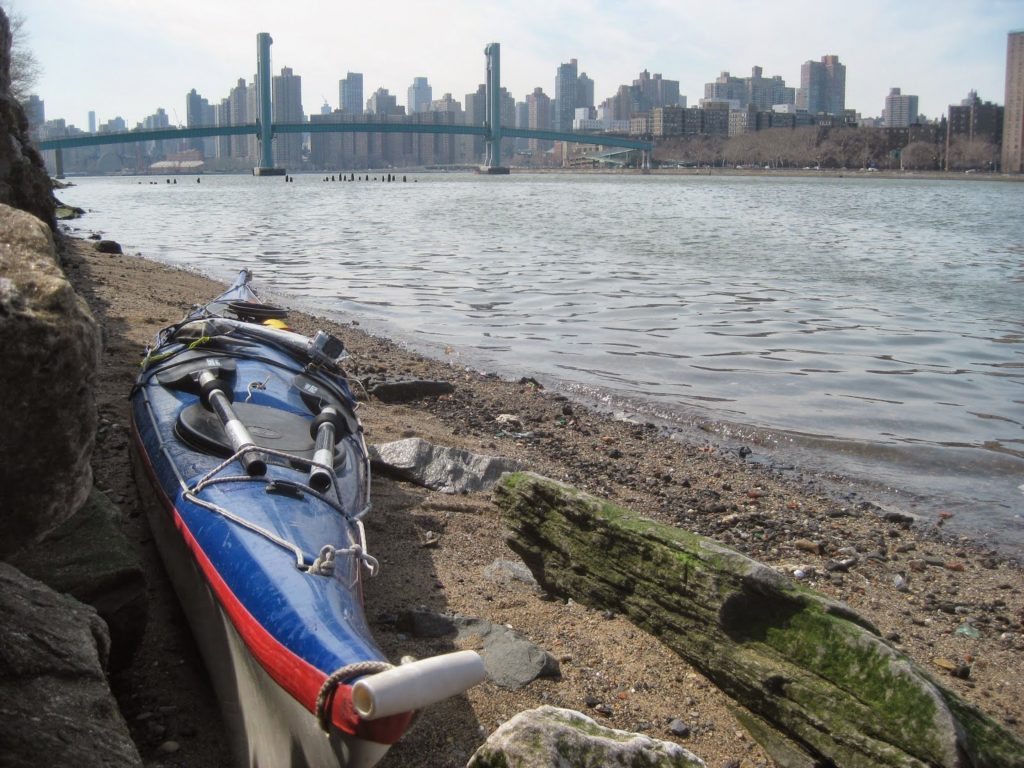 No other vessels came by. I enjoyed a nice view of Manhattan, on a sunny day, thinking about my approach to Hell Gate. I'll do it one day, but with friends and warmer water. I had about an hour to kill, so I rested and digested, rather pleased with myself. Oh and the goulash? It was very good, along with some crackers and peanut butter, and of course hot tea.
I saw that the tide was gently creeping in, and decided to leave earlier than planned. I'd be against some current, but things would get easier, and I'd get back to the boathouse in time for a phone call I needed to make. The paddle back was uneventful, and I sang plenty of trail tunes to keep myself entertained (and, to practice). Singing while paddling isn't the easiest thing to do, what with the physical exertion and all.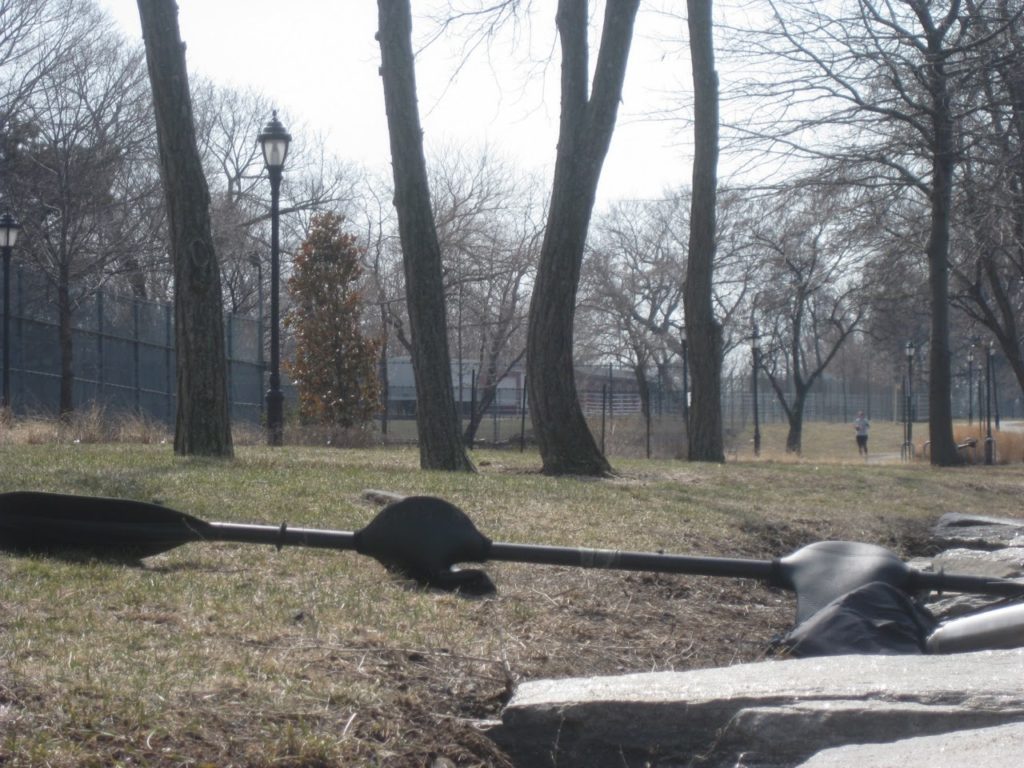 Oddly enough, the most challenging part of the trip was the last leg. As I came under Broadway Bridge, it was clear there was a strong wind coming off the Hudson. As I paddled further, it became a massive headwind. I knew I was moving forward, with the current and by looking at the shore, but it felt like I was paddling into a wall. I crept forward, keeping an eye on Spuyten Duyvil. What was this wind doing to the water past the railroad bridge?
The short answer was, nothing terrible. There was some chop, but nothing I hadn't experienced before. I slipping under the bridge and bounced up and down for about five minutes. Fortunately the wind changed direction so it wasn't coming quite abeam, and not cocking my boat much. It was slack water, so I still had some work cut out, but getting home was no problem.
As I approached, I saw the garage door of the boathouse wide open, and after landing, caught up with some fellow club members who were doing some work. I unpacked, washed the Argonaut, and changed clothes.
It was a good day on the water.