I got out yesterday with a friend of mine from the Inwood Canoe Club. It was the first time I'd been on the water for about a month – first time since my "Snow-cial" paddle. The Hudson current was just after max flood, so AA and I decided to head into the Harlem as far as we could.
First: OMG I felt so out of practice. It's still shocking how much difference a month makes. In the summer I felt ready to go every time I got in the boat. Lately, I have to take a few practice strokes before I feel like I've got my equilibrium.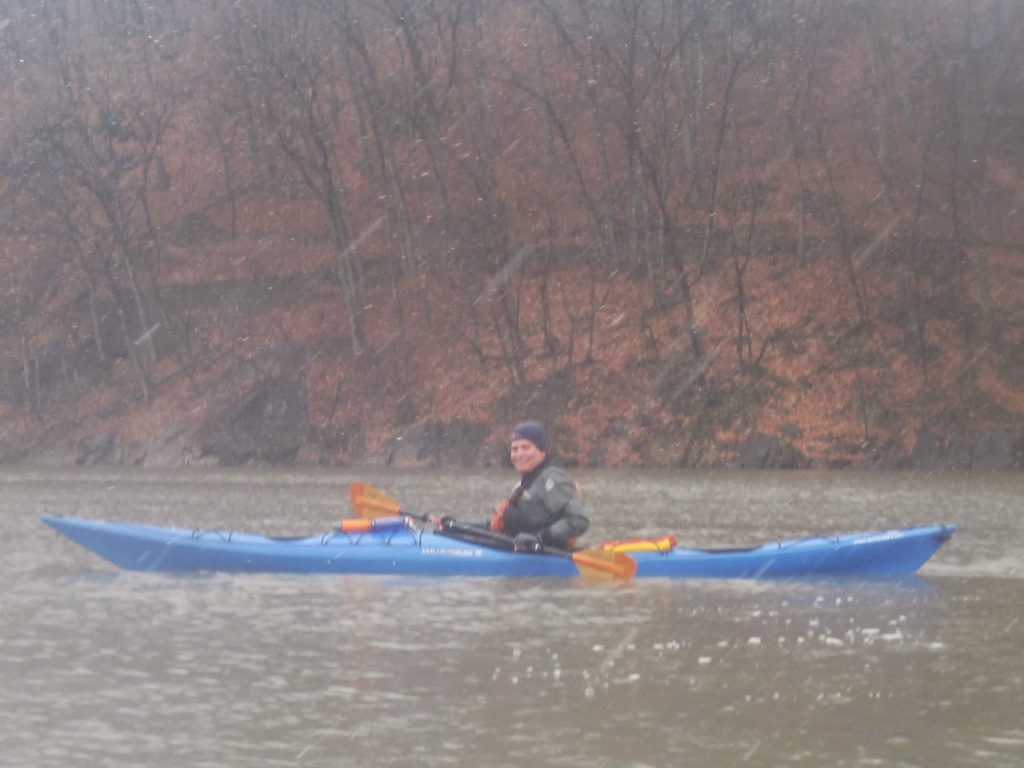 Second: OMG I felt so out of shape. I was talking about this with another girl in our club, who was heading out on her paddleboard. We are hardly plump, and among certain of our friends are not allowed to complain about our weight; we are "skinny bitches". But, we're used to a certain level of fitness that is hard to maintain in the winter holidays.
Fortunately, by the time AA and I rounded the bend after the Broadway Bridge, I felt like I had my cadence back. My hands were no longer tingling either; in the Hudson, a steady northern breeze had kept them chilled, even though my core was plenty warm. We had hardly any wind in the Harlem.
In the course of the trip, we experienced a range of weather, from tiny styrofoam-like snow pebbles, to rain, to sleet forming mush on our decks. Once we were in the Harlem we got proper snow again, big flakes, for about fifteen minutes. While all the precipitation cleared up by the time we got past High Bridge, it was a little foggy on the way back, and then the sun came out as we past the 207th street MTA train yard.
We saw some pretty wooden racing canoes wrapped in plastic on the northern edge of the Peter Sharp Boathouse. We sipped some water, and went on towards the three bridges: Washington, Hamilton, and High.
Near High Bridge on the Manhattan side, we saw this interesting bubbler: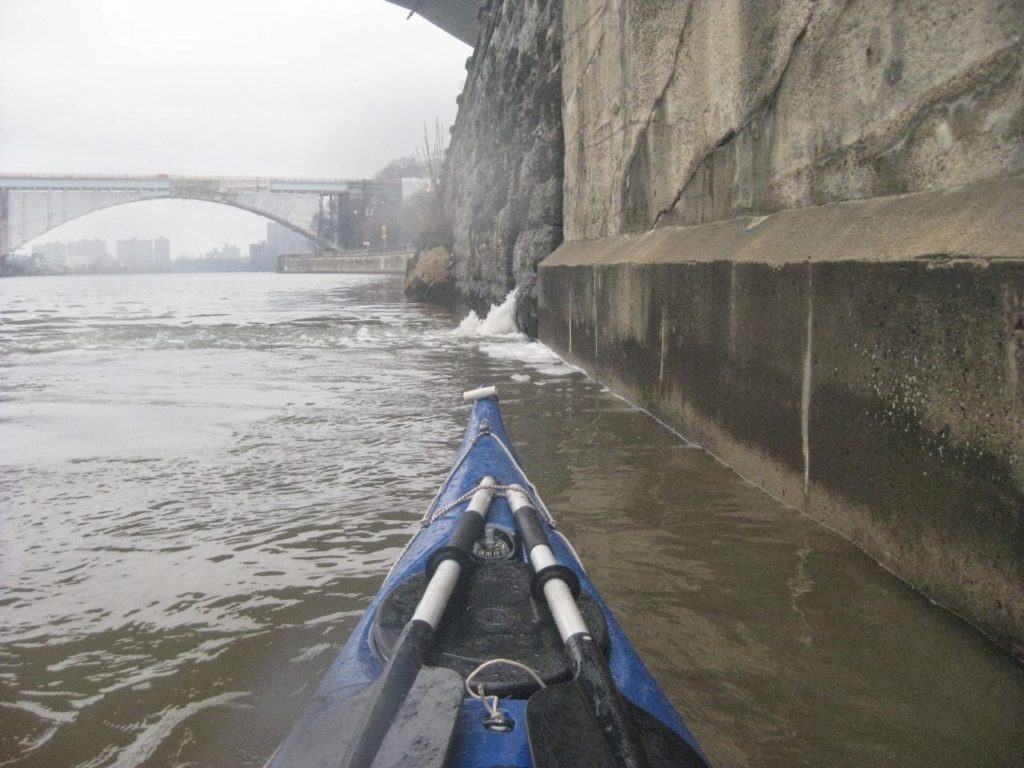 It seemed to stream right out into the river before getting pushed north with the current, but with a crazy S-shaped trail to it. We were wondering if this was a new discharge point discussed on a local kayaking email list recently; it's about the right place. There was quite a bit of kick to it!
We made it as far as Macombs Dam Bridge, at about 155th street. This is the fifth-oldest bridge in the city, and is so named because one of the earlier bridges that it replaced was a lock-style "dam" bridge, even though it isn't so today. By then the current was pretty solidly against us, and we paddled back easily.
Overall this was a good maintenance trip: enough time to really be out and get the good habits back, with generous conditions that made it low-risk for winter. There was a small craft advisory for boats in the harbor by the time we got back, likely due to increasing wind. We were very cold on the Hudson legs, but nothing a little hot tea couldn't resolve.
I have been shopping around for pogies and gloves; I am leaning towards the former right now. I need new summer gloves as well – and a sprayskirt, and I'm ready for a new PFD. Summer is just around the corner. I'm already planning my trips and classes.