I'd been planning to take some of my club's members out for a trip in the Pelham Islands, located off City Island in the Bronx, at the beginning of Long Island Sound. It's a trip I've done a few times, launching from the parking lot for Orchard Beach, which is pretty empty once the summer season dies down for swimmers. My club has a trailer, and I have a car that can haul said trailer, and I like to promote paddling in a variety of locations.
Then I saw an email from PG, a regular organizer of various events, sent to the Yonkers, Sebago, and Brooklyn clubs, among others, offering up the Touring Kayak Club in City Island as a base from which to start and end a trip. As it happened, I was already taking some club members out the week before for a class taught by my friend JK, so it wasn't hard to just repeat the next weekend with a different group of people.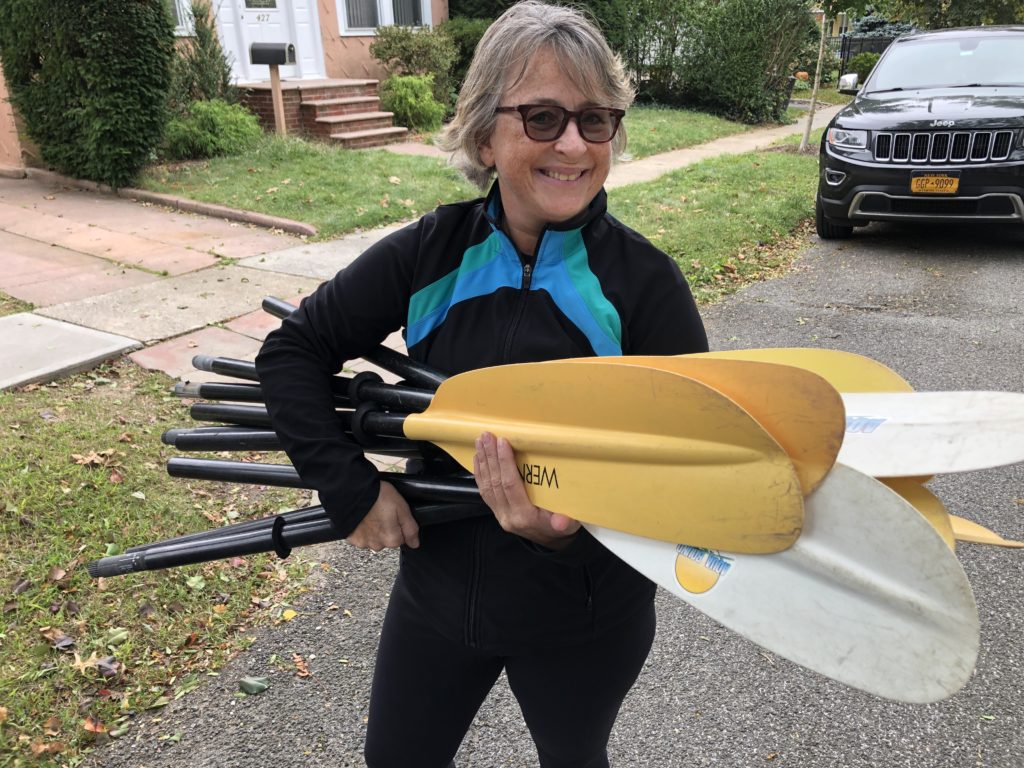 Normally street parking is easy but, with so many paddlers driving in, we had to park a few blocks away.
Altogether we had about two dozen paddlers and three official leaders. The paddlers varied in experience, both in how long they've been paddling as well as the variety of conditions. We offered two trips: one out to Execution Rocks and back, led by TKC member JB, and another, shorter trip, visiting various islands in the area, led by PG and myself.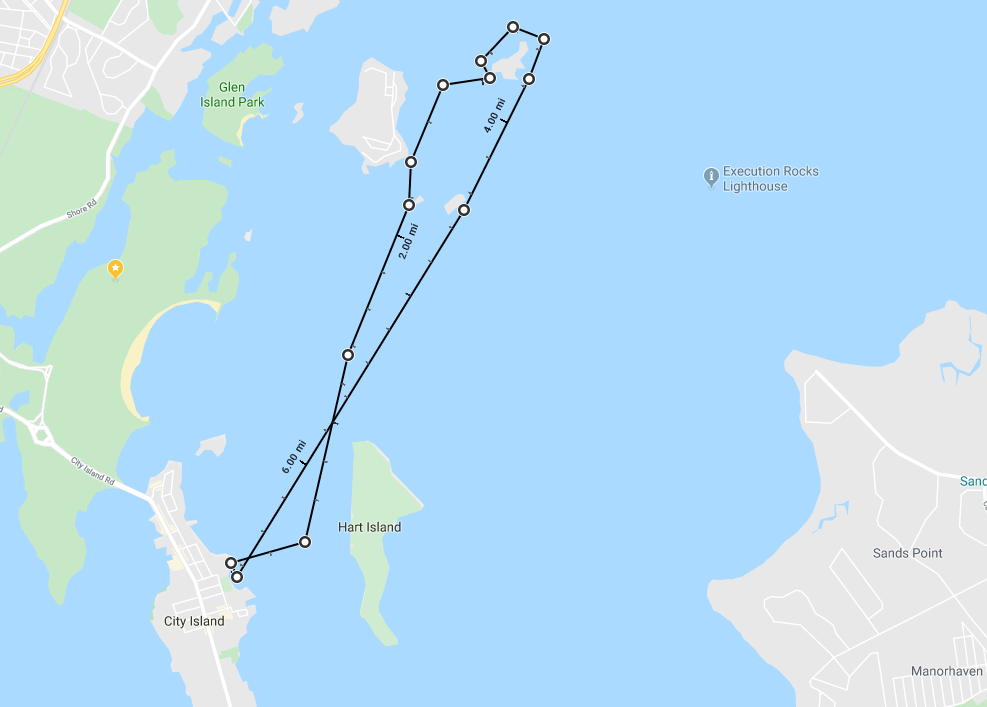 Once we had everyone on the water, we counted about a dozen in our group and headed out to the first, easy landmark, Rat Island. Owned by a retired Swiss engineer, it has a statue of William Tell and a street sign on it, that one of our paddlers said was a legitimate street address from the city, which is required for putting up a statue.
We then proceeded north to Pea Island, which is part of of a property that includes Columbia Island. They're for sale, for $13M (that's thirteen million US dollars), including a renovated building on Columbia that was previously a broadcasting center for the Columbia Broadcasting Service, aka CBS radio (and others initially, but CBS bore the cost).
The islands have since been in private hands, and the owner is looking to unload the property. You can view the NYT listing, which includes a little video.
Speaking of videos, as we approached, a weird wave pattern caught my eye.
What was this? I knew from experience that we were at a high tide, and at lower tides this area had rocks and was shallow. JT and I took a closer look.
As near as I could tell, one set of waves was coming in at an angle, reflecting off the wall, and colliding with the primary windborne waves coming in more or less right behind JT in the video. When those waves collided, Clap!
We proceeded over to Davids Island, where we had a bit more play along the shore, where before-he-was-President Chester A. Arthur would visit his Confederate brother-in-law during the Civil War.
We were getting on in time, and not everyone seemed as entertained as I with the waves, so we moved along quickly to Huckleberry Island, and after a short break, paddled around it, and then south.
The other group had just landed for lunch, and so we did as well, enjoying the view. We could just make out the Manhattan skyline in the distance.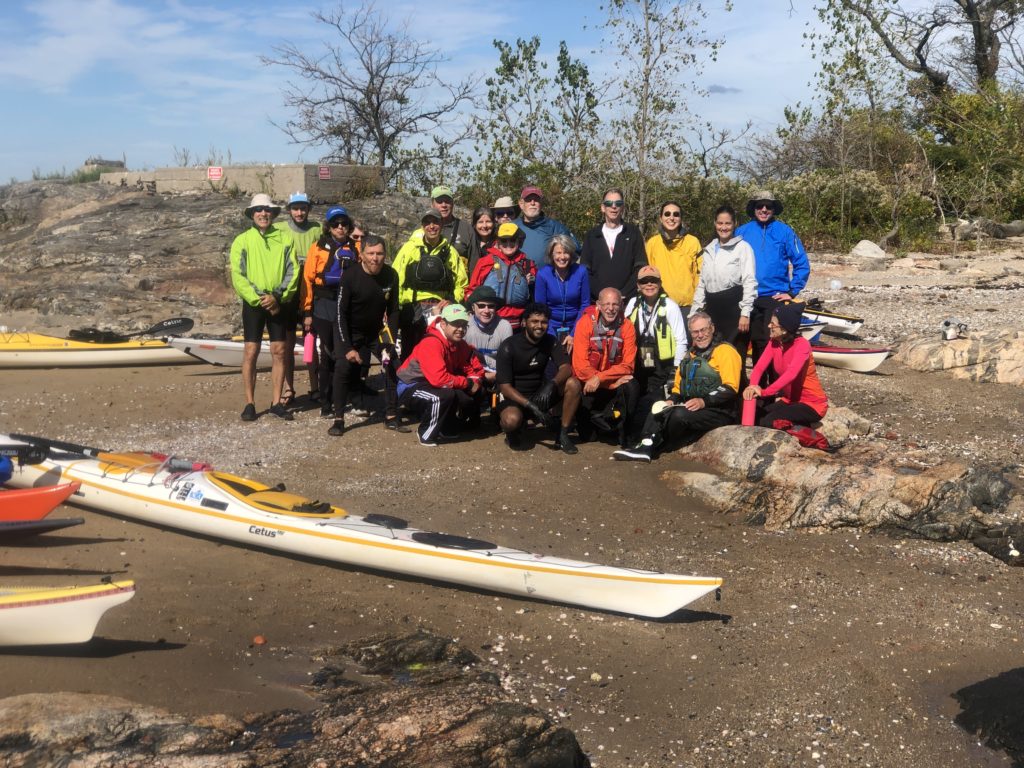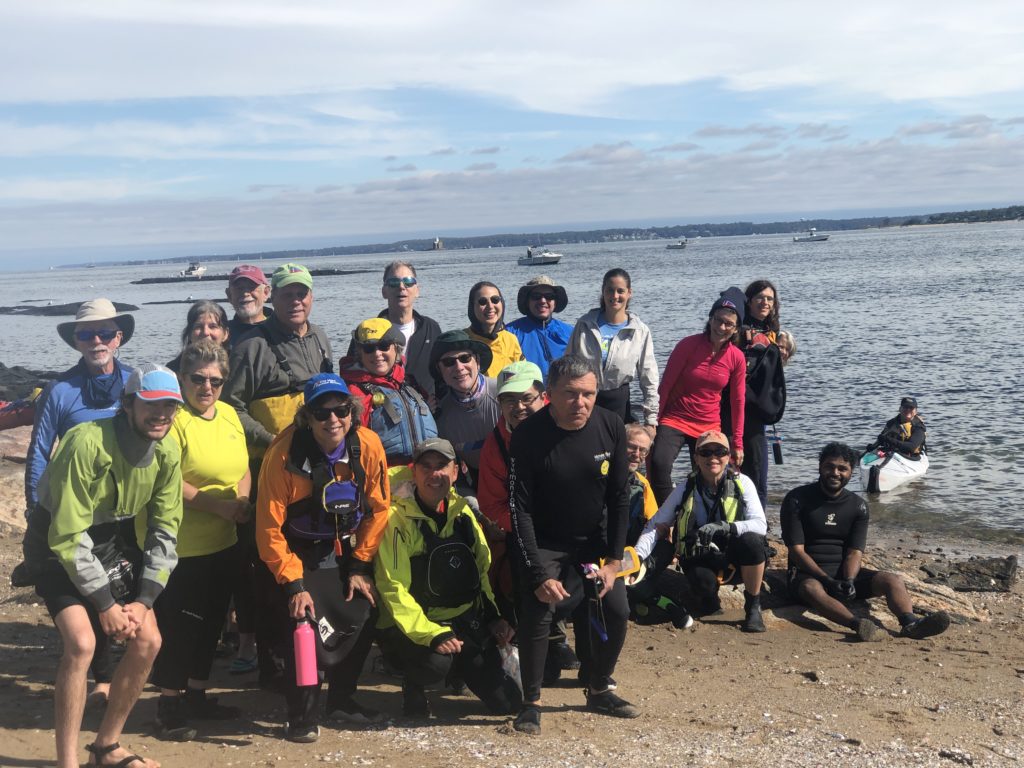 After Pea Island, we paddled back as one very large group to TKC's clubhouse, landing on the beach and getting everyone's boat and kit sorted. We rinsed off our boats and gear before loading the trailer and cars, and then drove off.
Our group stopped for some cheap seafood, which City Island is known for. We got back a little later than expected, and unloaded the trailer.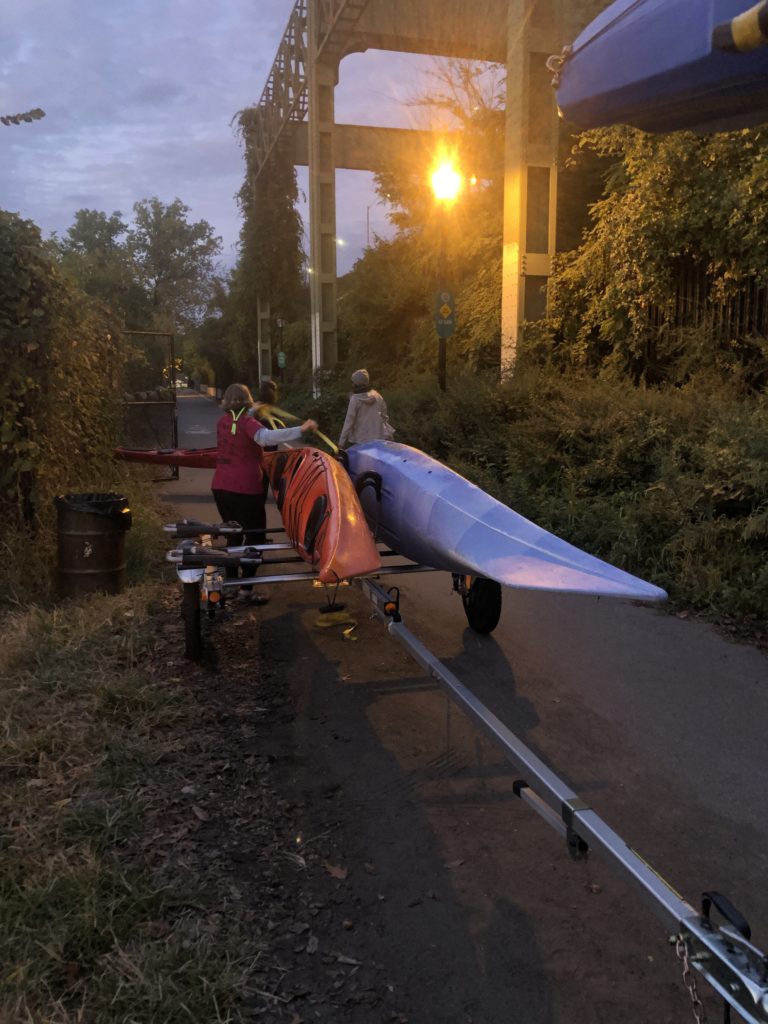 Overall, this was a great trip. It's unusual for this many paddlers to be together at anything besides a paddling symposium, and for so many local clubs to come together like this, it just reinforced how much of a community we have.