It was bound to happen one day. Every year now for the past four or five years six years, I've driven up to Maine for some coaching, sometimes multiple times. My car is coming up on fifteen years old soon, and while I've had breakdowns in the past, this past week was the first time I've had it on the trip to Maine.
While this is a paddling blog, I figured to write this here for the benefit of curious friends, since it occurred right on the heels of the Midcoast Sea Kayak Rendezvous, a symposium I was coaching at.
An Auspicous Start
The Rendezvous takes place near Bath, Maine. Mister Cowgirl and I and had gotten our gear together and put our boats on the paddle wagon, a 2005 Saab 9-5 station wagon in Linear trim – the base model style. It's a manual shift wagon, but that's not important to the story. We stayed for a dinner party and figured to hit the road by 8 and stay with a friend of his in Boston overnight.
About halfway up the state road to US-1, we started hearing a rapid flapping. We speculated on what it could be, but since the area was dark and remote, and a gas station was just a couple of miles up where we would get on US-1, we drove easy and planned to take a look once we got to the gas station.
Sure enough, under the bright lights at the pump, we could see that the serpentine belt (or S-belt as I learned to call it when I was younger, but no one else seems to call it that) was frayed about 1/3. This is the belt that drives everything in the engine compartment. If the engine is the power plant, the S-belt is what connects its driving power to all the other mechanicals in the car. It's pretty critical. We decided to risk the 5-mile drive back to where we had been staying, and call a local mechanic in the morning.
On the way back, however, the belt finally gave. The flapping sound stopped, but a mile later, the oil light came on. Buckaroos, you should never, ever, ever drive with the oil light on. With no oil coursing through the engine, it will quickly overheat and damage the engine itself. For a few seconds we wondered if it was just a bad sensor, but then pulled over. Even in the rain, in the mud alongside the road, we could see oil coursing down the side. The paddle wagon was mortally wounded.
There really wasn't much else to do but to call for a tow.
Samaritans
While we waited – and by the way, whenever you call for a tow, especially on a highway or remote area, be prepared to wait a couple of hours – at least three cars pulled over to ask about our welfare. One of them, we asked where to take our car to, and another was driven by a woman (J) who offered to store our boats for us.
She and her husband were semi-retired and worked as caretakers on a large property not far from where we had been paddling for the weekend. While David and I joked about hoping our boats didn't end up on eBay, we trusted her, and while the rain drizzled we figured out how to swing her Subarau's rails into racks, took our boats off my car, took my cradles off my car, put my cradles on her car, and then put our boats on her car. Did I saw it was dark? Did I mention that it was raining? It was dark and raining.
That said, we were grateful. We were worried what might happen to the boats if they were on a car in an open lot. At least this way we knew who had them. We're grateful to J and her husband.
After that, there wasn't much to do besides sit and wait, in the dark, for a tow.
Waiting
The truck arrived about an hour and a half later. The car was lifted onto the flatbed and we had it towed to the shop we'd been recommended. Along the way, we had the driver drop us off at a hotel in town, and we checked in and took hot showers. It was about midnight before we were even ready for bed. By that point we'd called our friends to let them know what happened and that we were safe.
The next morning, we walked to the mechanic shop, which was about 20 minutes away. Over breakfast we'd thought through various contingencies: he had to be at work but would have to take this one day off; technically I can work remotely, so I could stay in Bath a few days if needed. Normally I use a laptop for work, which I'd left at home, but I could get by with my phone and iPad.
How would we get him home? If we both went home, how would we come back for the car, in case it would take more than a few days? At what point would roundtrip travel cost less than staying in the hotel? Mentally, the bills racked up, and we still had no idea how badly damaged the car was.
They made no guarantees of being able to examine the car that day, but said they'd probably get to it later in the morning. We decided to take a bit of a day tour of Bath. There's a nice historic district, and a really good maritime museum that includes the grounds of the old shipyard that predated the modern Bath Iron Works. Seriously, whether or not you're a paddler, the Maine Maritime Museum is worth a visit.
Museum
The main building has a couple of wings, mostly stepping through the maritime history of Maine. There's a bit of pre-colonial and colonial history, but mostly it's about the shipbuilding and the hazards of the region. Various lighthouses, and histories wrecks, are interwoven with models of ships and displays of tools.
One particularly amazing exhibit is an actual lighthouse light, with a panoramic screen showing time-lapse footage of a seascape as seen from a lighthouse. It came from a lighthouse at Cape Elizabeth, and allows one to get up close to see how it works. Fun fact: in the nineteenth century, open pools of mercury were deemed the best, lowest-friction medium for the mechanism to rotate; one placard notes that this might be the reason for so many tales of lighthouse keepers going a bit mad. Fortunately, no mercury was used in the display.
We knew we wouldn't have time to take in everything, but with Mister Cowgirl's interest in woodworking and boatbuilding, we found delight in visiting the museum's boatbuilding program, and in walking through the old milling building, which has several old industrial tools set up, the kind driven by a single motor using a series of belts that run through the building – just like the S-belt, but larger. Life before occupational safety regulations is moderately terrifying, like the preamble to a horror film.
After the museum, we walked to downtown Bath and had a nice seafood lunch, followed by coffee and a bit of a walk while we waited to hear from the shop. By four, it wasn't clear they'd be done, so we crossed our fingers and walked over.
Repaired
The good news was, they managed to replace the belt and the lines that feed cooling oil, and the car was ready to drive. They'd also checked the engine and there was no damage from overheating. We'd already checked out at the hotel and left our bags there, so we just had to drive over to pick them up. It was a little surreal to drive the same roads we'd walked a couple of times, and a much shorter journey as well.
We still had to get the boats. That mean driving back to where the symposium had taken place, near Five Islands. We texted with our samaritans and got directions, following a series of roads that declined in width and quality, until we were in front of a newly-built barn with our boats out front. In short order, we'd restored the cradles, loaded the boats, and tied them down. It was much easier in daylight and without the rain.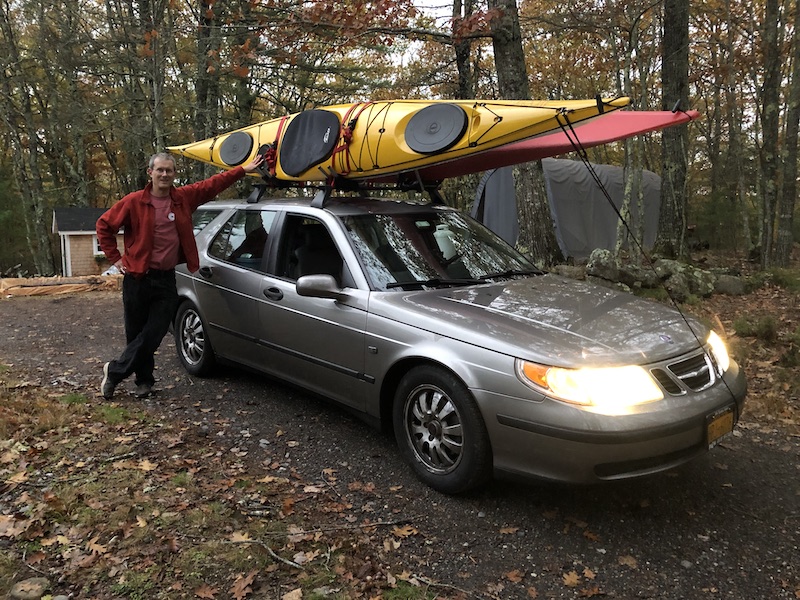 With that, we were off. Back on our original plan, just one day later.
Drive
We stopped to see Mister Cowgirl's friend near Boston. We had dinner and a bit of a talk. We felt badly not staying longer, but since we were already a day behind schedule, we were especially motivated to get home. We took a quick look at the car and all seemed well, so we got on the road, planning to drive in shifts and get home around two in the morning.
Unfortunately, while all seemed well, when we pulled over for gas near New Haven, we spotted a bit of a leak. More than a bit, in fact. At that point, a little became a lot – a pool of oil was rapidly forming under the car. The oil light didn't come on, but that seemed only a matter of time.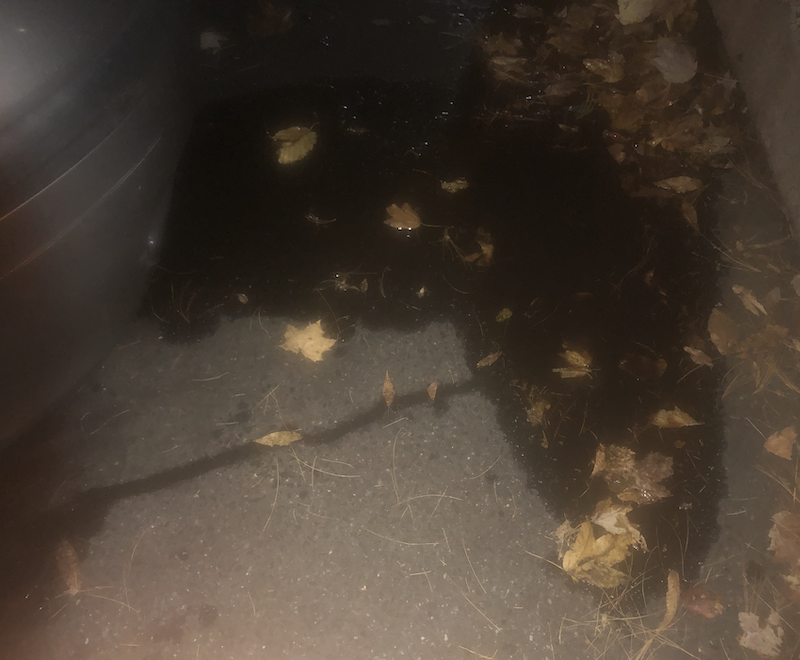 It was about one in the morning and we were only seventy-five miles from home, just over an hour. We were both tired, and I was certainly frustrated. We couldn't tell what had happened, as the new lines seemed on tight. We mucked around for about fifteen minutes. I was hoping this was temporary, or loose oil shaking off, but it wasn't. It was time to call a tow again.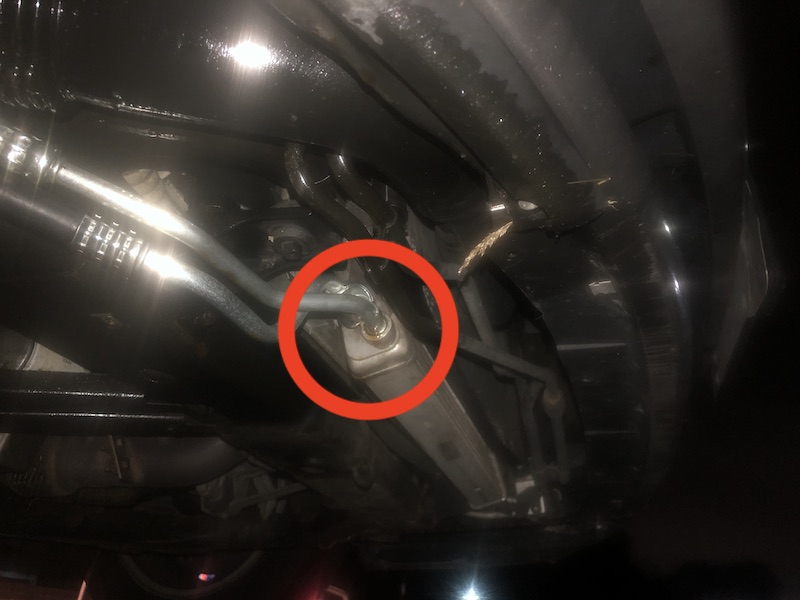 Tuesday
Being the second day of this entire affair, we had some harder constraints on time, and a different set of options.
On the one hand, we were near enough to regional mass transit that getting to New York City wasn't going to be hard; in any event we could get home and get on with life no matter how long the repairs took. On the other hand, the boats were on the car, and we weren't confident in leaving them on the car, and in any case my limited experience with mechanics is that that they don't like boats on cars.
We hatched a plan while we waited for the tow truck: Mister Cowgirl would take a cab to the nearest train station and catch the 4 AM NYC-bound train and a series of buses to get to his home in Rockland County, and I would sleep in the car with the boats. He would drive back with his car, we would transfer the boats to his car, and the shop would be open by then and we could sort the details for what came next.
Because we had so much gear in the car, and it was late and we were tired, I slept in the front seat; re-organizing the way-back was too daunting. Also it was cold and I made a blanket of multiple fleeces. Mister Cowgirl, in his journey, napped a bit on the train, then made two bus transfers in Westchester before finally walking the rail trail to his house, and getting a ride from his sister-in-law the last couple of miles.
The shop wasn't going to be able to look at the car until the afternoon, and no repairs till the next day. We drove to my home, made arrangements to park his car in my garage, and finished the day a bit sleep-deprived and disheveled.
The next day – Wednesday – the New Haven shop called and said, basically, that O-rings were not installed correctly. They recommended getting new lines as well but wanted more money than I'd spent on the entire repair so far. I decided to have my regular mechanic look at it first with just the O-rings replaced. I took the next train to New Haven, joined a call for work via phone, then got out and picked up my car.
Aftermath
My mechanic, at La Duca Auto in Mt. Kisco, New York, took a look at the car the next day, first thing. I've been taking my car to Brian and Vinnie since my first major breakdown on the Taconic Parkway nearly four years ago, and it's been a good relationship, even after they moved farther away; originally they were in Pleasantville.
The lines looked good; no leaks were observed. The car did need to be cleaned, oil was everywhere. There was a hose hanging against a metal edge, due to the cooling unit not being re-mounted on support brackets. It was also missing a cover that protects the S-belt, which they ordered and are putting back in gratis. The oil filter was already due for a change but clearly, a lot of new oil had been put in the car.
We'd keep an eye on it, and in any case, I don't have a lot of driving planned. As Mister Cowgirl points out, I have an advantage in that I don't require the car to get to work, outside of paddlesports at least.
It took the rest of the week for us to feel caught up on sleep. It wasn't until the weekend that I got my car unloaded, though we did drop off the boats Wednesday. Mister Cowgirl, bless his heart, had the gumption left to go whitewater paddling on Saturday, while I stayed home and cleaned gear.
A week later, with some distance, it's nice to know that as inconvenient as all that was, we were able to take care of things. This was essentially my worst-case scenario, short of the car being no longer fit for service. In that respect, I got of light, though the belt taking out the oil lines was a bit of a freak accident; if it'd been the belt alone this would have been a much simpler affair.