I was ready to cancel it the night before. I drafted one email, then another, then another.
Let's go. We shouldn't go, sorry to say. Let's meet in the morning and decide.
The weather had been off and on all week. Saturday was meant to be beautiful all day but turned spooky in the afternoon, while some other friends were on a circumnavigation. Sunday was meant to be terrible, but the morning was nice enough that at the shop we took four clients out to the Statue of Liberty and back. Leading into Monday, there was a keyhole of good weather that moved forward, then back, then not.
Thunderstorms. Chance of rain, High humidity, high dew point, high temperatures. I crash-coursed synoptic weather reading just to get a glimmer of hope.
The morning of, the skies looked to be clearing. The predicted weather improved. We met at the boathouse and agreed it was on: a Labor Day circumnavigation.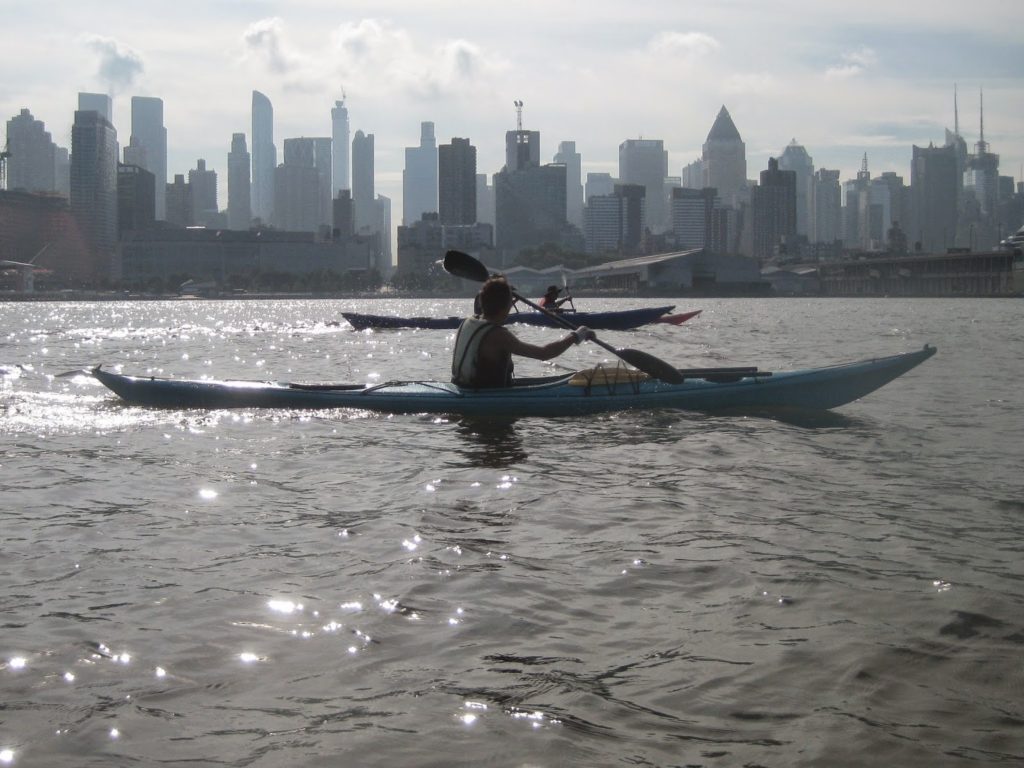 There were four of us: IL, BP, ST, and myself. BP and ST are strong paddlers but new to sea kayaking, and had not circumnavigated before. To me, these are always more fun with people who have not done it already.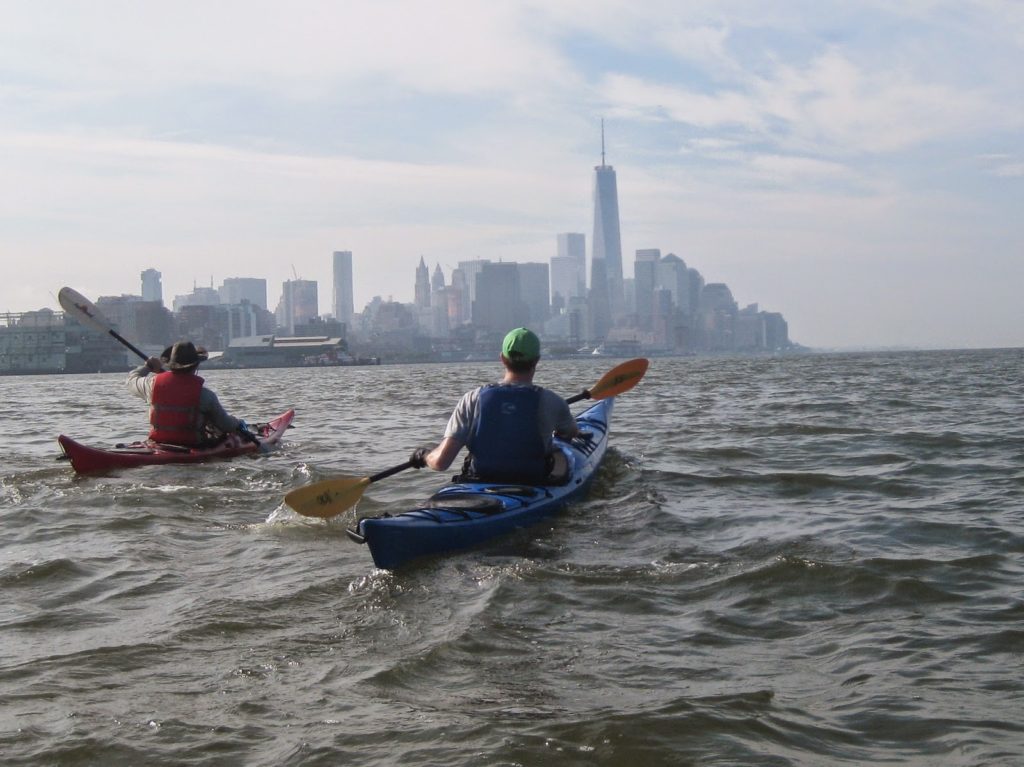 We sped down pretty quickly, leaving Inwood at about an hour to an hour and a half after low tide at Battery. We made the distance in about two hours, with minimal water breaks along the way.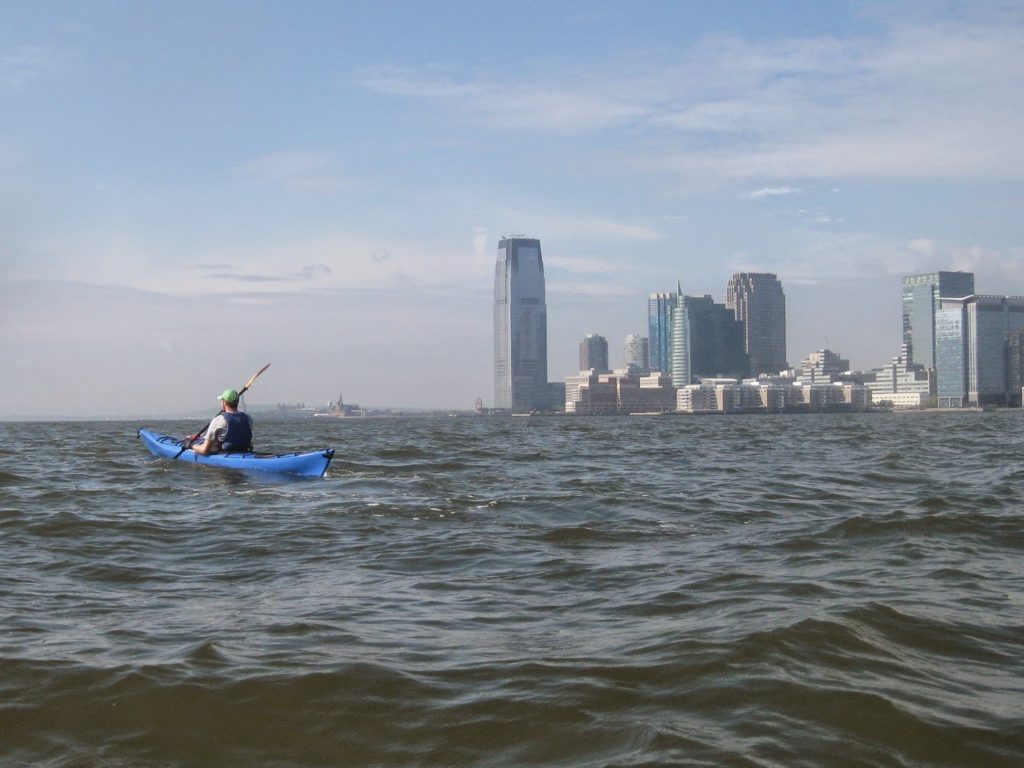 Jersey City in the Distance.
One skillset I bring to the Inwood crowd is familiarity with the traffic at midtown and below. Near Inwood, there are no ferries to speak of, and only the occasional barge or ship, and sometimes a Circle Line or similar vessel. Midtown and below, there are plenty of water taxis, ferries, and recreational boats, not to mention tugs and ships, especially in the harbor itself.
The bigger the vessel, the easier it is to avoid a problem. Just stay out of their way. They won't change their course much.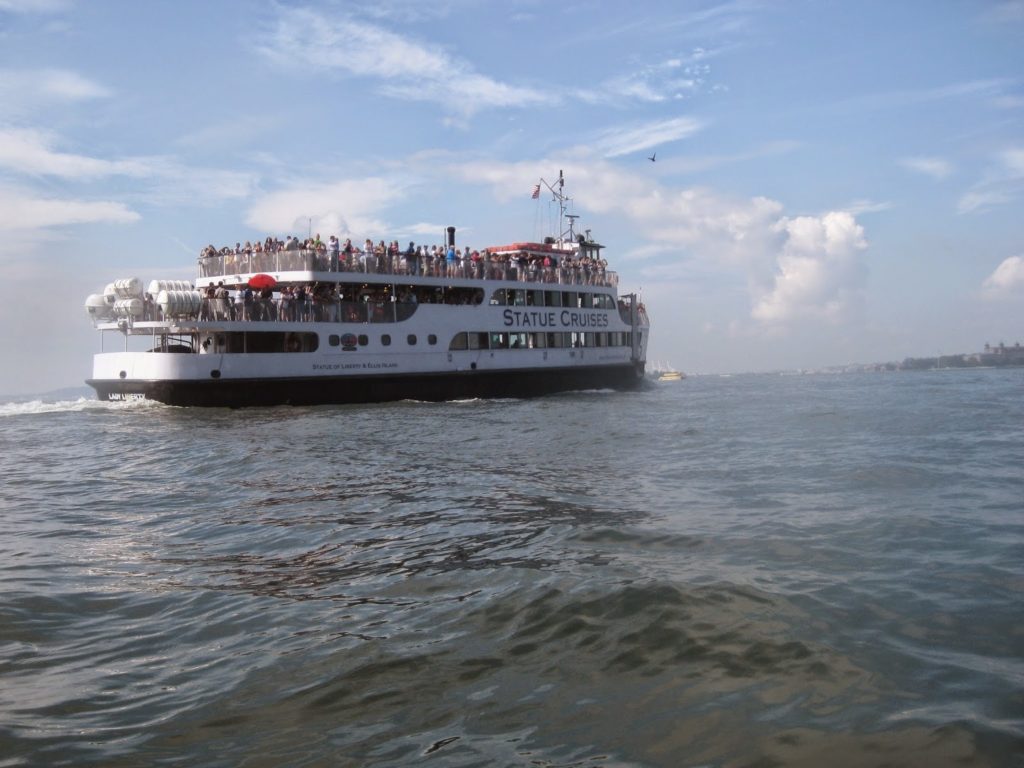 As we came around Battery, we went a little wide so that it wasn't a blind corner. This kept us away from the seawalls as well. We were remarkably blessed with little traffic, and a nearly windless day of smooth water. We waited for a couple of water taxis to pass, and then asked Miss Liberty when she was leaving.
"Now," she said. We waited by Pier A while she took off for Liberty Island.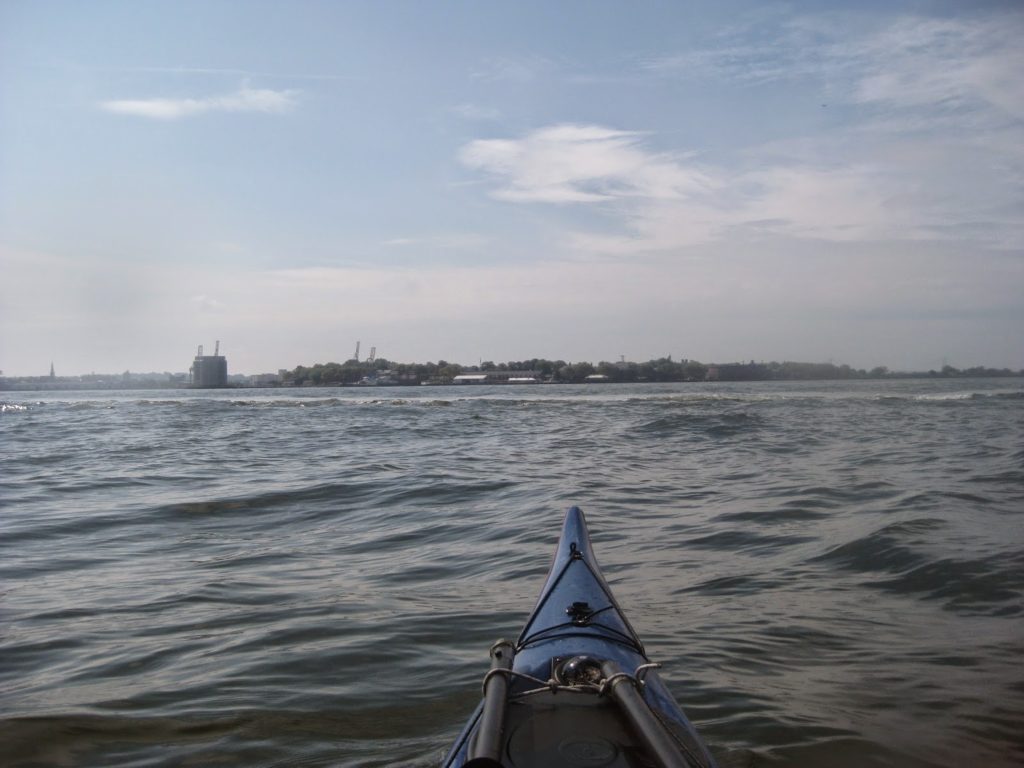 On a different trip, we might have ventured around Governors Island, but not today.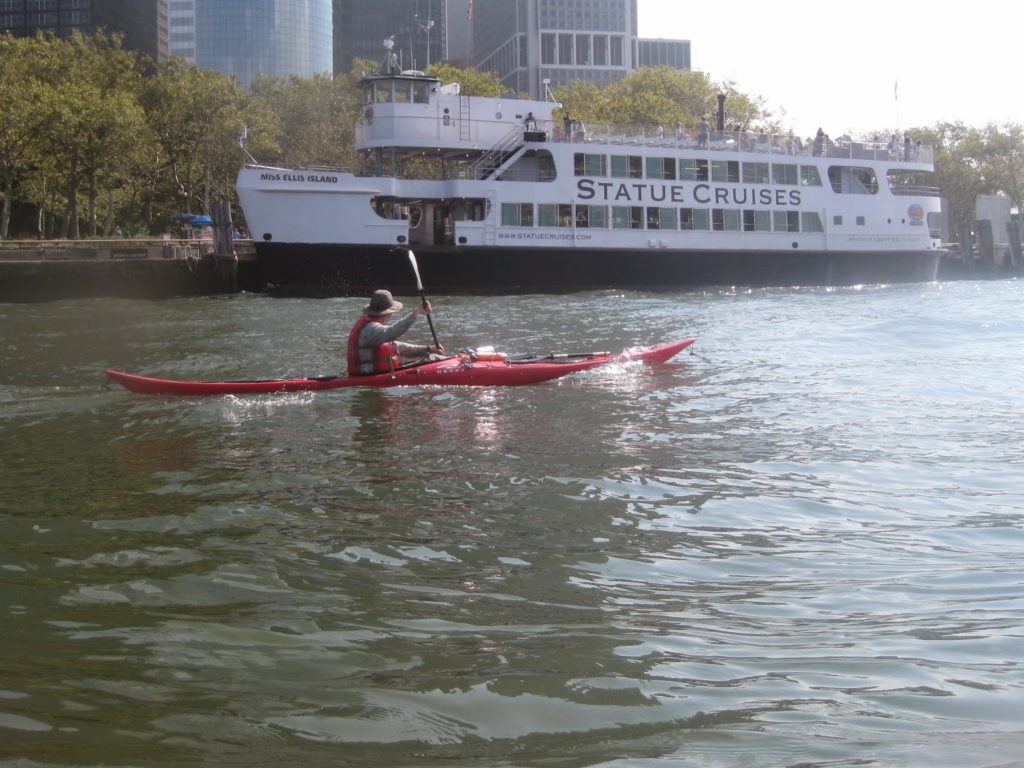 Rounding Battery, we passed the Statue Cruises, but little else, until we saw the Staten Island ferry. People were still disembarking, so we radioed that we were passing astern. We made a ferry crossing to Brooklyn and got out at Pier 5 to take a pee break, enjoy the sights, have a snack, and talk to some folks we know. Pretty soon though, we got on our way.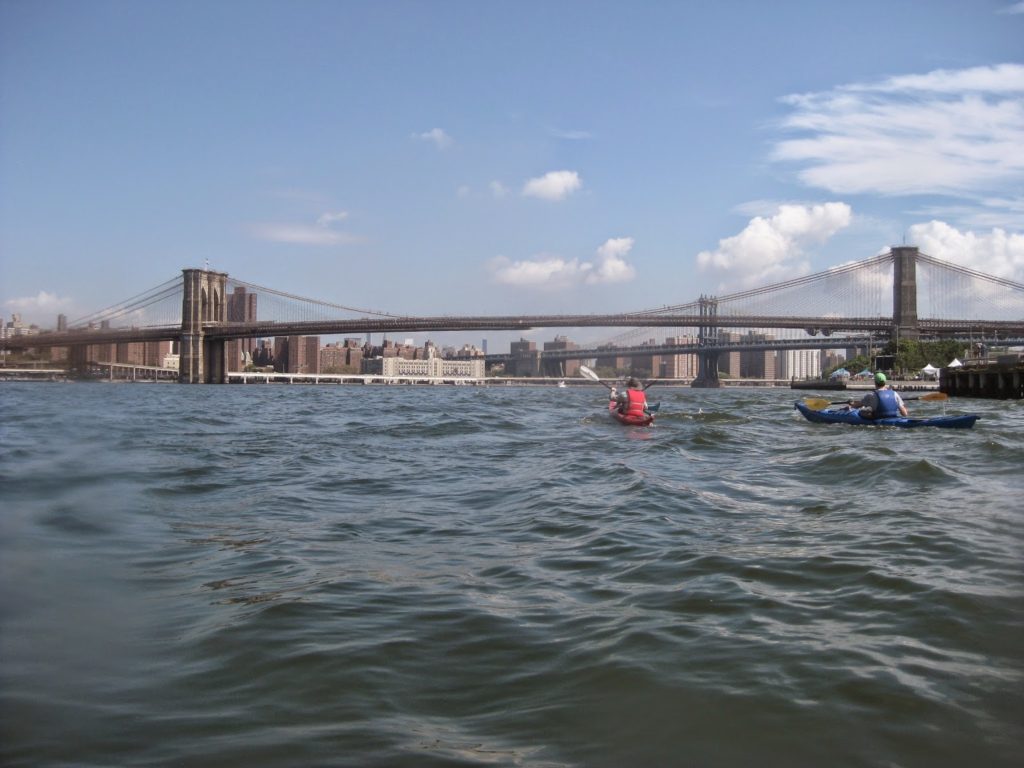 I'd expected our most interesting water to be at Battery. Instead, as we passed under the Manhattan Bridge, a passing water taxi kicked up a bunch of wake that got reflected off a seawall, and suddenly we were in the chop! It was beautiful, shaking us about, up and down, as we paddled forward past Wallabout Bay and the Brooklyn Navy Yard.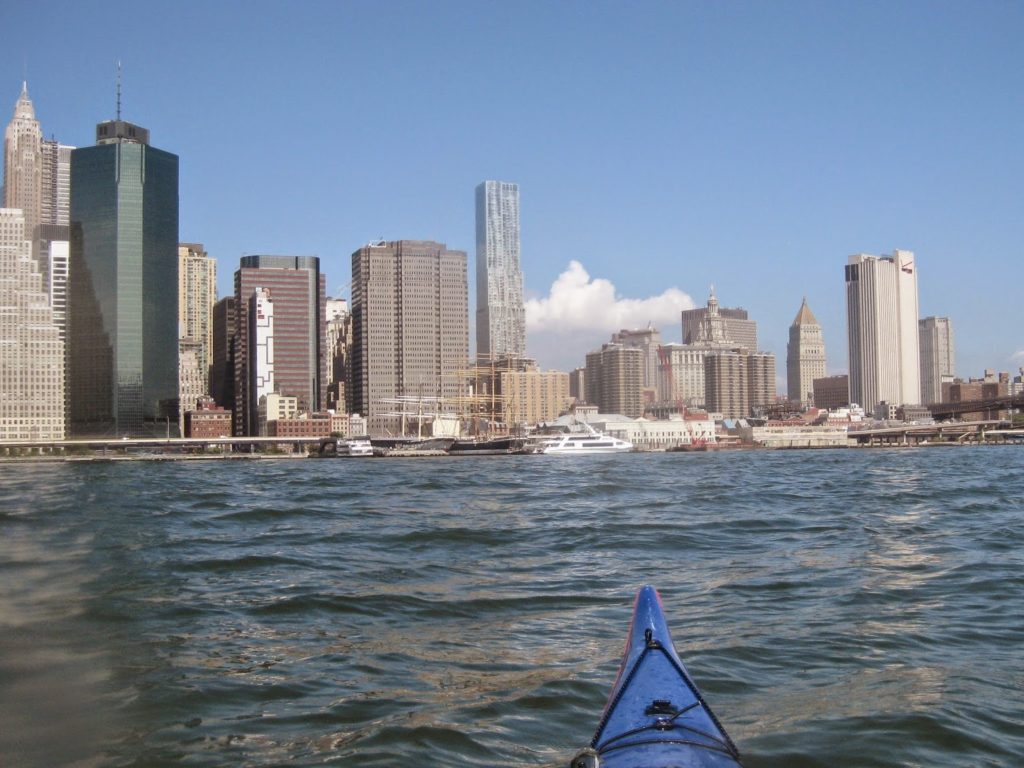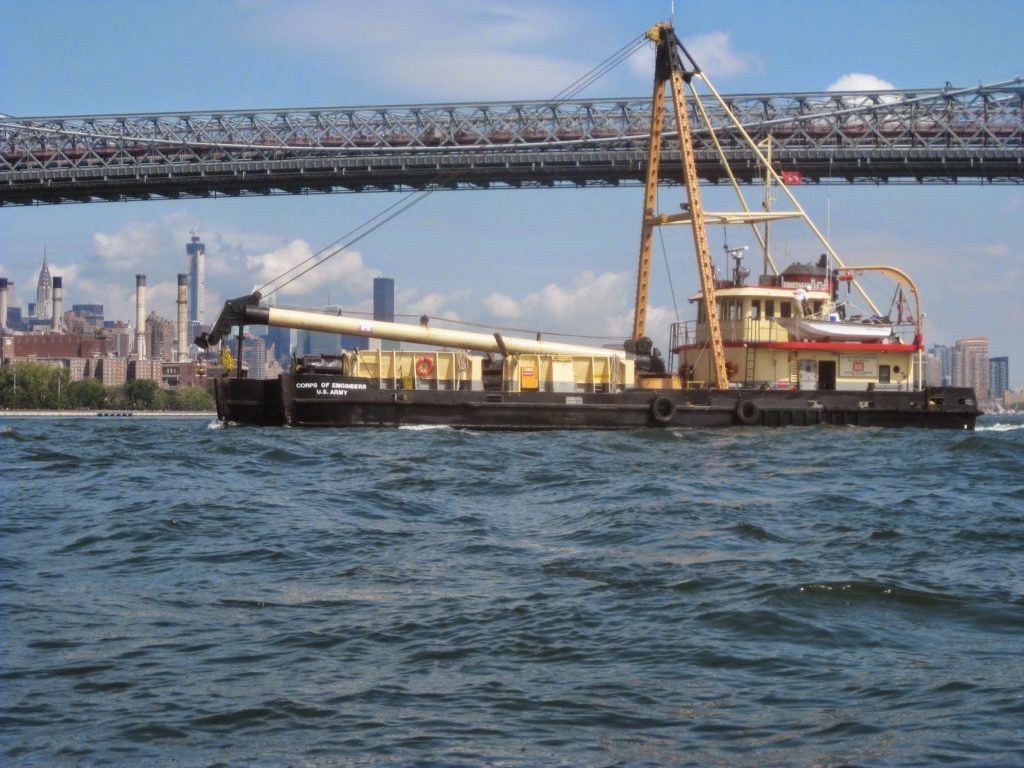 As we passed the Navy Yard, this Army Corps of Engineers ship came out. A friend of mine says she is called the Miss Piggy and lays docking barges for the NY Waterway taxis.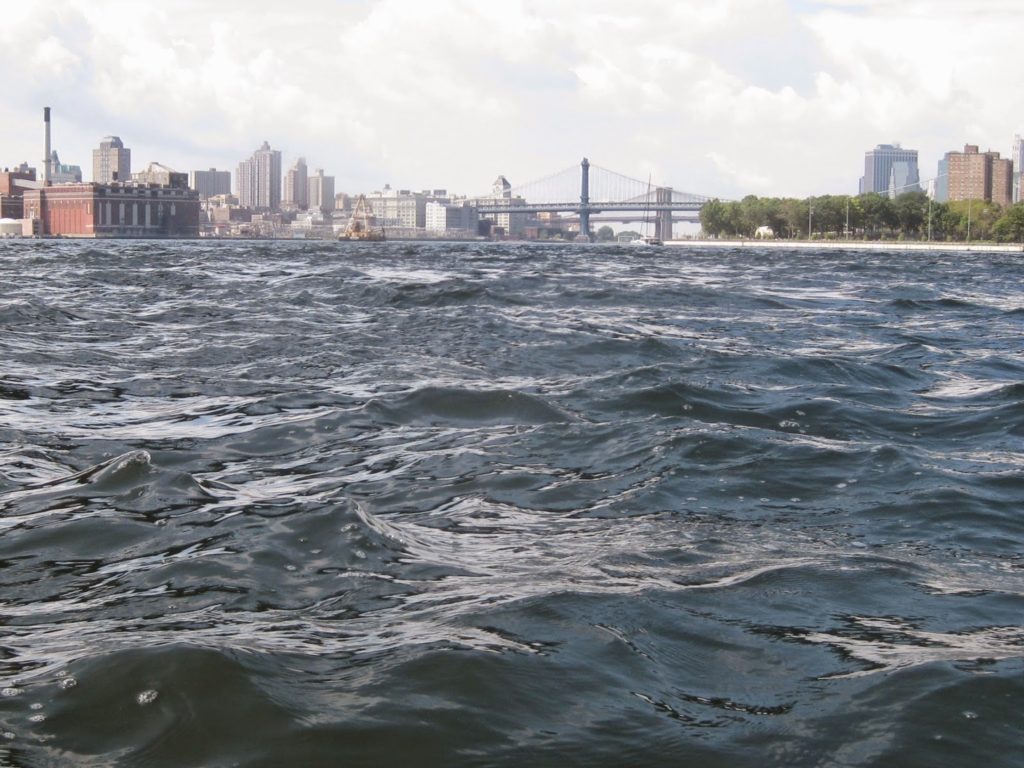 We went onwards. It's a shame that the East River is the shortest leg of the tour. It's kind of interesting, and not a part of the waters around Manhattan I get to paddle in often.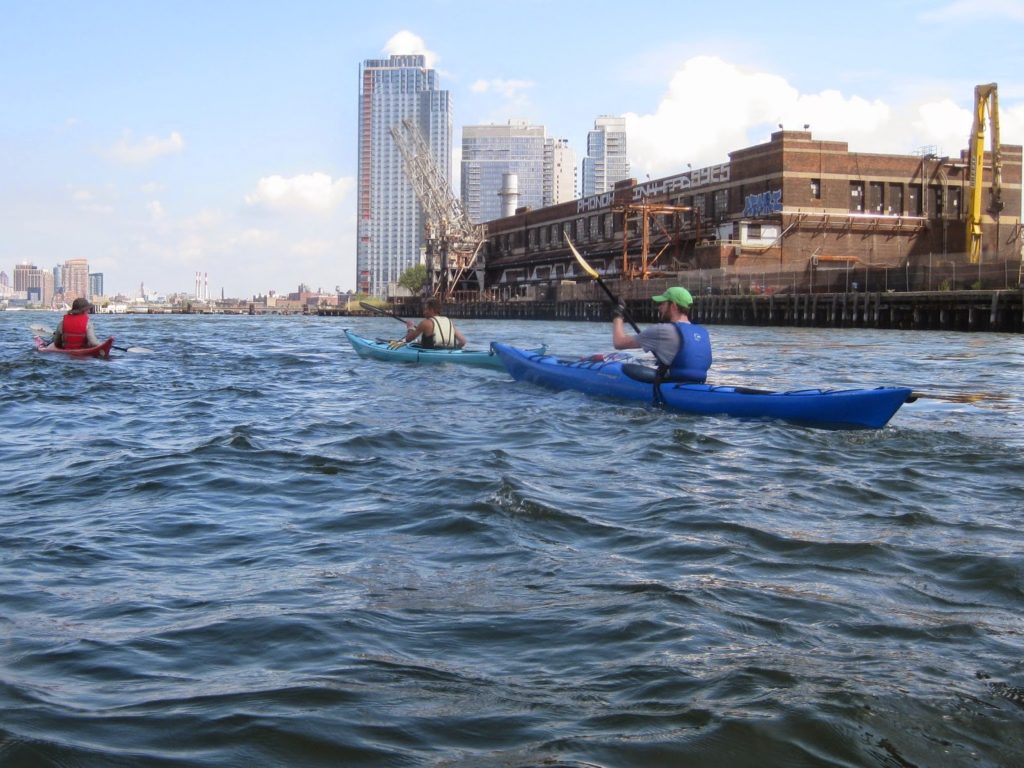 The East River gets short shrift sometimes compared to the Hudson. It's not as wide, it doesn't go as far, and the industrial history of Queens and Brooklyn mean that for a long time, it was a dirty, fast-moving mess. Now, it still is, but less so, and pockets of revitalization dot the shores opposite Manhattan and the FDR Drive.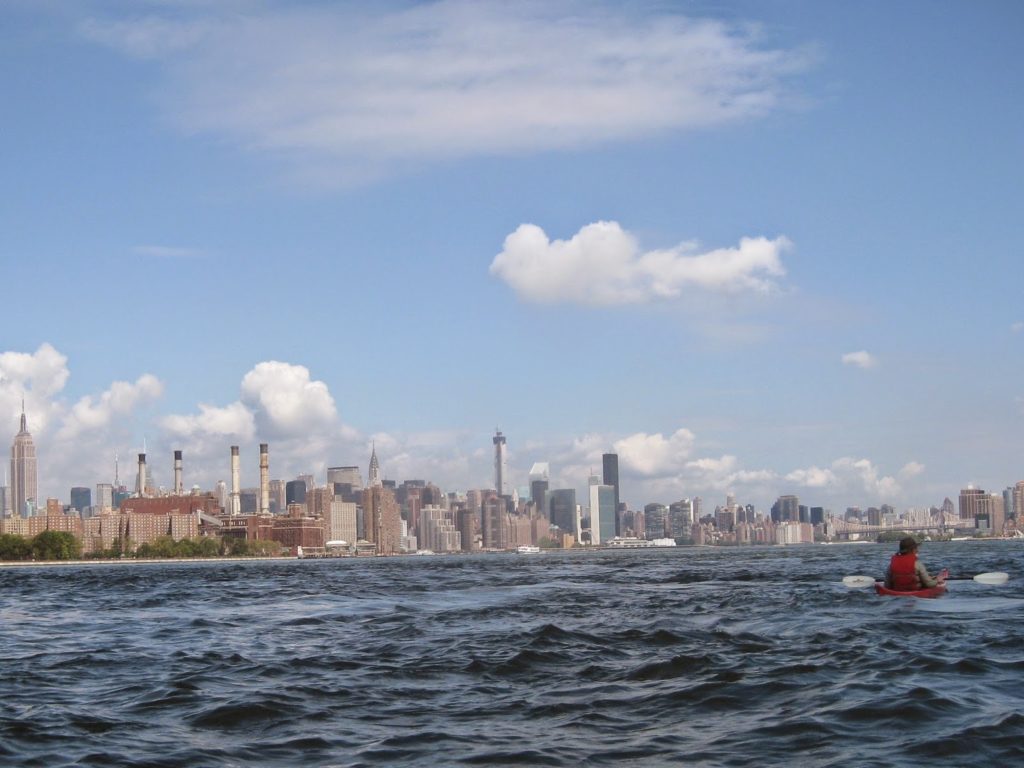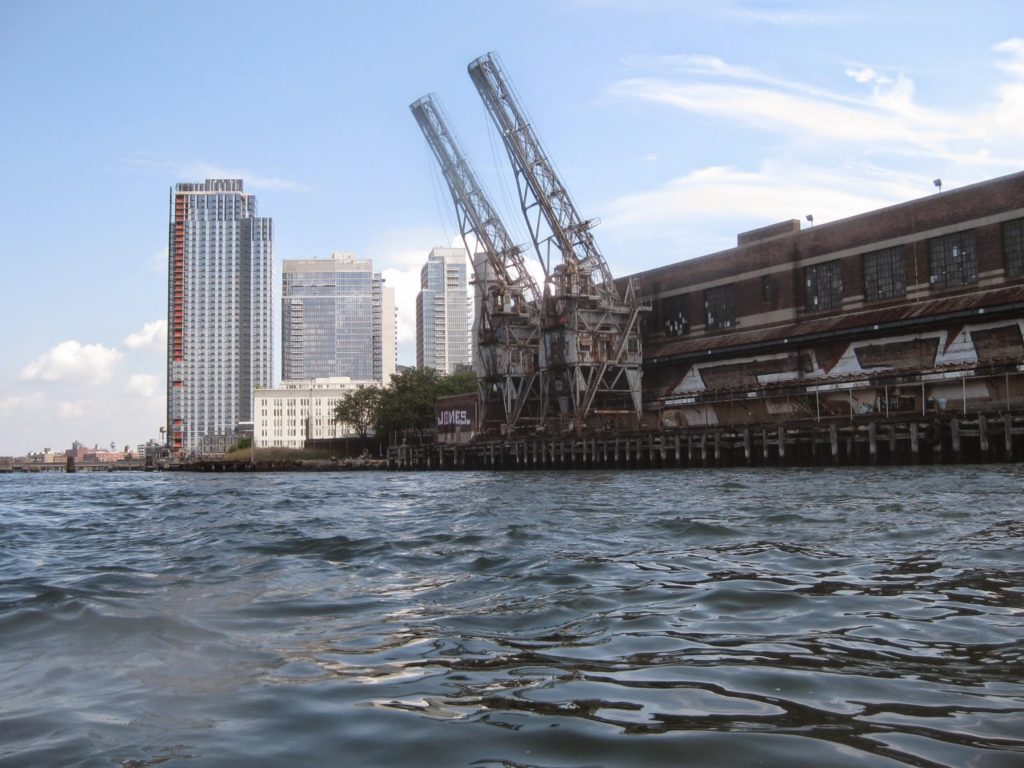 Eventually, the United Nations building looms, marking 42nd street, and the start of Roosevelt Island – a narrow two mile needle of land in the middle of the river. The western channel is faster, but we wanted to stop in Astoria before proceeding further.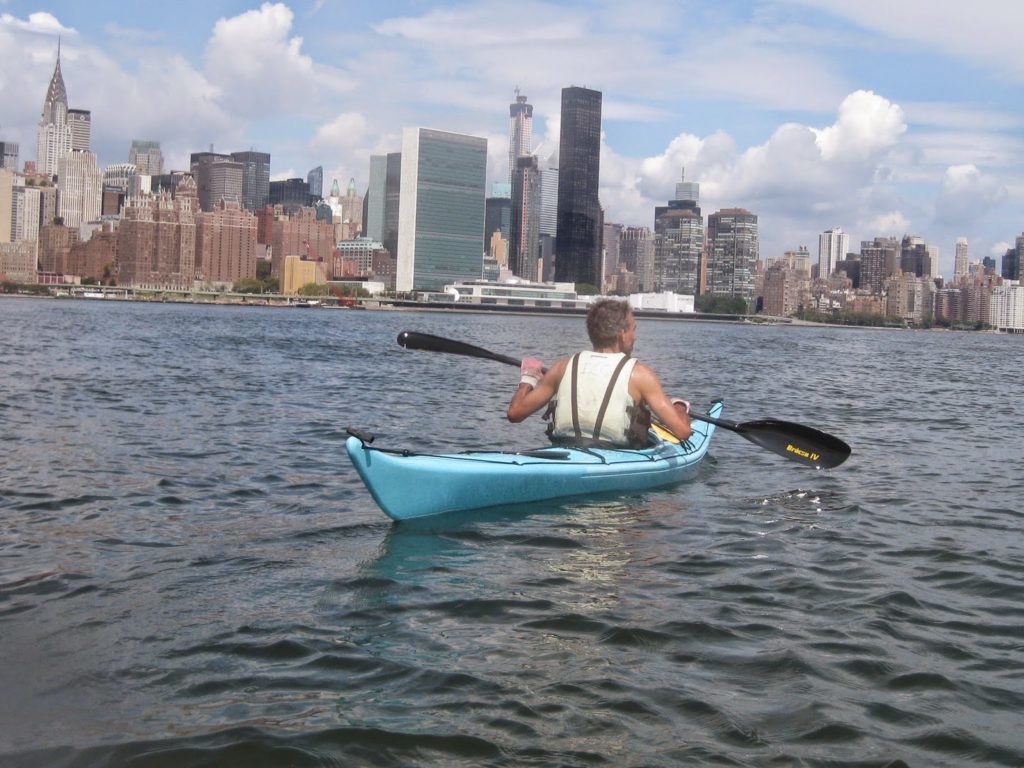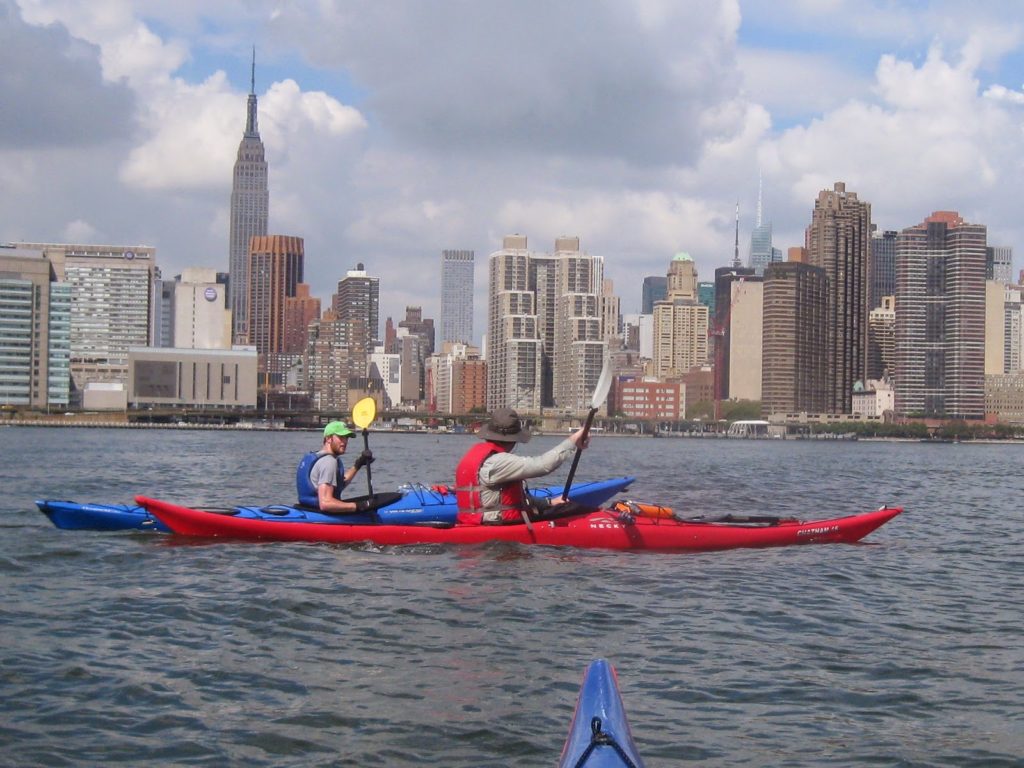 Around here the humidity really started to get to me. It was 86 F with a dew point in the low 70s. I drank more water, wet my hat, and managed as best I could, but it was going to get worse after lunch.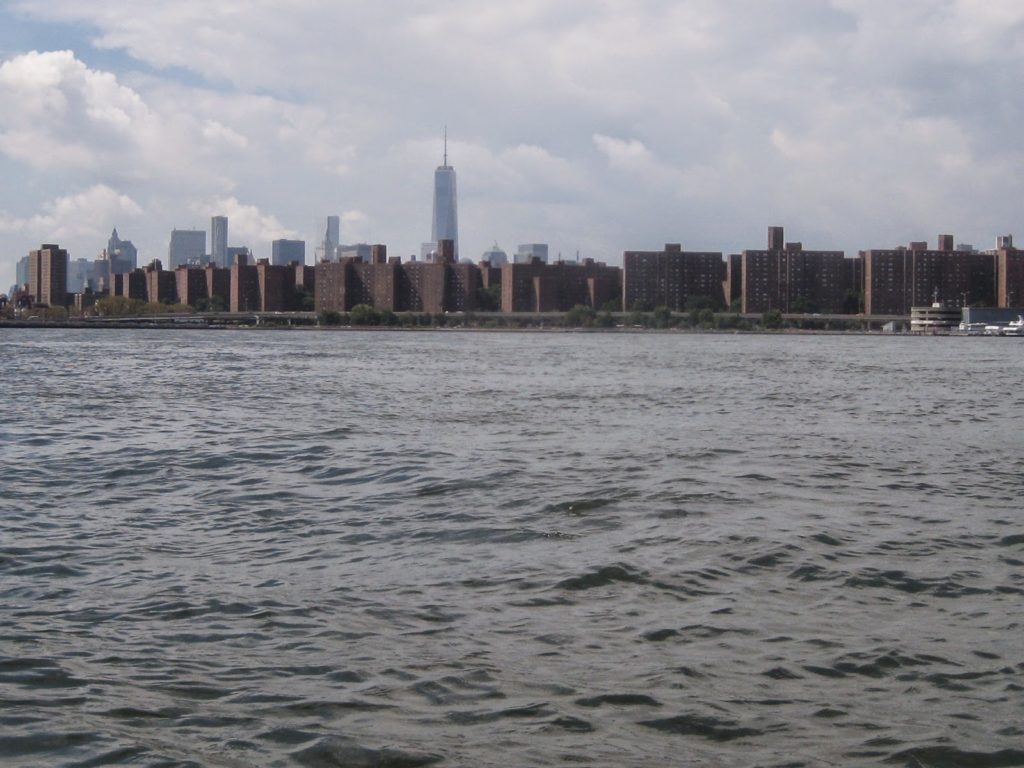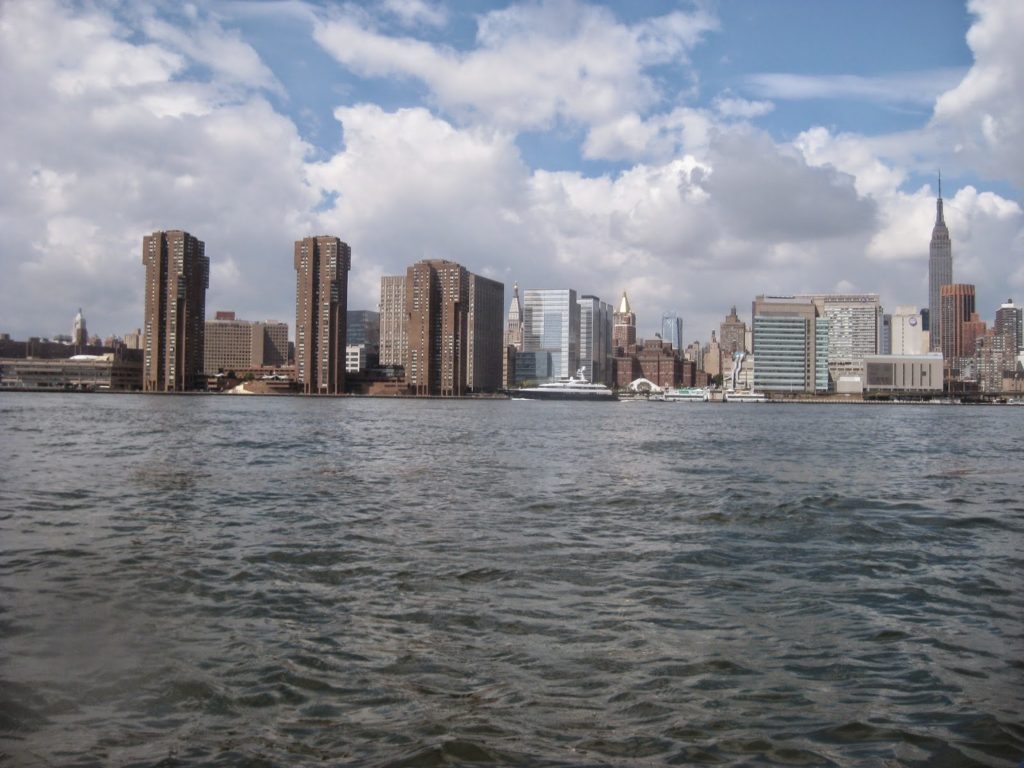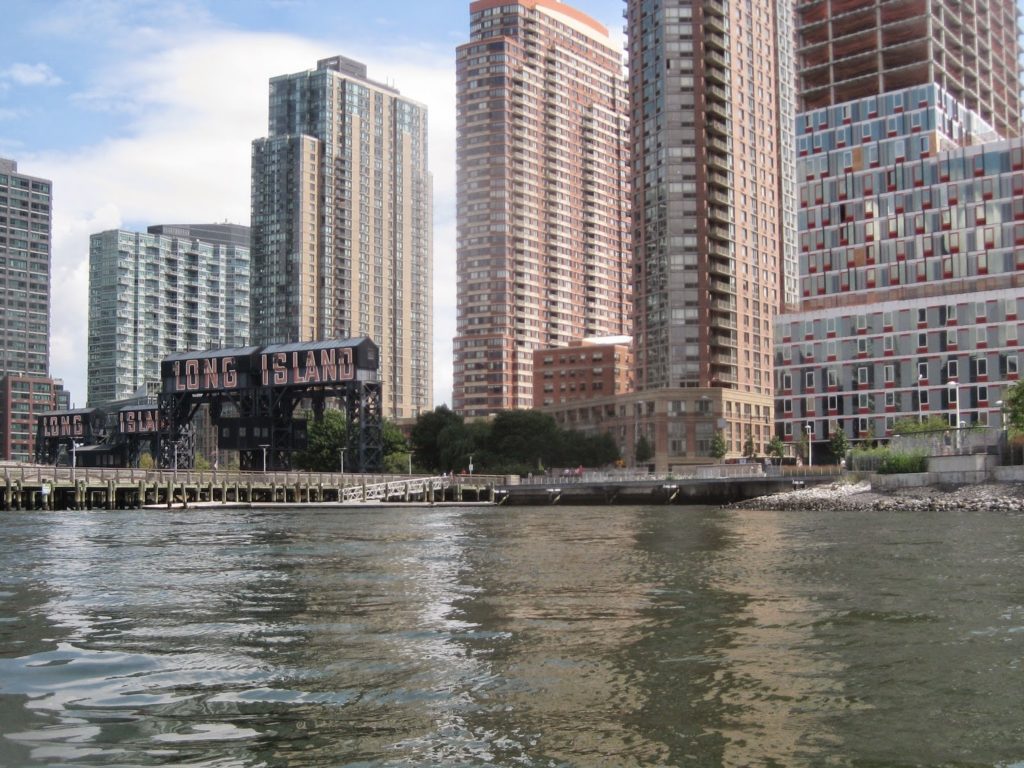 The downside of urban renewal is that some things go away. This PepsiCo sign, for example, is scheduled for demolition. It's a great landmark from the Manhattan side. Apparently it's an eyesore for the new development behind it in Queens.
Update: the sign was landmarked, and in 2019 temporarily shared an airline logo as part of a promotion.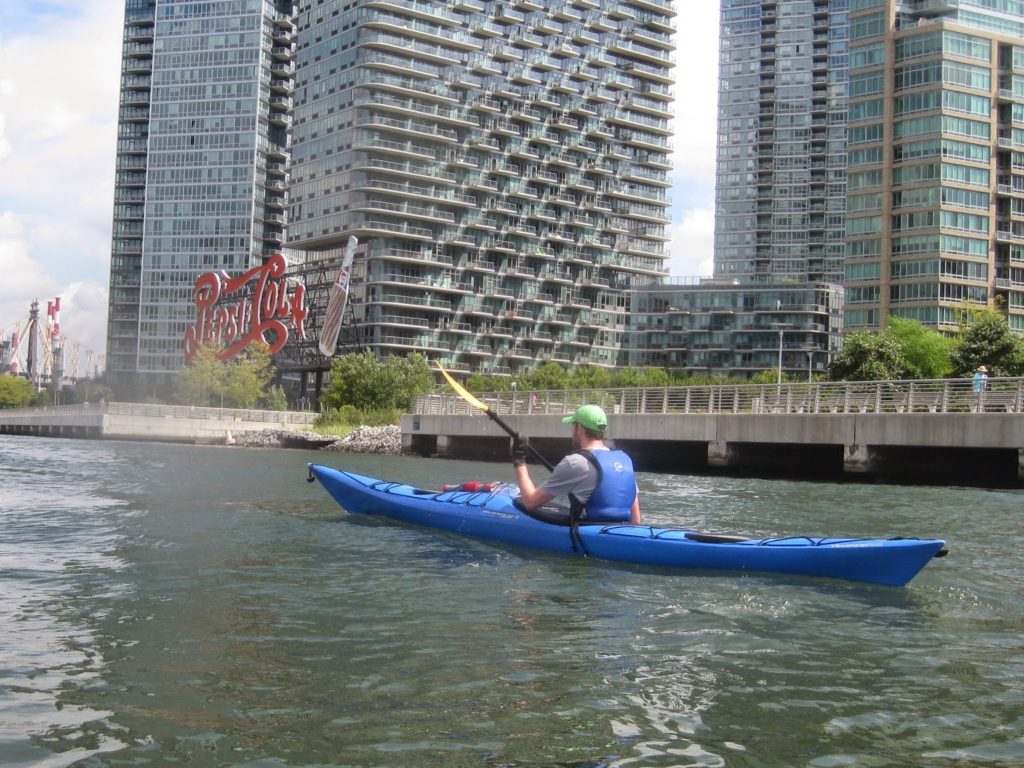 At last we pulled in to Hallets Cove – a broad nook under the corner of Hell Gate in Astoria. There are several ways to run this trip, and this stop is a common one because of the problem everyone faces: the Harlem and East Rivers run in opposite directions, and after riding the flood up the East River, your choices are: cross and paddle against the Harlem, or wait until the Harlem starts to change directions and then cross. Most people do the latter.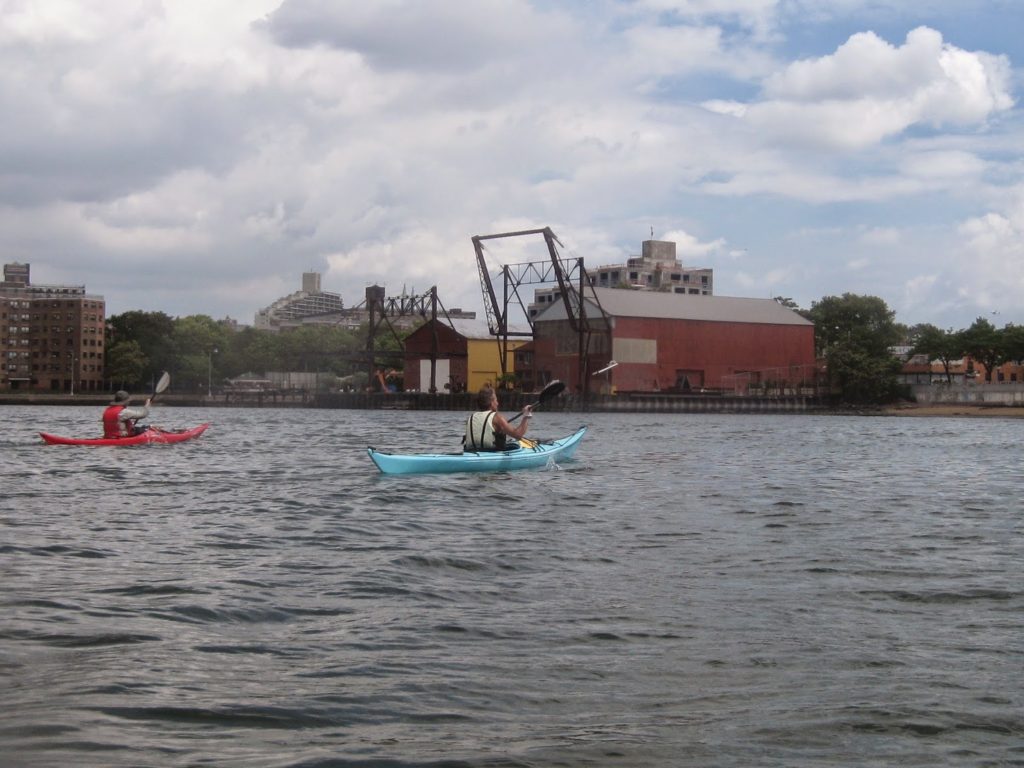 What we paddled: a Valley Skerrey, a Valley Argonaut, a WS Tempest 170, and a Necky Chatham 16.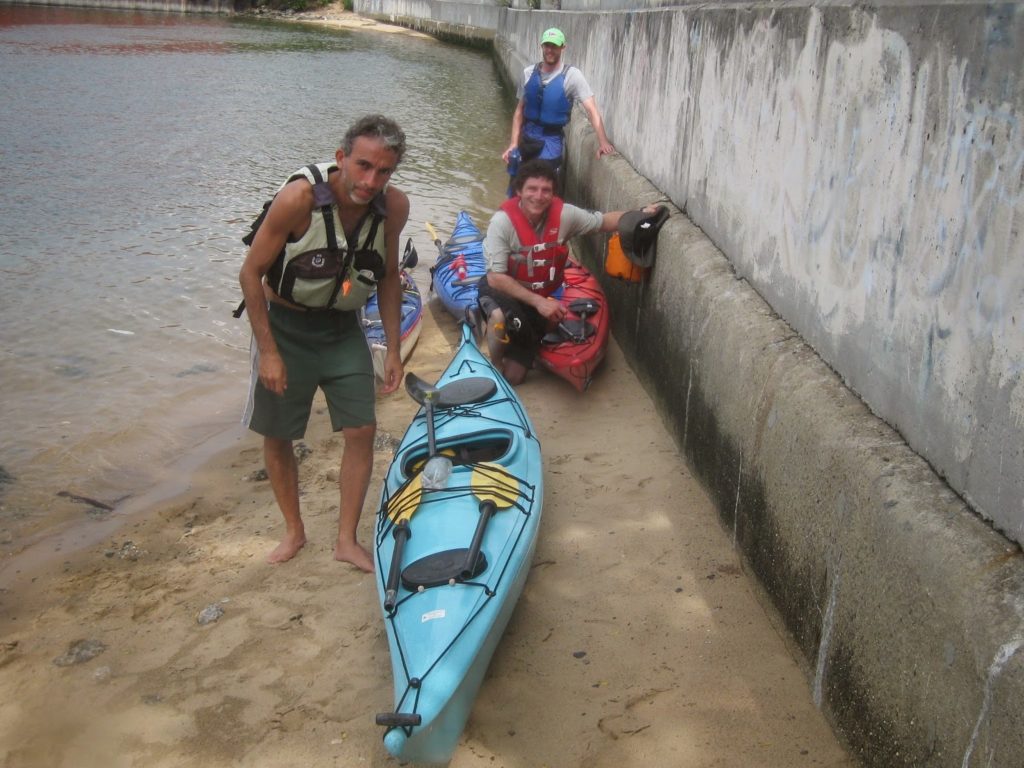 Apparently I am the only one who brings a camera on these trips!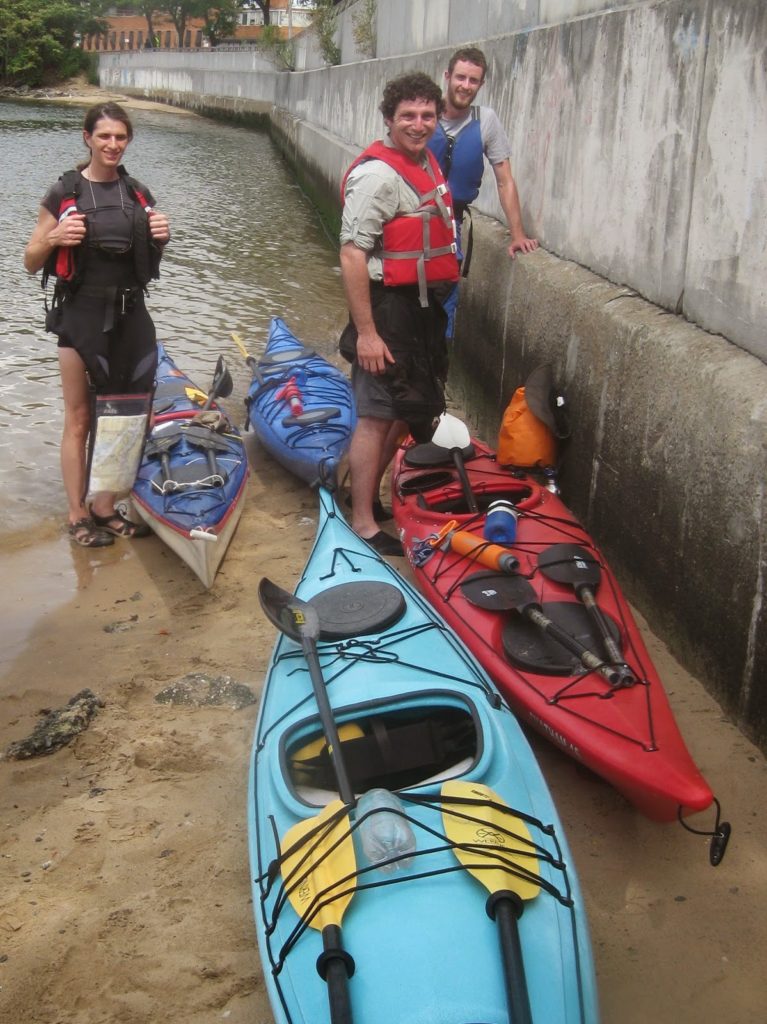 We waited about an hour and a half, having lunch, using the loo and getting coffee at a local diner, resting, talking. We were feeling good though, and the weather was very calm, so we thought, "why not go through Hell Gate?"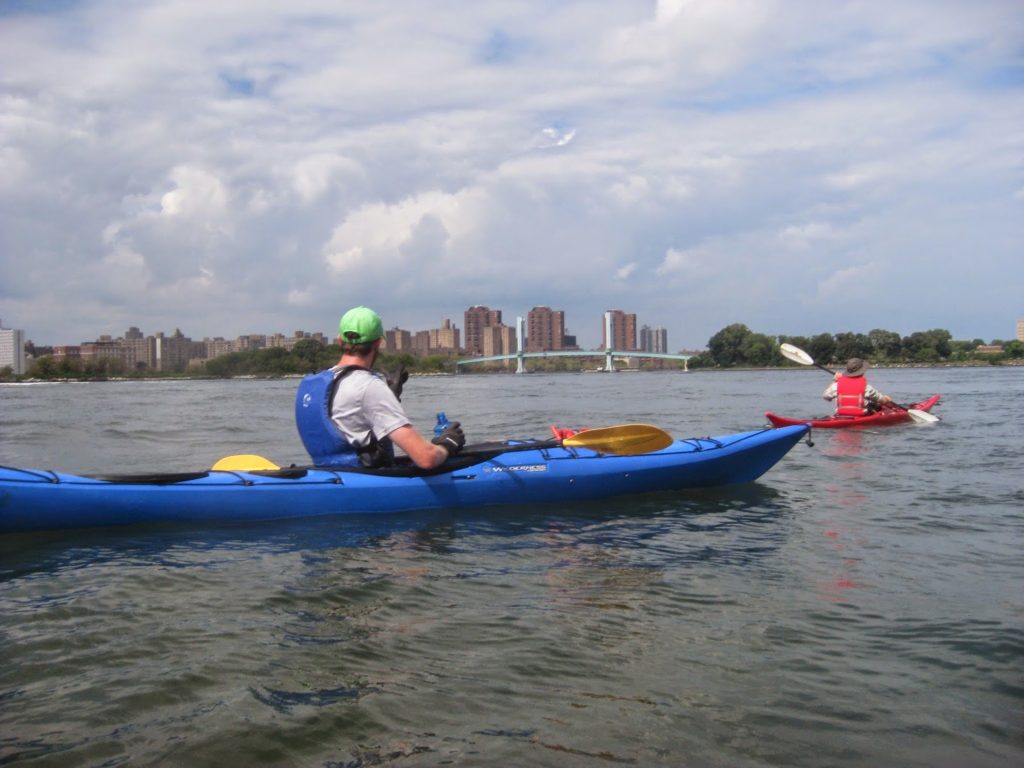 Turning to Hell Gate. Pedestrian Bridge to Randalls in Distance.
None of us had ever been. Hell Gate generally refers to the waters we would pass through, but Hell Gate proper is a narrow straight running north to the east of our position. It's a constriction, and as water passes through it based on the tides, it can get very fast, up to five knots. It is also very uneven, meaning there are boils and vortices on a good day; on a bad day it may as well be the waters off Tierra del Fuego.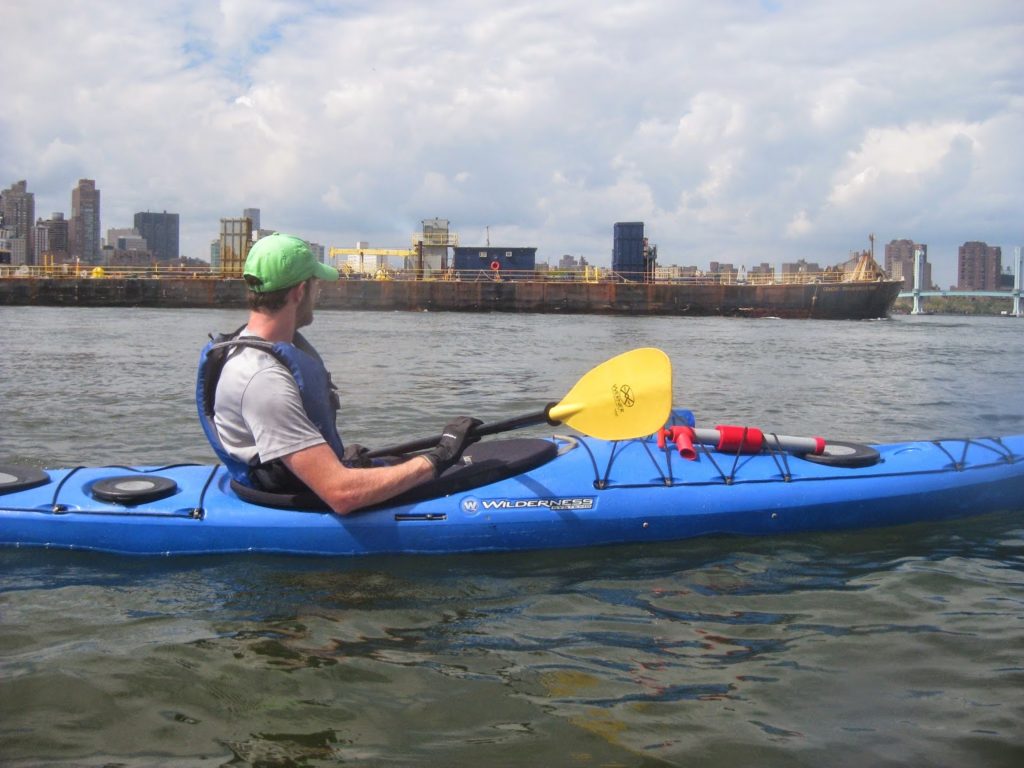 On we went, under the RFK Jr (nee' Triborough) bridge and then the Hell Gate Bridge. It was a little odd to realize that just a couple of weeks earlier I'd been on a train crossing via the latter.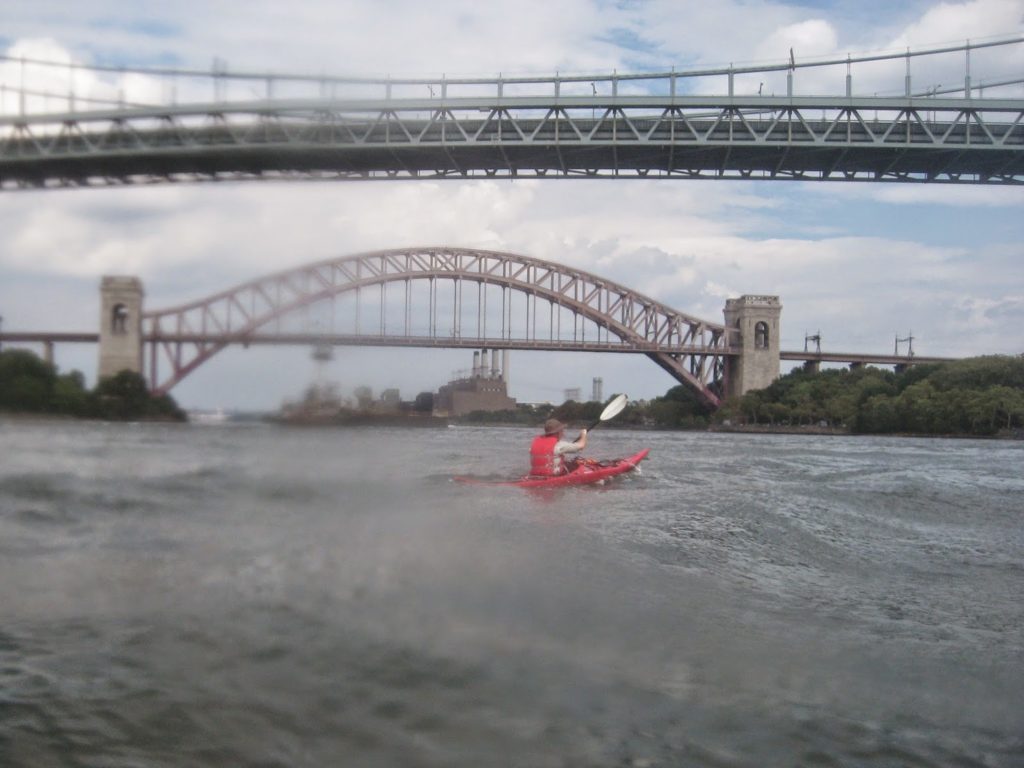 Hell Gate lasts just about a mile. With the current and conditions, it was, frankly, more like Heck Gate. There were some boils and vortices and weird eddies, but nothing terrible. After Hell Gate Bridge, we looked ahead and behind us, and once traffic was clear, crossed to Randalls Island to veer into the mouth of the Bronx Kill.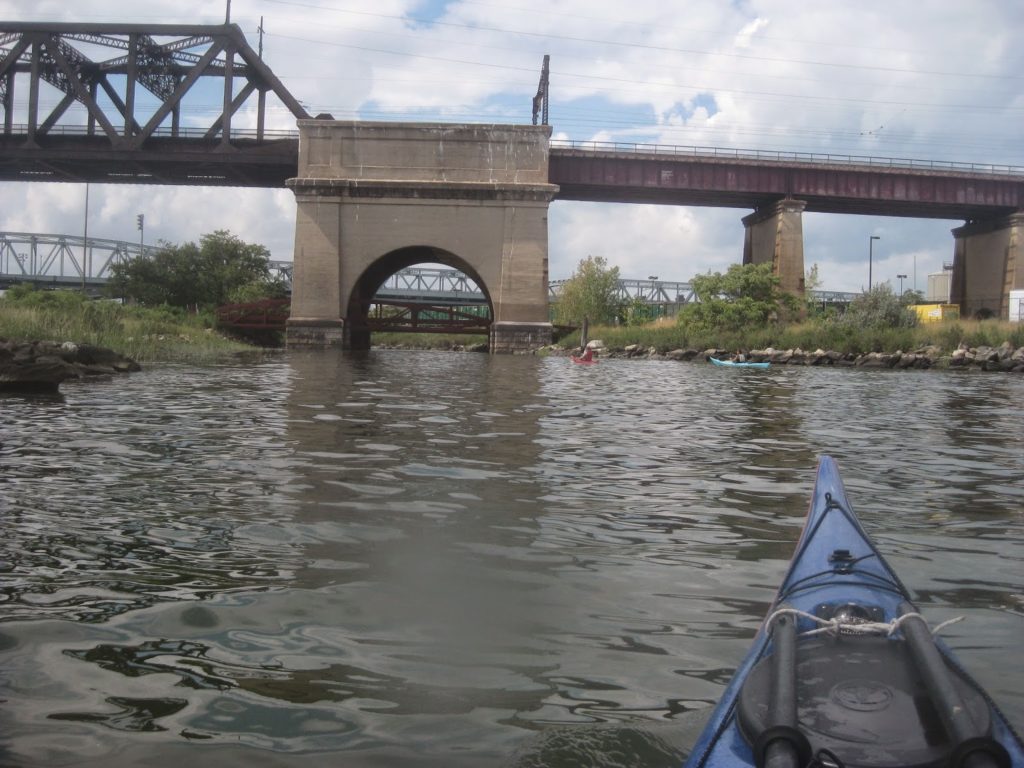 On through the kill we went.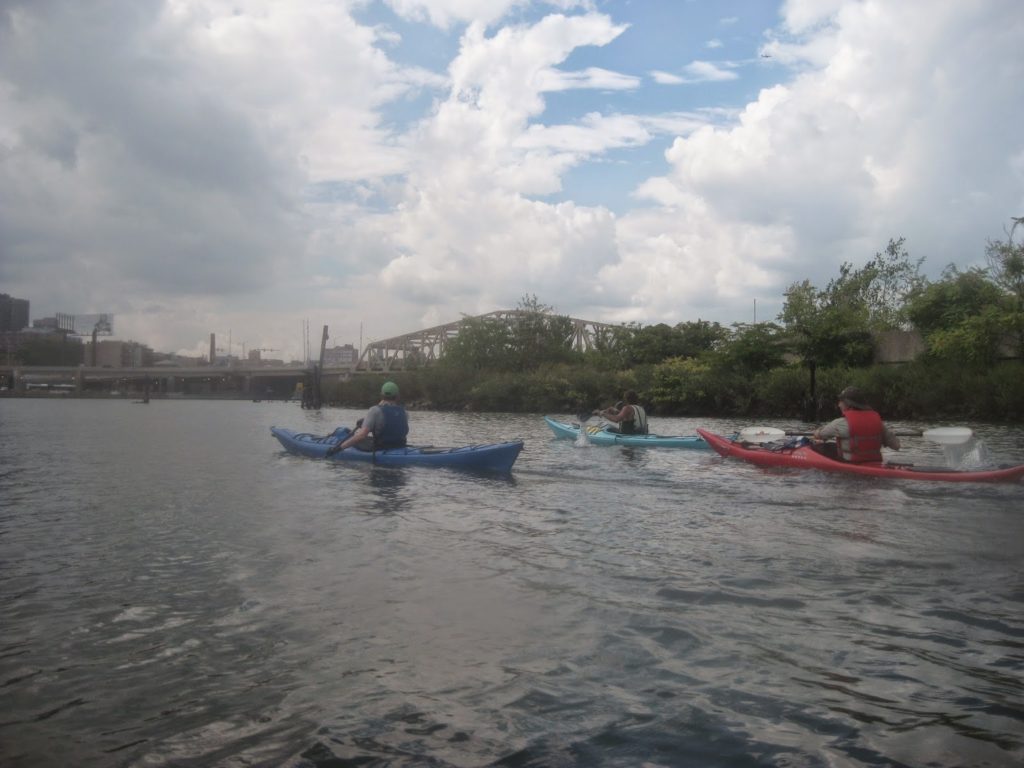 And then on out, to the familiar waters of the Harlem, where we paddled at slack to Macombs Dam Bridge.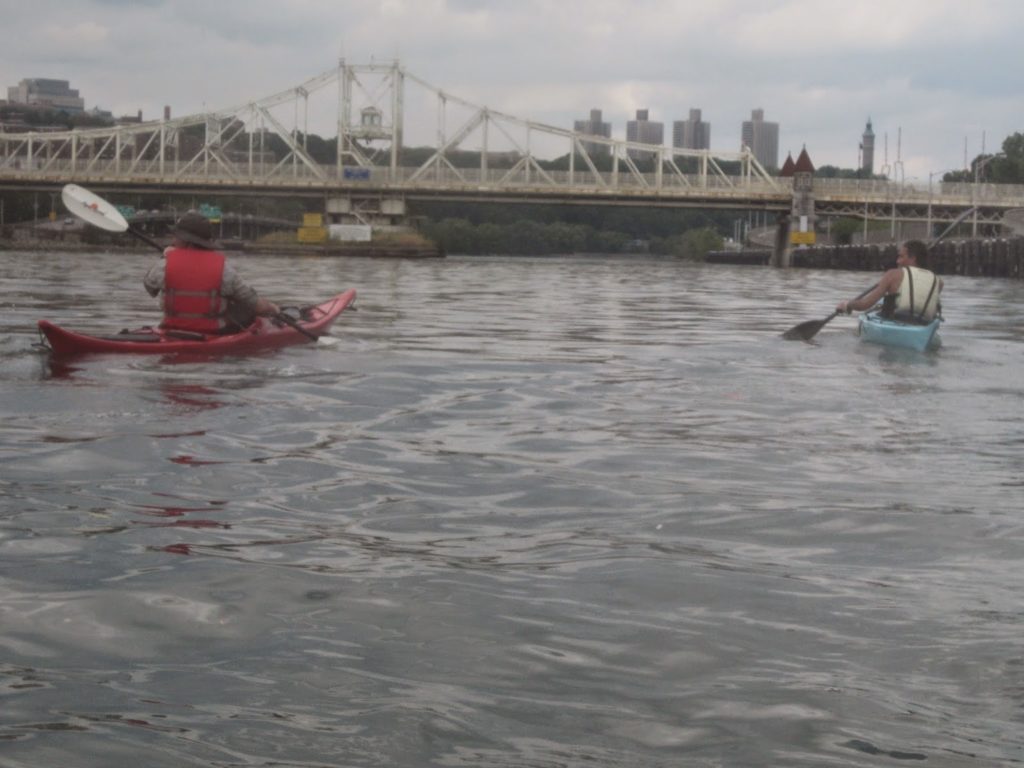 The tide eventually turned in our favor near High Bridge.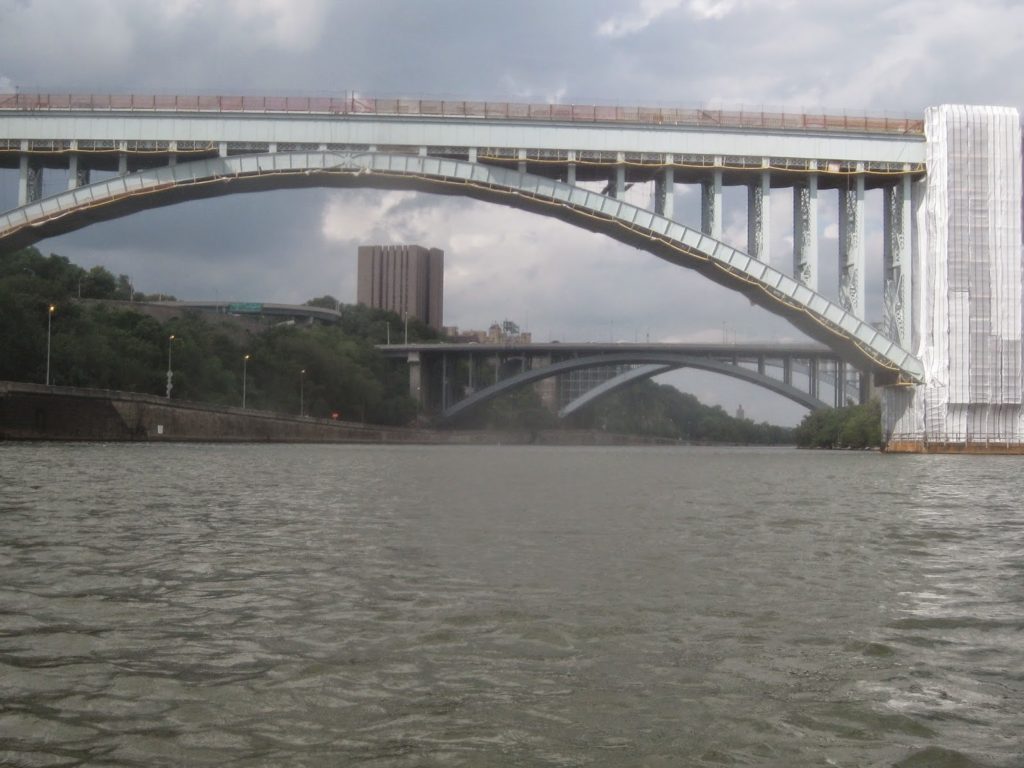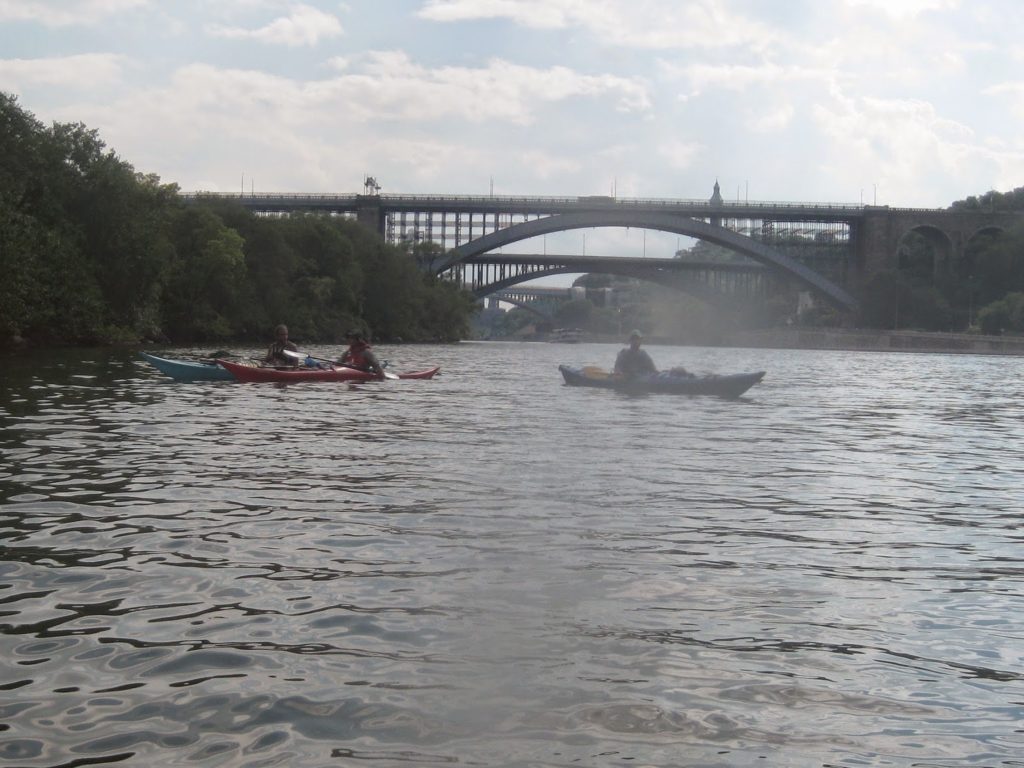 After a short break, we let Circle Line and Harbor Classic Line (not pictured) vessels pass us.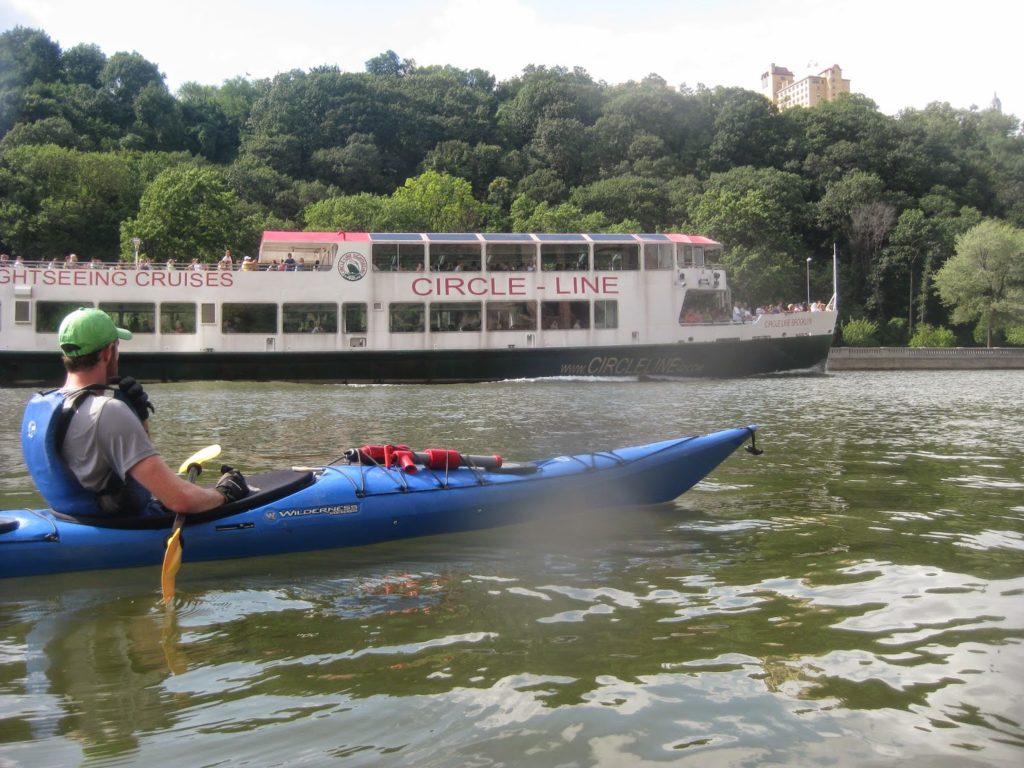 Under the Broadway Bridge and into the more scenic part of the Harlem: this stretch was more properly Spuyten Duyvil Creek, until it was blown up, expanded, and made useful for 19th century shipping.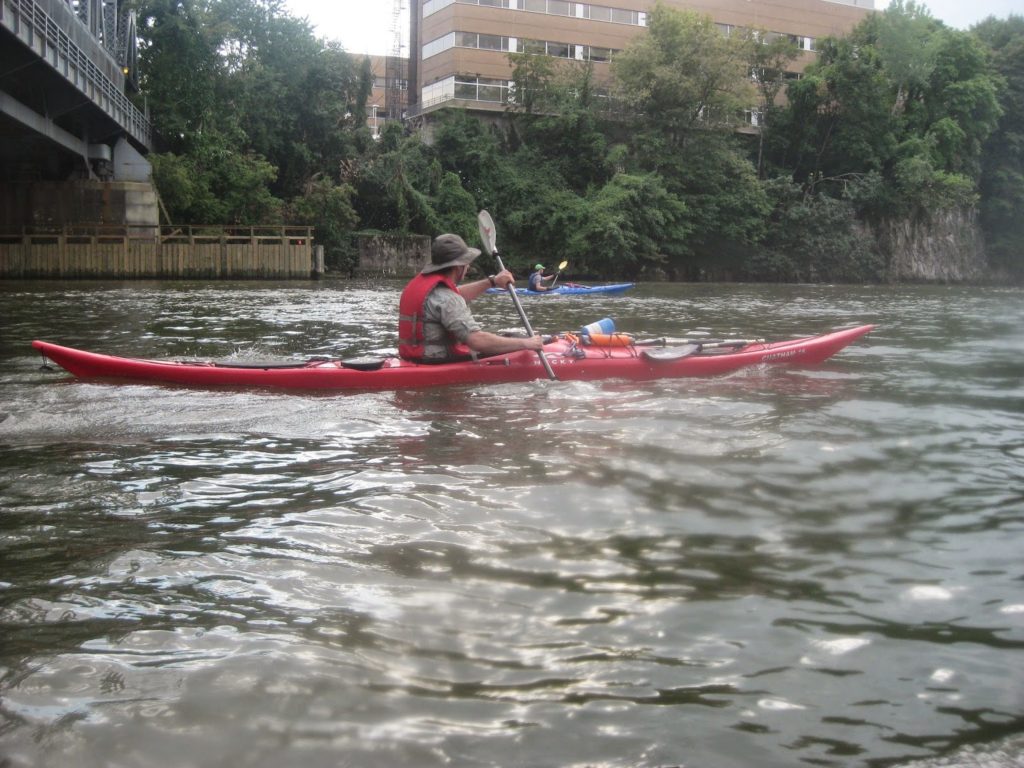 Past the Marble Hill station, in a neighborhood that is still technically part of Manhattan even though it is not an island and not part of the island.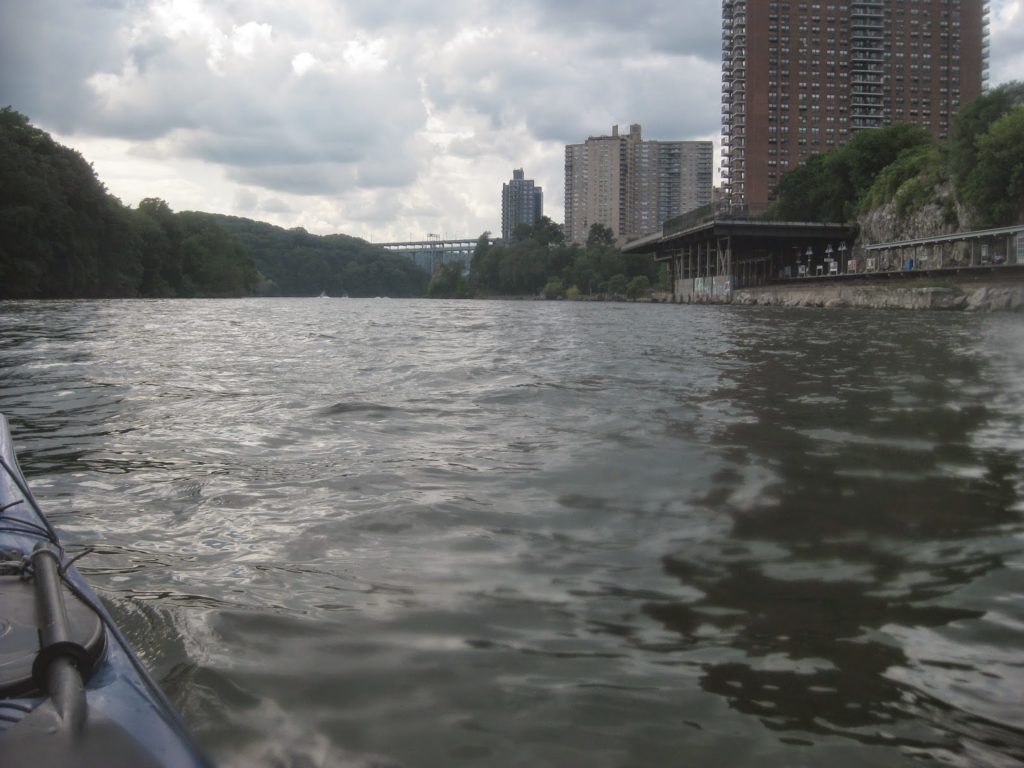 Eventually we came back out to the Hudson, almost where we started, at the opposite end of the day.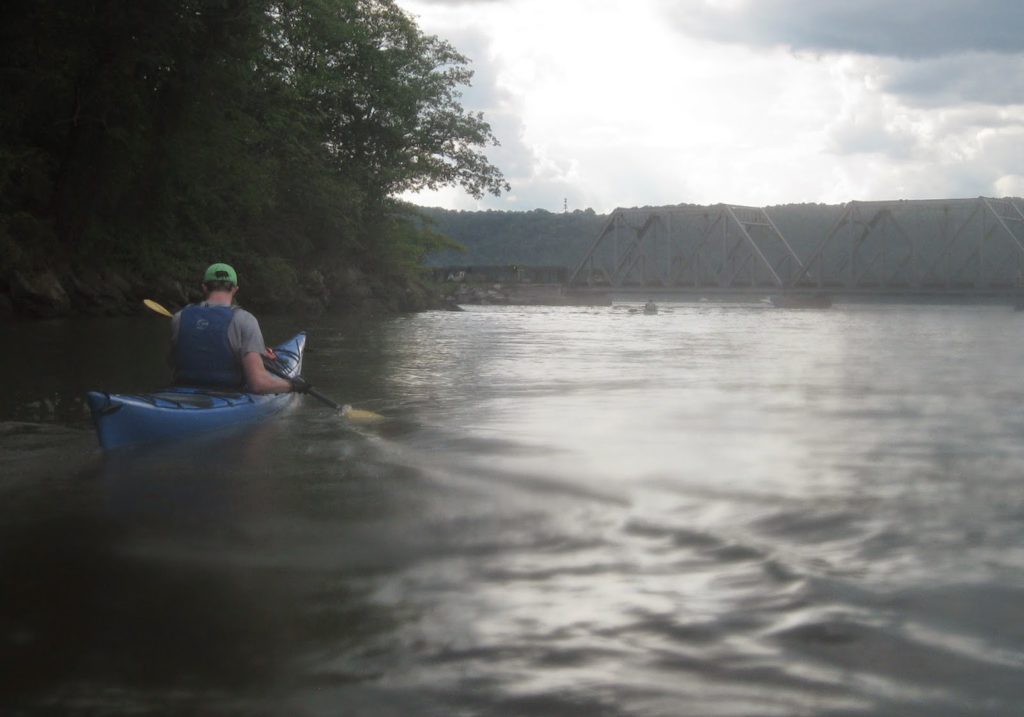 Unlike a certain well-known mass circumnav, we did not have a landing party. However we were met by a man in a mask.
Club member LL, wearing a mask he found floating in the river. Now how'd that get in there?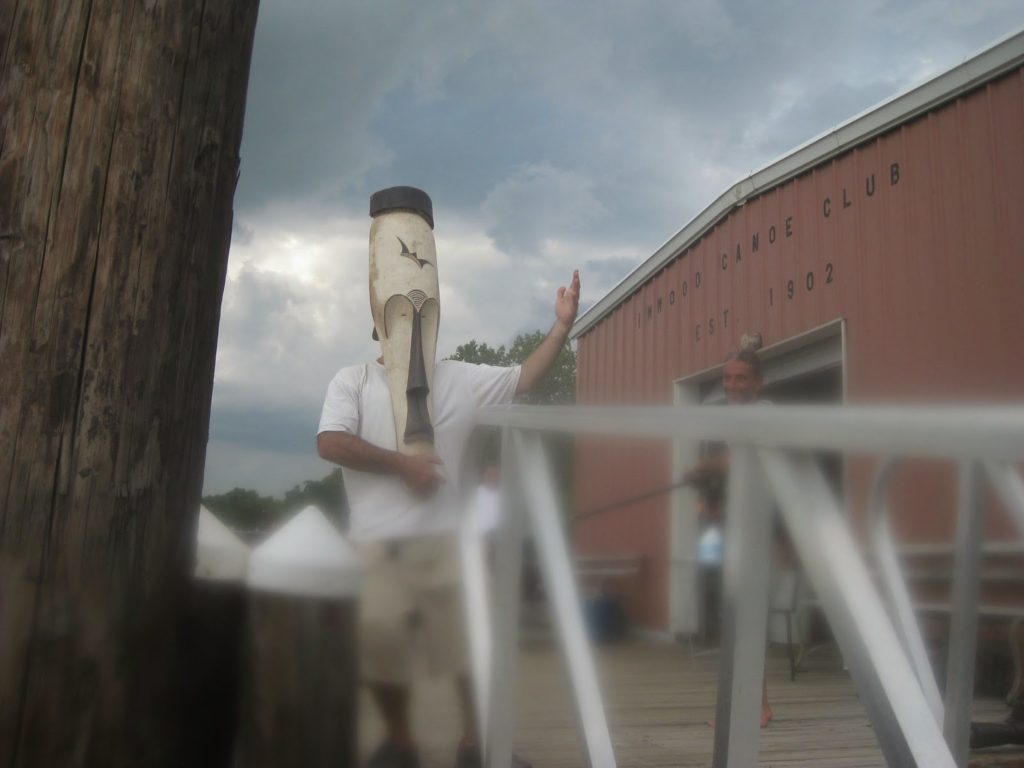 All in all it was another great trip. It was only my fourth circumnav, and just the second time I planned and organized one myself. It was a strong group, and two hadn't done this before. I love seeing new eyes on a familiar route.
After discussion with the group, I tried a couple of things that I had not done before. First, we landed at the still-new Brooklyn Bridge Park, on a small beach near Pier 5 that I only learned about recently. Second, we went through Hell Gate. Now that I know the tides a bit better, I might consider variations on that plan, such as taking a detour out into the Upper East River.