Last weekend I went on a cartop trip to Barnegat Bay. What happened was, my friend LB put together a trip under the AMC (Appalachian Mountain Club) banner, inviting friends from various walks of her paddling life, primarily whitewater and the Sebago Canoe Club. I met her on the one whitewater trip I did last year, but since we live in the same neighborhood, we've kept in touch and she asked me along.
We cartopped to Island Beach State Park in New Jersey. This is a long barrier "island" that forms the northern stretch of land between the bay and the ocean. The inlet to Barnegat Bay itself is about forty miles south of Sandy Hook, a destination I know well.
I rode with local paddlers-about-town D & O. My first leg in this journey was to paddle my boat from Inwood to Pier 84, next to the Intrepid Air, Sea, and Space museum, a retired aircraft carrier hanging off midtown Manhattan. They store some of their boats at Pier 84, so that's where we would meet.
D & O showed up later and we loaded all three of our boats on their car, then raced out of the city, down the highway, to the park. After introductions to the rest of the group, we put in and paddled about a mile out to Sedge Island, our home for the weekend.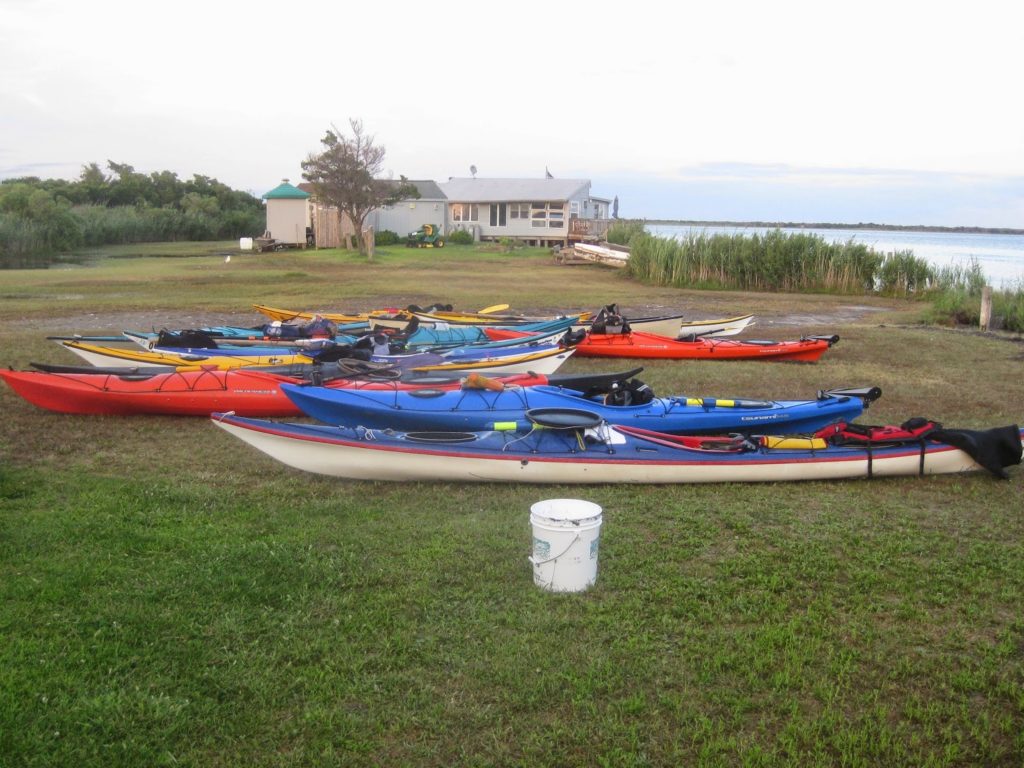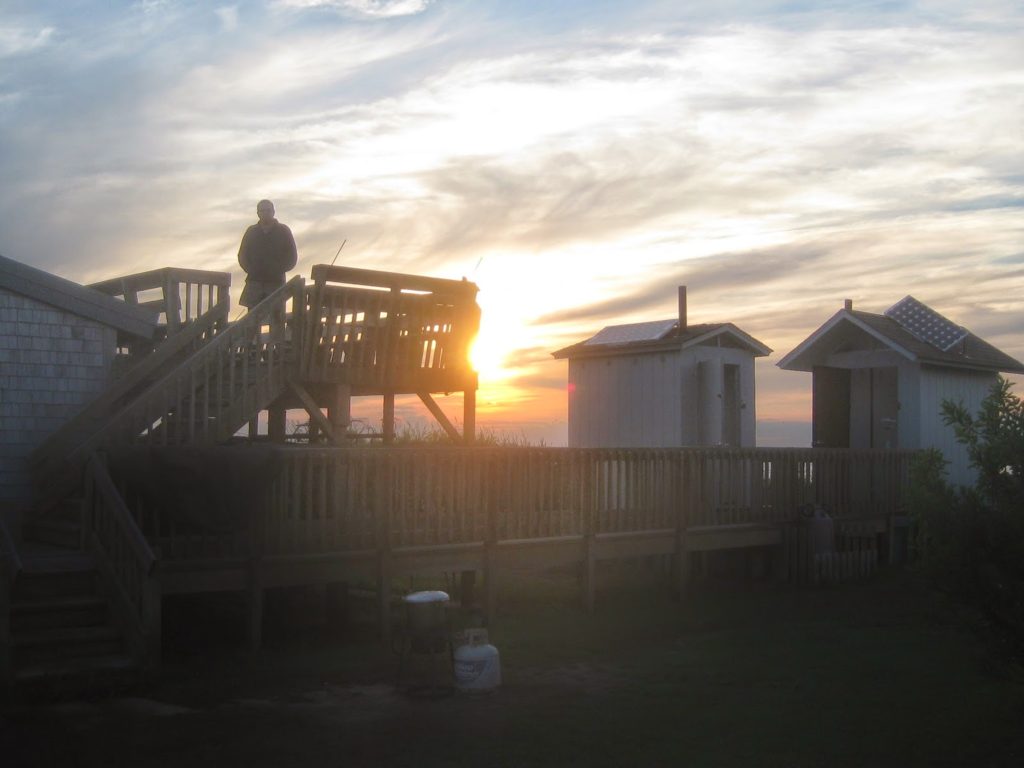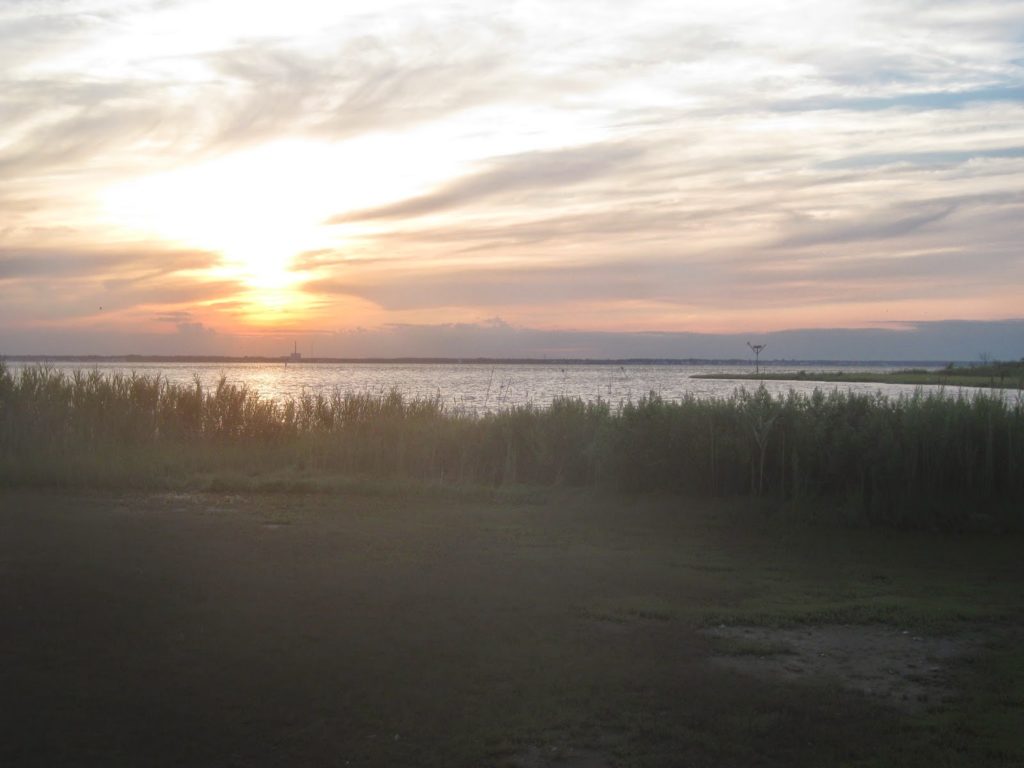 Sedge Island is a combination research and education center, near the channel bisecting the bay. Our host, Bob, was a biology teacher who'd grown up and worked on the bay, participating in research projects and leading summer trips of students. We stayed in a cabin powered by solar panels, with limited water. Generally, I woke and slept with the sun.
One of the ongoing projects involved protecting turtle eggs from predators. Interns would scout for eggs and move them to a caged area pretty well sheltered from predators. When the eggs hatched, the turtles would be nurtured before being released back into the wild.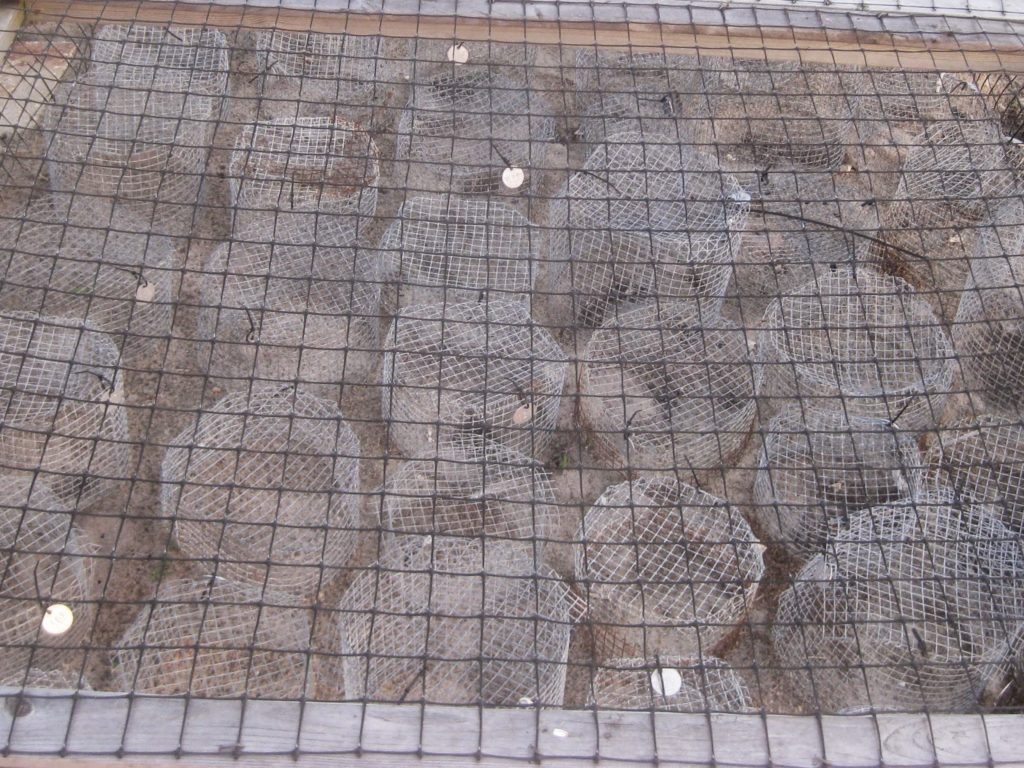 The south porch – better described as the southwest porch – became our main congregating area.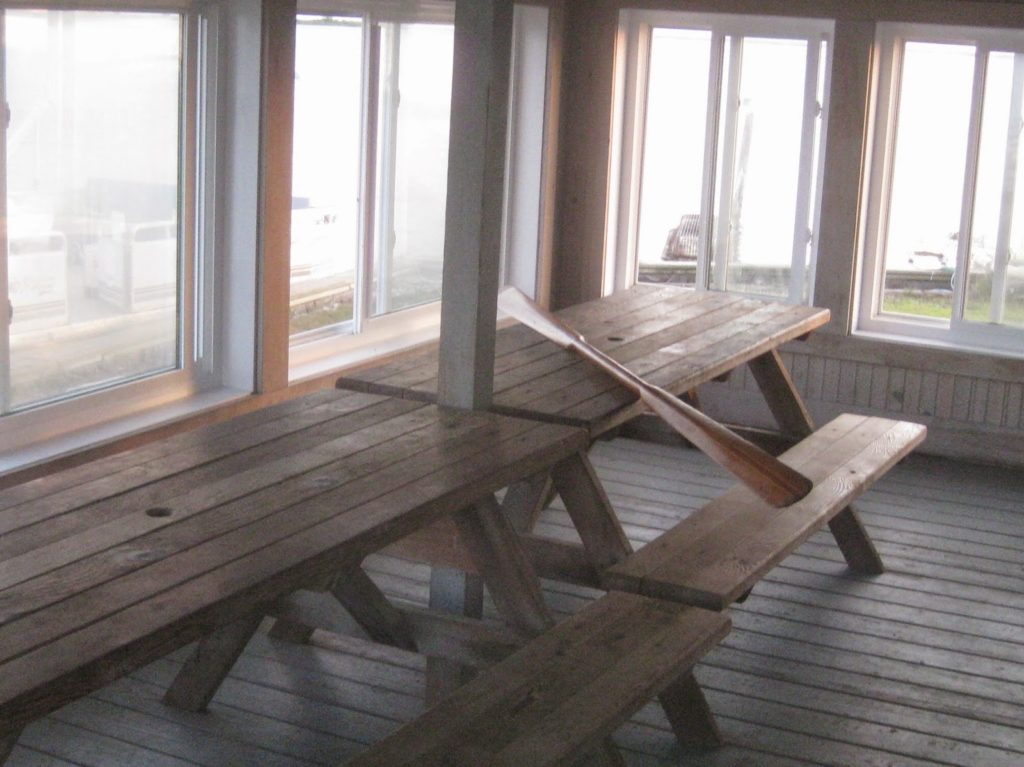 On our first night, we mostly unpacked, made dinner, and learned about the island and each others' names. We were given a demonstration of bioluminescent jellyfish – little critters, the size of a child's hand, that when the water was stirred would glow with light.
The next morning, the seagulls were OMG loud. I said I woke and slept with the sun, but Saturday morning it was the gulls what woke me up. I made coffee and walked about. Bob was fishing in the narrow channel in front of the house. Across the bay, we could see cloud formations swirling in the distance, a portent of things to come.
As people woke up we slowly assembled breakfast. We expected to be out a bit so had a big breakfast, figuring we could always snack and work it off later. After cleanup, we kitted our boats and our host led us on a little tour of our environment.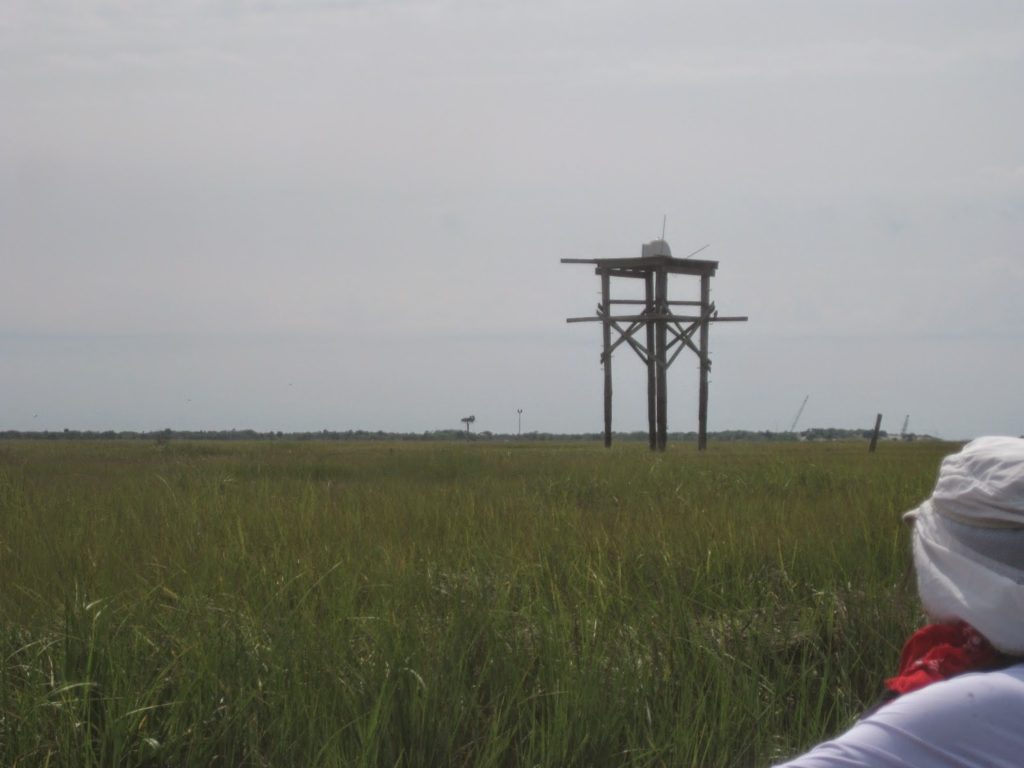 This was mostly marsh, with channels cutting through wetlands; ducks, egrets, and wading birds were all on display. Osprey nests were on platforms in the middle. We could also make out oyster beds clinging to the mud in the channels.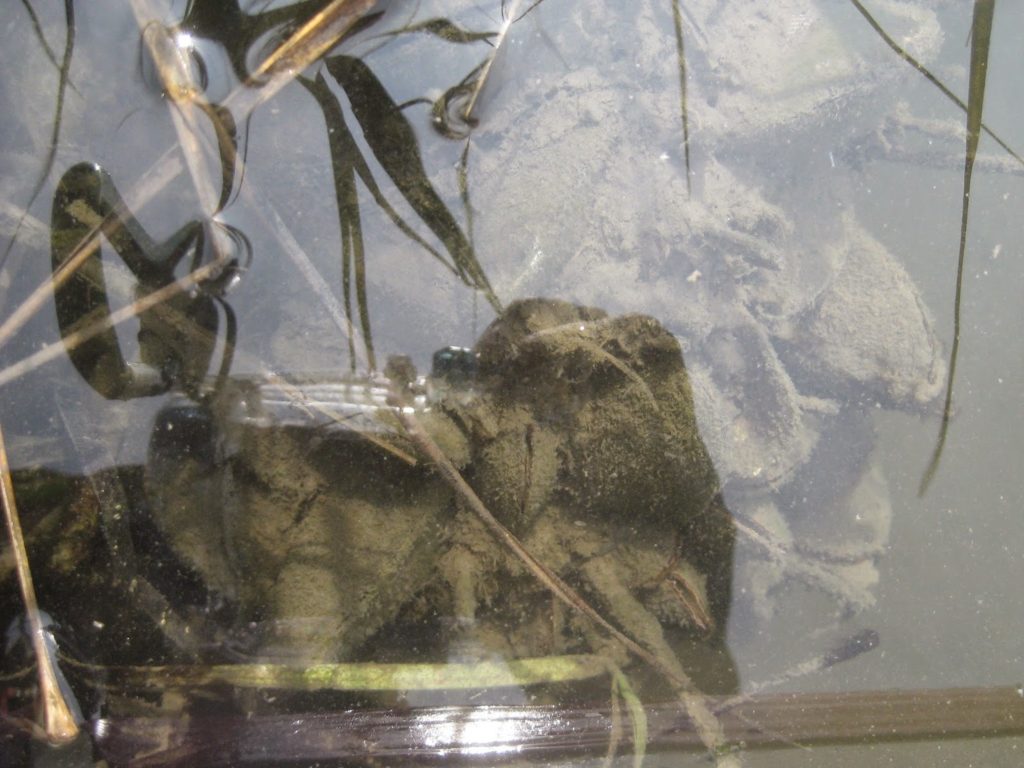 We paddled on, eventually exiting and coming to a channel called Snake Creek. The tide was growing against us, surprisingly strong, and we eddy-hopped as much as we could until we reached a small beach near the inlet.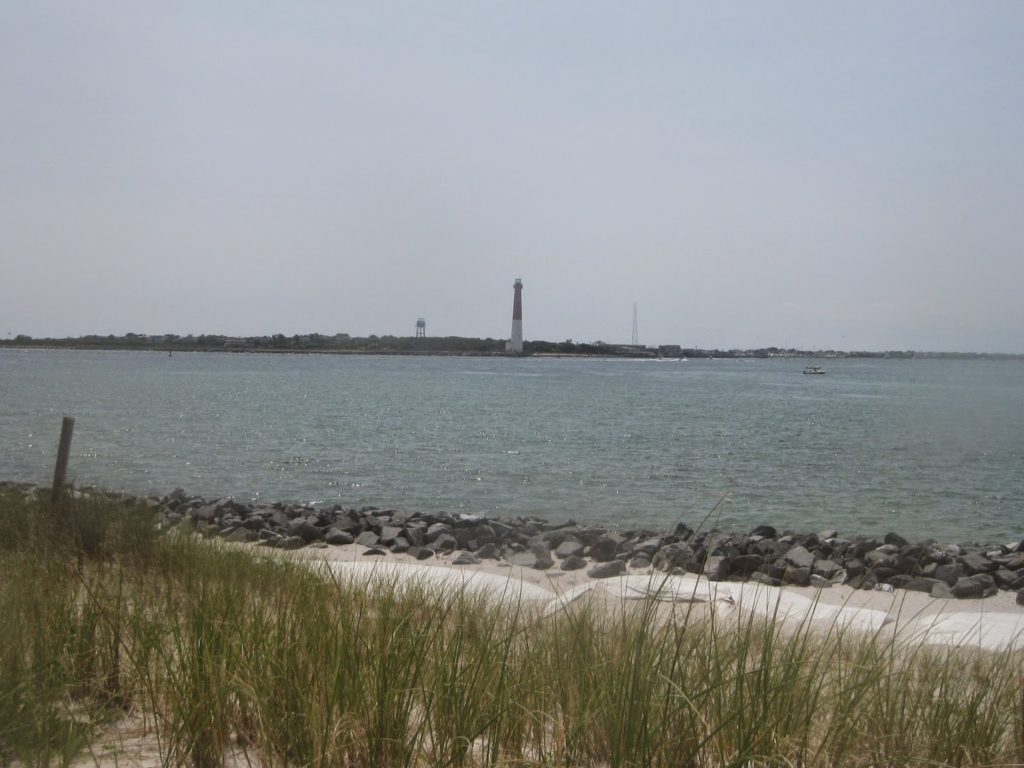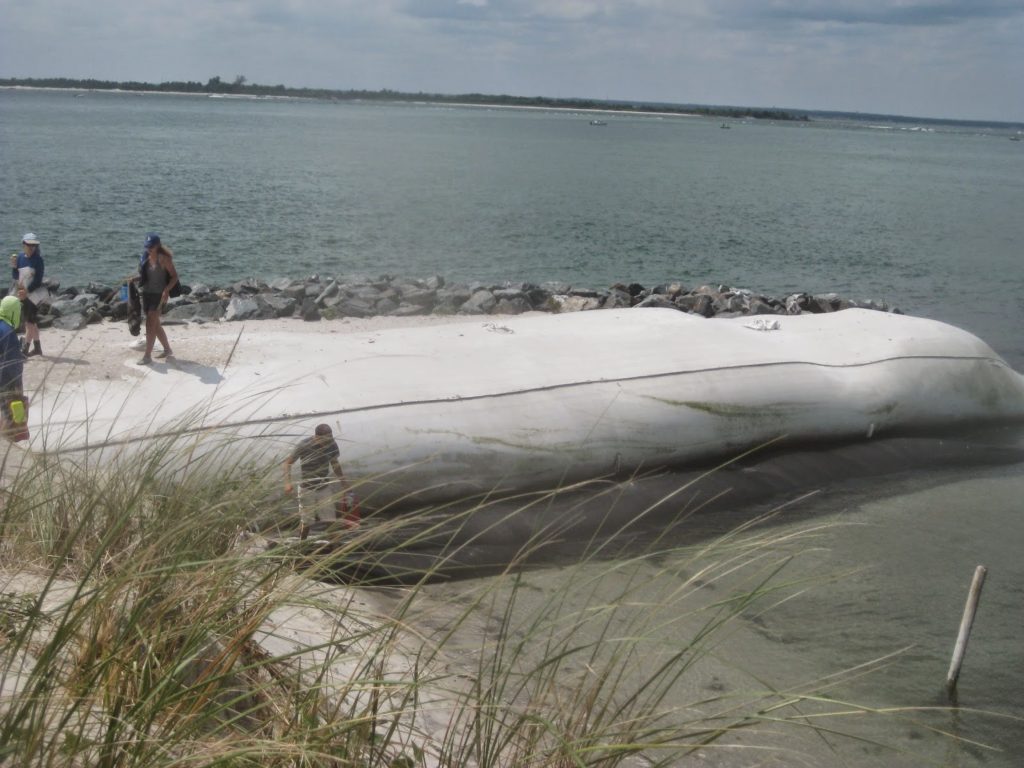 We saw the remains of a recent Army Corps of Engineers project. The idea was to drape a large canvas tube to block Snake Creek, fill it with sand, and allow a new topography to form. However Nature did not get the memo, and proceeded to flood over and the break the dike. We paddled over its remains the next day.
Later we paddled back over some shallow water. A few got out and hunted for clams.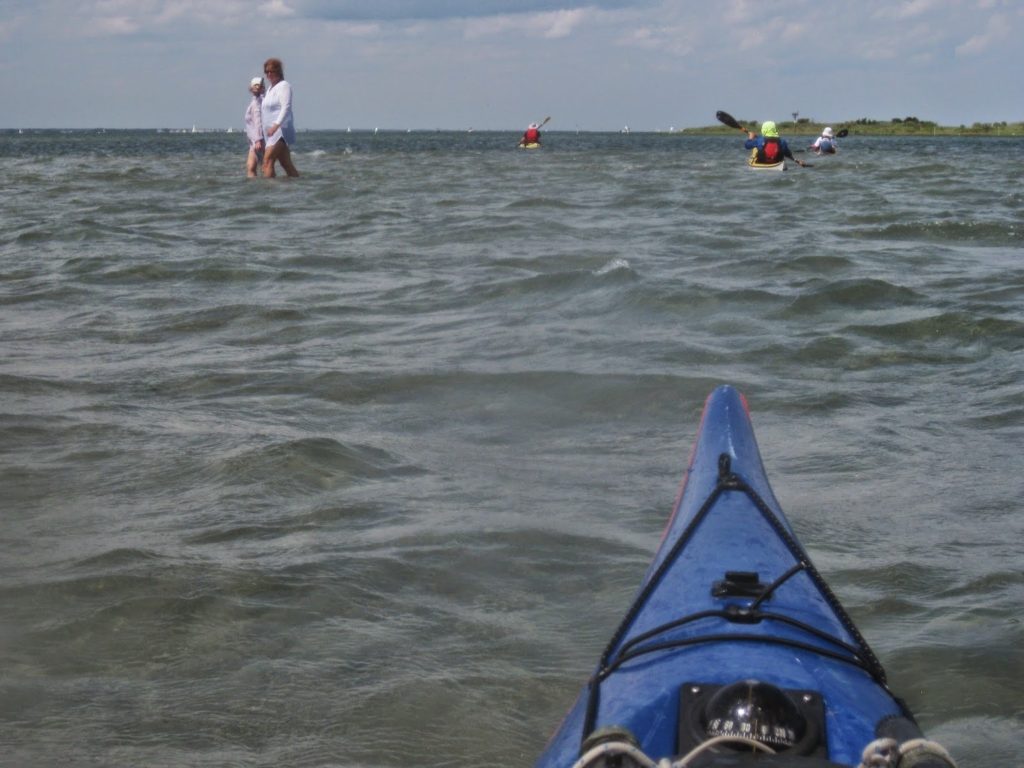 I took a stab or five at it but had no luck. Eventually I and about half the group gave up, landed, took a break, and then some of us went out for a proper paddle.
D & O and I (that is, me) decided to go for a wee paddle across the channel and around Gull Island. We saw kiteboarders and plenty of  . . .gulls, as one might expect.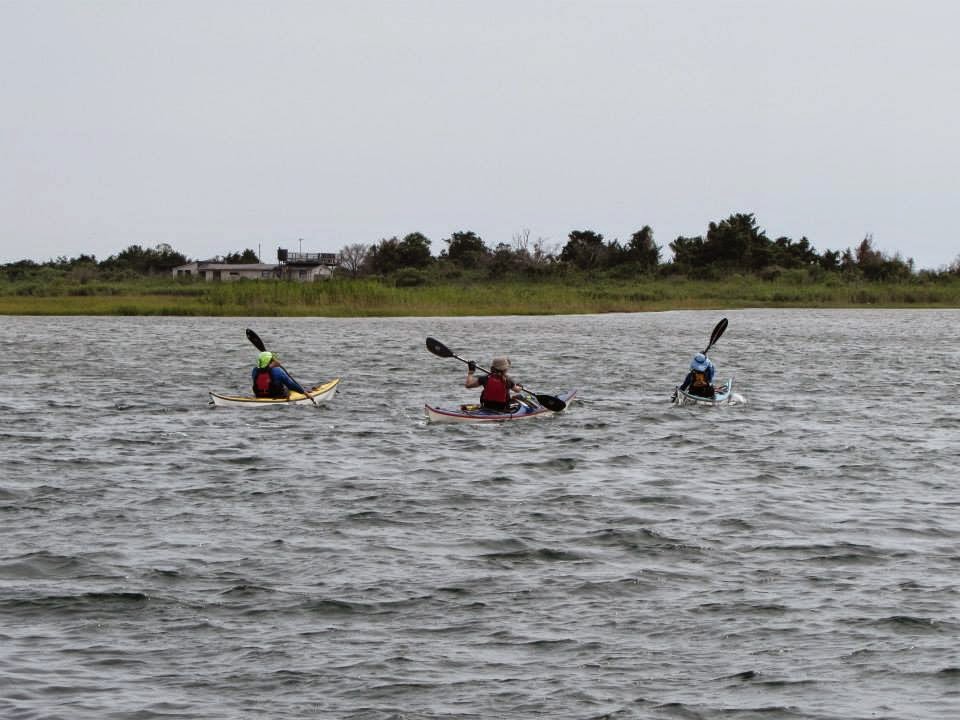 One thing that was a bit of a surprise was the traffic. On the one hand, we're bad-ass New York City paddlers, accustomed to the harbor and the ferry traffic, tugs and barges and the occasional cruise ship. What were weren't used to was the near-constant parade of recreational boats powering out or returning from the sea. Furthermore, the channel was narrow, but winding, meaning that it wasn't always clear which way or when a given boat was going to turn.
When we came back though, we had a nice surprise.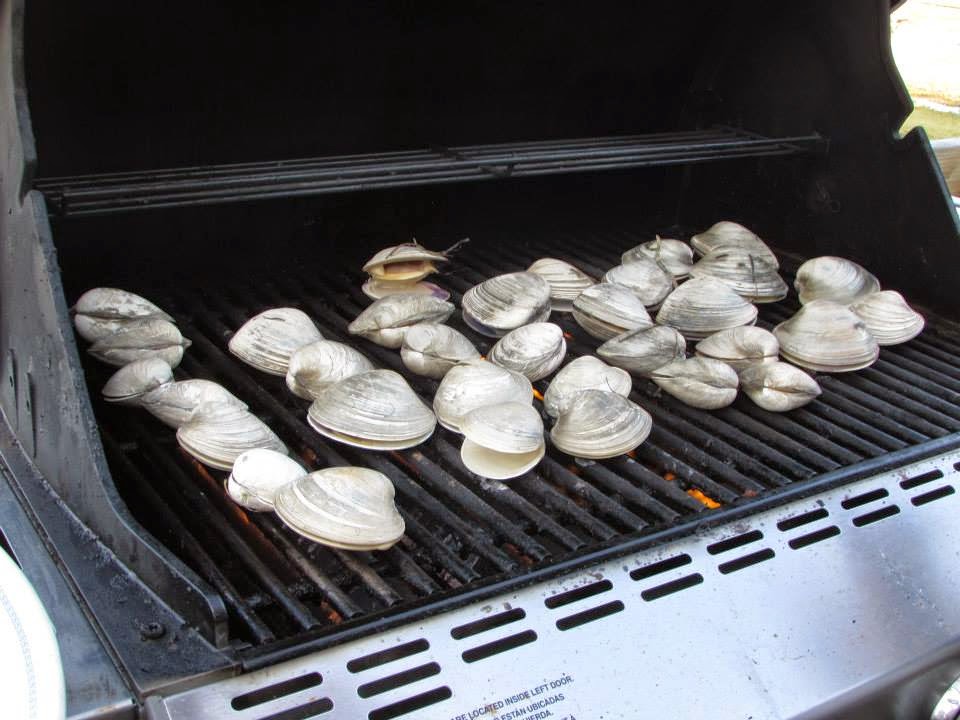 The hunt was successful!
While we'd been out, some of our party had grabbed proper clamming tools and gone out to scoop as many up as they could. Some were grilled, opening as they heated, and others served raw, on the half shell.
Later that night, a handful of us did a night paddle around Sedge Island. We kept our lights off in order to better see the glowing jellyfish. It took a while but we spotted a few!
Meanwhile, most of our comrades went night crabbing. Apparently crabs are drawn to light. Shine a light and they'll walk right into your net. They caught a bunch and they were put in a bucket overnight to make crab cakes the next morning – but most escaped, and the last one was too cute to boil.
The next morning LB and I, along with a couple of others, went for a wee paddle before breakfast – before the traffic roared up, more importantly.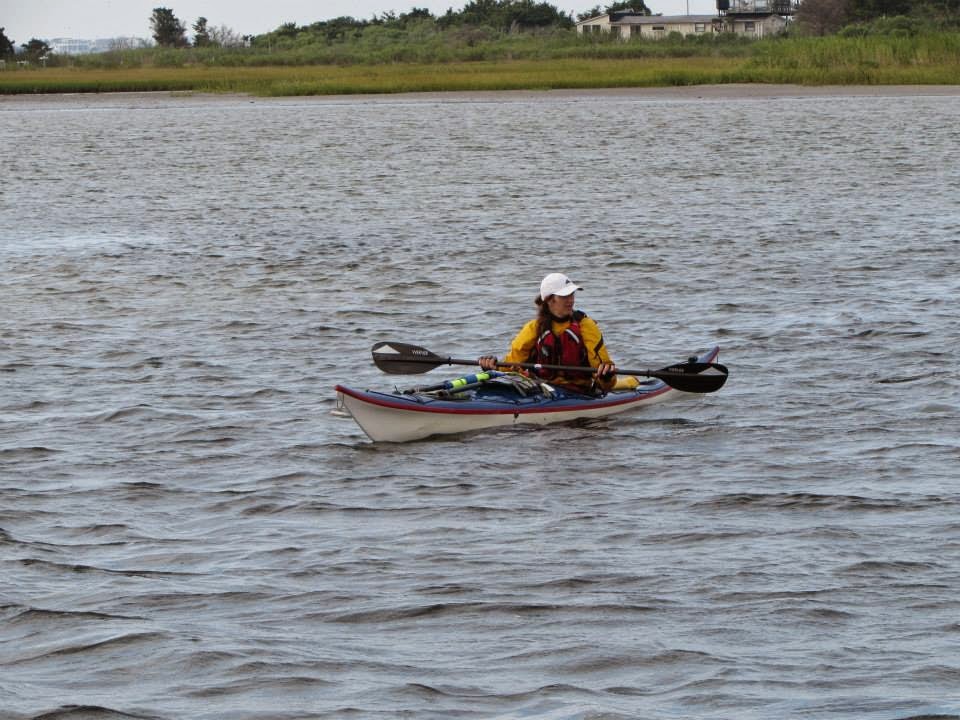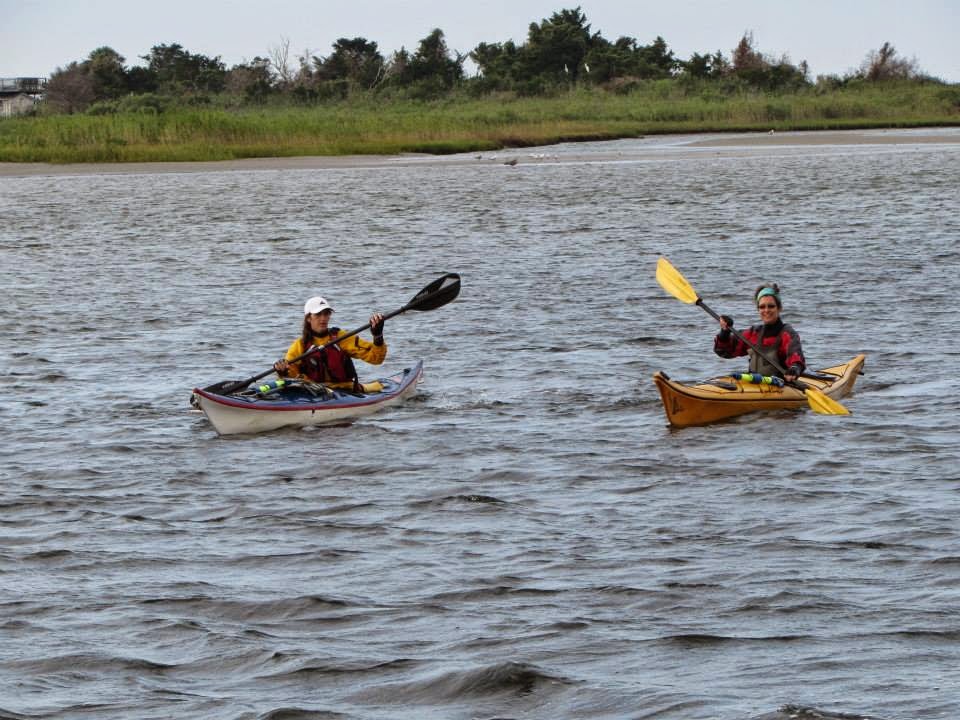 After breakfast, we packed up and cleaned up. I'm happy to say I got all my kit into the Argonuat, with a little room to spare, which means I'm getting better at packing – though I did not have my tent, or expedition levels of food.
We took one more spin around the bay, again through channels, with some of us heading out to run along the channel, to the worry of our host. We're sea kayakers! We're meant to be in a bit of chop. The boat wake combined with the shallows made for a somewhat bouncy ride, but nothing terrible.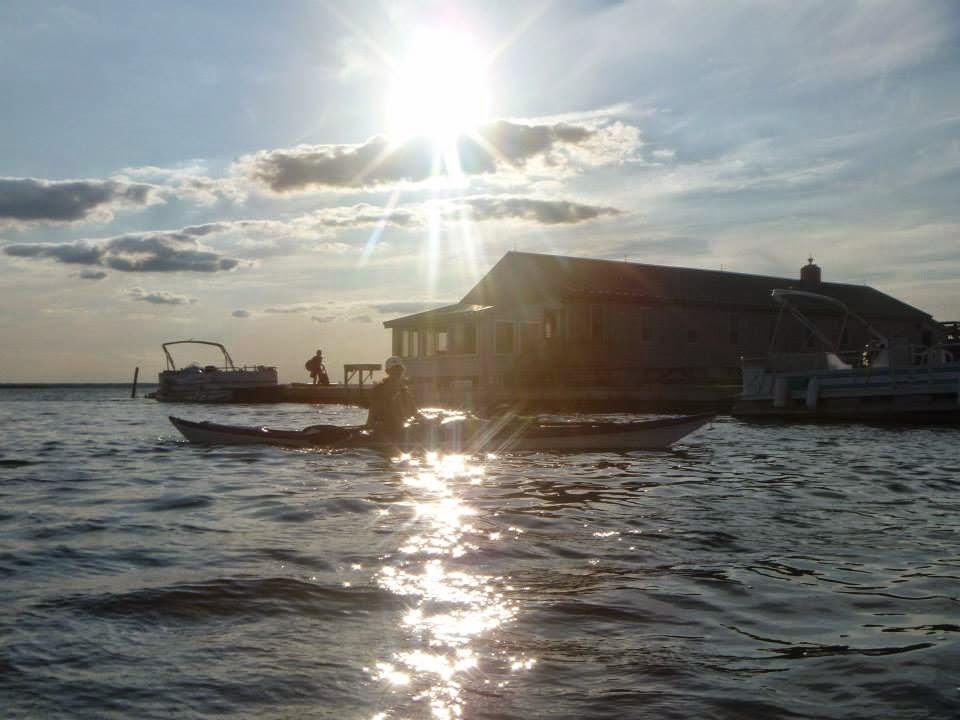 This was a great trip, and honestly something of a surprise. In the weeks leading up to it, I thought, "boring sheltered flatwater", but it really wasn't. For one thing, the dramatic effect on shallows by the tide, changing the topography and creating unexpected eddies, was a surprise. For another, we had steady wind and a ton of fetch, which meant we had to do a little work and instruction on how to manage wind. The fabulous scenery and genuinely interesting ecology topped it all off.
Once we met up again, we finished lunch and then paddled back to where we put in, pulled out the boats and unpacked them, and said our goodbyes.