Four. 4 AM. 0400. Four o'clock in the morning. I set my alarm for this, on a weekend, because I managed to convince a couple of friends that a sunrise paddle to the Throgs Neck bridge would be fun.
It's a trip I've made before. I made sure to apply the lessons learned from that trip. We'd take nearly four hours to paddle out, have a one hour layover, and paddle back.
The thing was, to get there we'd have to leave at 0545. At that, we didn't get going till 0600, making our way in short order up the Hudson, through Spuyten Duyvil, and then down the Harlem.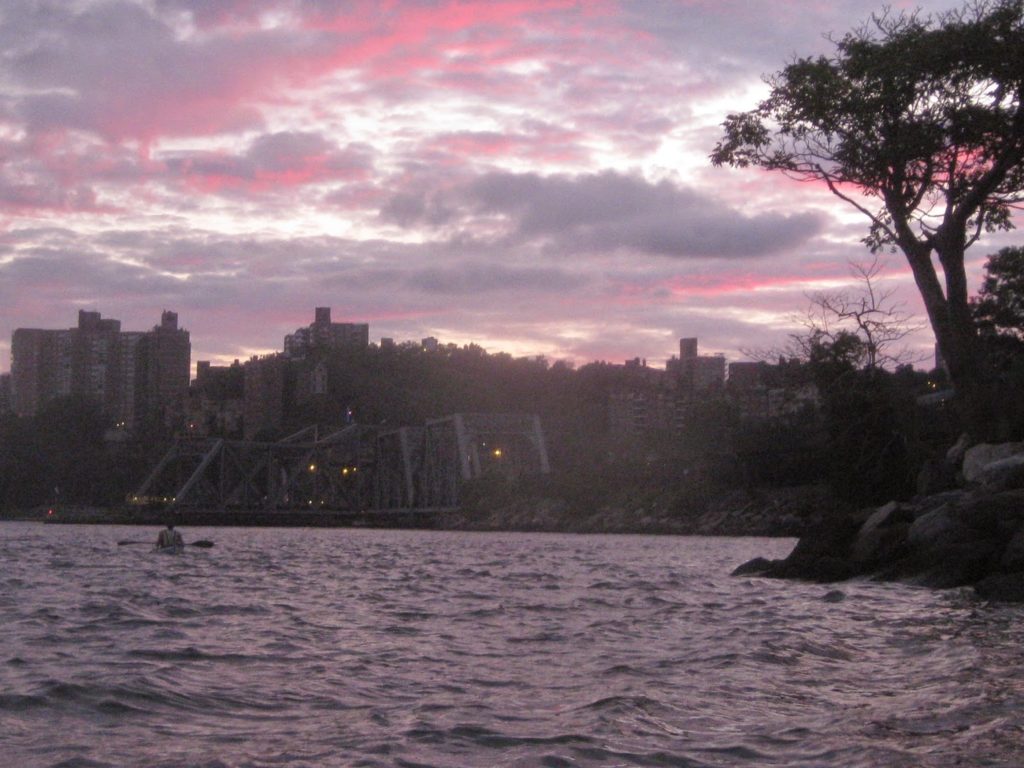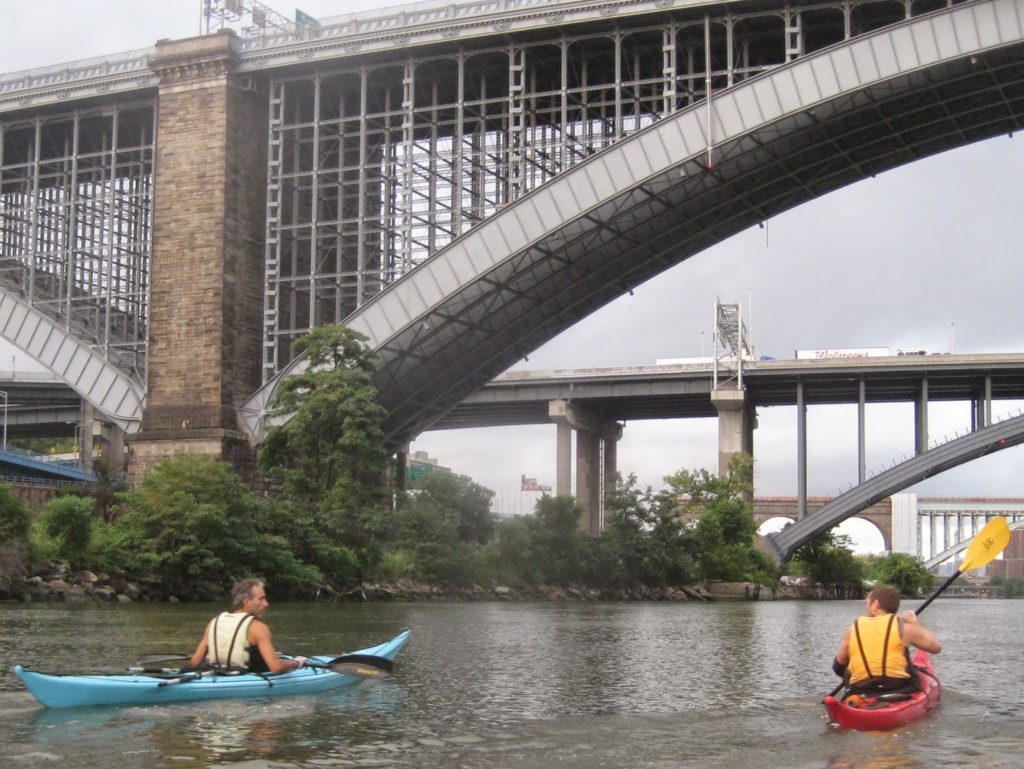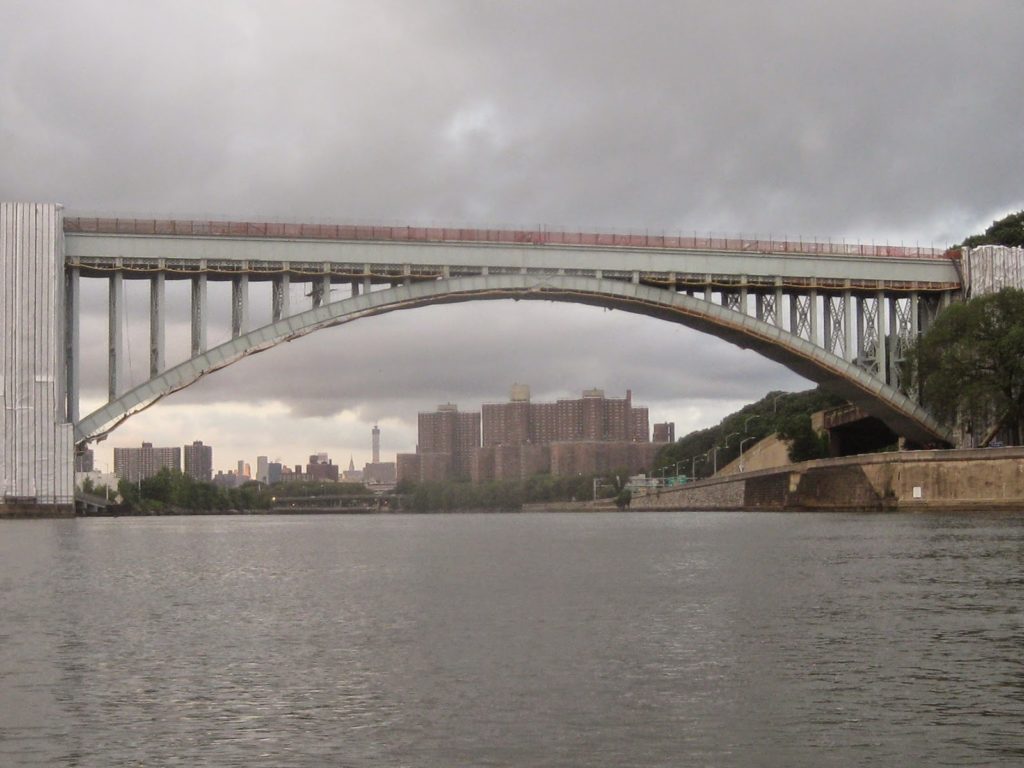 We took a little jaunt through my favorite new shortcut: the Bronx kill, along the northern edge of Randalls Island.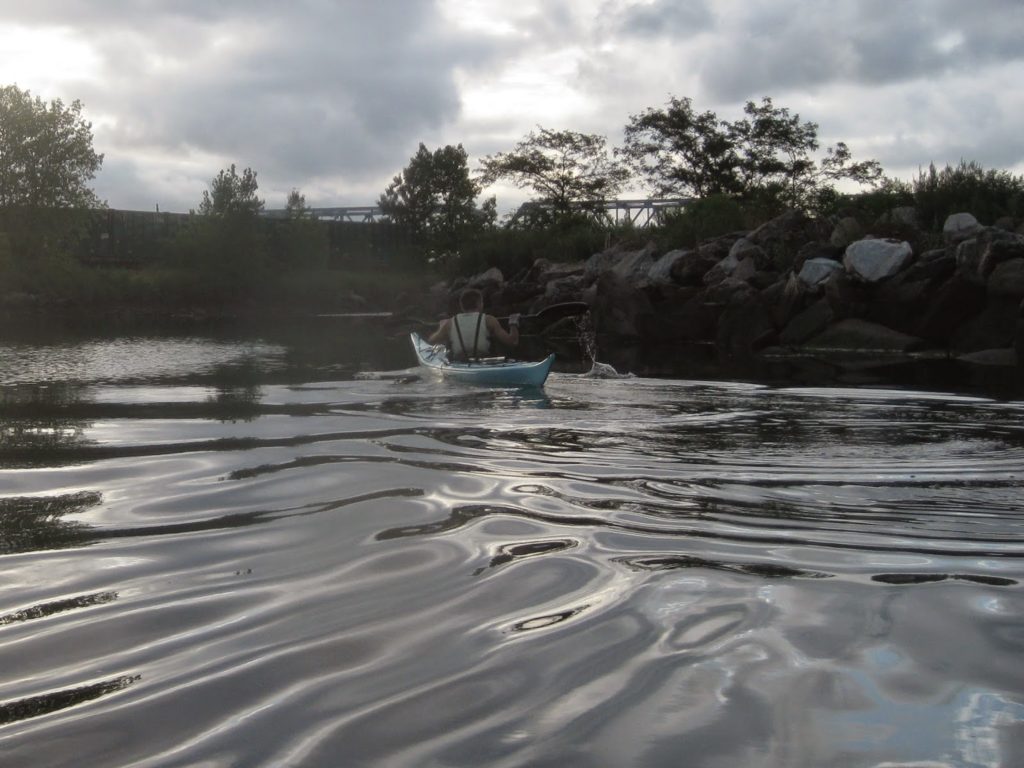 We don't have caves for NYC paddling, but we do have overpasses.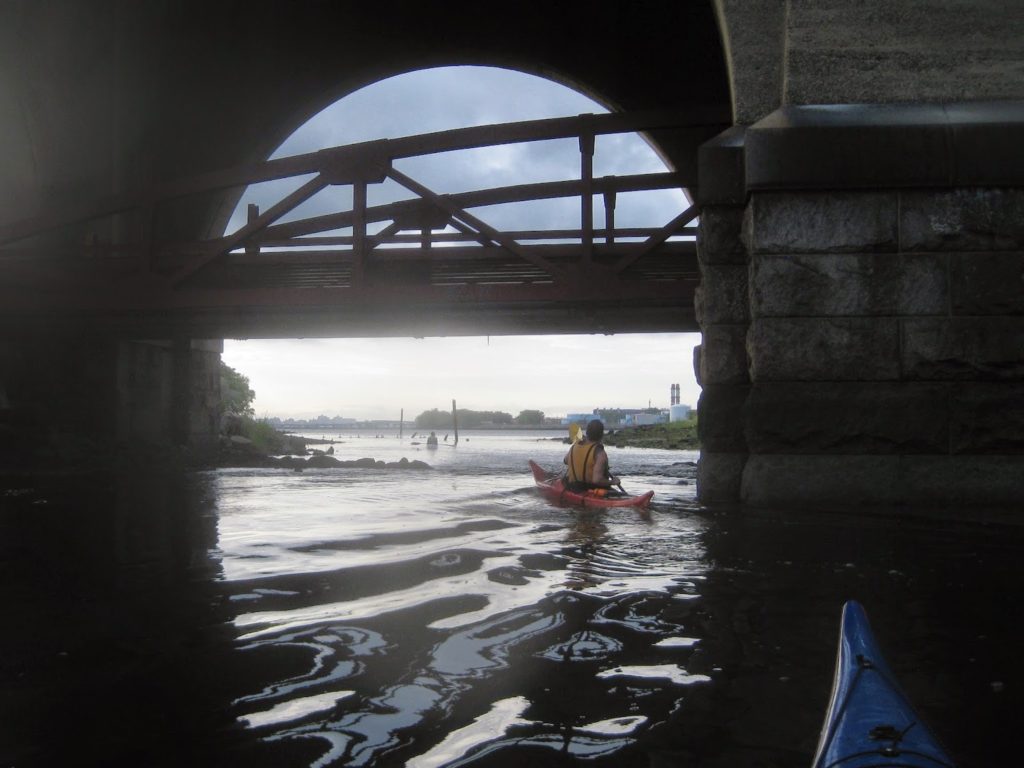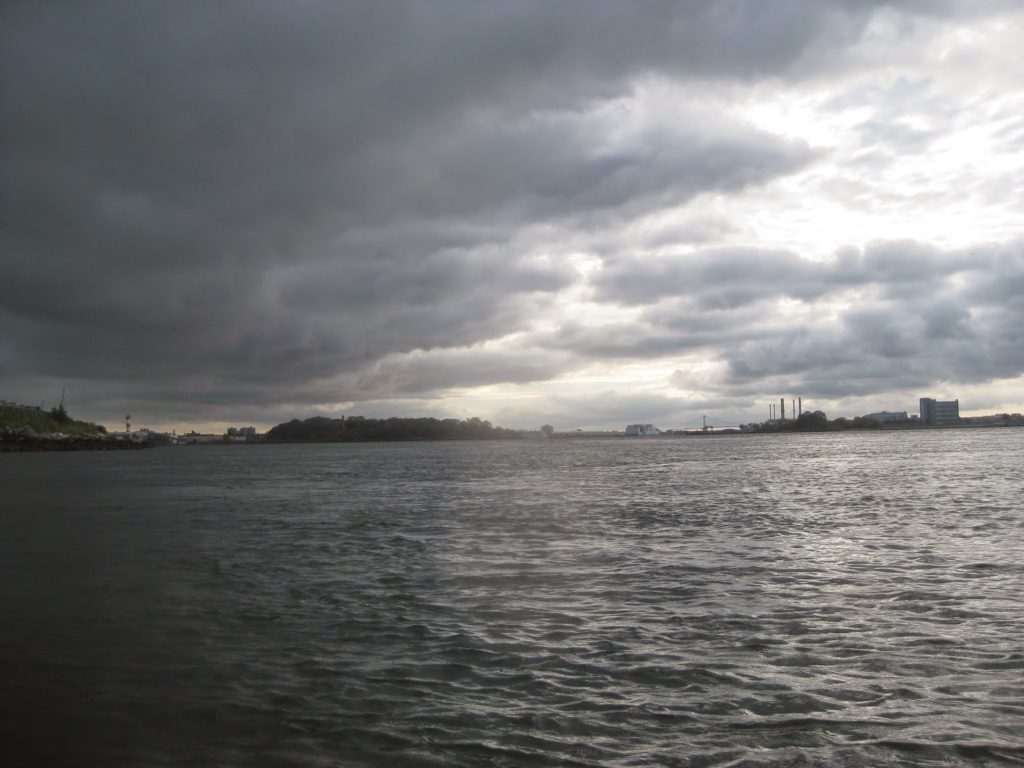 I've started using the appellation, "Upper" East River to distinguish between the East River that runs alongside Manhattan and the East River that separates Queens from the Bronx; these are connected by Hell Gate. For most NYC paddlers, the East River is just a little stretch to pass through on a circumnavigation, or perhaps a path to Hell Gate or the upper harbor.
In our case we were heading out past the Brother islands, Rikers Island, Laguardia airport, the Bronx-Whitestone Bridge, arriving at the SUNY Maritime college next to the Throgs Neck bridge.
The upper East River is a great place to teach chart navigation. For one thing, there's a great deal of variety in charted objects, from landmarks to channel markers, making it easy to triangulate position and practice orientation. For another, the current is generally mild but noticeable, and there is enough that it's easy to demonstrate a ferry crossing. I didn't teach a proper class but I did show my paddlemates how to figure out where we were and where we were going.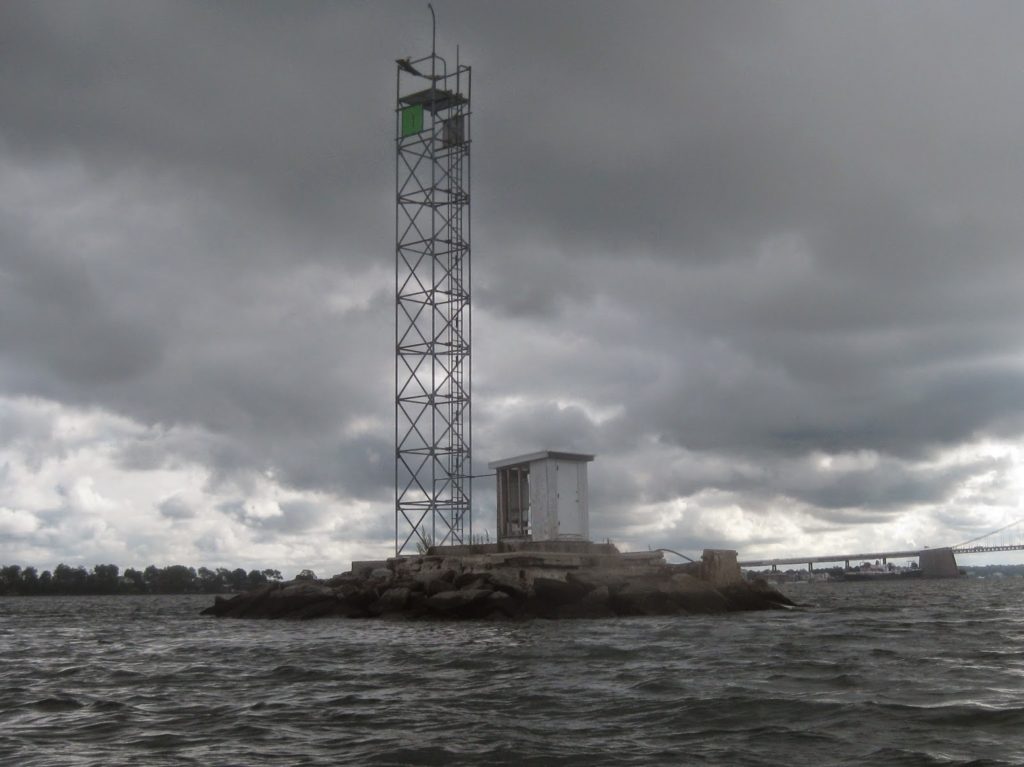 The weather had been predicted to be cloudy and overcast, improving with the day. We had winds 6-10 mph out of the ENE, giving us a decent headwind and waves to paddle over on the outbound trip.
At one point in our journey I overheard a Coast Guard cutter repeatedly hailing an outbound power vessel, and later something about letting an NYPD boat out of Flushing handle something. I realized we were very close to part of Laguardia Airport and had just skirted the shore of Rikers Island, NYC's main prison facility. I hailed them.
"This is kayak three, we just want to make sure we're not the cause of any trouble out here."
"No, ah, kayak three, we're not aware of any local law enforcement activity in your area. Just be sure to observe charted security zones and shipping regulations."
Or, something to that effect.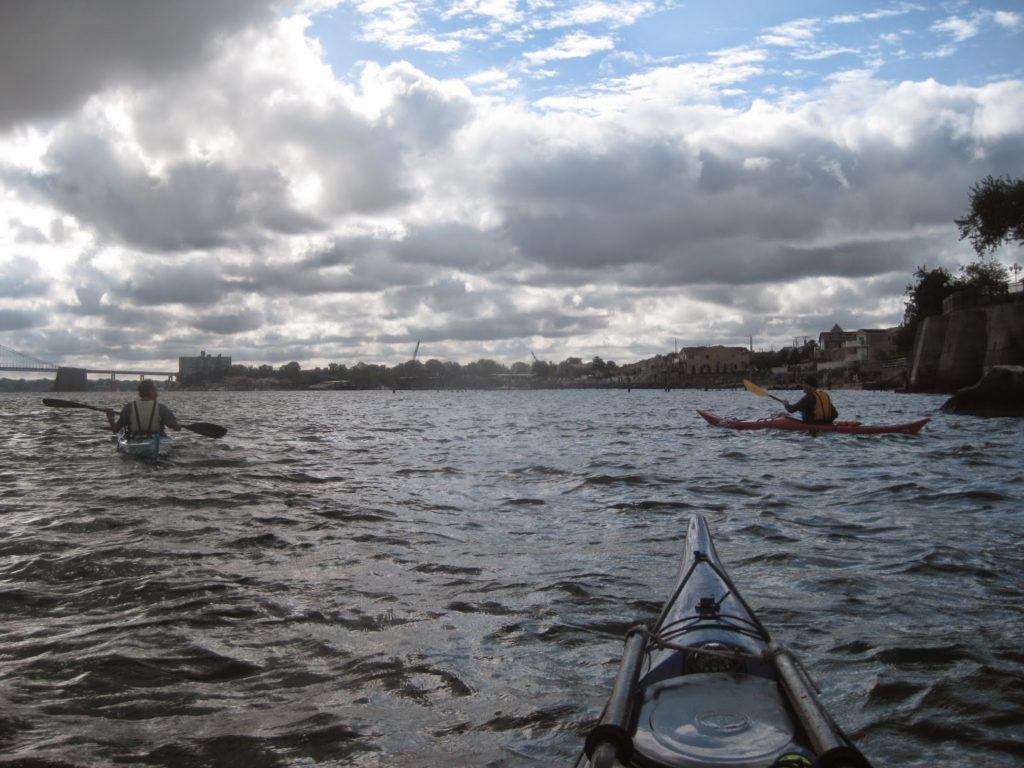 Along the way, we spotted what seemed to be part of a submarine being towed out towards Long Island Sound. Which prompted the questions: who buys these things? How are they assembled?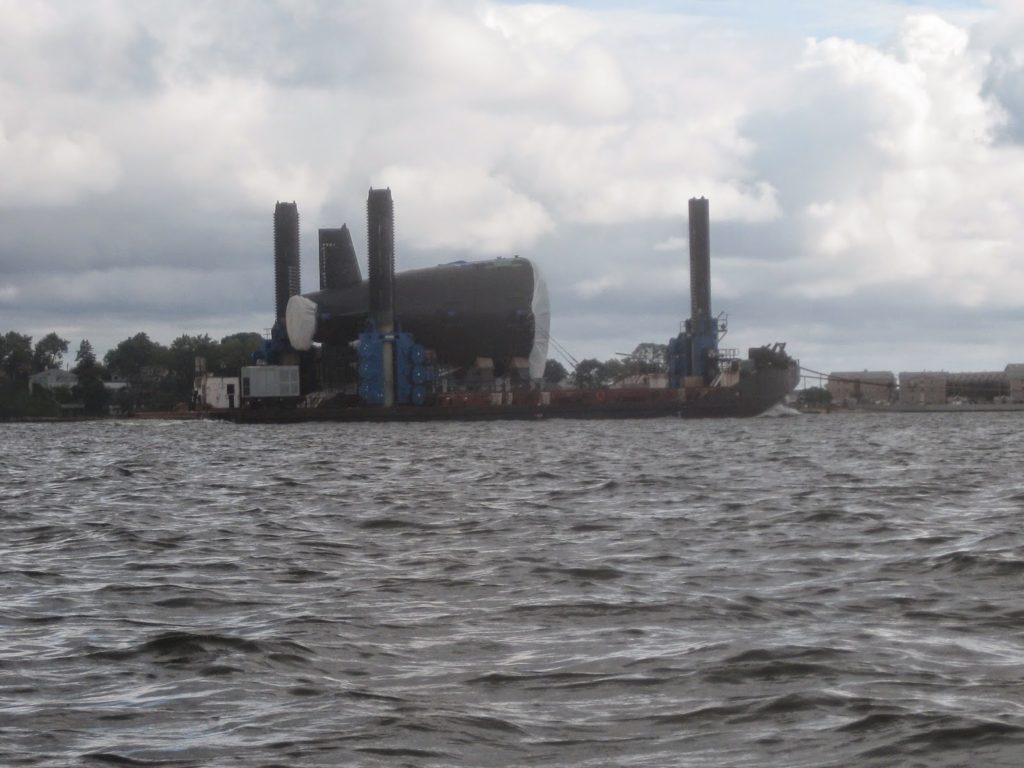 As we approached the Throgs Neck, we could make out a vessel I didn't see last time – the Empire State, the training vessel for SUNY Maritime College. It was moored next to the college, right next to the bridge. We crossed, and paddled alongside her.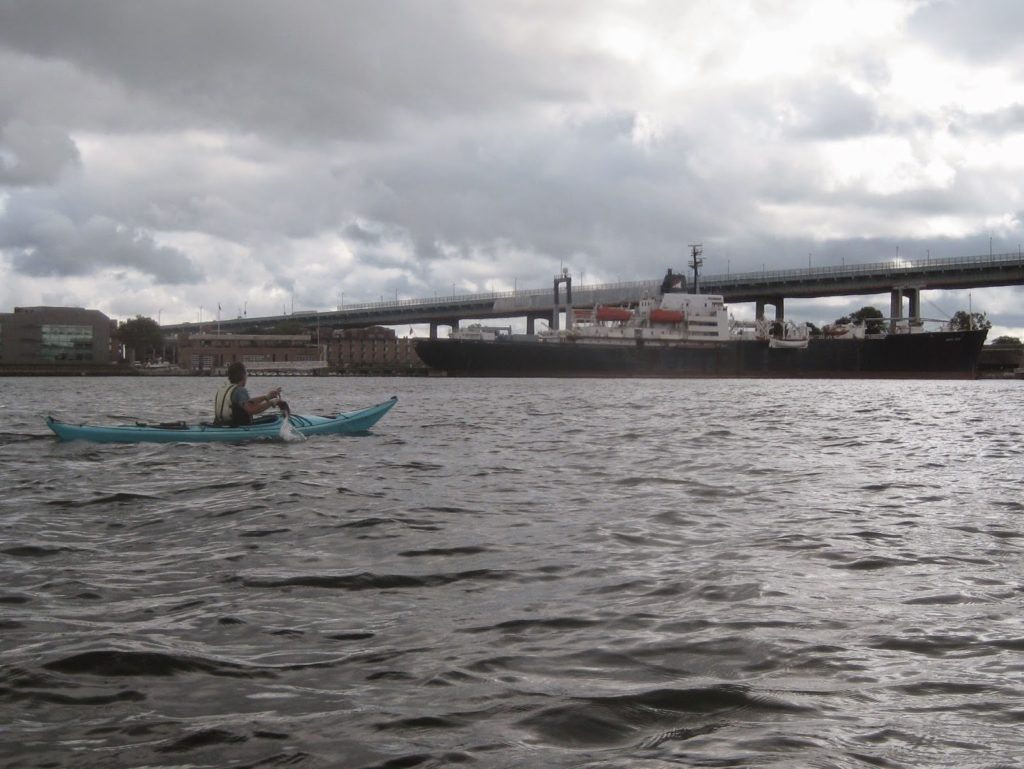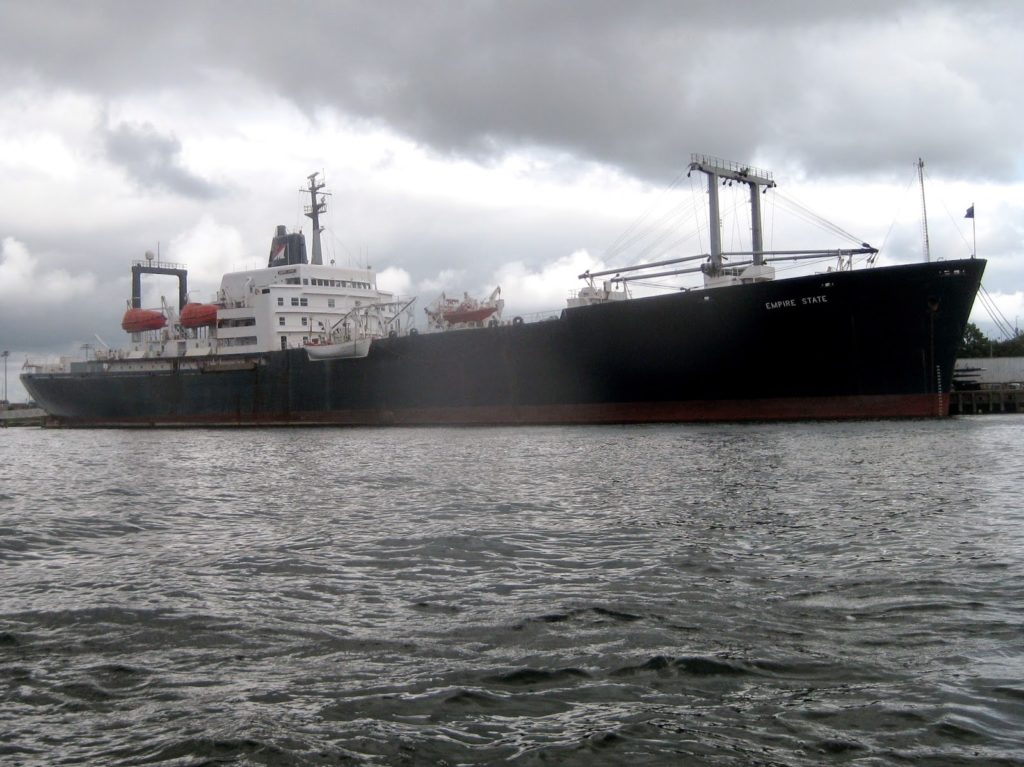 There is a small beach between the bridge and an old art deco building on campus. There we saw the remains of some wildlife – or maybe living wildlife in the case of the turtle.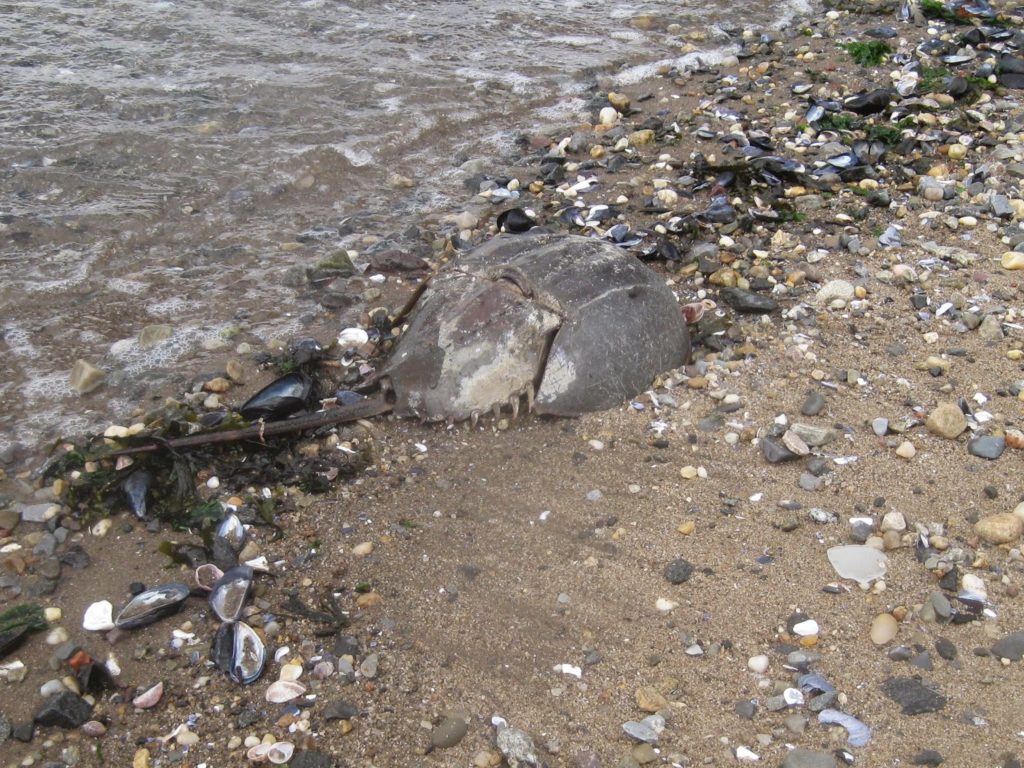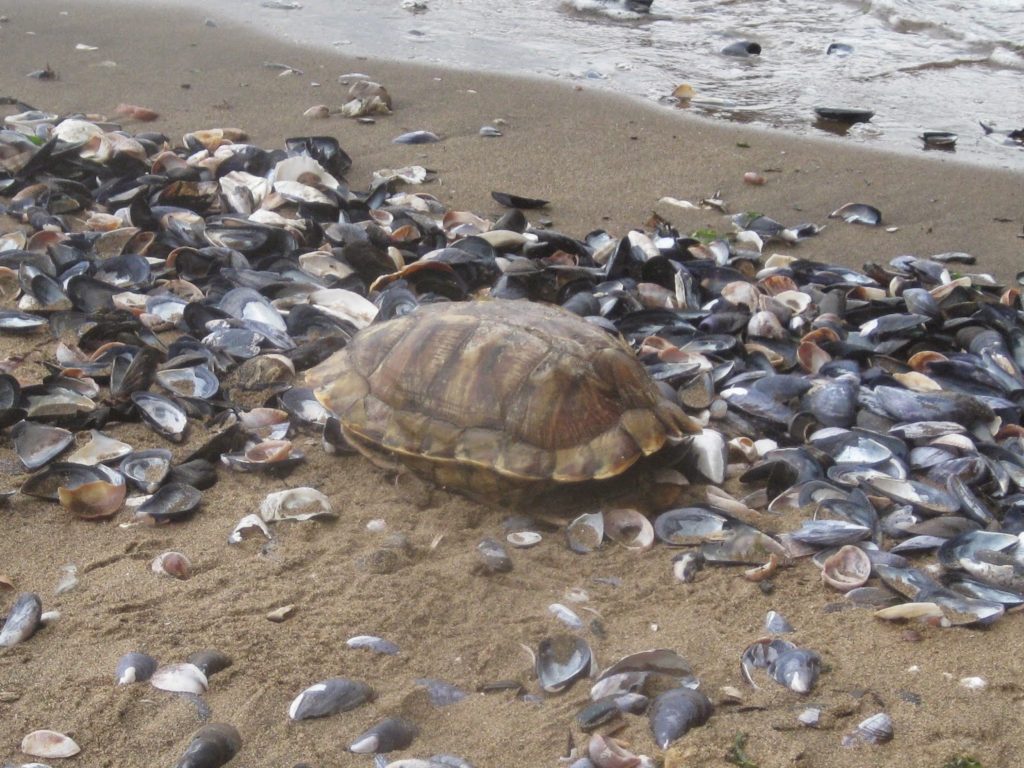 It turns out it was cadet induction day (or something like that). We saw quite a few of them marching up to what amounts to their parade ground, where they would salute the colors and then move on to wherever they were directed next.
This is where we stopped for lunch – well, second breakfast. We took a brief peek in the fort, but mostly sat watching the water, boats, and the gently receding tide. Fishermen in small recreational craft drifted by.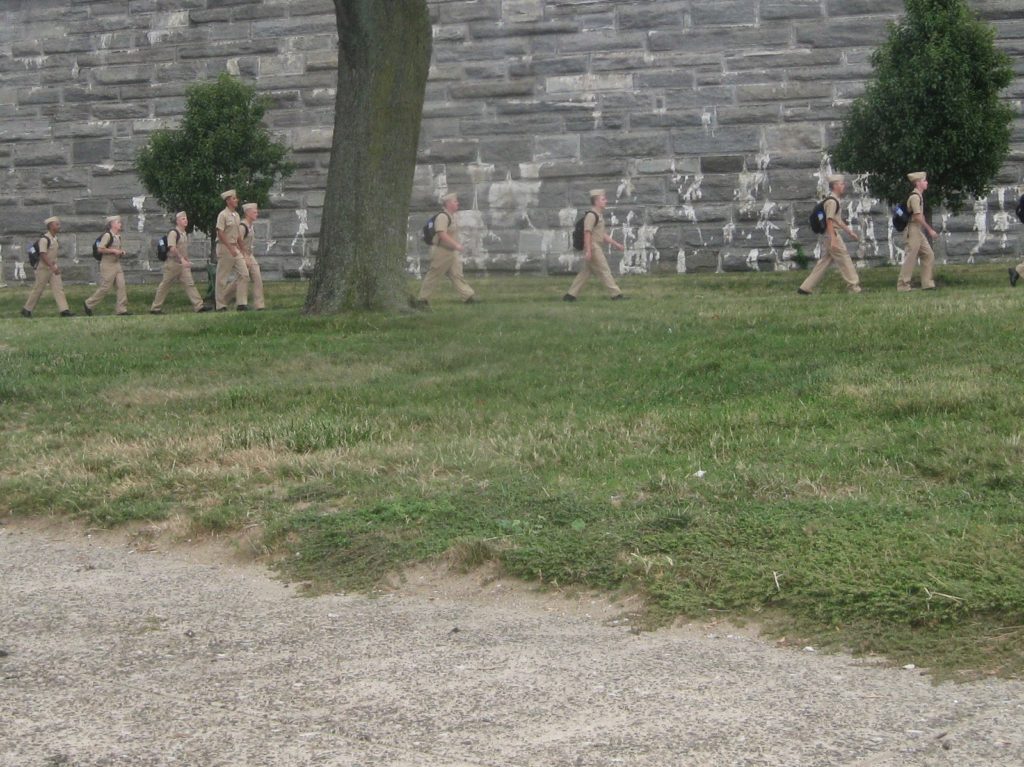 We only had about an hour. I was very specific about this, since the last time I made this trip, my friend and I got caught out behind some very strong current in the last mile of the Harlem river. I budgeted two hours each for the East River and Harlem River legs of the trip – a little generous for this group, but also allowing for conditions, gabbing, and gear dickering.
As I explained to the group, our departure was driven not by conditions where we were, but by where we would be near the end. We needed to be exiting the Harlem by one hour after low tide at Battery, or the end of our journey would be a bit of a challenge.
The time came to leave, and we set out under the bridge, returning along the north, or Bronx, side of the river. The wind died down pretty quickly, and it even got a bit sunny and warm, so we just had to paddle. We made good time, and took a short detour to peek at the mouth of the Bronx river, the only freshwater river in New York City.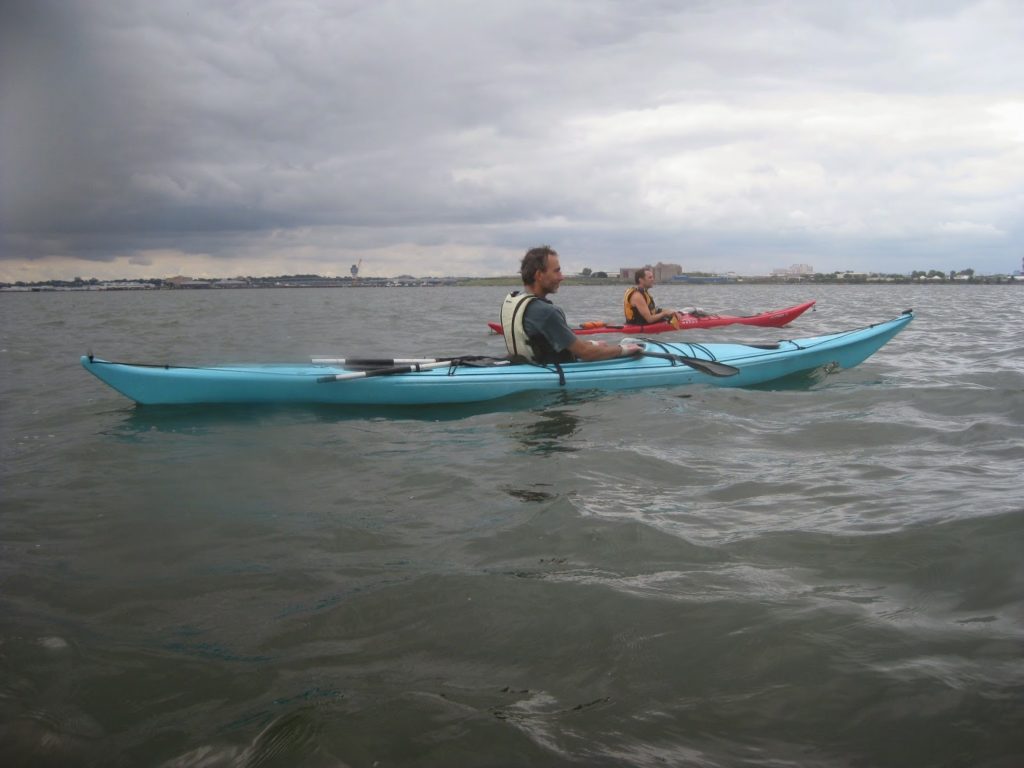 We went 'round the Brothers, veering to North Brother and then crossing the channel again to the Bronx side. Once back in the kill, the boys took a short break, and then we continued on.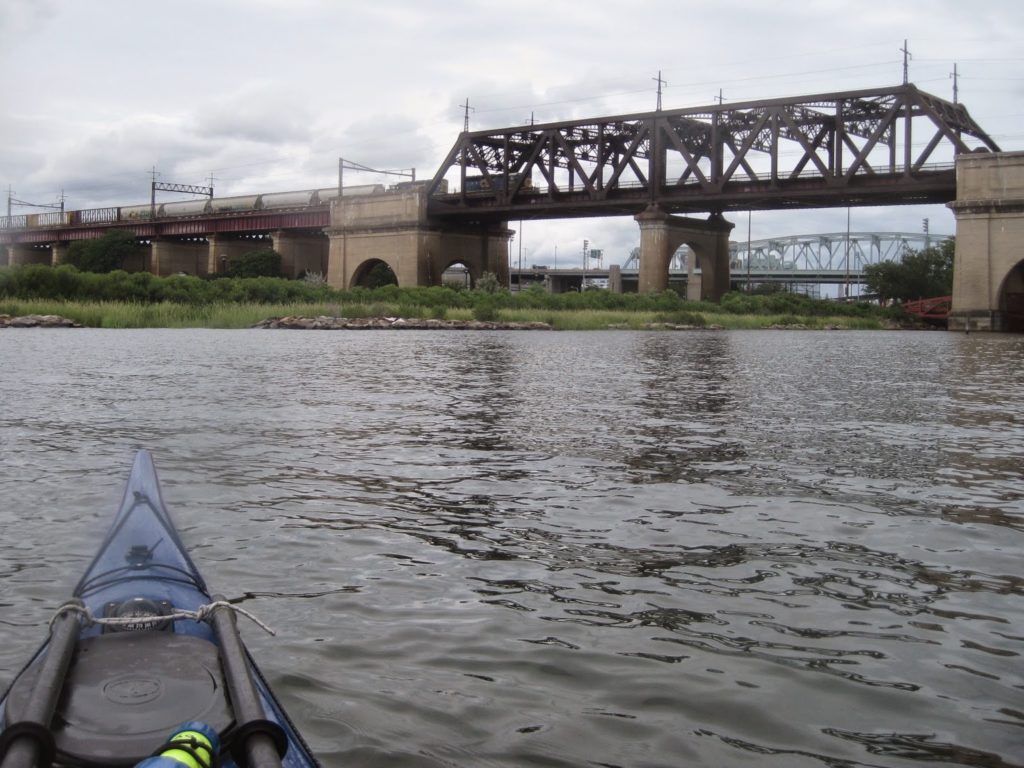 The Harlem was uneventful, remarkable only in that we were passed by no commercial traffic – just a couple of jetskis, and recreational craft, remarkably polite craft at that – they all cut their engines to produce no wake. We waved a a small crowd of people hanging out from a large housing complex. They shouted "ole!" as we passed by.
Our timing worked out well, we managed to be half an hour ahead of schedule, which is better than being half an hour behind. By the time we passed the Broadway bridge, we were content to drift, paddle a bit, drift, and so on. Once on the Hudson, I took a little roll, mostly to cool off, but also to practice and give myself a little victory move before we went in.
I ought to mention that I tried out a new bit of kit, some paddling clothes I picked up at the shop. I got a short sleeve top and a pair of shorts, and both are basically an inner lining of a warm, quick-dry material, and a waterproof/windproof outer material. I wore it bc I expected the wind to bite a bit more, and wanted something that could block the wind when I was out of my boat.
I'm happy to say this stuff was warm and I was downright toasty on the Harlem legs of the paddle; I appreciated it on the East River legs, when my buddies were pulling out their jackets. There's a dry cag on sale from the same manufacturer, and I think I may get it as an interim step between my paddling jacket and drysuit.
Update: I was referring to Reed Chillcheater gear. The short top, shorts, and the dry cag are still in regular use by me today, six years later.
All in all this was a good trip, and an improvement on how I did it last time. It's not a hard trip but the distance make it something for experienced paddlers. I'm working up some variations – going deep into Flushing Bay, or landing at nearer shores. It's nice to know my understanding of the tides isn't totally off.
Hours later, after we were off the water and all our boats and gear had been washed and put away, I was walking to the subway station past a bunch of restaurants serving brunch. I scanned the skies, reading the clouds as I had so much earlier in the morning, as if I were still at sea.
I'll look forward to the next!