Winter is here, and that means all manner of kayak pool sessions. There are at least four I can think of in the NYC area, and I'm pretty sure I'm forgetting at least two. I got invited along to two on the same day, because hey – this cowgirl is popular. Despite icy sidewalks and a numbing winter's rain, I made it downtown by 0830 to catch the carpool (poolcar?) to the first session, put on by New York Kayak Polo, in a small community college in Jersey City, NJ.
Kayak Polo, commonly known as canoe polo in some parts of the world, is pretty much what it sounds like: polo, but played in kayaks. Simplified versions get played in camps and clubs, often in whitewater boats, but it's a discipline of its own, with its own kind of boat, reversible PFDS (to make team-matching easier on the fly) and faceguards over the helmets.
It's as insane to describe as it sounds to the non-paddling laity.The idea is, you are in large swimming pool, lined up as two teams of 4-5 players with substitutes, and the teams compete to lob a ball into a goal on either end of the pitch. You can only hold the ball for five seconds before either passing or dribbling – which means tossing the ball forward and paddling after it. You cannot paddle and hold the ball.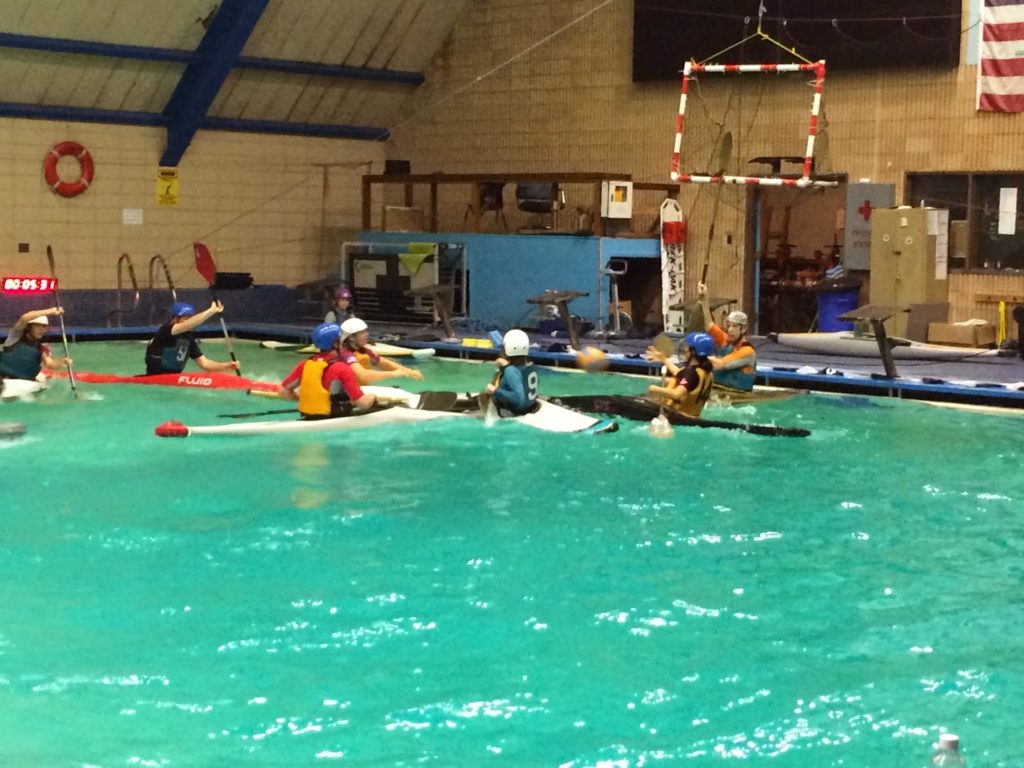 It's an exciting game and it really got the cowgirl's blood flowing after two weeks of being down and out with an awful, coughing cold. I even managed to make a goal! I am thankful for my friend who nudged me to go when I considered backing out. I met up with other people in the community whom I haven't seen in ages, including D&O, two friends I made last summer on a trip to Sedge Island.
They were heading up to an afternoon pool program not far from where I live, so I took them up on an offer to go along and have some fun there. It's a more open-ended program, where we get to practice on our own a bit before instructing newcomers. So, I worked a bit on my rolls, and also took a shot at learning a hand roll. I have a long way to go on that. But, I'm happy to say, I managed hanging draws in whitewater boats with a Greenland paddle. I found it a lot easier to slice forward than with a euro blade.
That was easily twice as much paddling as I intended for the day, and coupled with a brief jaunt the day before, I was plumb tuckered by Monday. So 2015 is off to a good start. As slack as I've felt, I've kept paddling, at least once a week on average.