Holy cow, has it really been nearly two months since I blogged about kayaking?
But I've been paddling, I would say. I've been to pool programs, played polo.
I suppose I haven't felt like anything has been blog-worthy. If you want to keep up with Kayak Cowgirl, be sure to look her up on Facebook.
After my last paddle on the Hudson, the ice overtook the river for about six weeks. New York City and the surrounding area were hammered with blow after blow of sub-freezing cold waves. The city was encased in ice, and ice flowed down the river from further north. The New York Times had a little video about a hardworking icebreaker farther north on the Hudson. Heck, even just getting to her day job, the Cowgirl found herself slipping downhill backwards on the iciest of days.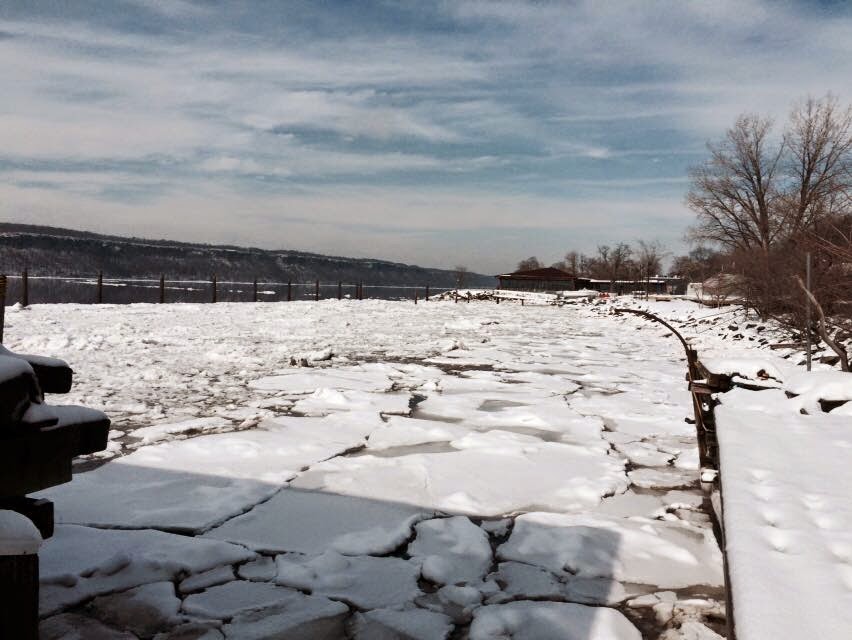 All that started to clear up by the third week of March, but while the days got warmer and prettier, there was still a lot of wind out. And, by then, I'd been to enough pool programs to make some progress in skills that would have been just plain uncomfortable on the river.
For a while I did Kayak Polo. That was amazing, and if you want the full picture, look back at some earlier posts. Sadly, that came to a premature end the very day a fun tourney was organized. Enough people signed up ahead of time that everyone was organized into teams and we'd have a little playoff. Unfortunately, something happened to the physical plant of the pool building, and the season was cut short indefinitely.
After that, I'd go to Riverbank State Park, a program run by a collective of people from different clubs. Not far from where I live, Riverbank State Park is a large water treatment facility with a sports complex built on top of it – including an indoor pool. In exchange for offering the occasional lesson, your friend the Kayak Cowgirl got a sheltered space to work on her roll and practice certain rescue techniques. That less-consistent (well, less reliable) side has improved nicely.
So that's been the winter. Hopefully the worst of it is over and, with Easter coming right up, the real start of spring will begin, and we'll be back to our regularly scheduled programming of adventure and instruction and just plain how-do-you-do observations of paddling life in New York City.