I got out on the water today with my paddling friend Dov Neimand. The air temperature was much warmer than yesterday, with much less wind. A storm is expected overnight, and so we decided to get in some time on the water.
Actually, it was that neither of us had been on the river for a while. While I've done some pool sessions, I still prefer a proper sea kayak, out in the open.
First we had to contend with this: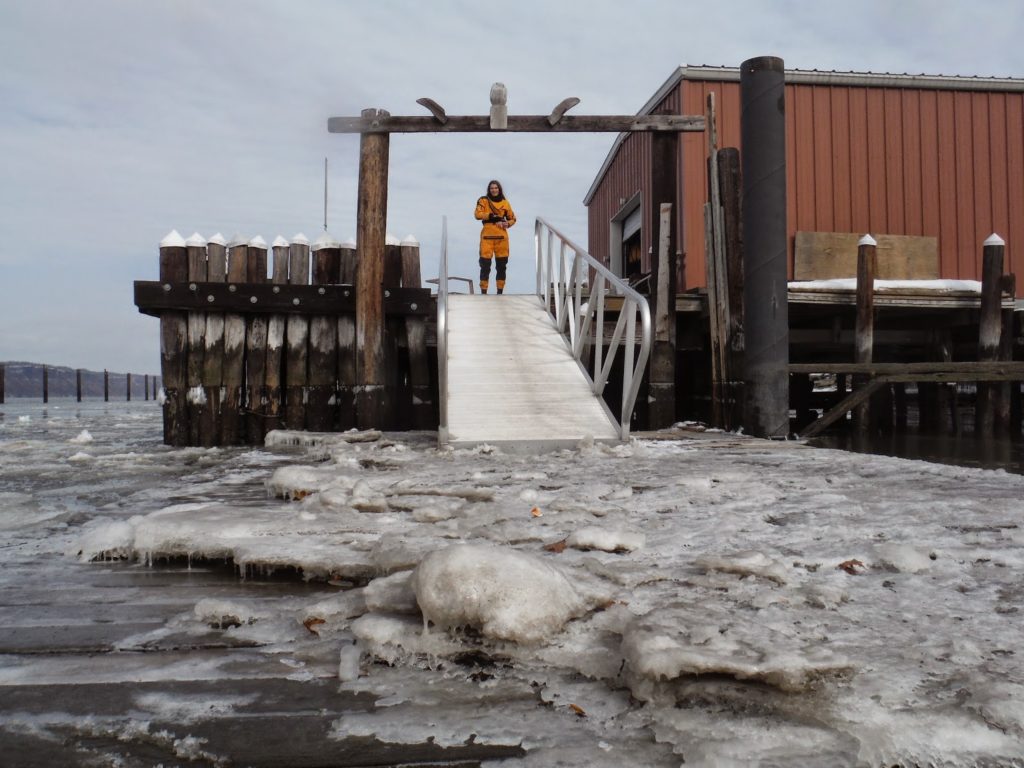 It looks worse than it was. The ice was mushy and melty. The day before saw temperatures below 20 F and stiff winds. Air temps today were above freezing, with little wind, and less cloud coverage than predicted.
Before that, I had another problem to solve. I couldn't assemble my paddle – a small amount of water had frozen in the ferrules.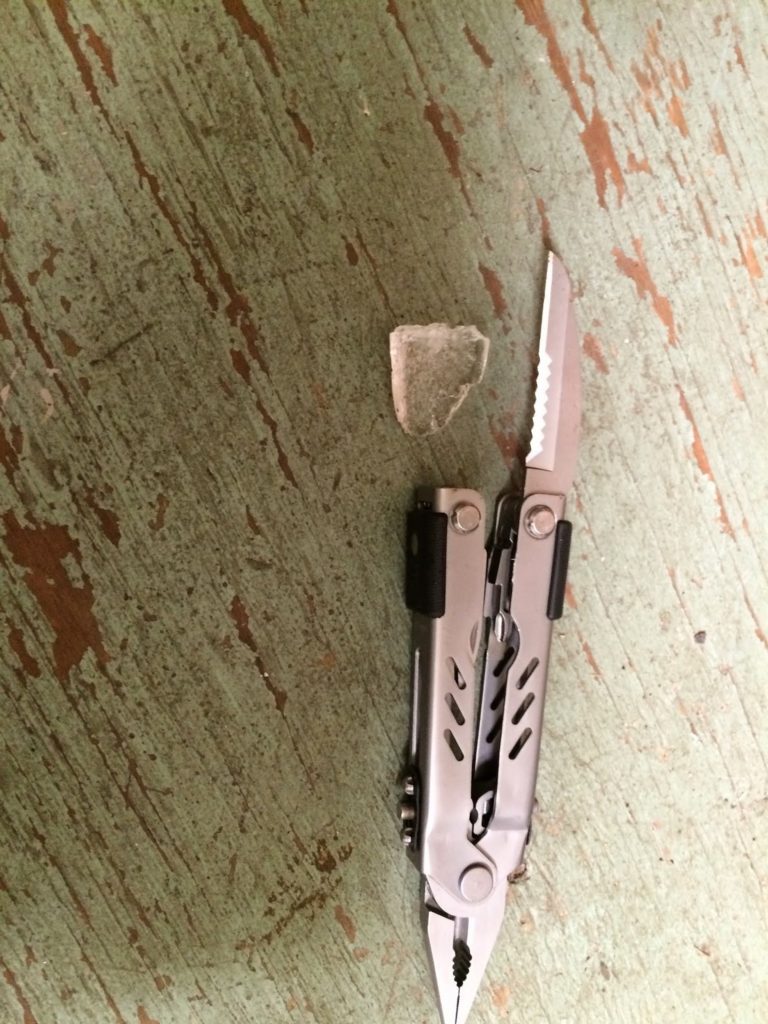 I managed to pick it out with my knife – but I still couldn't press the button down to open the catch! Turns out, water was more even farther down, and around the spring. I poured some hot tea on it and let it sit, twice, before it finally melted. So, hot tea? Good for your gear, not just you.
All the same, small ice floes had collected in the marina area to the north of the boathouse, and were flowing past with the growing ebb tide. Dov had paddled across the river already from his put-in in Englewood. He switched to his Greenland paddle once he saw the ice.
I managed to launch, and we set about practicing. The marina has pulled up their slips for the winter, leaving a series of pilings that are great for practicing the finer points of turning on the move – and with the growing current we had different experiences paddling with it and against it. We certainly knocked boats against the pilings a few times, and one of us went in and rolled up – no mean feat with water temperatures of 35.6 F at the Battery.
By this point the ice was clearing up, and we found buoys to run some figure eights with. We also practiced backwards, and talked shop a bit – plans for the season, paddling, and so on. 
We decided to paddle north, against near-max current, to Spuyten Duyvil. As we did, we saw more and more ice – a long trail out in the main channel was amusing at first, but as we approached the railroad bridge we saw larger floes, and at the bridge itself, I realized a lot of ice was coming out of the Harlem, and from farther north on the Hudson. We realized we wouldn't make it much further, and turned around to go back to the boathouse.
Before we went in, I took the opportunity to take a couple of cold water rolls. Now, my goal was to do one in the river every month, but I didn't get to in January. While I paddled twice, once I was alone and the other time, had dinner plans with my paddlemates. I was also real sick for a spell. Anyway. I did it – and boy howdy do you feel the water. I was layered enough to not feel it on my body, but my face, covered in a balaclava, with the hood of my drysuit on, carried a lot of water up. I took it off once up. Not sure I want refrigerant cooling my head once upright.
If you haven't read Dov's blog, you should. He does long distance expeditions that put my day trips to shame – he's paddled months at a time across the Mediterranean, facing weather, traffic, language barriers, cultural misunderstandings, authoritative border guards, baffled marina clerks, bureaucracy, along with all the usual mishaps of the expedition sea kayaker.