Part of the our plan was to meet up with some friends of mine – Jean and Alex from the 2 Geeks 3 Knots blog. The 2 Geeks paddled up to meet us from their home base in Larchmont, arriving in the evening and setting up camp next to ours.
We traded stories and talked about gear, especially the keeping-warm kind, as we shared dinner and a little wine. Someone shared a story from his hiking days, about a man he met on the Appalachian Trail who always built a fire, and always attracted company. "Fires are the center of community," the man had said. "Build a fire and you pull people together."
As warm as it was during the day, the temperature dropped considerably overnight, into the low forties. Our nighttime dinner was fortified with hot tea, dry clothes, and a storm cag to keep the wind off.
The original plan was to leave early the next morning, but we all decided to sleep in. Kayak Dov and I were in no hurry, and the geeks had only gotten to the island late the night before. We took our time Sunday morning, before packing all our things and heading out on the sound.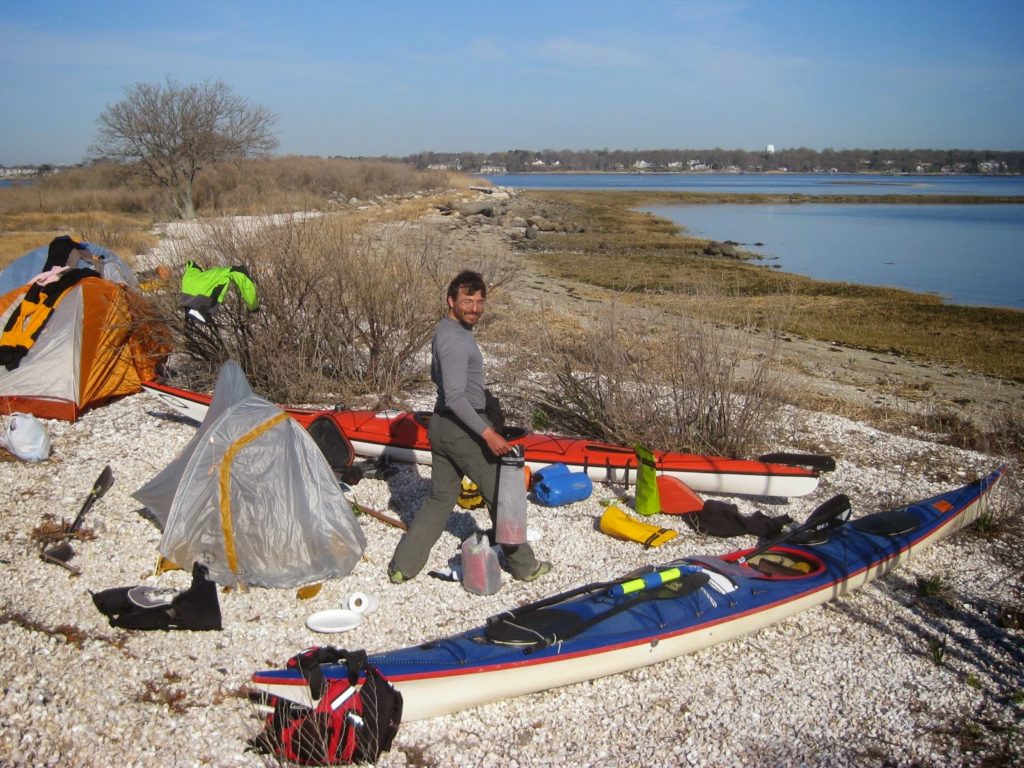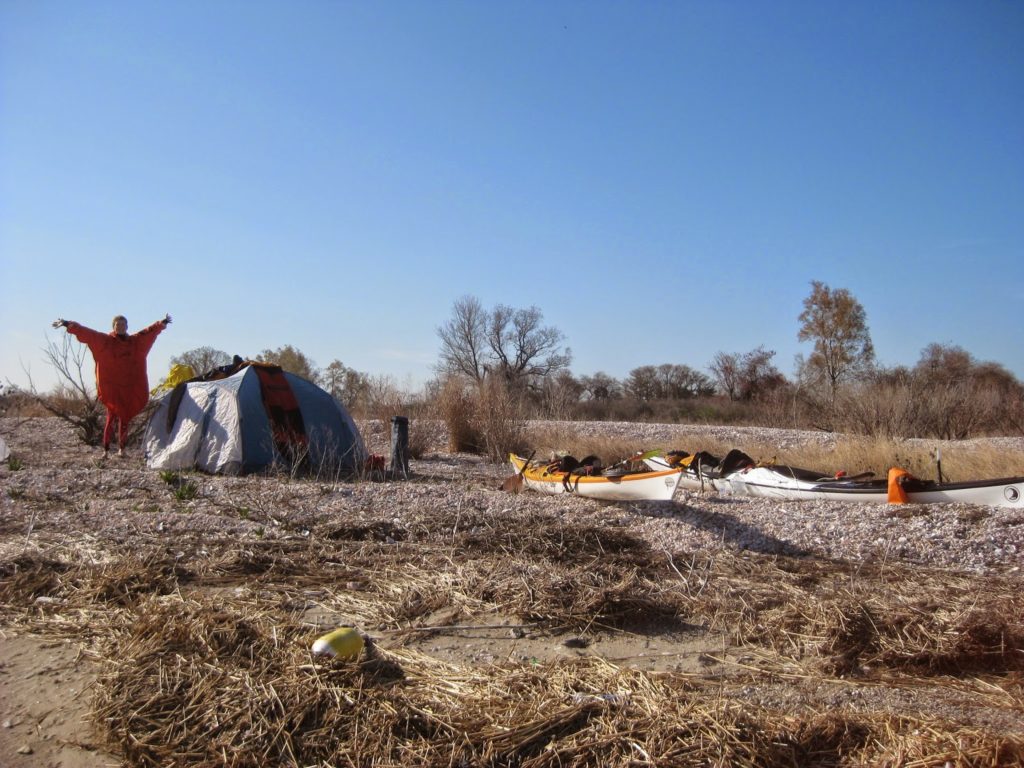 We headed out to exit the islands.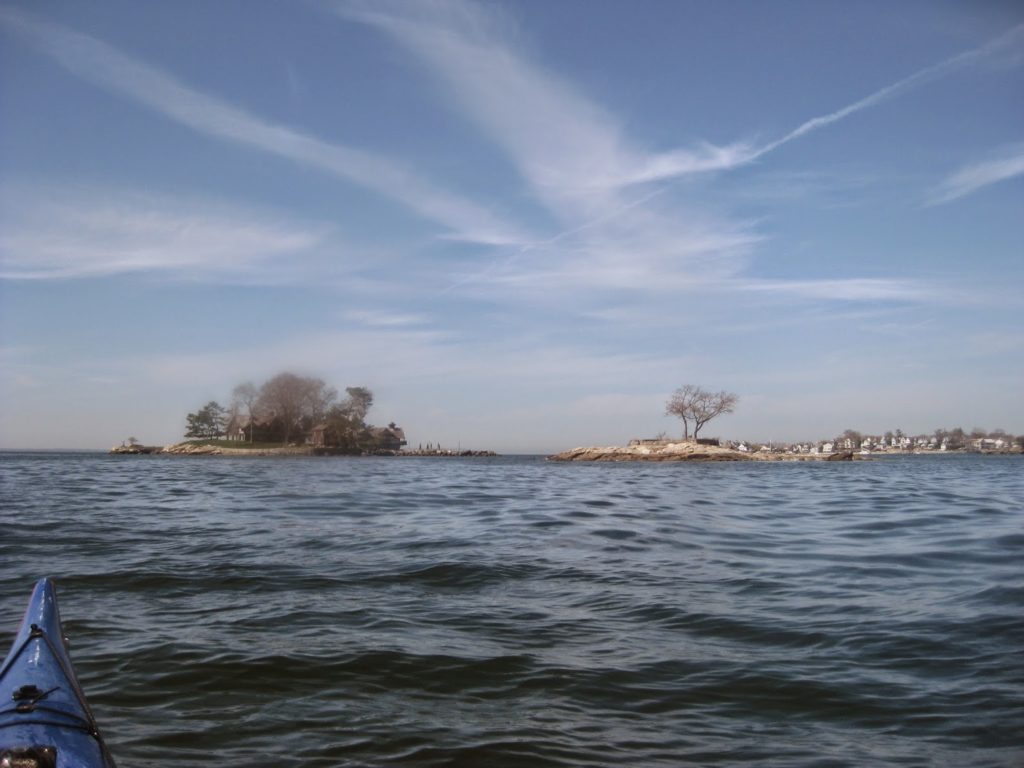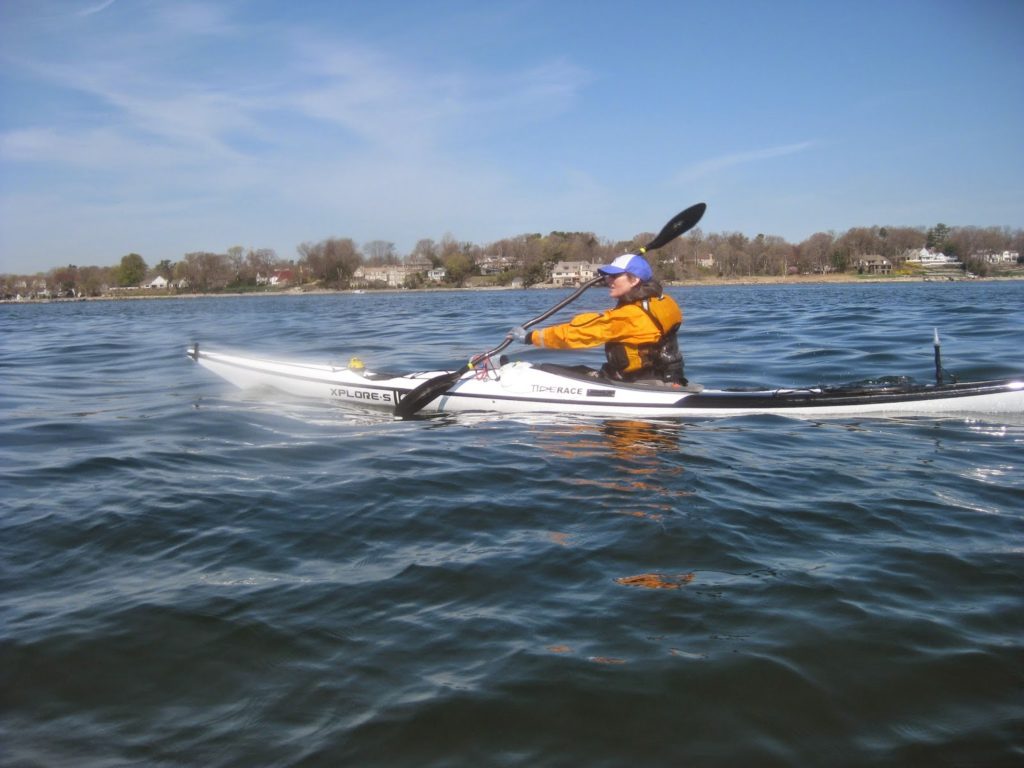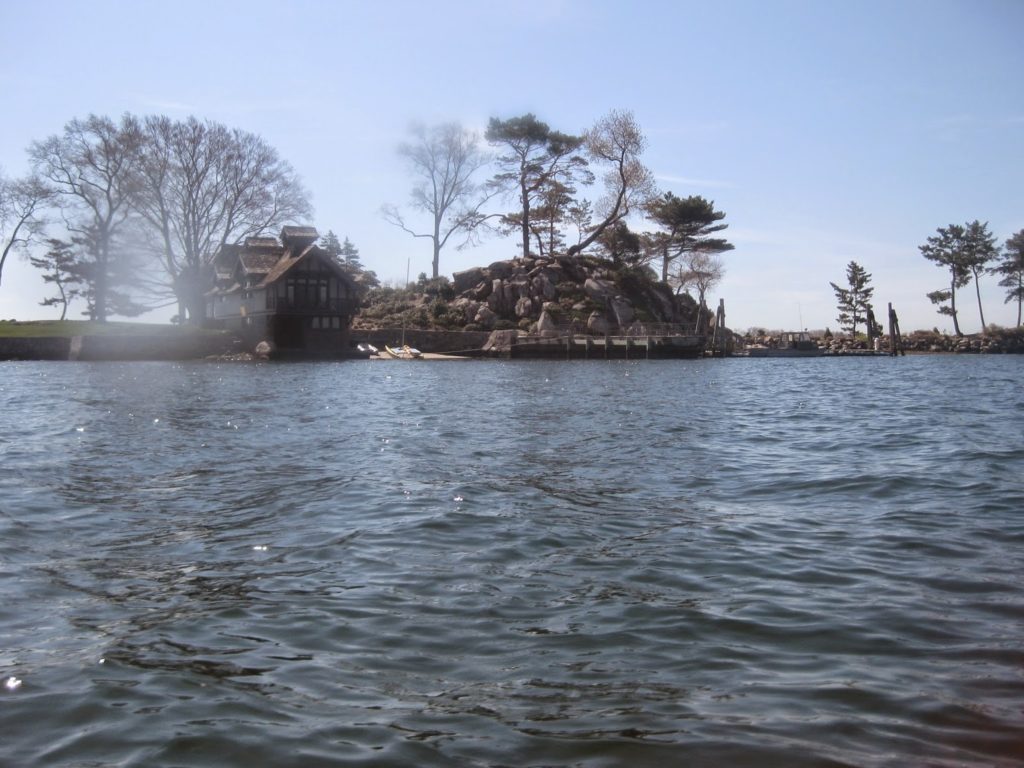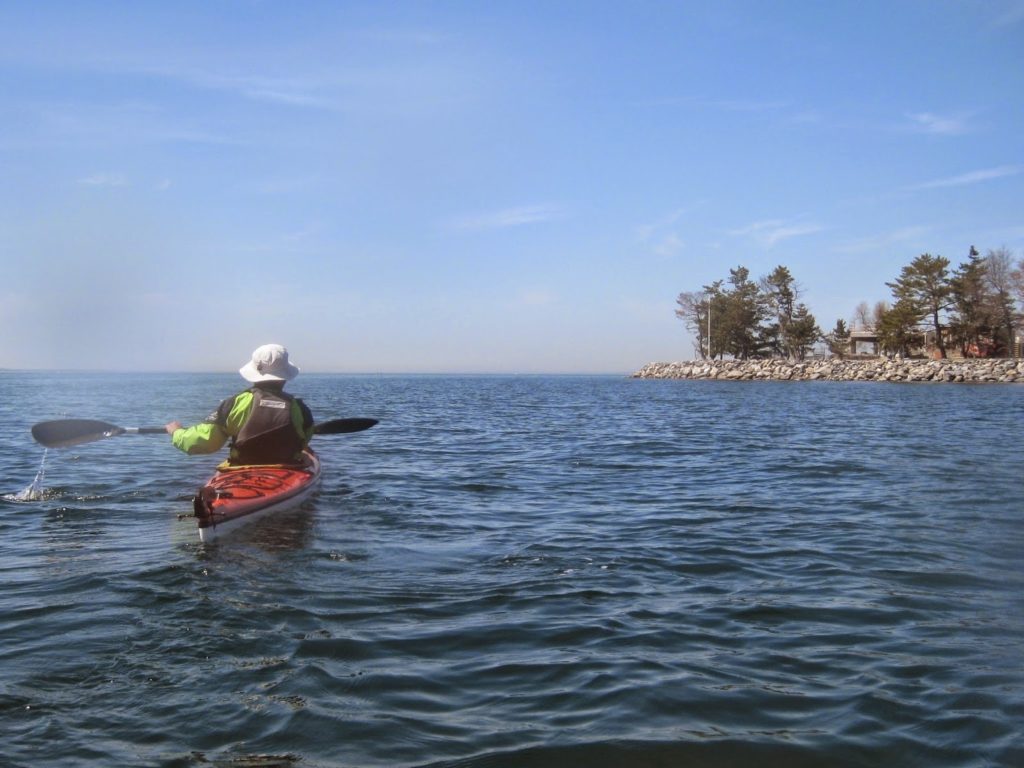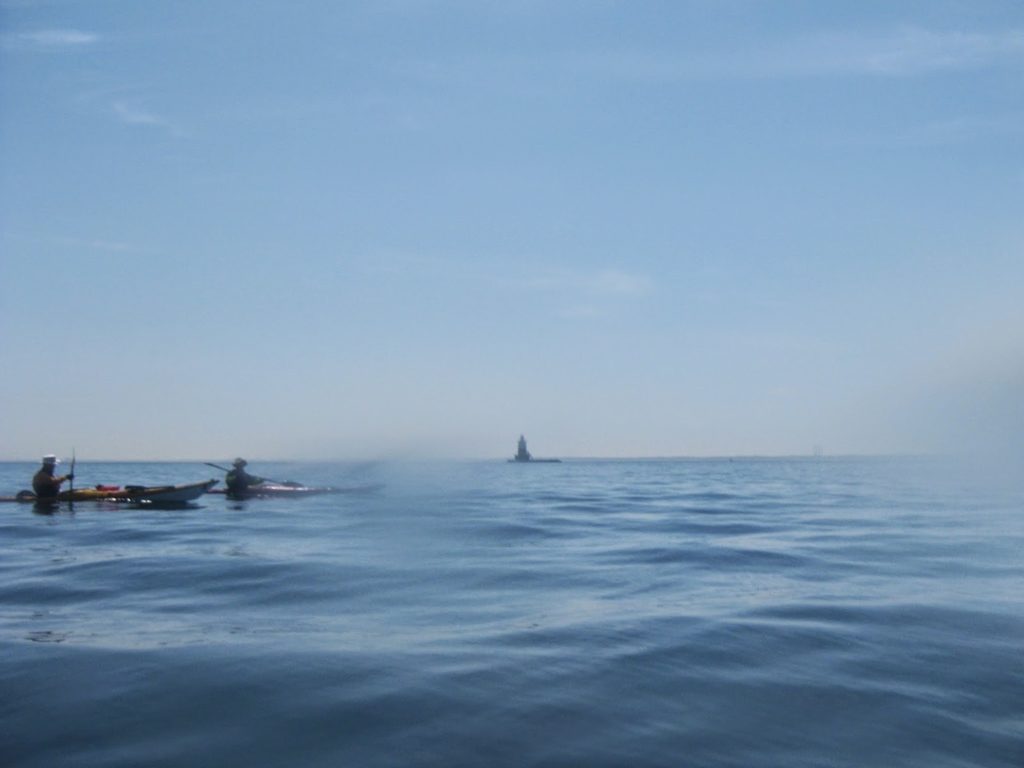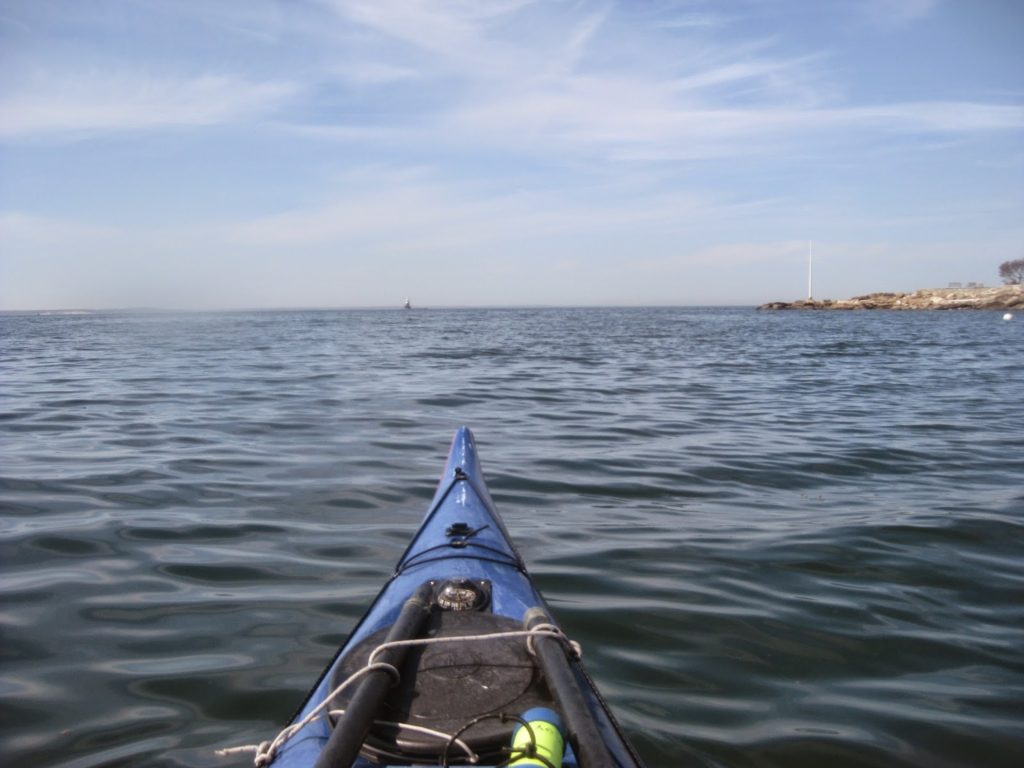 We passed a lot of nice and very interesting houses along the shore.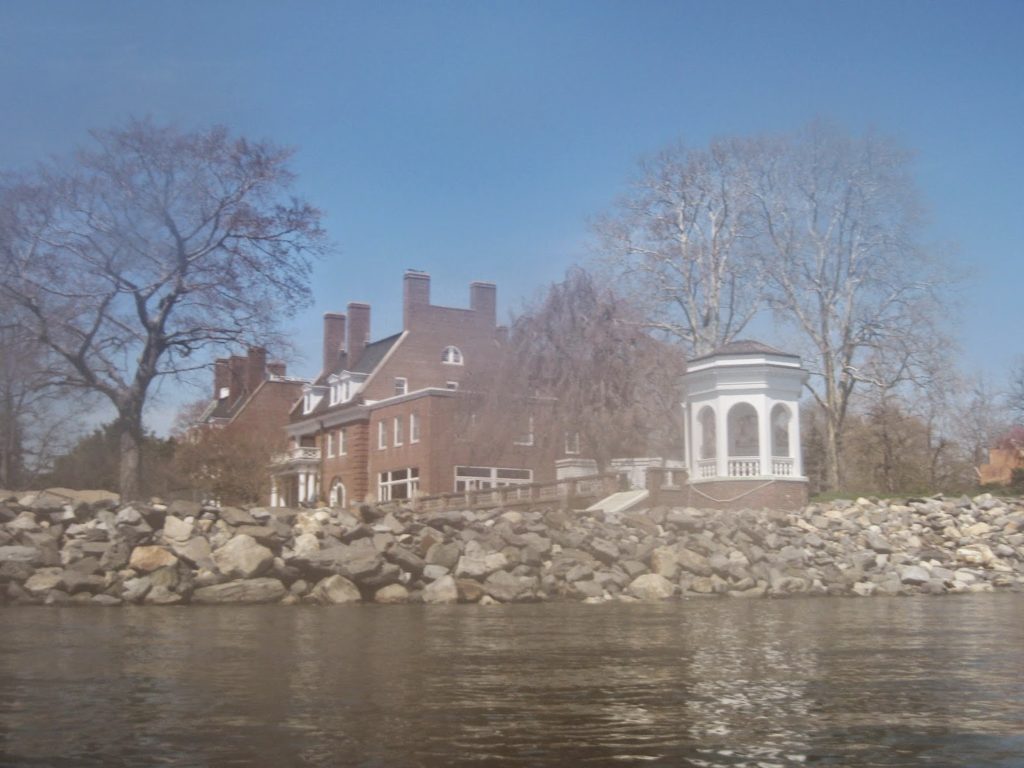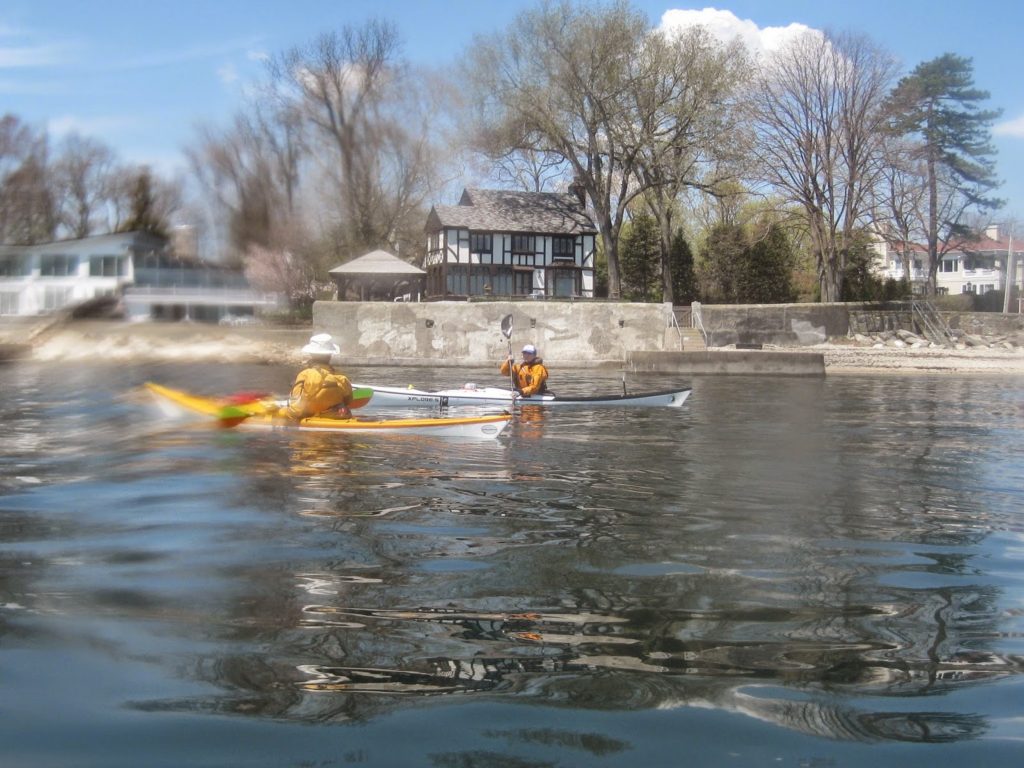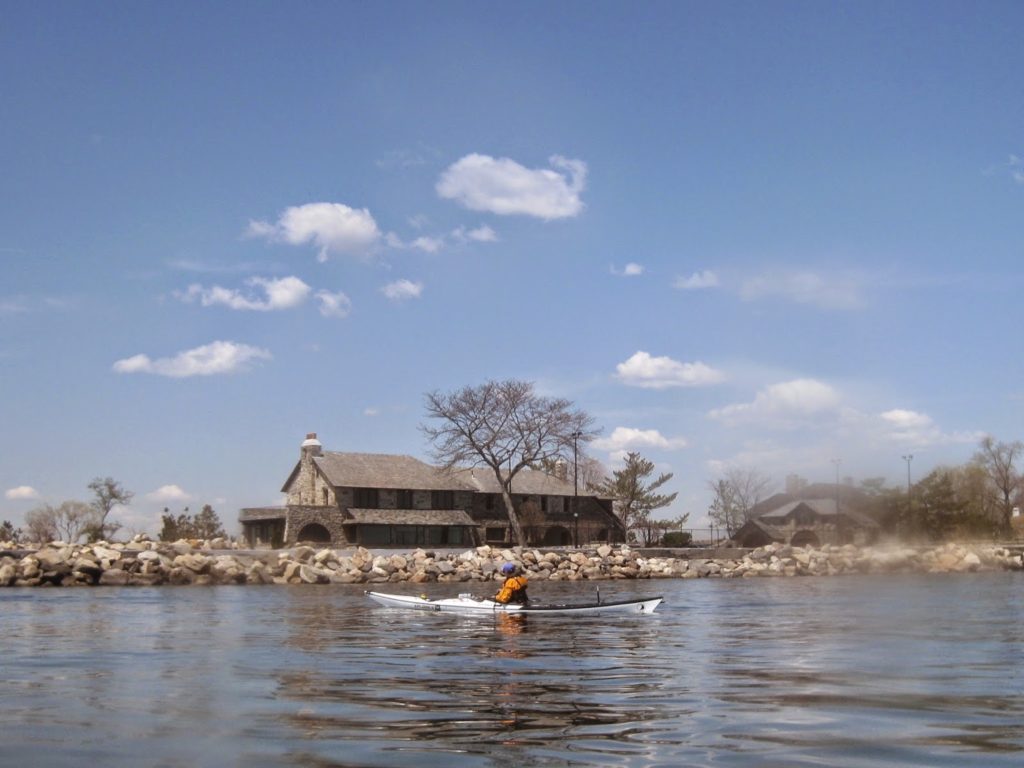 Eventually we approached Stamford, peeking in the harbor and passing to the interior of the eastern breakwater.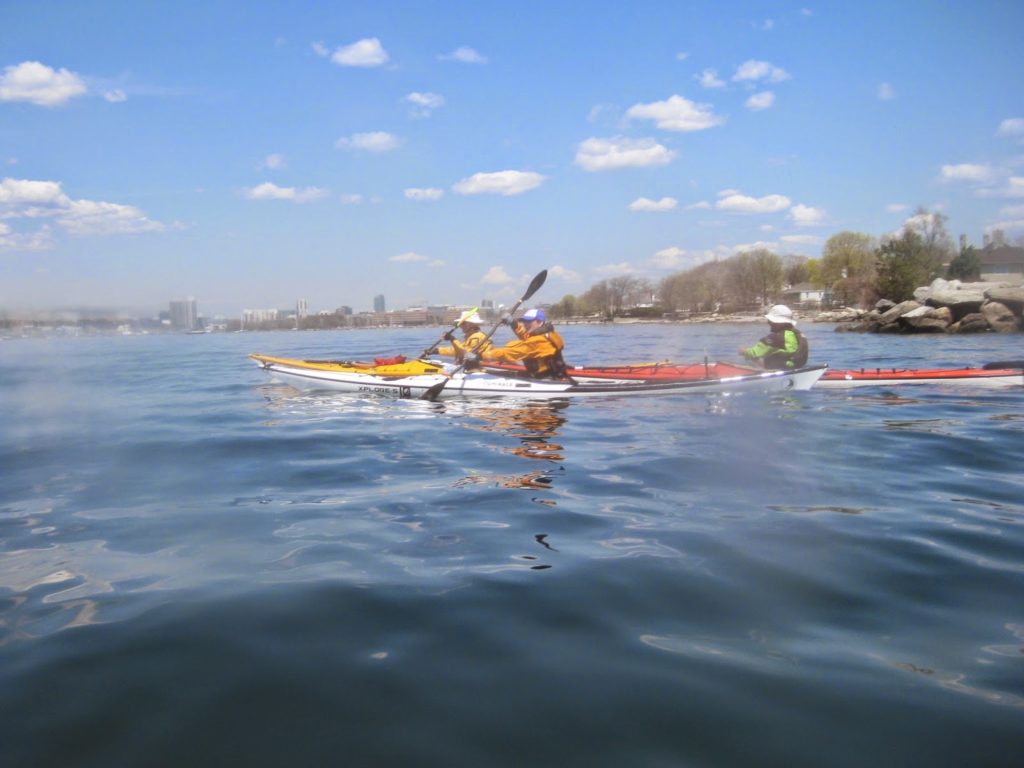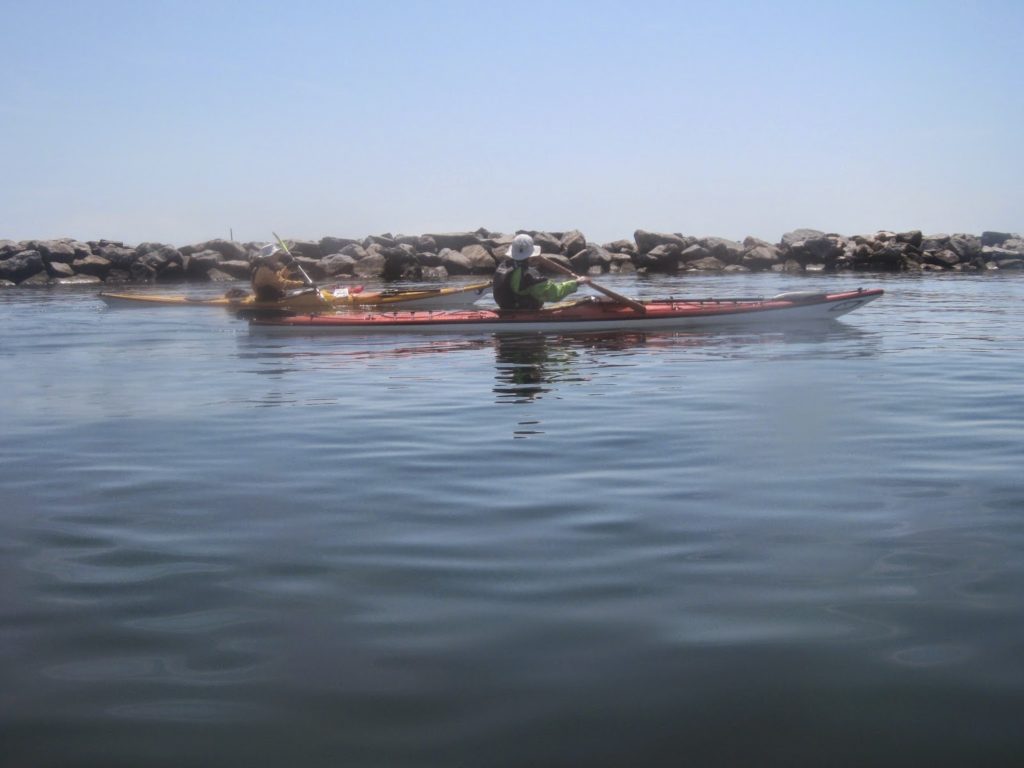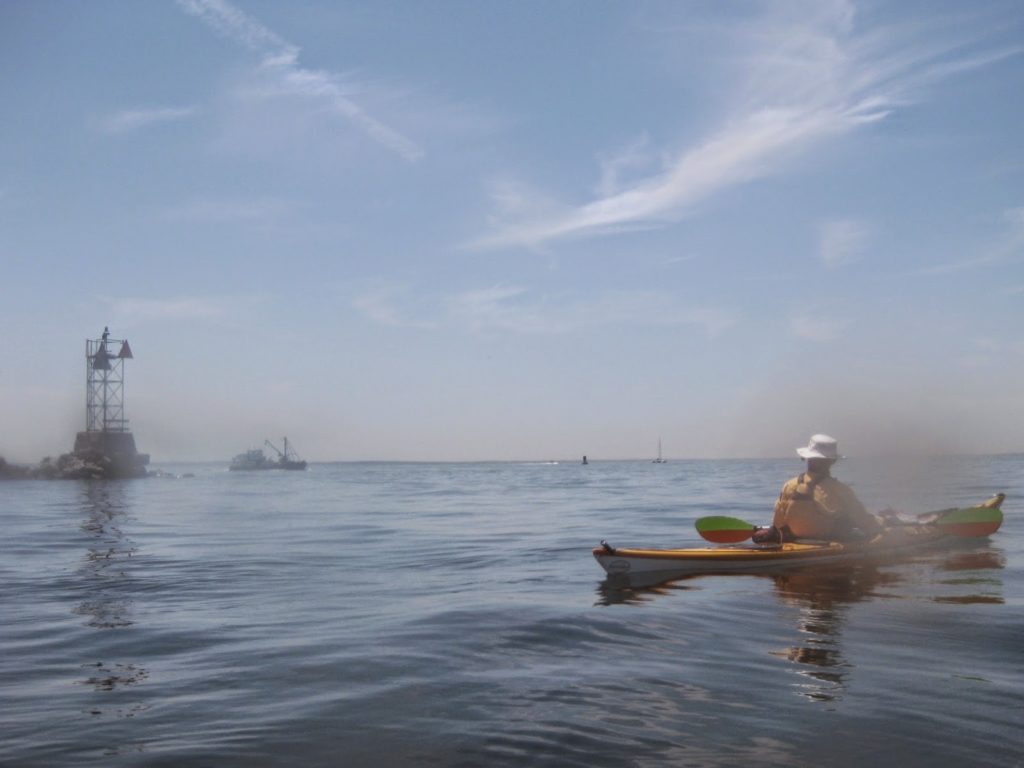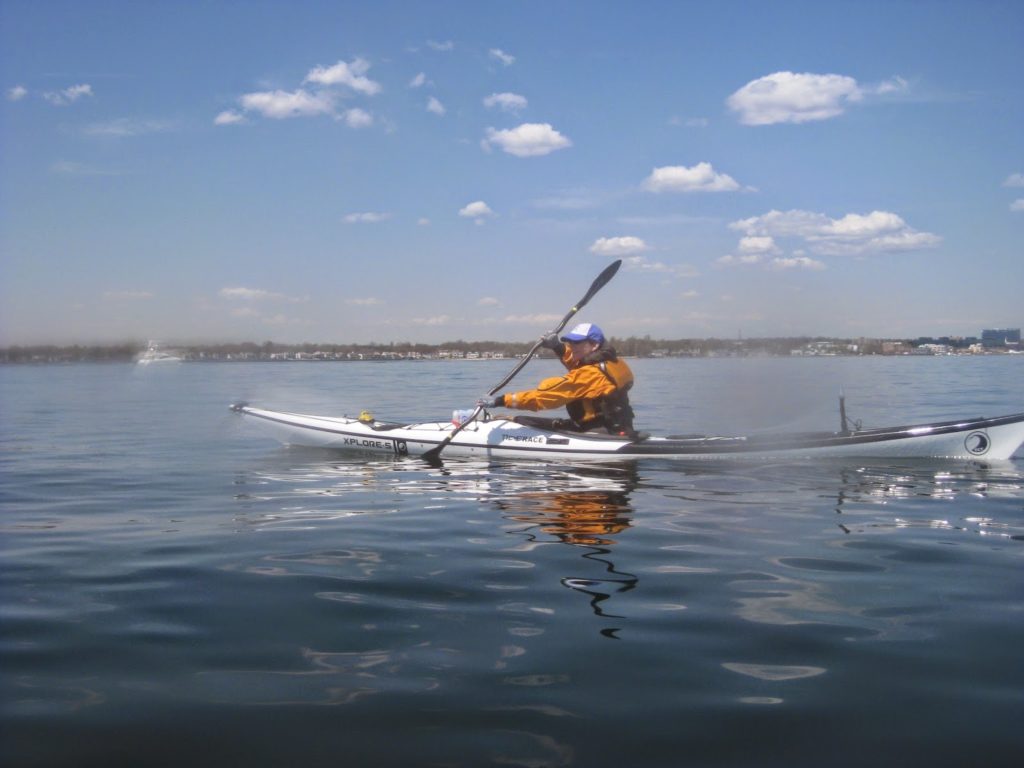 We spotted Osprey hatchlings high in this marker.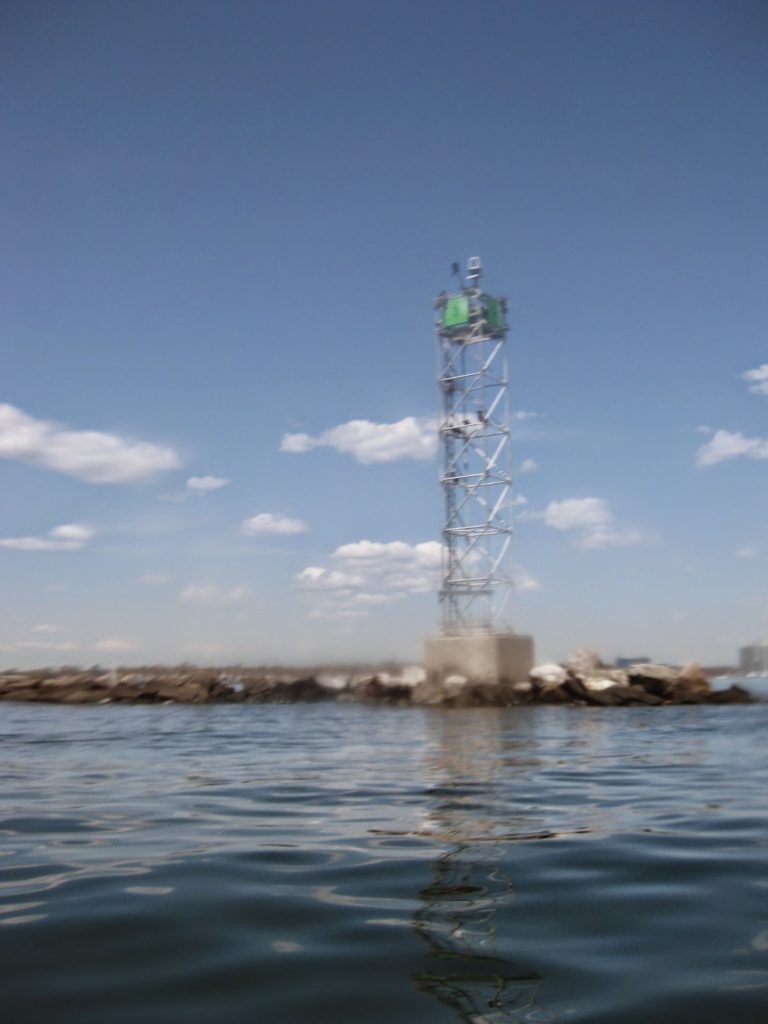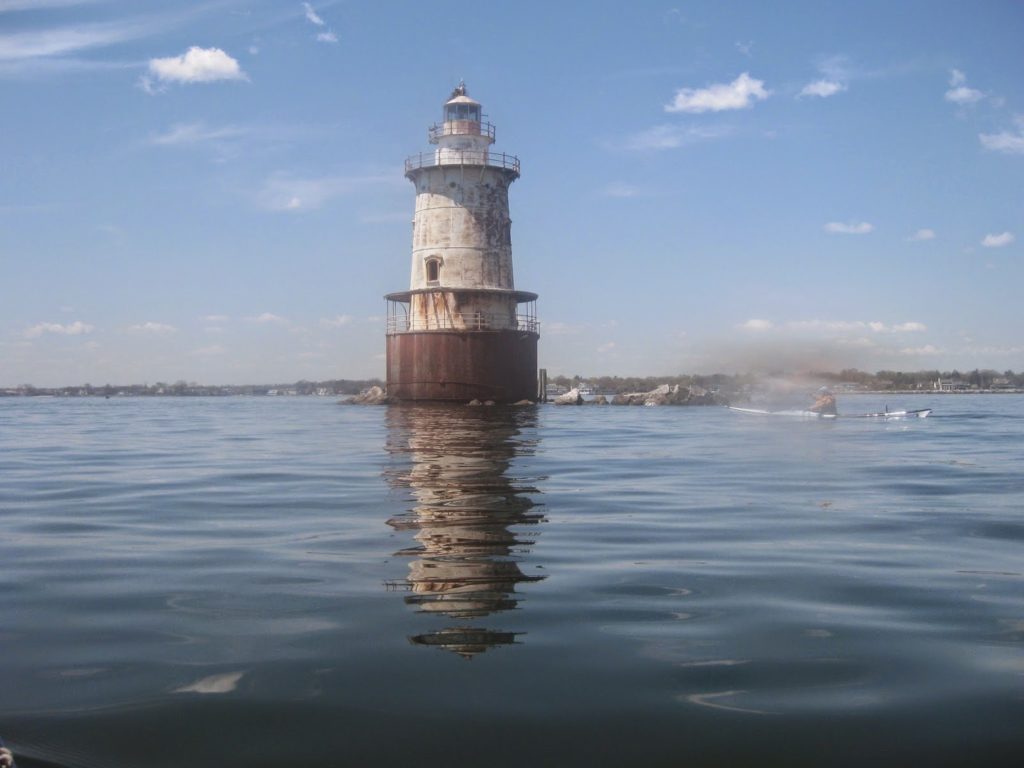 We paddled past Stamford and over to Greenwich Point, which is the southeastern point of Lloyd Neck. There's a wide wading beach there with facilities and concessions. Closed to kayakers except during the off-season, we pressed our luck and landed away from the crowds, making use of the facilities and taking a prolonged snack and water break.
I learned a new term on this trip: diaper streak. It's not something I see on the Hudson or the harbor, whether because boaters are better behaved or the water flushes more. Diaper streaks, the 2 Geeks informed us, are where vessels discharge their human waste into the sound, and it spreads out in a long, brown stripe on the surface of the water. They look as appealing as they sound, and they can be quite long and unavoidable. We saw quite a few – more than is typical, the 2 Geeks said. It was disgusting and we encourage all boaters to be cognizant of how to manage their waste properly.
Give a hoot, don't pollute.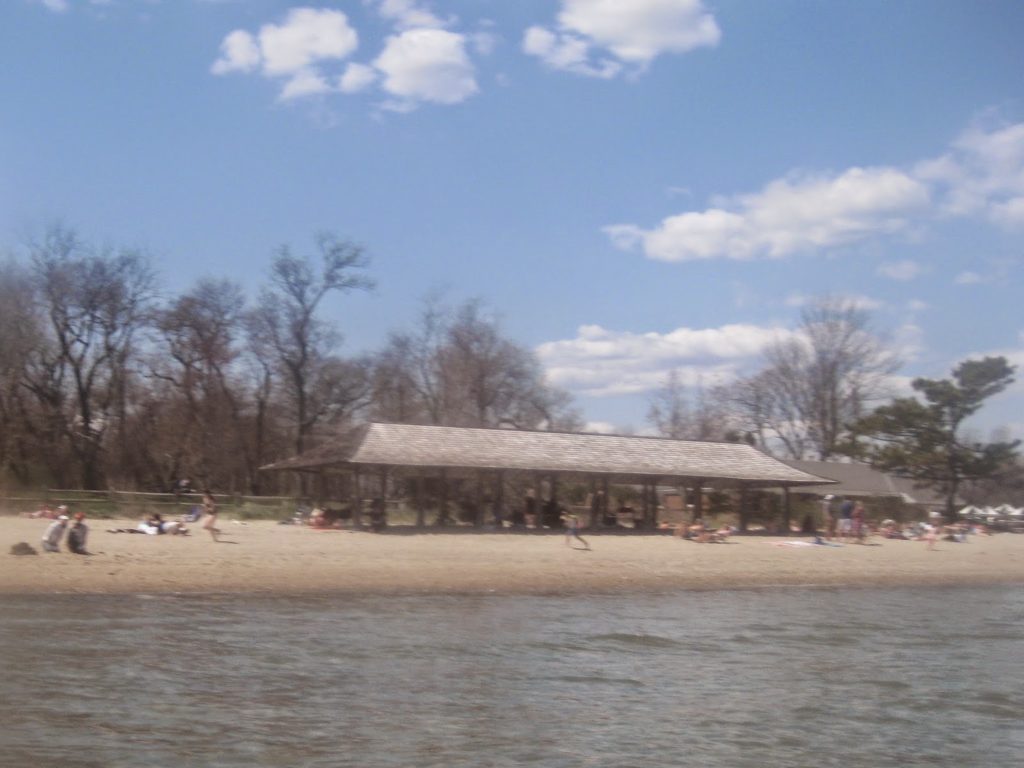 There were a few little kids who side-eyed our boats as they scooped sand near the surf with their parents. We saw a lot of people in swim clothes and bikinis, mostly just sunning themselves. They were quite a contrast to our drysuits and layers underneath! We got a few looks but nothing more than, "well there's something you don't see every day."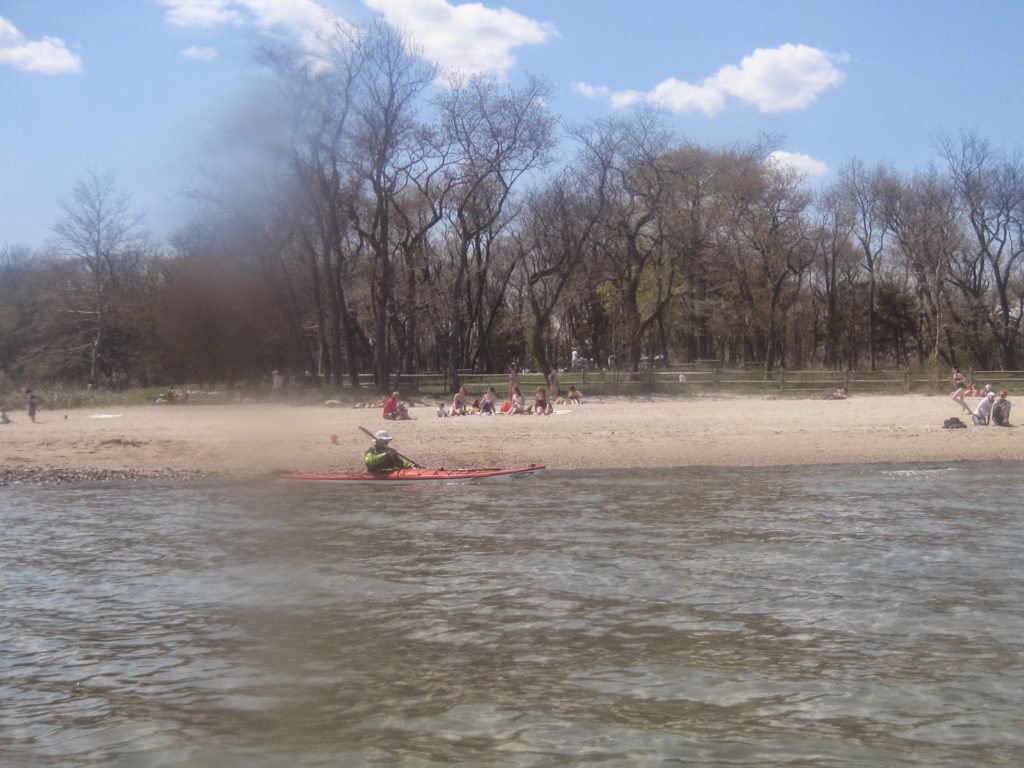 Once rested, we continued our voyage. In short order we were at the Captain Islands.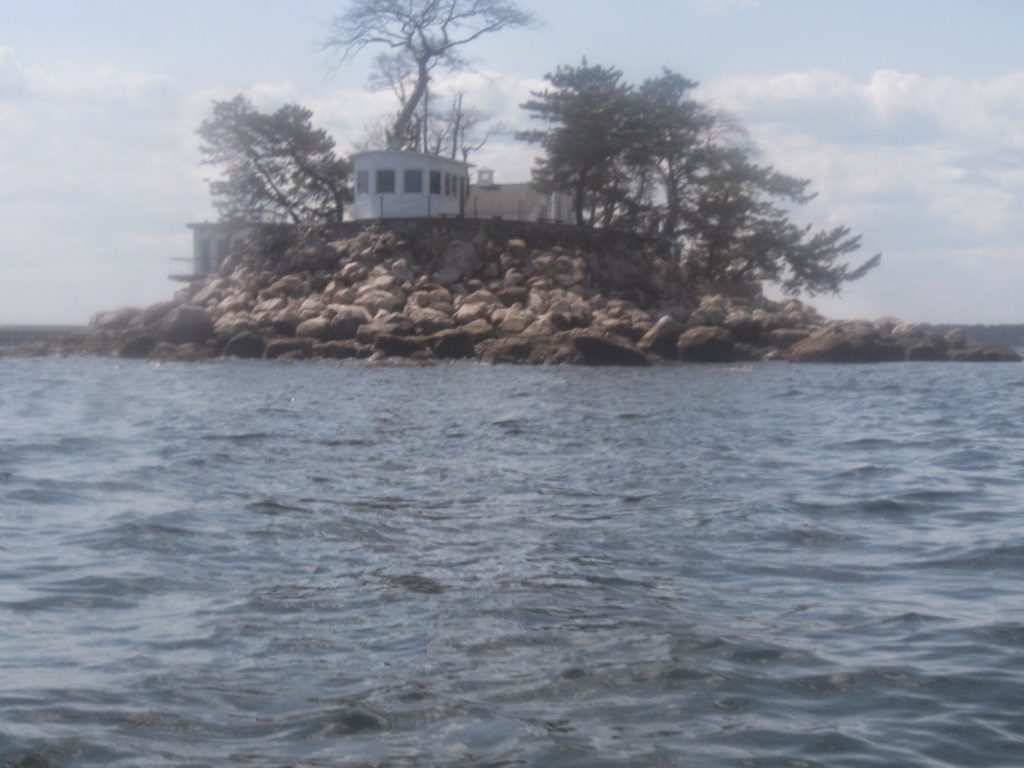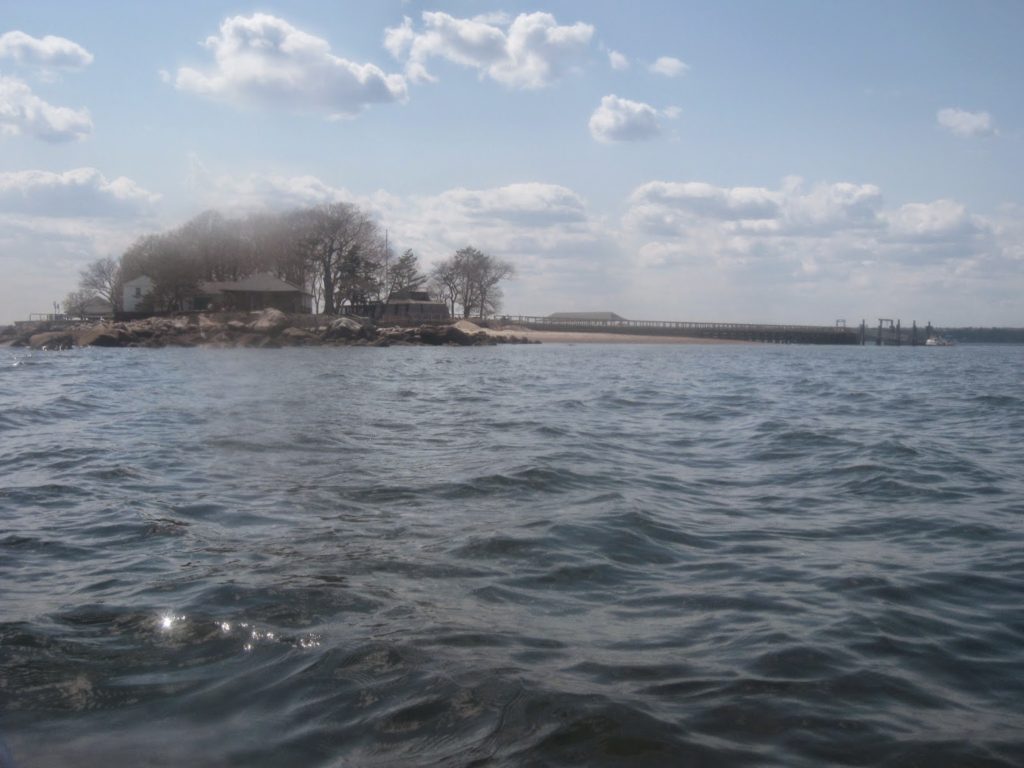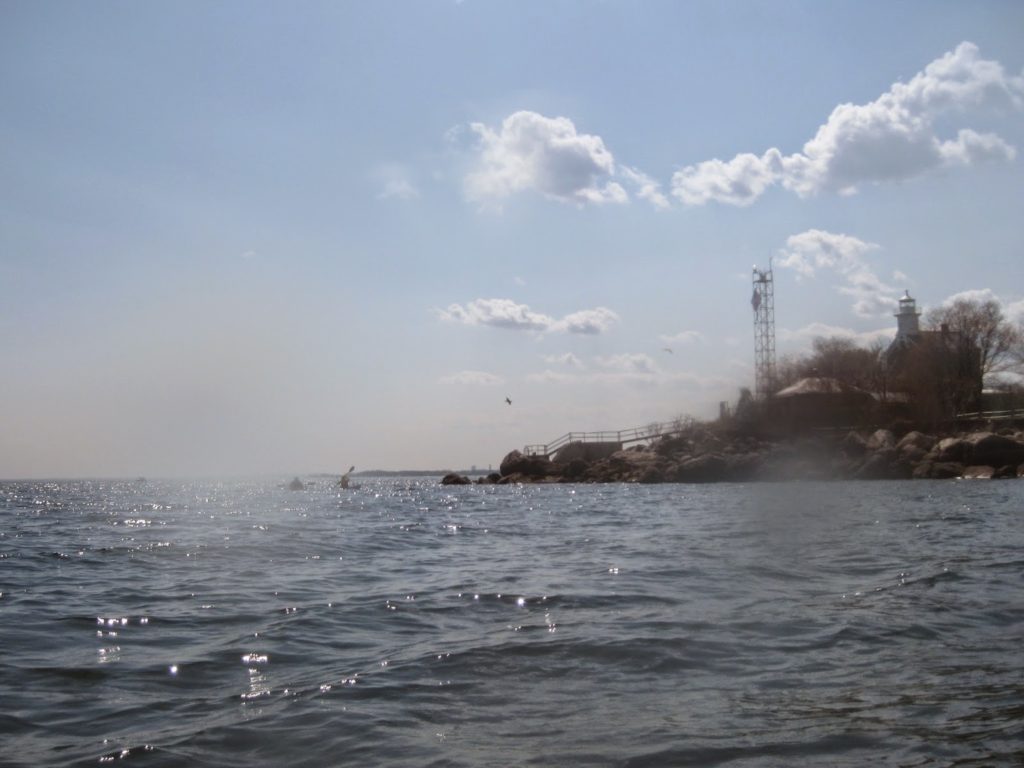 The Captain Islands were actually our first choice for a trip like this. They're far from our home base in Inwood, the northern tip of Manhattan, New York City, but can be reached in a good day's paddle. However, everyone we talked to indicated that 1) they're all private property except Great Captain and 2) the township of Greenwich is very strict about people landing on their shores, and there is no sanctioned camping at all. Having seen the landscape I don't think there is a way we could have avoided being seen.
The funny thing about the lighthouse at Great Captain is that the light atop the house is no longer in service. It's been replaced by the tower out front. It's purely decorative, functionally speaking.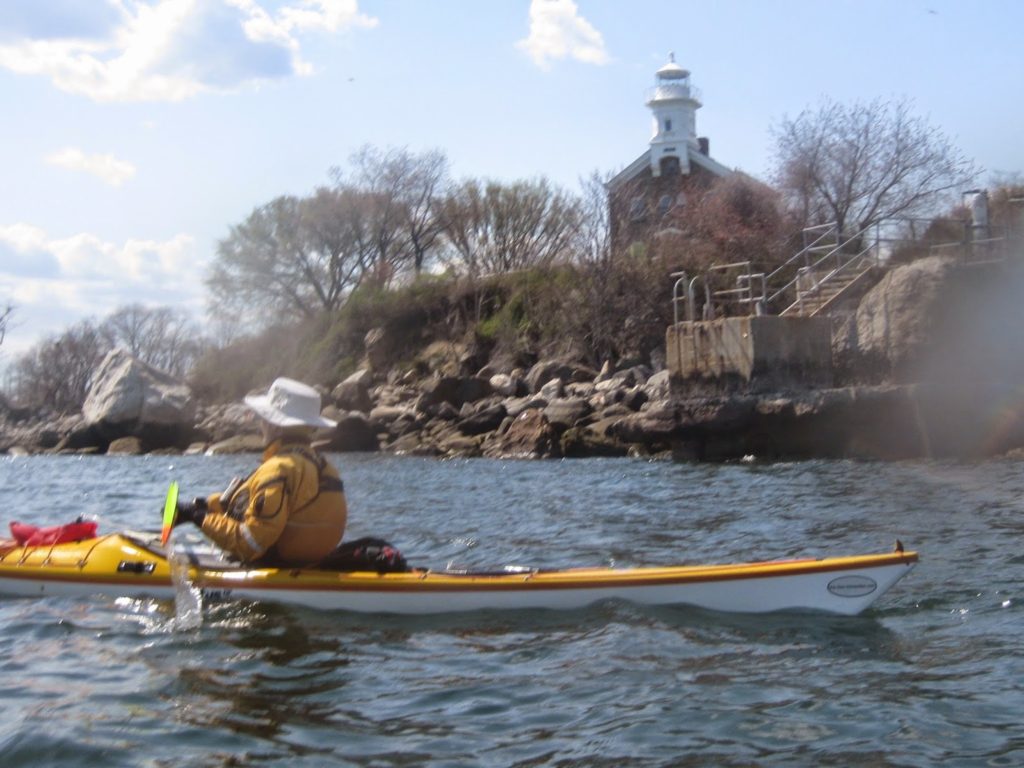 After this, the clouds started obscuring the sun intermittently, and our headwind started to pick up and gust a bit. We were close, but our pace slowed. The last few miles would be challenging, partly because we were growing tired but more because the conditions increased against us.
We gradually passed Rye, New York, where we could see parts of the Rye Playland amusement park. Then on a bit further to Peningo Point.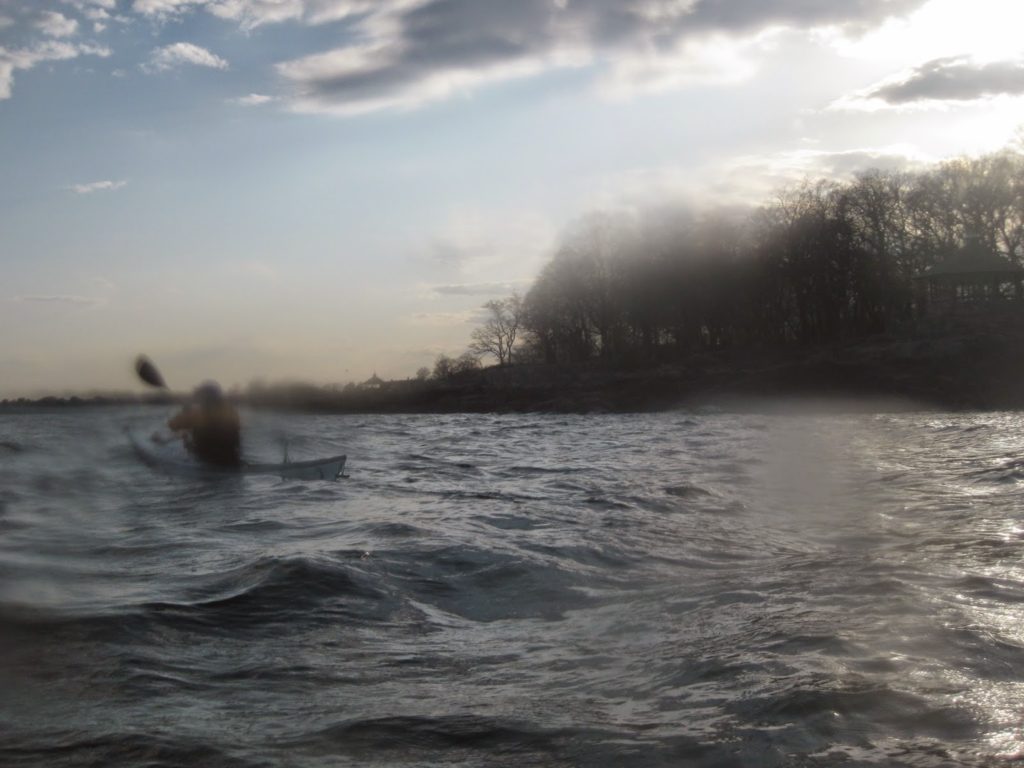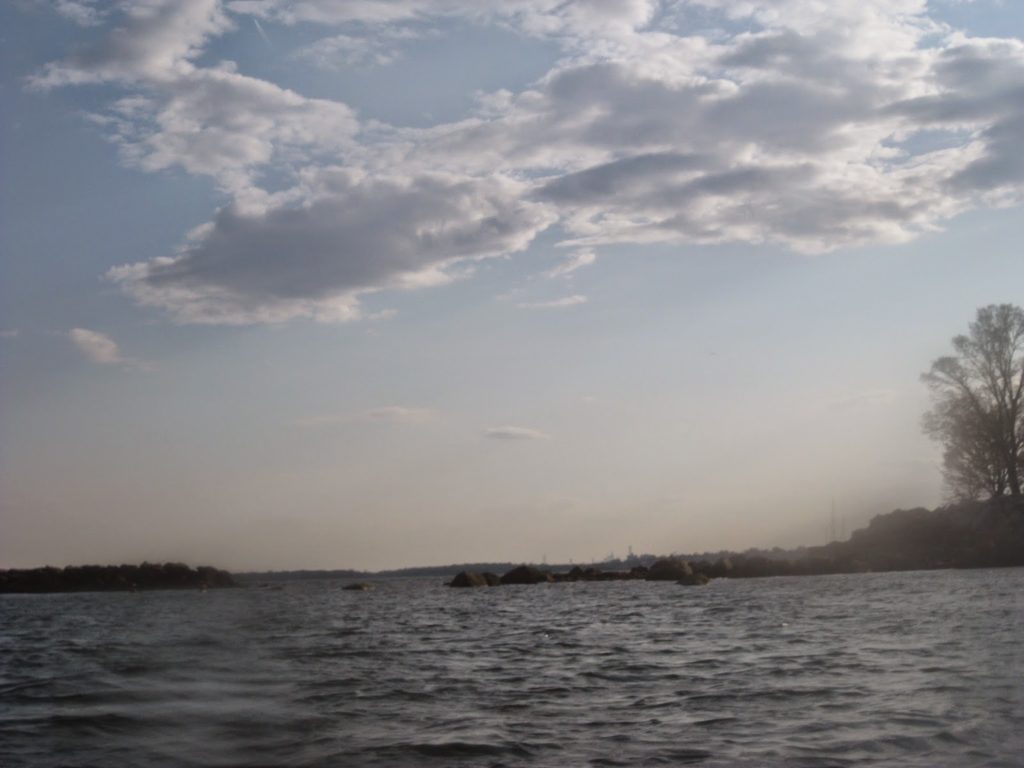 Off in the distance, we could start to make out the Manhattan skyline. What was really curious here, more easily seen later than when I took this picture, is that our angle had us seeing from left to right the Throgs Neck Bridge, Bronx-Whitestone Bridge, and then lower Manhattan. The bridges made sense because the Throgs Neck is the first one in from the sound. However they're lateral from the Upper East Side. Manhattan seemed very out of place!
The skies lightened up for a bit for the final push in. We were soon paddling through sailing marinas: the American Yacht Club and Milford Harbor, the Larchmont Yacht Club, and Larchmont Harbor.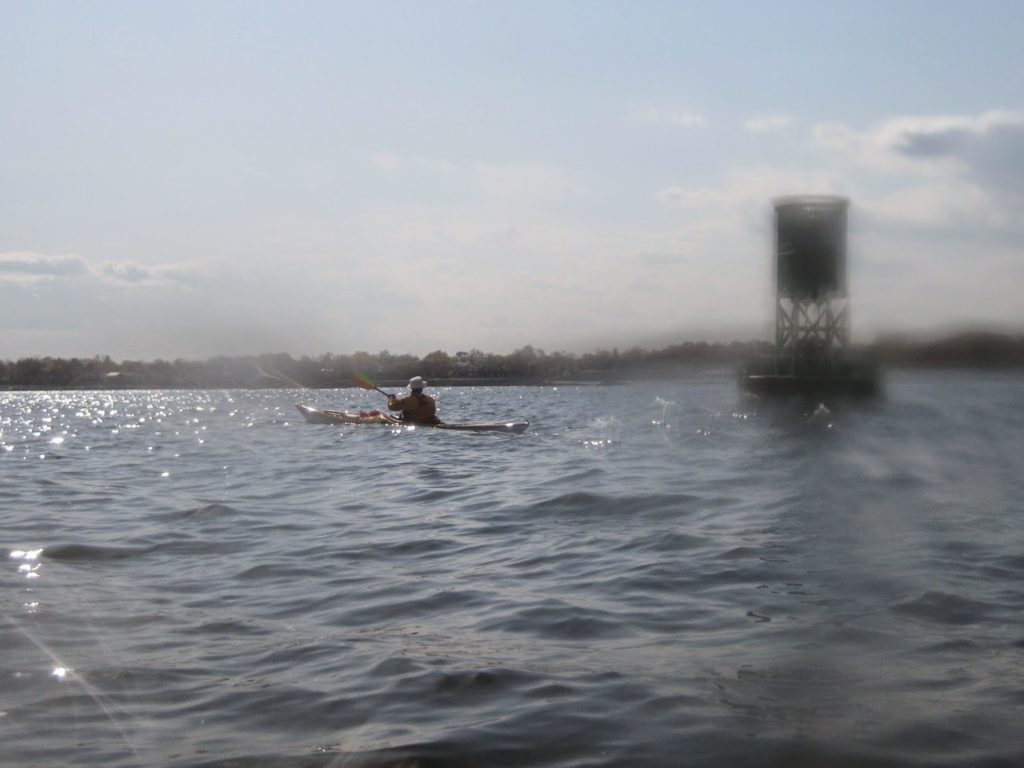 Eventually we arrived at our final destination: Horseshoe Harbor in Larchmont, a tiny little nook of sheltered water next to a sizable boathouse. We unloaded our boats first, and then took a group photo. A park surrounds the cove, so almost as soon as we began, a couple stopped and offered to take our photo, so we could all be in it.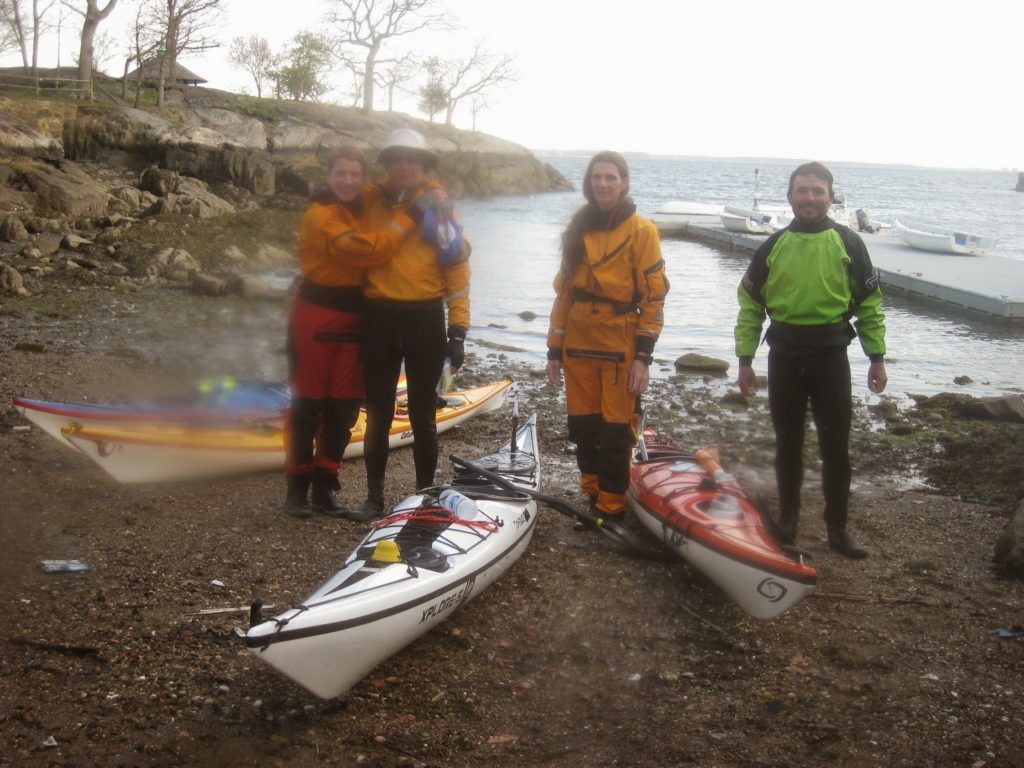 I have to say again that this was an amazing trip and I'm so happy it came together. All three of my paddling partners were great company, and as a bonus I saw one friend meet two others for the first time. The weather of the three days was as near perfect as could be for paddling and for camping. While the paddling legs were long, they were rewarding, and the island was very interesting.
It's the first expedition of the season. We're off to a good start!
Epilogue:
At the very end of our journey, once the boats were stowed and we'd all showered, and Kayak Dov was fetching the car for our ride back, the 2 Geeks and I found ourselves overwhelmed with choices in a restaurant:
6 oz steak (with mushrooms? onions? rare/medium rare/well done?)
8 oz steak (with mushrooms? onions? rare/medium rare/well done?)
11 oz steak (with mushrooms? onions? rare/medium rare/well done?)
chicken (grilled, smoked, barbecue)
Half a dozen kinds of beer and half a dozen house coctails.
Choice of two sides.
Camping, and at sea, your choices are very simple:
 do you eat the food you brought now or later?
 do you stop for water now, or later?
 do you paddle out of your way and out of the wind, or stay on course and fight the wind?
Life at sea, and camping, is very simple. We recognize that we are privileged to be able to live so humbly as a choice, and not a permanent state of affairs, unlike so many in the world who are permanently without a home.
"Getting away from it all" here meant the countless decisions, checklists, and short personal transactions that make up our daily lives. It does put in perspective the wealth of choices those of us in the modern first world have. When our only major choices are where to build shelter, when to eat, and how to deal with the weather, coming back to "civilization" and its myriad  options for each of these is a bit jarring.
That said, I'm not complaining. I'll take a hot shower after a long paddle every day if I can.