For Fire Island to Sandy Hook . . .Winds 18 to 20 miles per hour from the South-Southwest, gusting to 30. A small craft advisory will be in effect from Eleven AM till late this evening.
I was listening to the synoptic on Easter Sunday, undecided if I wanted good news or bad news. It was a beautiful day, predicted to get cloudy and windy in the afternoon.
My plan was to paddle out to the Brothers, a pair of small islands just north of Hell Gate, west of Rikers Island and northeast of Randalls Island.
What I figured was, the hardest parts would be the transit from the Bronx Kill to the Brothers and back, and the last mile or so on the Harlem and Hudson. The westerly winds we get here have a lot of fetch on the Hudson, and at the entrance to the Harlem the heights on both sides form a giant wind tunnel reaching back to the Broadway Bridge.
I dressed for warmth – and second-guessed myself the first hour or so as I paddled in light wind and brilliant sunshine. I debated stopping and taking off my wool sweater, but the winds started to pick up and with the breeze, I was no longer heating up.
Paddling down the Harlem was uneventful. An NYPD boat passed me twice, once up and once down, and a Classic Harbor and later a Circle Line boat passed by. I radioed the Circle Line – our courses were such that right after we saw each other, a bridge tower obscured us from each other's vision and I could tell he slowed down to avoid me. I let him know I was well out of the way.
These early spring paddles are always tough. For one thing. I haven't been out this long, at such a steady pace, in months, and the conditions are relatively rough. Spring roars in on the back of stiff breezes, and the water is still cold enough that you don't want to spend any time in it.
In time, I came to the NYPD marina at Randalls Island, took a left into the Bronx Kill, and made some observations.
First of all, at Battery High +2 hours, the current in the kill was flowing west – that is, against me. Not super strong, but useful to know for future trip planning. I took some photos but they did not come out well. There's a little baby overfall that indicates quite clearly the direction of flow. It was not in my favor.
I paddled against it until I was through the kill. I love this view: The upper East River opens up in a way completely different than the Manhattan waters short of the harbor. Once nosed out to the edge of the channel, you can see the towers of Manhattan, factories in the Bronx, offices in Queens, the Bronx-Whitestone Bridge and Laguardia Airport, all at once. If you wanted to paint a picture of a city, this would be everything.
The Brother Islands are storied in New York City History. Both are now bird sanctuaries controlled by NYC Parks, and landing at either is forbidden. I've paddled this way before, in a group and in warmer times, when I was less experienced. It's a fun trip.
I paddled out towards the channel between the Brothers, and once over, took a peek at South Brother. This is the "lesser" of the two, smaller and never used as much by humans – a former owner of the Yankees built a summer home there over a century ago, but it burned down. Decades later, some other industrialist bought it but never made much of it, and it came under NYC control nearly a decade ago.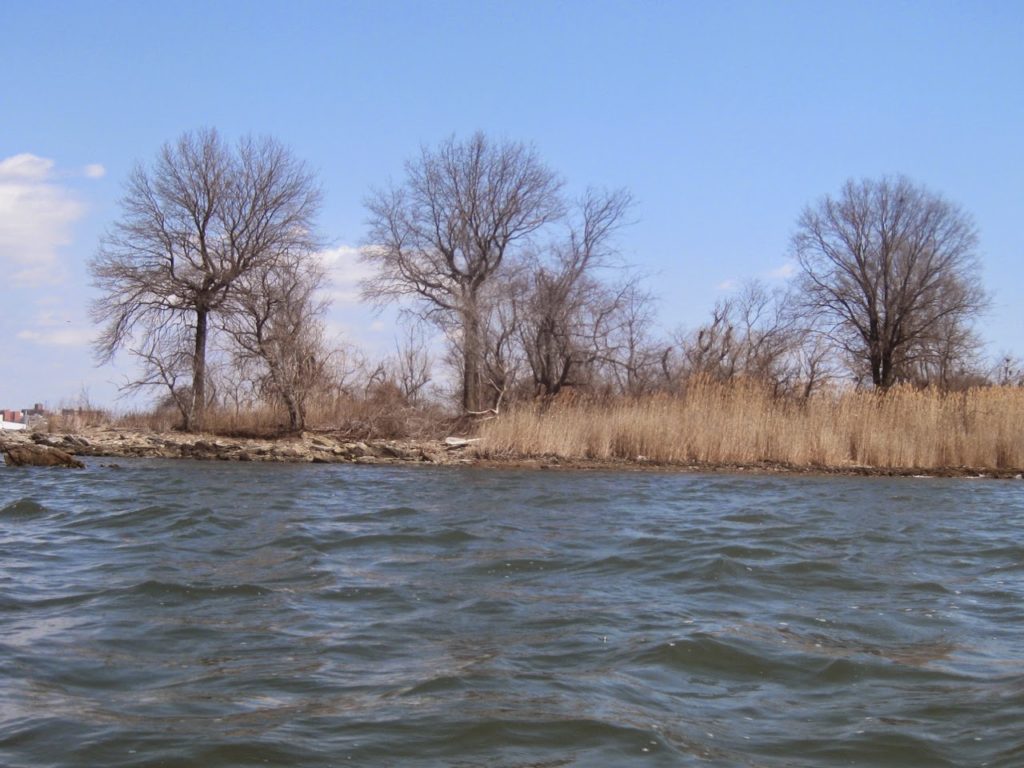 I always paddle past South Brother Island but never really take time to look at it. It's only a few acres, not much more than the plot of land my grandparents retired on in the country. It's more bucolic – a couple of big spindly trees, some marsh, a pebbly beach. I saw some gulls perched on rocks, getting ready to launch much as the planes at Laguardia were: facing into the wind.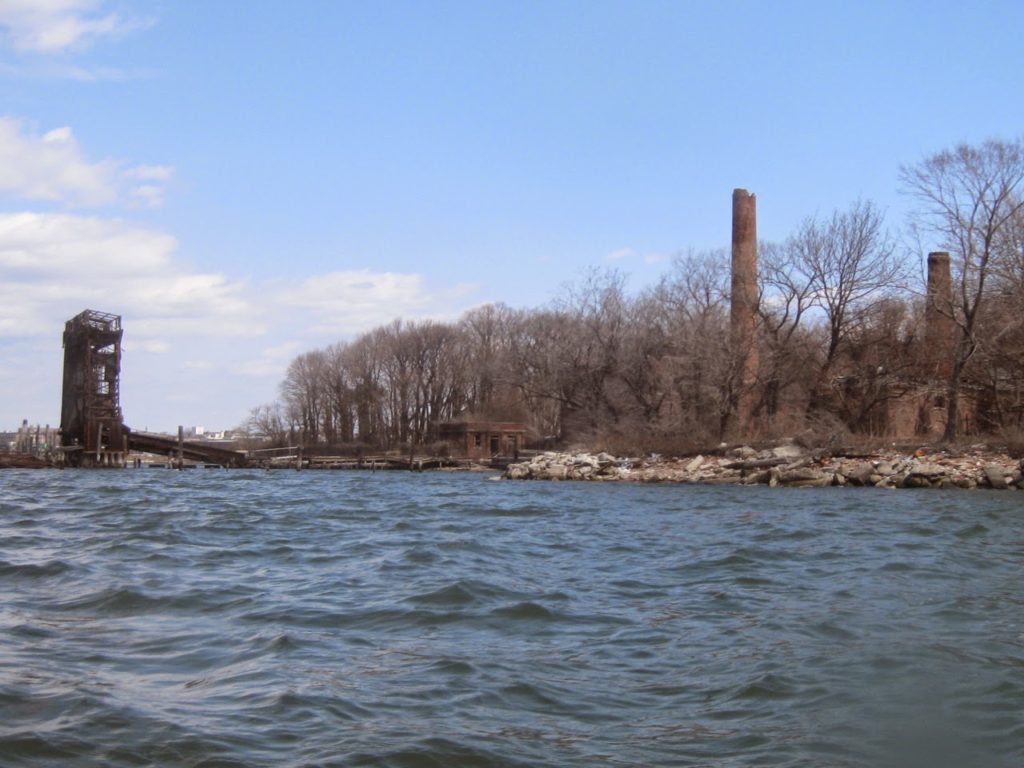 I started paddling over to North Brother. North Brother Island is, in my opinion, the New York island with the most tragic history. In the late nineteenth and early twentieth centuries it served as a quarantine hospital, ad in fact is where Typhoid Mary was taken, not once but twice, the second time after she violated the conditions of her release. She was kept there until she died. North Brother is also where the General Slocum ran aground, the most deadly civilian maritime disaster until the Titanic sank just a few years later – hundreds of passengers, mostly women and children, drowned or were consumed by flames and smoke as the Slocum, on fire, barreled through Hell Gate full of immigrants out for a picnic. It's said the disaster on the Slocum so devastated the German-American community that many relocated from the Lower East Side to the Upper East Side, which kinda explains a decent German BierHalle in the area.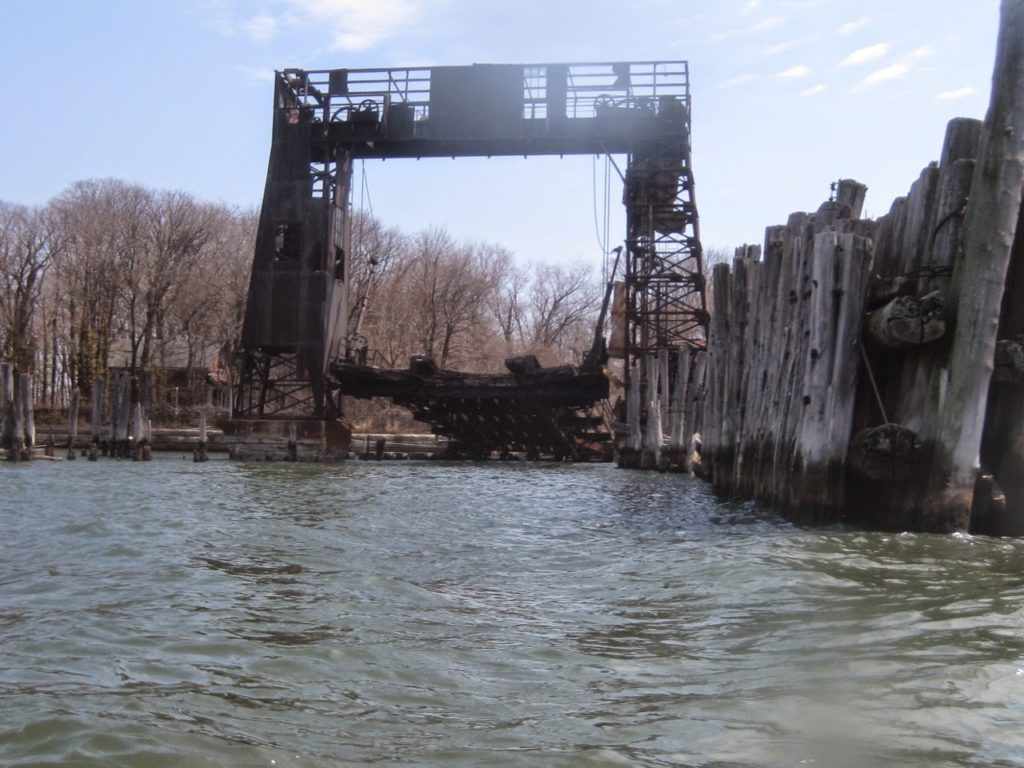 North Brother had extensive plant facilities: power, water, electric. They even had their own crematorium. By the 1960s, the facility was used to dry out and treat indigent drug addicts, and eventually the facility was shut down, probably due to the massive near-bankruptcy the city experienced in the early 1970s.
As I paddled, I noticed an NYPD boat slowing and tailing me. There was no attempt to hail, and even after I pointed at my radio and tried calling, there was not response. I paddled over. Turns out they only listened to channel 17, not 16 as the Coast Guard do, or 13, which is what I rely on to for bridge-to-bridge.
I told them my plans and they advised me not to land. Landing was not in my plans. I was just paddling around the island taking photos. I continued on, working my way clockwise.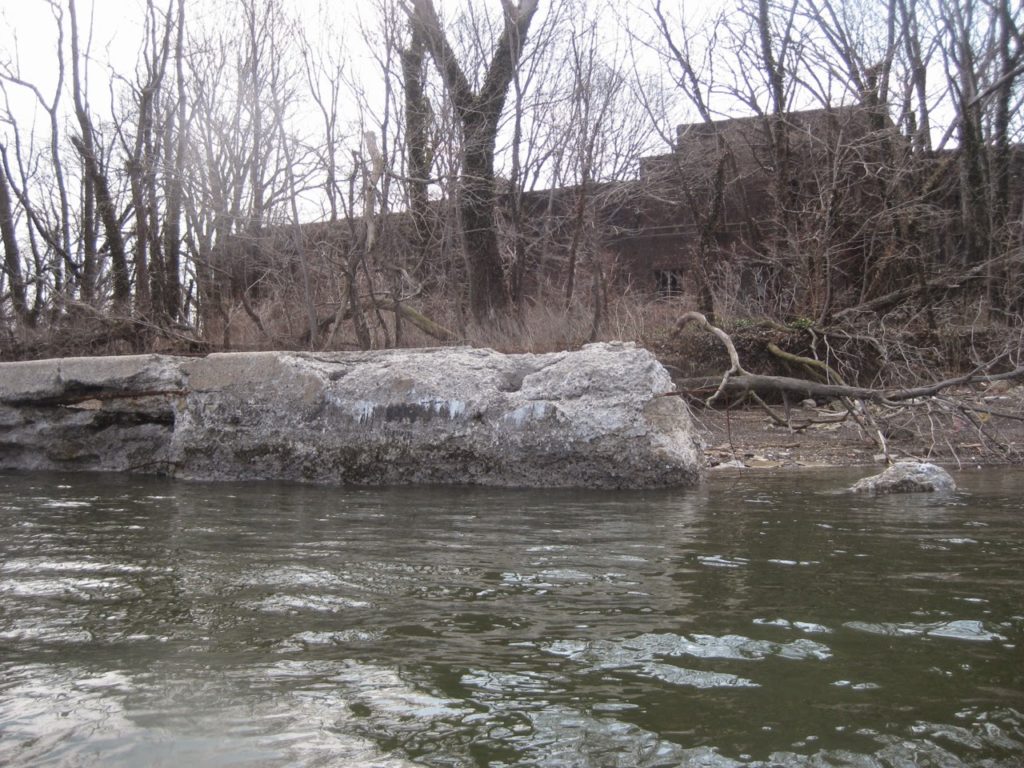 I was in a bit of a hurry though. I was getting hungry and wanted to land for lunch, and also, was running a bit behind schedule. I was worried about missing the tide, and also aware that the longer I was out, the more likely I'd run into bad weather.
My original plan was to paddle down to Little Hell Gate park, where there is a nice area to get out and eat, but that would have taken me a mile out of my way roundtrip, against current. I considered going through Hell Gate but decided not on my own, with the gusts expected.
This was wise, because crossing the half mile or so back from the Brothers into the Kill was pretty challenging. I took a transit based on buildings in the background, but was quickly blown off a couple hundred yards by wind abeam. I figured I'd just cross the channel – a shipping channel mind you – and make up the distance once across, and that plan mostly worked, but it was a lot of distance to make up, against a steady headwind that gusted into something stiff from time to time.
I figured I'd find a place for lunch in the kill. I did, but after one clumsy bit of exploration. The first rock I tried to climb out on turned out to not be entirely fastened to the earth, and I ker-plunked right into the water. I stood up, straddled my boat, and got back in, then looked for a better spot, eventually deciding on a sandy patch on the north edge of the kill, just before exiting into the Harlem.
The Harlem was like an express ride, lots of current in my favor. This was good, because even after resting for lunch, I was still pretty tuckered from that crossing. Also in my favor was that those gusts were now tail winds, and until I reached the first major bend in the river, I felt myself blown along a couple of times. So I paddled easy, and pretty soon found myself nearing Peter Sharp Boathouse and the final bend in the river.
Here was the final challenge, part one. What I figured would be the hardest part was certainly borne out. From about the Broadway Bridge, it's almost a straight shot to the Hudson, which means for any westerly wind, there's a barrel of air blasting at you. I've seen the water pebble before, though it wasn't this time, so I can say I've seen worse. I had the current with me and that helped, but it was still a slow and steady pace until I reached the railroad bridge – at which point I really had to crank it to get past the wind on current waves driving in from the Hudson.
Then came part two of this final challenge. Now on the Hudson, I had no protection from these southwesterly winds coming abeam and sometimes quartering angles. I have no shame in admitting I used my skeg, and kept away from the shore as best I could with the wind pushing me towards it. I've paddled in worse but this is in my top five, maybe top ten challenging conditions. It wasn't dangerous, it was just hard: keep paddling, fight the wind, just another mile, and we're home.
And, bam, I was back at the boathouse. Exhausted for sure, but after a little break, I unpacked my boat and cleaned up.
Most of my layers were wet with sweat. I'd eaten all my vittles and finished my hot tea to warm up. As soon as I finished putting things away, the wind seemed to relax just a little and the clouds started to wander off, and I could see sun soaring over the west.
It was a beautiful day after all. It was just one I had to really work for.