In case you didn't know it, I live in New York City, Manhattan specifically, where (so far) the most cases and deaths of Covid-19 have taken place in the US. For about six weeks I've kept inside, venturing out only minimally, as the daily death rate approached eight hundred; it's now down to under three hundred.
I keep two of my boats in a club boathouse about a mile north of where I live. While a few club members have gone out since the "New York on Pause" order, it's been minimal in part because until recently the water was still cold enough to warrant a drysuit. Additionally, most other clubs have not been able to paddle, based on rules by their local towns or parks agencies.
The result is that while some friends have gotten out, I haven't, even though right around the corner from where I live there is a great view of the Hudson river, and a fifteen minute walk brings me to the waterfront. That is, until yesterday, when I finally got out in open water in one of my kayaks, for the first time in months.
I walked to the boathouse. This was difficult, as well on the way back, because my bag with all my gear was heavy, and exertion-level breathing through a mask is difficult. It was a warm day as well, air temps in the high 60s F, so by the time I got to the boathouse, I felt like I'd had more than a little aerobic activity already.
There was one person there. The club's adopted a set of rules that basically amount to "no loitering" at the boathouse, and that members put out a note online when they're headed there, to avoid crowding. I put down my bag and pulled down my boat, and after kitting out, went out on the water.
I'd had a couple of ideas for a paddle earlier in the week. One was to go on a long paddle somewhere. Tidally, heading south would have made sense, and I thought to take some pictures of the USNS Comfort before she left – but apparently she set sail the day before. I decided that since it had been a while since I paddled, a short trip in familiar areas would be best, so I went south towards the "Great Gray Bridge".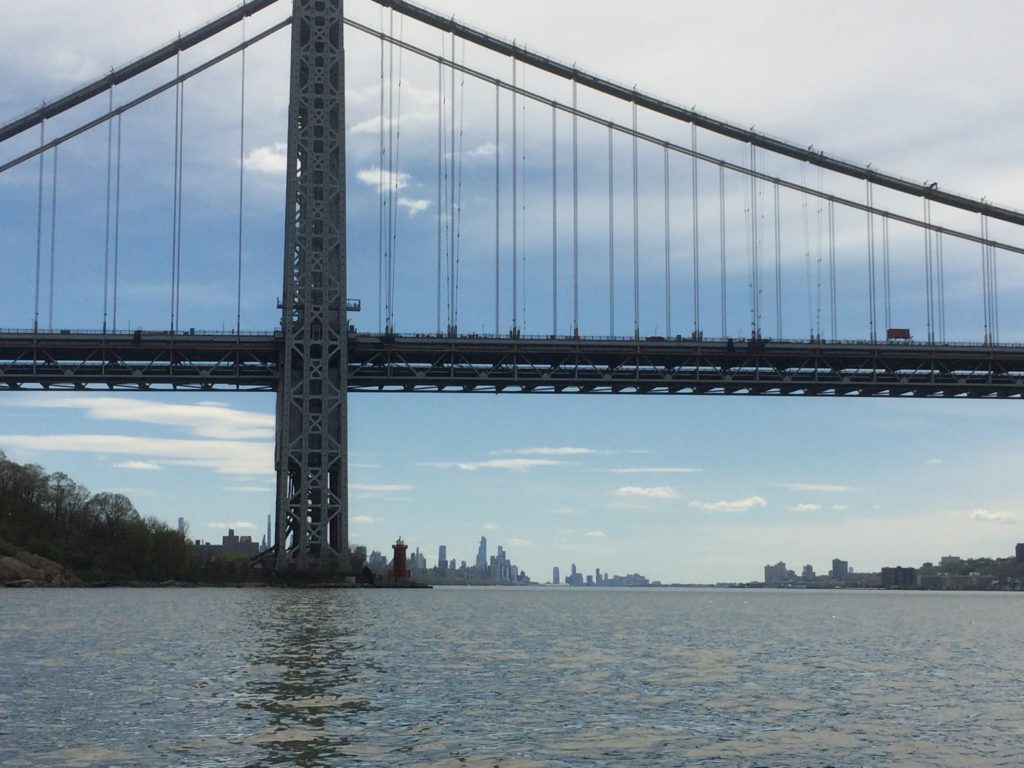 I was hoping to catch an interesting feature that forms as the flood cycle starts, but I was a bit early, so I paddled across the river, to a large park called Ross Dock. It's essentially a large square of land sticking out on the water below the Palisades, and is part of the Palisades Park system.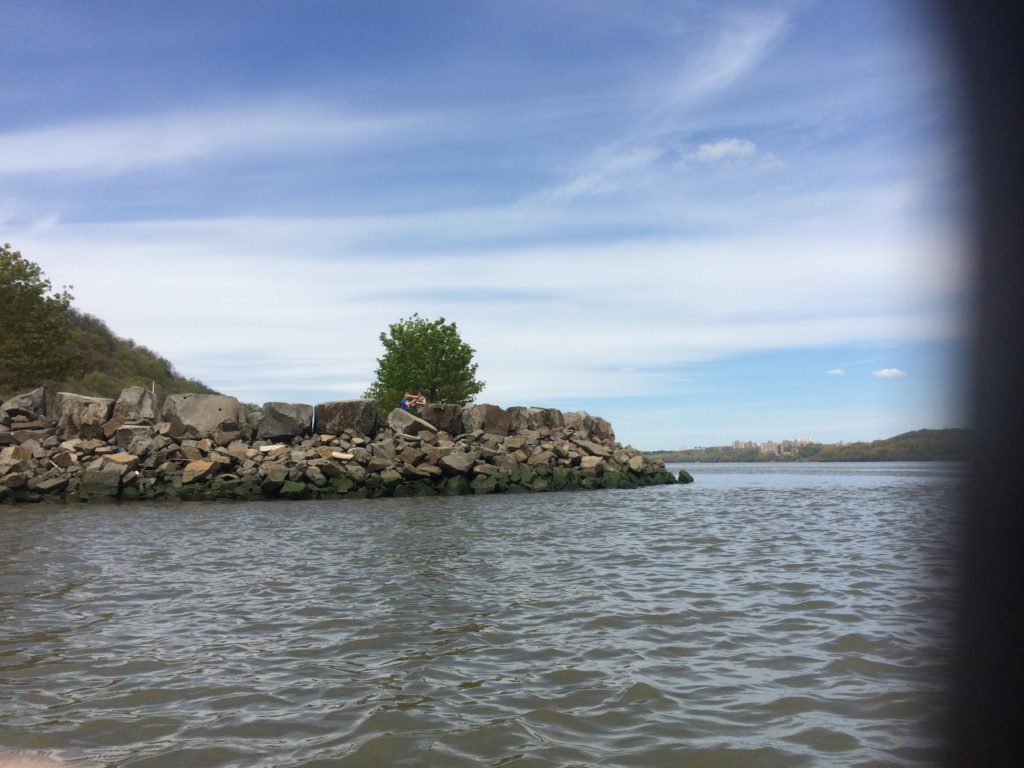 I lingered in the area. It's one I overlook in normal times, and between the human activity in the park and the natural lighting of a beautiful day, there was a lot to take in.
The local geese seem to have gotten more comfortable with close distances.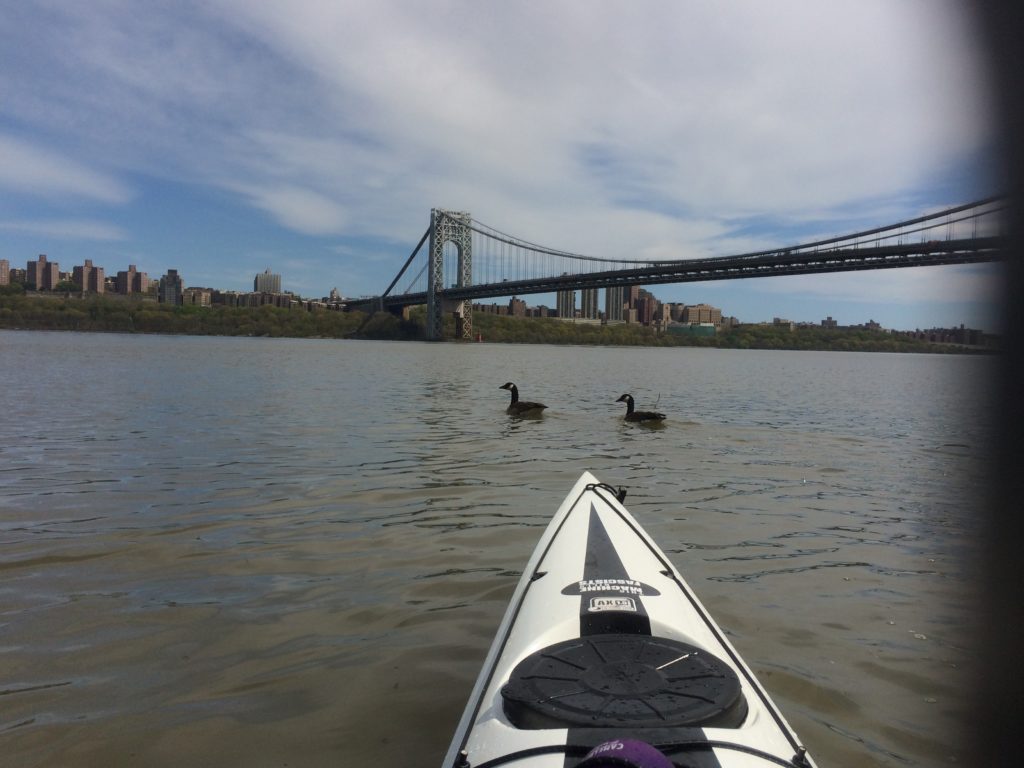 I also found new photogenic views of the City of New York.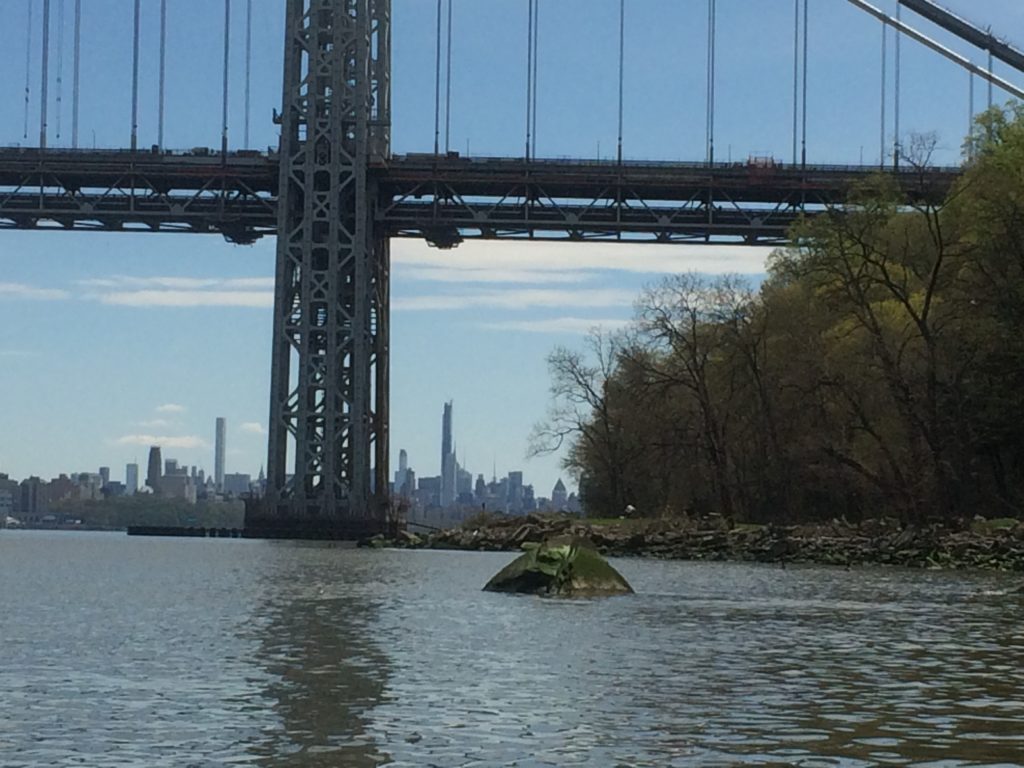 There is a small tidal beach in the northwest corner or Ross Dock. Here I saw that there is a decent one in the southwest corner as well. It's not clear how accessible it is from the path, or how much beach might be left at a higher tide.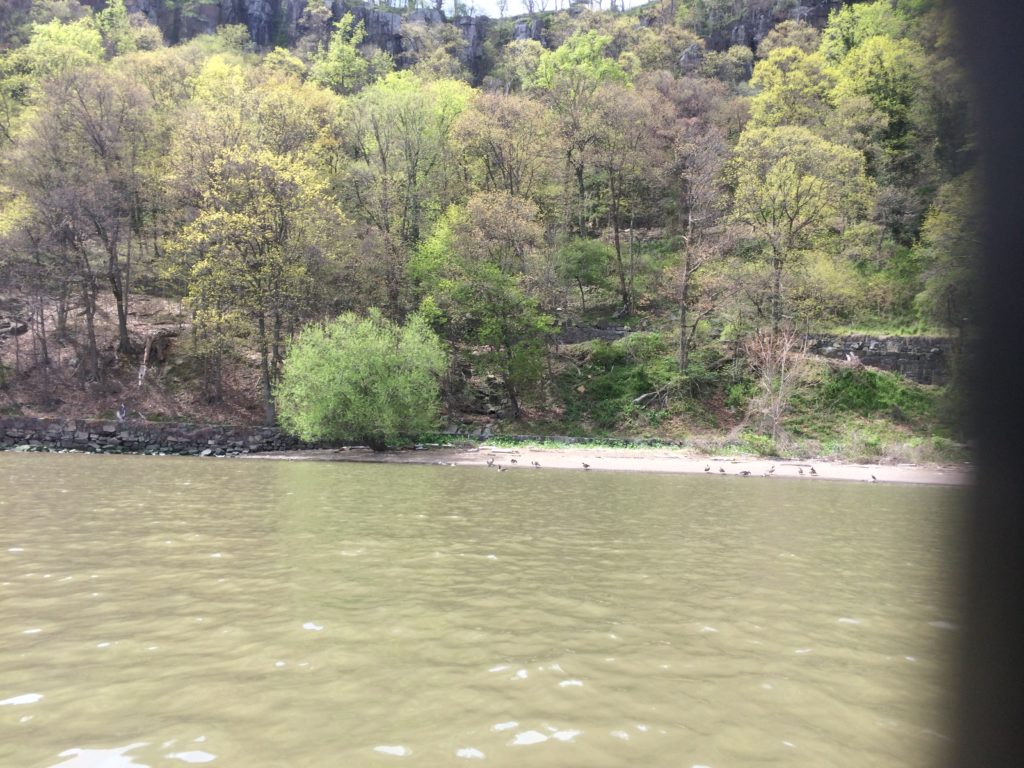 Looking across the water, I could make out my home. No, it's not in the fancy matching buildings to the left.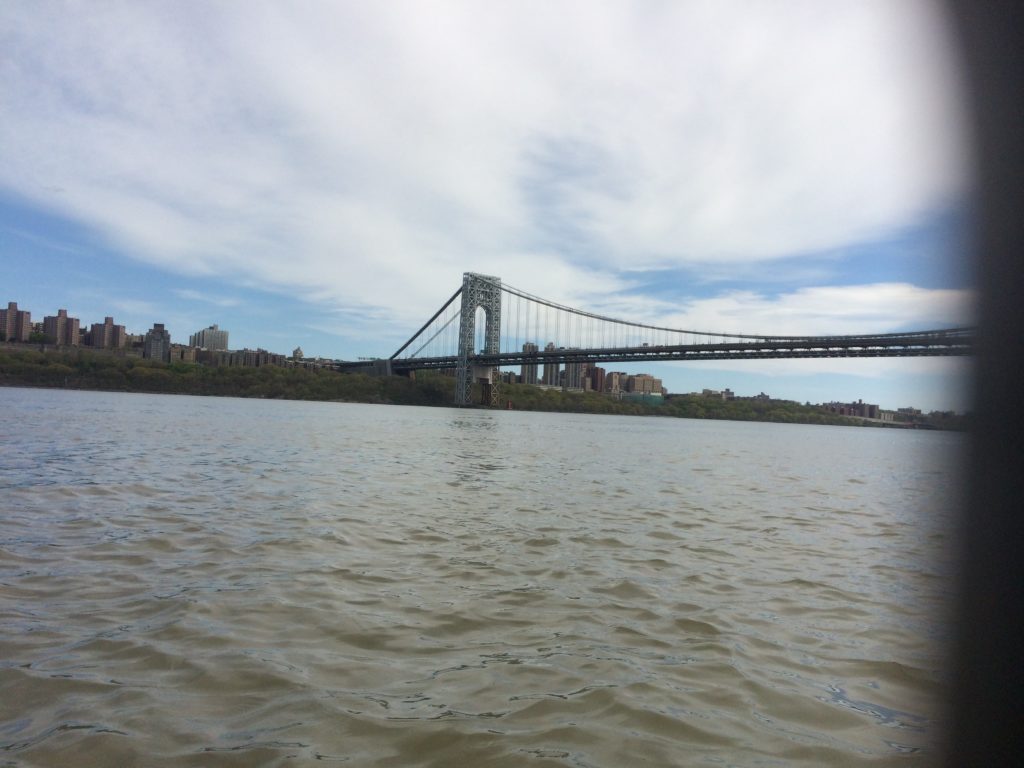 This great green tree caught my eye.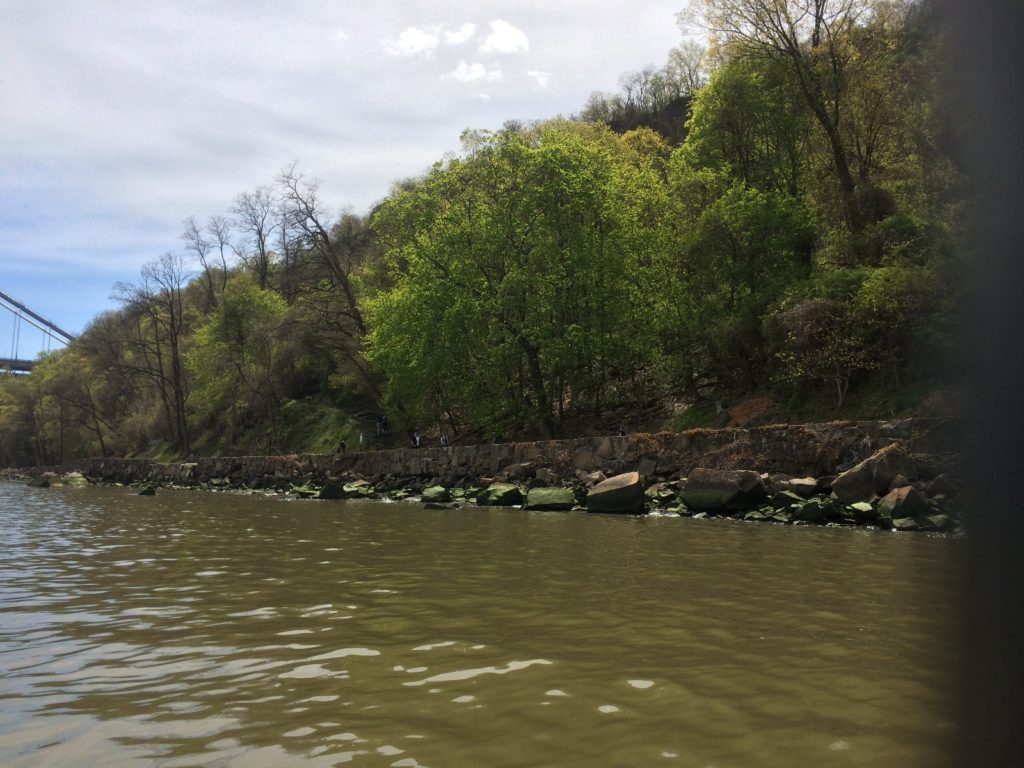 I paddled back over to the the eastern side of the river, looking for that feature. While the flood cycle was starting, it was still weak enough that I poked along the shoreline near the Little Red Lighthouse.
The lighthouse is situated on Jeffrey Hook, a point of land sticking out into the river. On both the flood and the ebb, the current gets squeezed by the hook, and it's usually an exciting place to play.
Not this day, however. There was some shirring of the water, and the usual eddies and boils were present, but either my timing was completely off, or there wasn't much else to disturb the water.
I didn't realize until later, when I was home: I don't recall seeing any commercial activity. No barges, either anchored or on the move; no ships, no tour boats. I saw a sailboat and a couple of motor yachts, and a gang of jet skis went by at one point, but nothing big. That's unusual.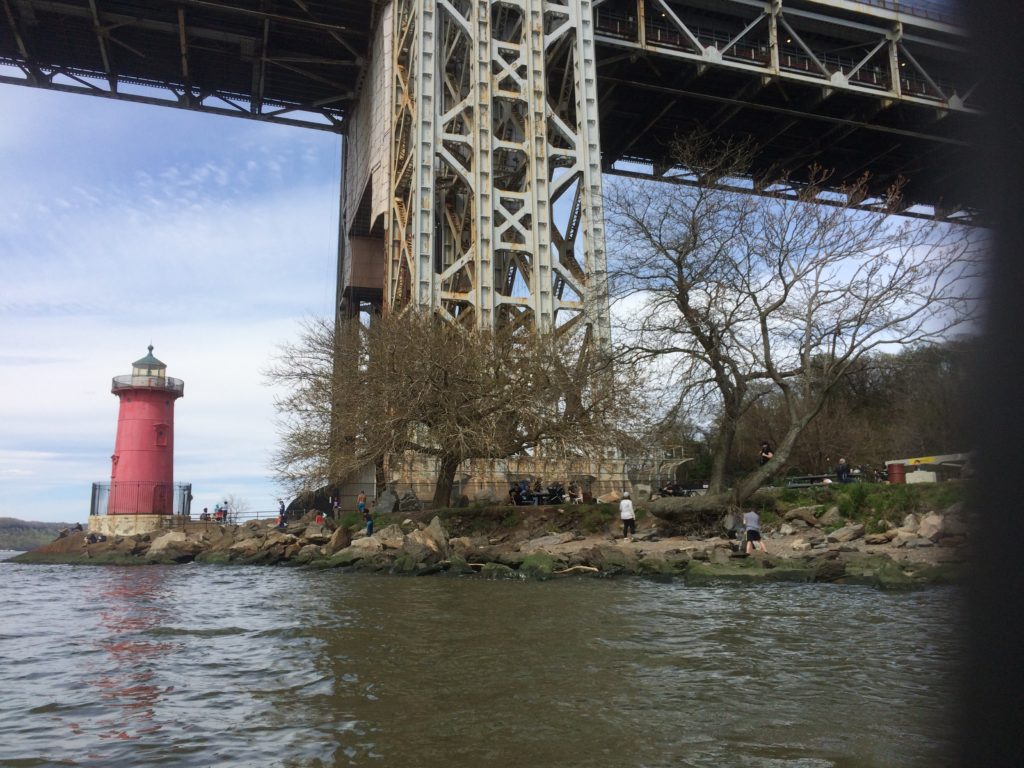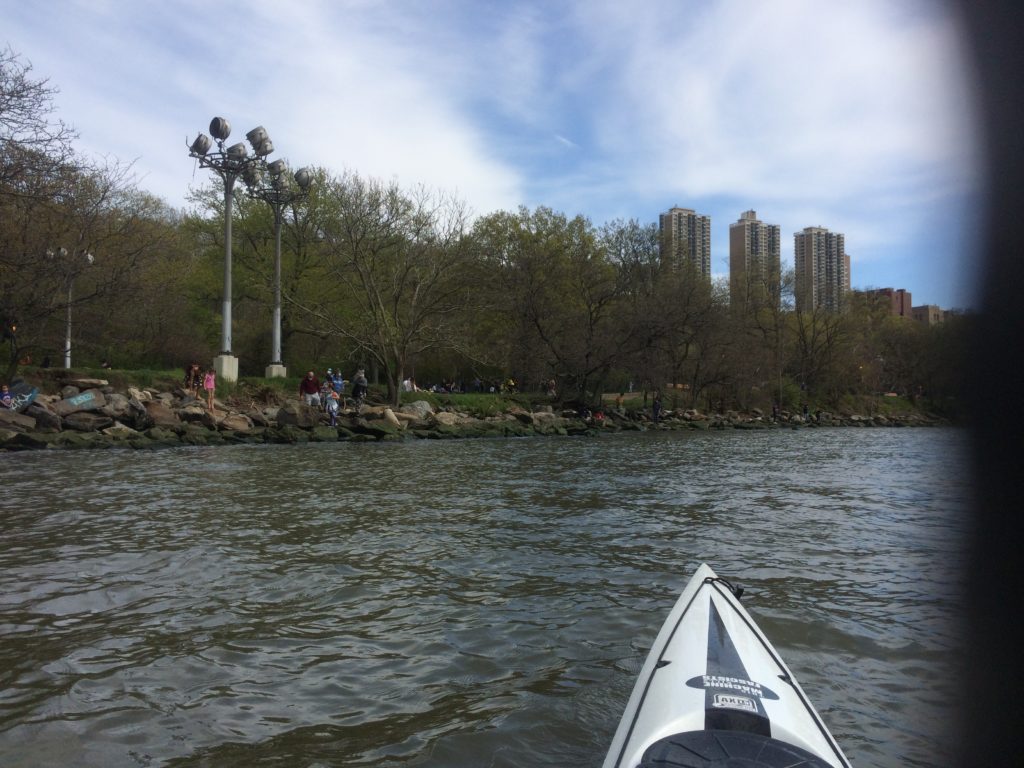 One thing is for sure – I used some muscles I hadn't used in a while, or at least in different ways. While I was on the water I felt fine, but afterwards, I felt the usual aches of "I haven't been paddling multiple times a week for weeks on end". But I also felt re-connected with the one activity I have ever had any passion for. To be honest I was worried, so long from the water, that I might lose interest.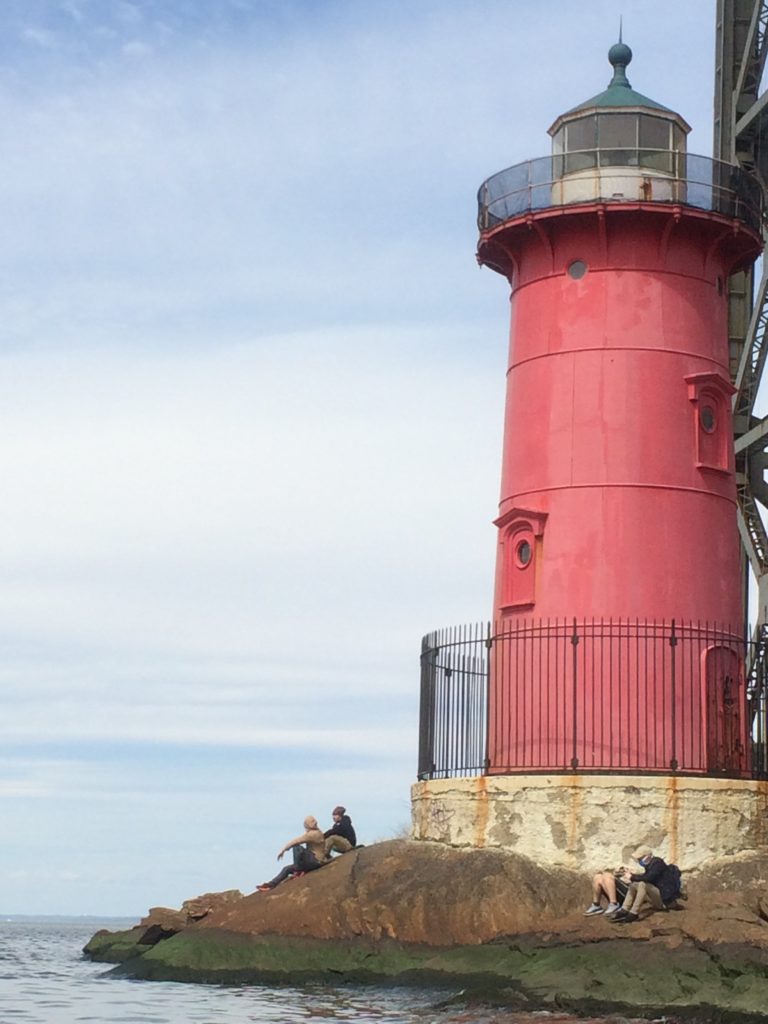 I even had a chance to do a little coaching at the end. When I returned to the boathouse, I saw two newer members getting ready to head out, and one of them had selected a very playful boat. Once they were on the water I asked her to try paddling it straight, and then to turn it, with and without the skeg down.
"I can't really tell the difference," she said.
"That's OK," I replied. "Just try both out at different points and see how it goes."