I had an afternoon off from work last Friday – the 10th, not the 17th – and with relatively warm weather, I decided to take a long solo paddle for the afternoon. After looking at the tidal currents, I decided it'd be a good time to paddle down the Harlem and back.
I didn't go as far, or paddle as long, as I originally intended to. The timing of the currents would make it a harder trip back, and along the way I felt more creaky than usual for this time of year.
I also thought it'd be nice to take some updated pictures of the Harlem. I have paddled this way a lot, but it's been a while, and in any case what I expected to be a simple, kinda boring trail paddle turned out to be a bit more interesting.
For starters, there was some pretty serious crane work at the Spuyten Duyvil railroad bridge.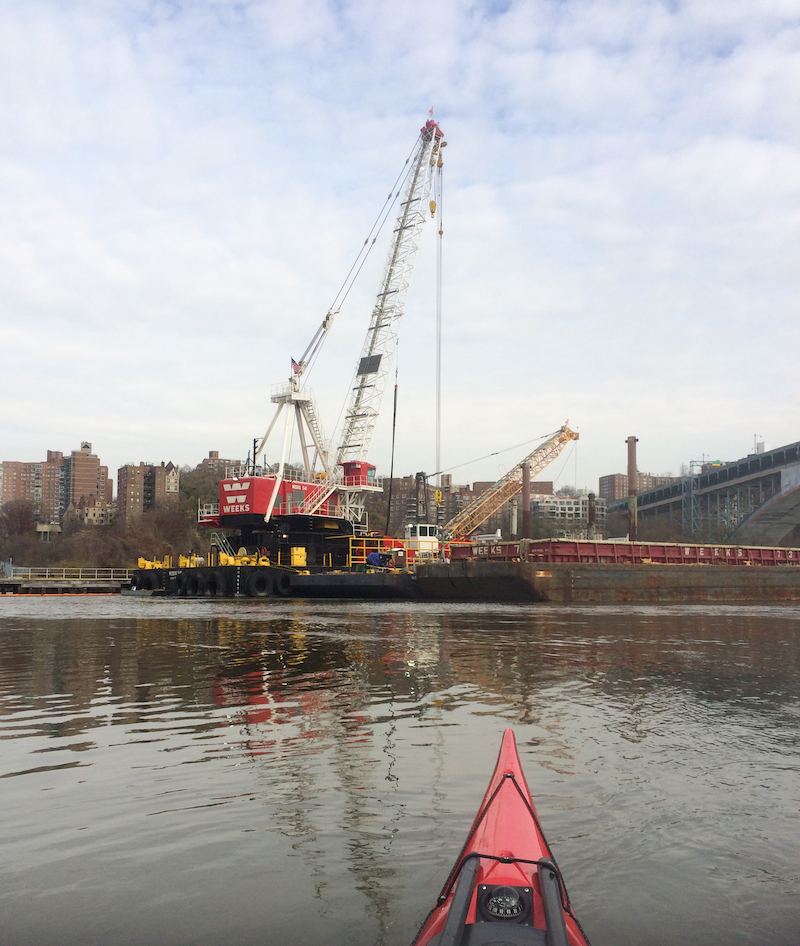 There was also some work going on at the Columbia boathouse docks. I paddled around the northern tip of Manhattan, past the train yards at 207th street, and came to this familiar view.
The towers on the left are River Park Towers; affordable housing completed in 1975, they are the tallest buildings in the Bronx.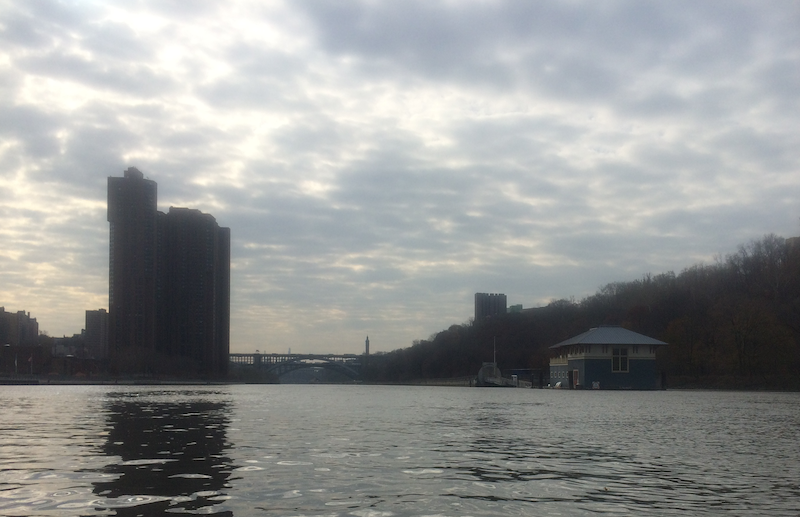 I continued on down, using my wing paddle for practice, but not really hitting a good cadence until I passed High Bridge. The current was with me, though slowing down. The overcast skies made for interesting lighting as the afternoon waned.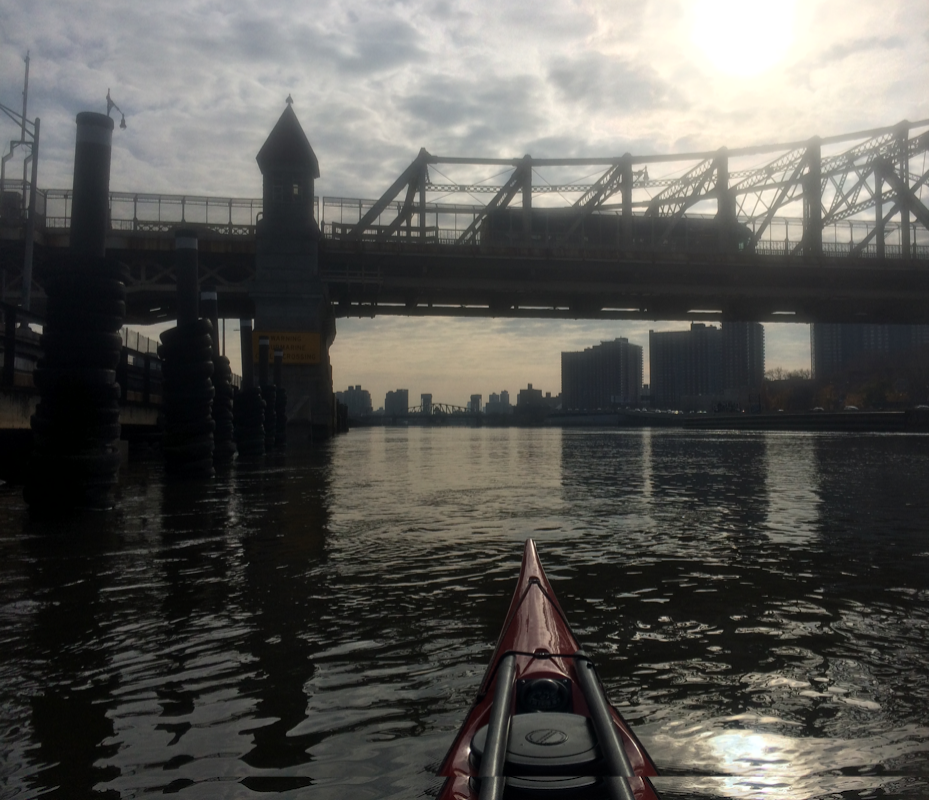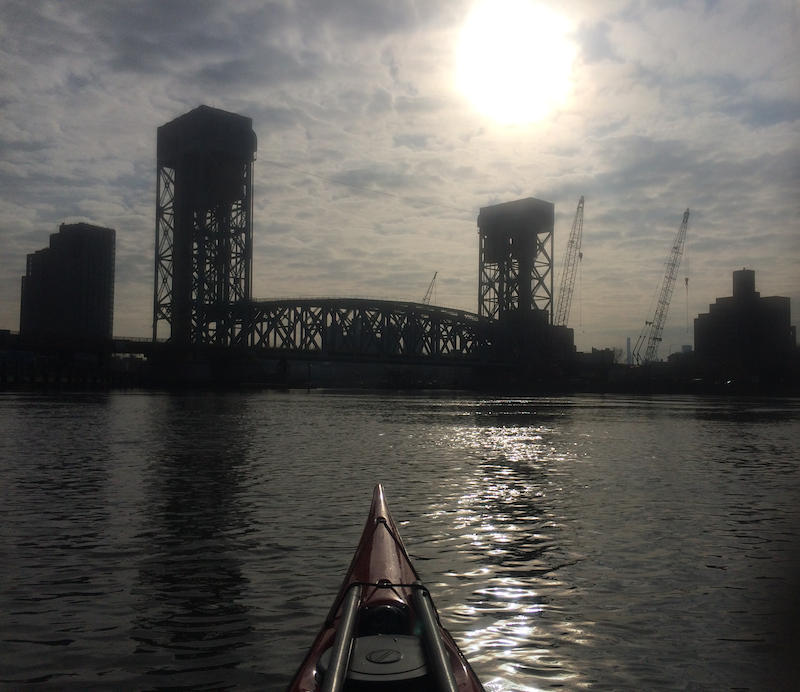 By the time I reached the railroad lift bridge, between the Madison and Third avenue road bridges, I was beginning to feel both energized and slumped. A headwind had picked up and it all felt like a bit more effort than I had anticipated.
On the other hand, thinking about all the various conditions I've paddled in, I decided I was being a bit whiny. The compromise I made with myself was that I wouldn't paddle out to the Brother Islands, but instead would stop at the northwest corner of Randalls Island, at a little kayak launch point that I'd heard of but never used.
Nearby was the site of what used to be known as "Mike's H". Many years ago, there was a paddler who worked as a graphic artist, and among other things he had designed the "H" logo used by the History Channel. For a very long time, that H logo was on the sign that now says "Uber". It's also been an ad spot for iHeart/ClearChannel.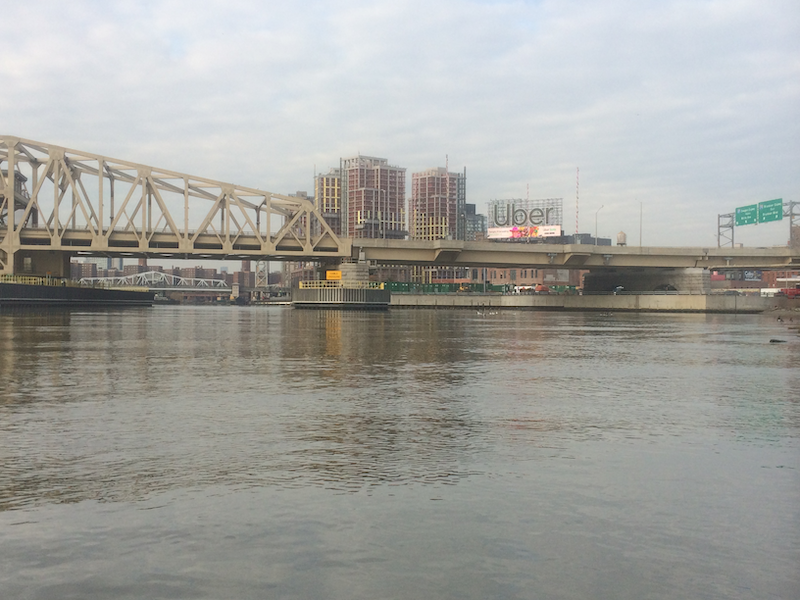 I managed to climb out without getting my feet or legs wet, important since I considered driving home in my drysuit, in order to rinse it by wearing it into the shower. I ate a couple of oat bars and had some tea, then set out once more, this time back the way I'd come.
I'd never seen the following; it looked like an old conception of a robot, a rusty sentinel left to decay on the waterfront. However, I noticed several as I paddled north; presumably new, or newly revealed, ship-size cleats or mooring points.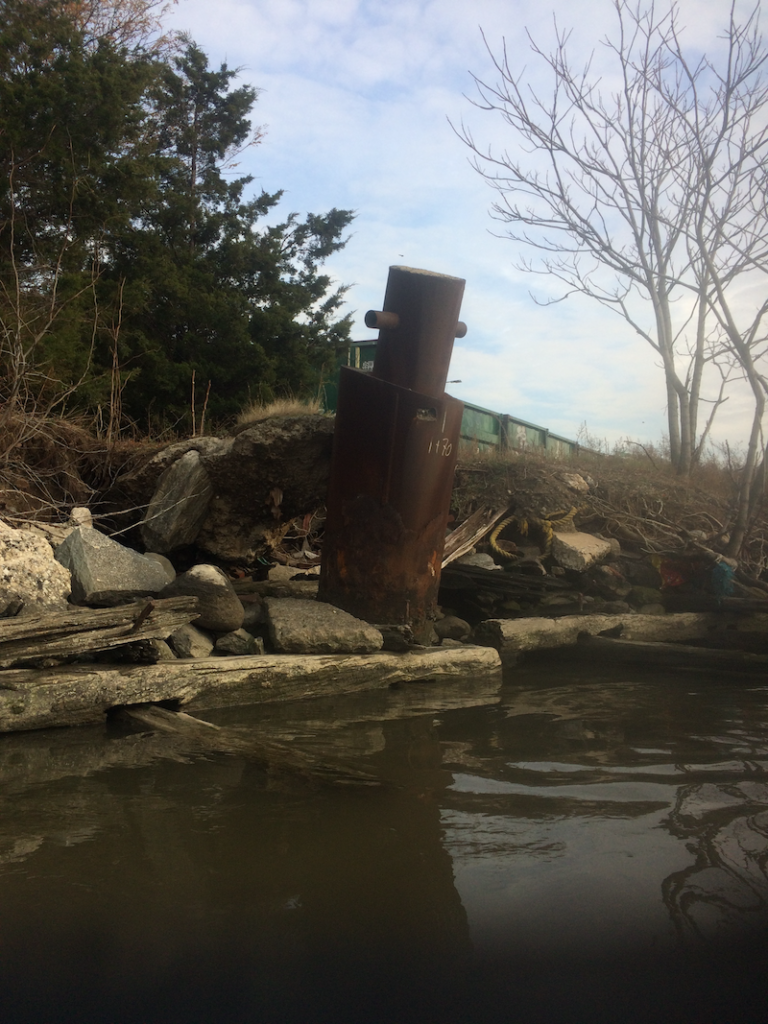 The waters were smoother on the way back, and the sky lightened up even though the sun dimmed.
My cadence picked up. I knew I'd be working hard, first against the last of the flood current, and then as the water slackened. I set a goal to be back before four; it'd be dark before five, and I hadn't brought my lights. It wouldn't have been a big deal to get caught out without them, but all the same, I wanted to be home, warm and cozy by dark.
So I paddled.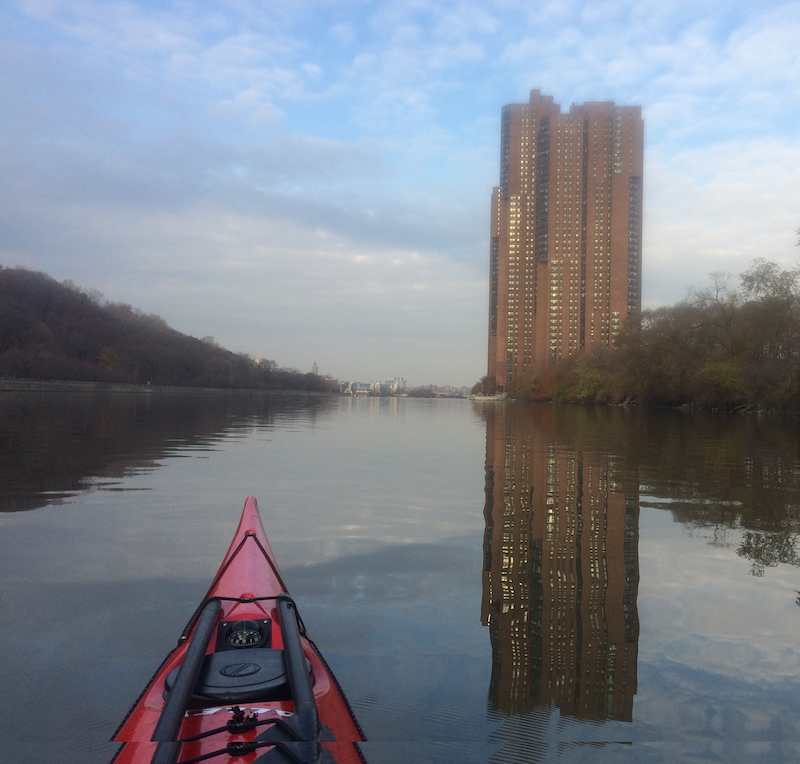 Eventually I came to familiar waters, and caught a cloudy sun preparing to set.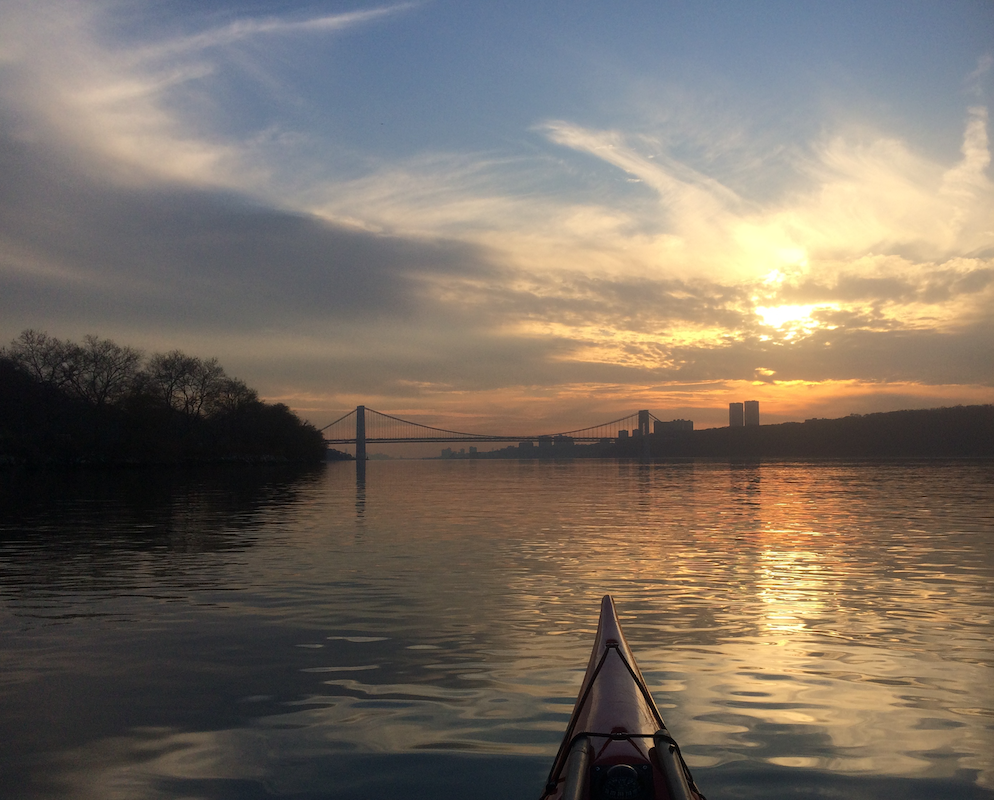 Then, the most interesting thing happened. The water had been glassy smooth for quite a while; even now, on the Hudson, the stillness and reflectivity was uncanny.
Then I noticed waves. Not breaking, no whitecaps or texture at all. I saw a Classic Harbor Line boat passing; it must have come through the railroad bridge not long after I had. The water was undulating in the rhythm of the wake, but not breaking; a simple wave of glass pulsing towards me.
In the light, it was both mesmerizing and hard to gauge the speed and strength. I tried surfing a bit, but I felt hypnotized; I could not get a handle on the speed and direction of the waves. Eventually they passed, but it was a deeply weird experience.
Shortly, I landed, unloaded and cleaned up. I'd been out about four hours, and it was wonderful. In years past I'd be paddling in snow by this time of year; surely that awaits.