I don't have any photos, as amongst all the cameras I have available, a combination of missing chargers and batteries past their prime have left me without an on-the-water camera to use. It's a shame, too, since I saw the Inwood Seal on Saturday, but even more so for missing some nice shots of a trip done out of City Island, New York, on Sunday.
That trip was good enough that it's worth writing up, and I've added a Google Map of our approximate course. And, fortunately, fellow paddler RH provided her own photos!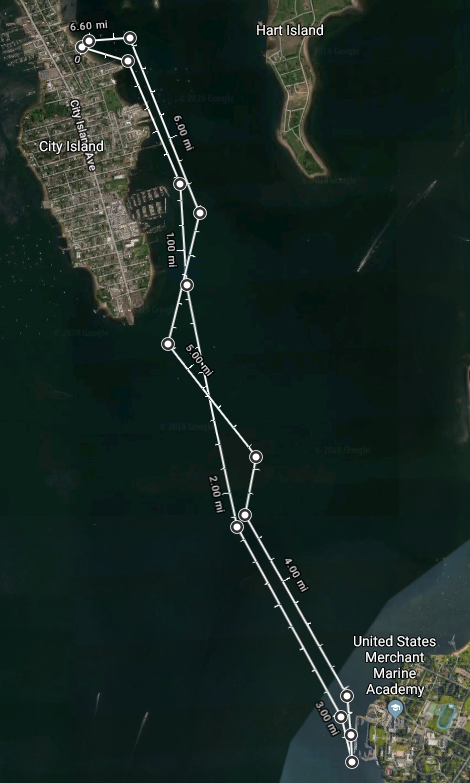 My paddling friend JK is relocating her boat and activities from a club in Larchmont to the Touring Kayak Club (TKC) in City Island, New York. City Island in itself is a somewhat unique place in New York City, a peninsula of marinas and houses sticking out of the Bronx, right on the border with Westchester County. It feels more like a New England fishing village than the Big Apple, but you can get their by bus or, in my case, an easy car drive with kayaks on top.
TKC is an old paddling club, dating back to the 1920s. Unlike a lot of other clubs in the city, they own their clubhouse and property, and are primarily a social club for paddling. They have access to a beach, a concrete boat ramp, kitchen, dining area, reading libraries, and hot and cold running water. It had been a while since I took a shower immediately after a paddle.
JK and her friend RH have just joined, and invited us – Mister Cowgirl and Yours Truly – out for a paddle. City Island is in the western end of Long Island Sound, within easy paddling distance of some old lighthouses and the Pelham Islands. After a bit of introductions and sharing our paddling experiences, we decided to paddle out to Stepping Stones Light, the first lighthouse east of the Throgs Neck Bridge, one whose history is overshadowed by the more ominously-named Execution Rocks Lighthouse further to the east.
We set out keeping close to the Bronx side of the sound, past some marinas, and then made an open crossing of about a nautical mile to the lighthouse. While the current in this part of the sound is relatively negligible, as we approached it was clear we were being carried sideways by the current, and there was a visible eddy on the south of the lighthouse.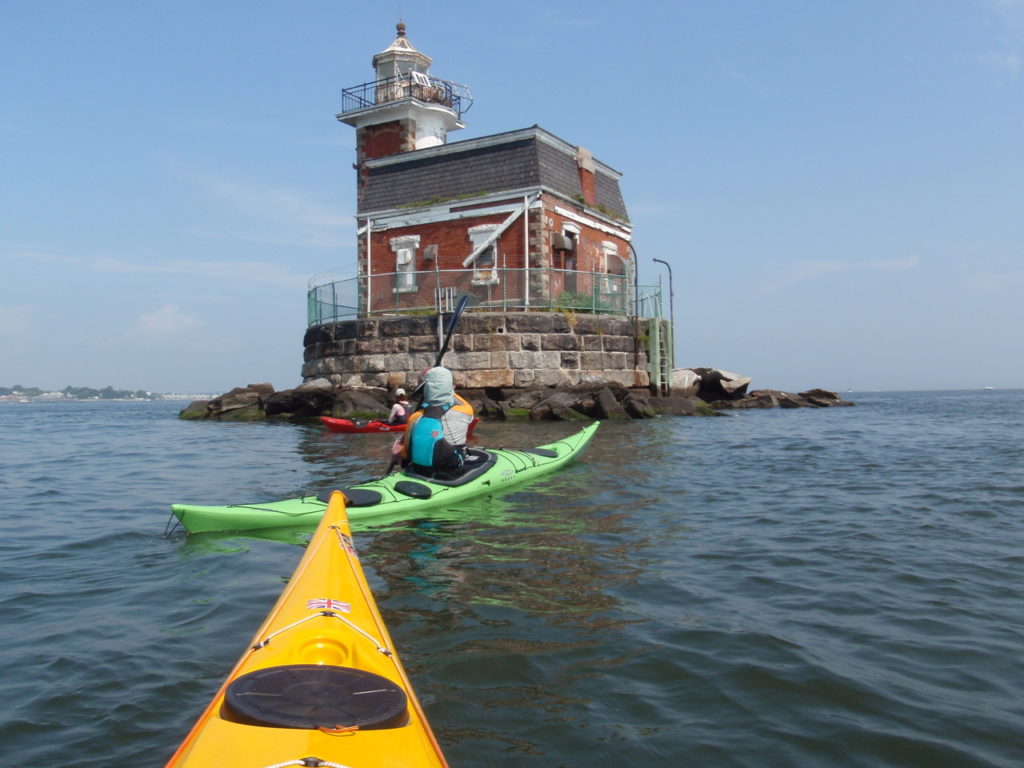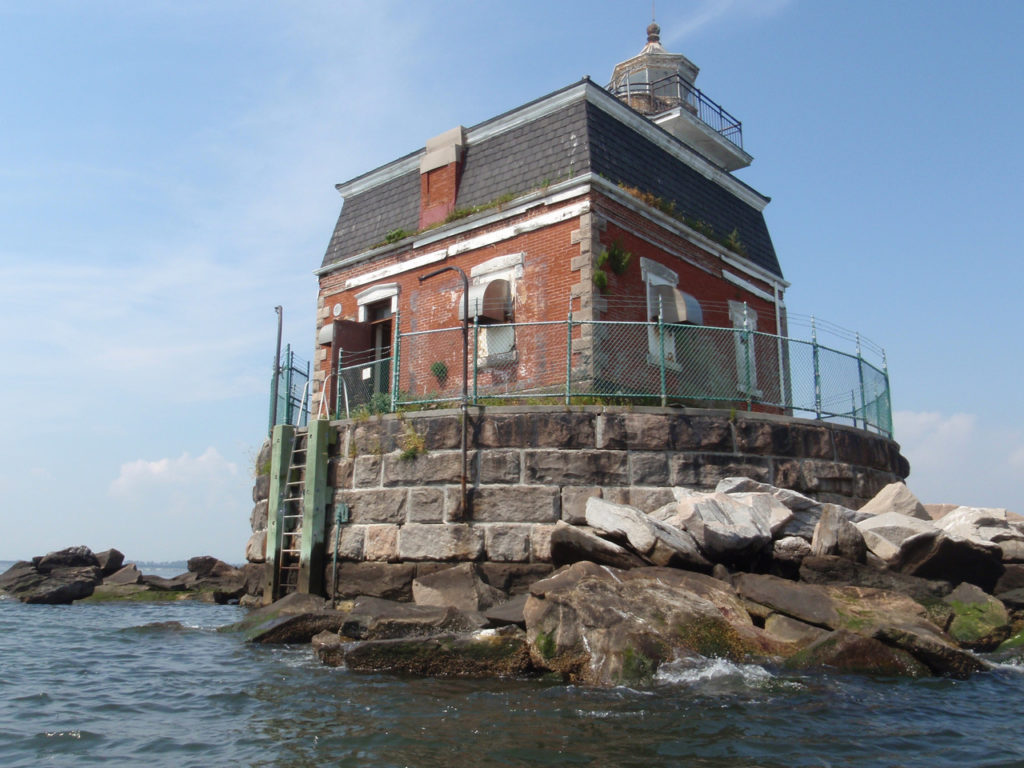 After some chatting and photo-taking, we spotted what looked like a sizable ship and facility on the far shore, on Long Island. We wondered whether it was the United States Merchant Marine Academy – I didn't believe it was, but I was wrong (I mis-remembered that it was Fort Totten, across from the SUNY maritime campus, but it's instead across on Kings Point, which is where we saw it). We paddled over to investigate.
Along the way, JK and I spotted a small fish thrashing about on the surface. We're used to seeing fish jump out of the water at times, but this was not the case. We observed for a few minutes, trying to determine what was going on. It wasn't trapped on a line, and there didn't seem to be any predators about, other than a hungry-looking gull up above. There were no visible wounds. We speculated that it had swallowed something bad, or down the wrong hole. We contemplated what the Heimlich maneuver might look like on a fish. In the end, feeling badly for the fish, we left it to its fate.
As we approached, we took another break and debated whether to enter the marina there. On the one hand, it's clearly the academy's marina, but there was also a sailing club located there, so it had to be accessible to us.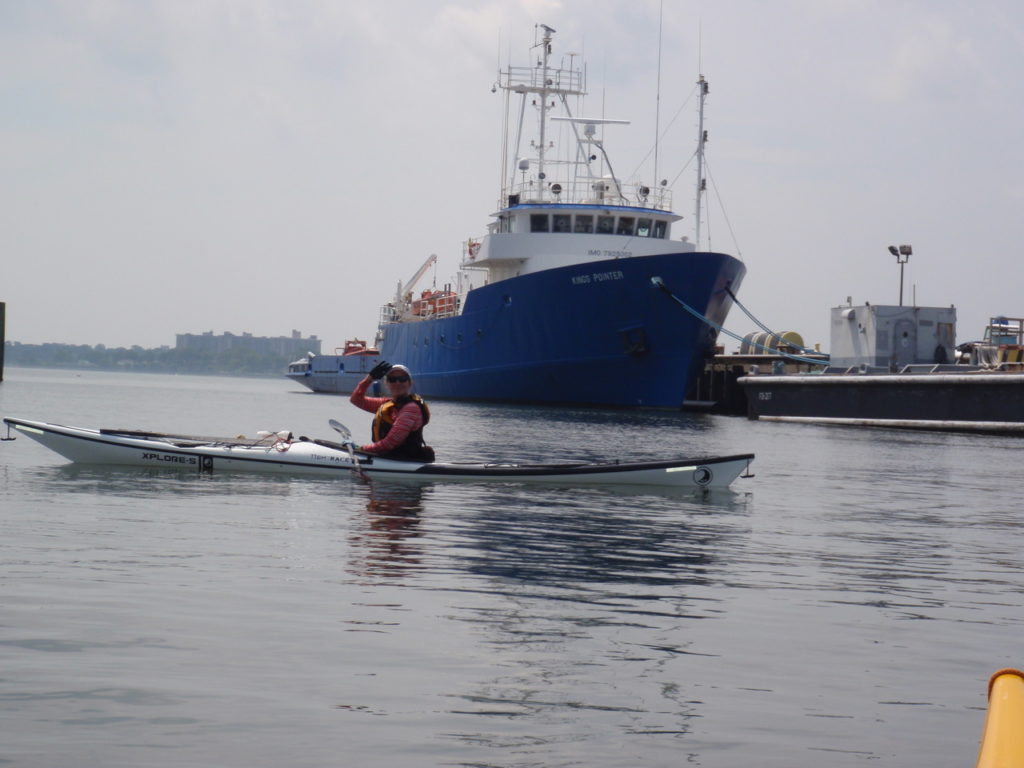 At the academy, a well-manicured lawn was laid out opposite three vessels and a series of slips for smaller boats, including three named Mallard, Goose, and Loon. There was no one about, so we took our time seeing what we could from the water. A mighty chapel was the highlight of the hill, and we thought, what a place to begin your career as a mariner.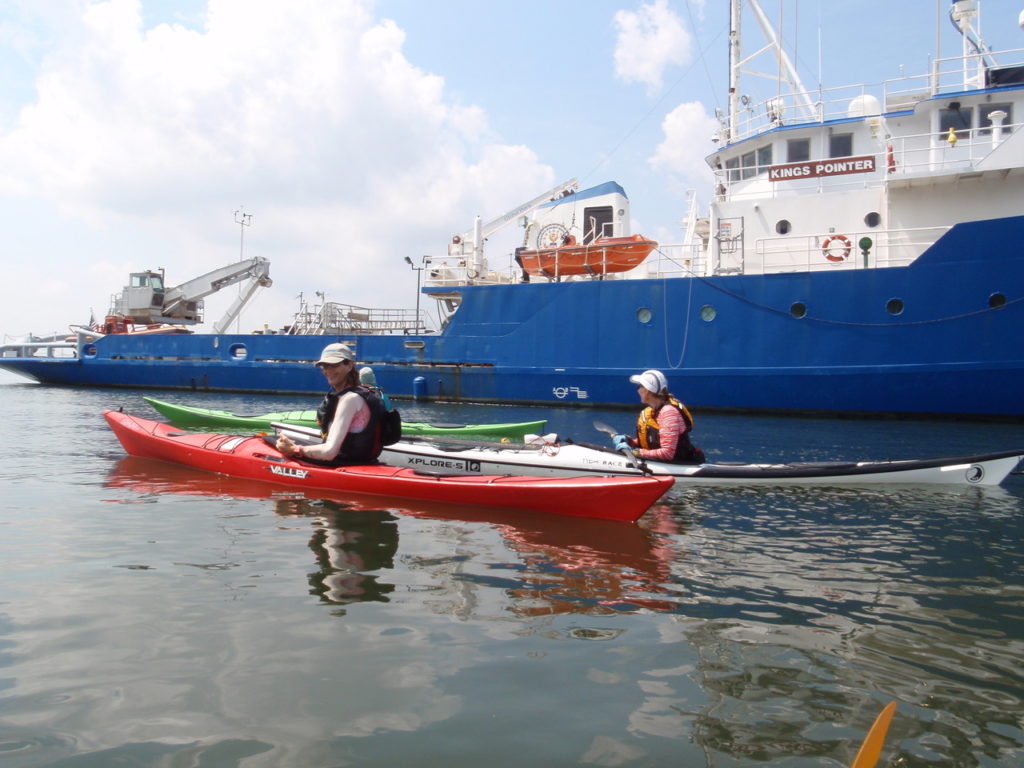 As we headed back, we could make out broad swaths of precipitous clouds beginning to obscure Manhattan. The wind died down near completely; the low was settling in. We picked up speed and jotted back, sprinting across the channel to be well clear of a tug pushing two barges side by side.
The trip back was uneventful. Whatever the weather system was, it was moving slowly, because we took our time cleaning up and packing away gear, strapping down boats, and having lunch and pints at a local diner. R stopped by at the City Island Nautical Museum to pick up a gift for a friend; also, the building's other side is where her apartment is, and the whole place is the old elementary school building.
We dropped of JK back in Larchmont, her boat in its new home at City Island, her car at the old home. That's when the wind picked up, the weather alerts burst, and Mister Cowgirl and I affixed cockpit covers to our boats for the ride home. After ten minutes of dramatic rain, though, things were clear, until we saw lightning strike several times as we drove down the Henry Hudson Parkway.