It was a short trip, but a worthwhile one. I was heading to Maine to take a coaching assessment, and after asking around for students to volunteer, a local paddling friend of mine expressed interest. B has a lot of experience paddling on Long Island Sound, and has started adding surfski to her paddlesports mix. Having attended some symposiums in Maine, she was looking to get some more experience reading conditions and paddling in surf and rock features.
Trouble was, she had a prior commitment to be back in NYC the following Sunday, so we'd head up Friday, paddle Saturday, then come home late that night.
There was also the little matter of the hurricane. . .
---
We stayed with a young couple, KO and JO, who were also being assessed for the coaching award; the good news is, we all passed, and are now considered Sea Kayak Coaches in British Canoeing.
There is a lot I could go into about what was involved, how we got there, and the details of my own assessment, but the short version is: it was a long-term goal that I worked hard for, and it basically means I'm considered qualified to coach in the same environment I was already considered qualified to lead in.
Our sessions were relatively short, ninety minutes, but with another ninety minutes split on either side, going over our plan and then debriefing afterwards with the assessor. Effectively this meant that we had groupings of students Saturday morning, Saturday afternoon, and Sunday morning. I took the first slot, and B was in my group of four students.
We'd all spent the entire week, not to mention the night before, poring over wind and swell prognostications. Hurricane Dorian had appeared and grown immensely out of nowhere, devastating the Bahamas as a Category 4 hurricane before diminishing and veering up the eastern seaboard of the United States. While what was left of Dorian was well offshore, it was still pulling in some winds on the upper edge of our remit, and kicking out swells that were also close to being on the upper end of the limit.
In the end, while the day started with rain, and there was some dramatic wind over the Sheepscot river, none of the weather turned out to be as dire as we had feared. The overall environment was quite nice and provided adequate challenge for us as aspirant coaches, without being overwhelming. In fact, several participants learned that things that look scary might not be so terrible after closer examination.
After my session, half of my group joined KO for her afternoon session. B and one other paddled strictly for fun with JO and myself. I say strictly for fun but some "sneaky coaching" might have found its way in!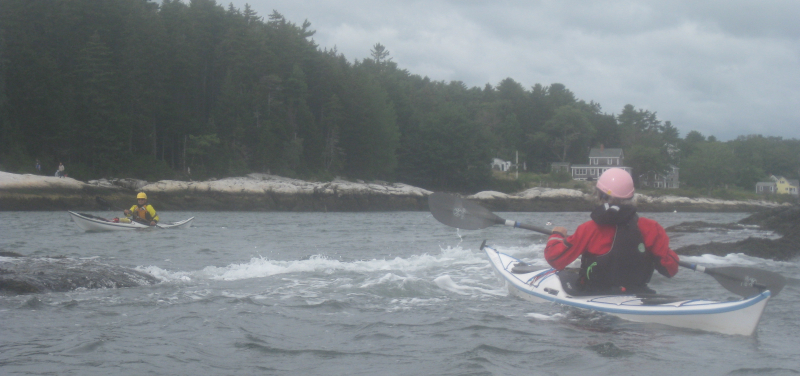 As the tidal level was coming in, we were able to see several features change while we worked them, including some that we'd paddled against in my morning session, when the tide level was dropping.
In these photos, there's a long reef between the mainland and two of the Five Islands we paddled near. Its uneven height and longitudinal exposure to swell result in a variety of channels, shelves, nooks and crannies to practice paddling in.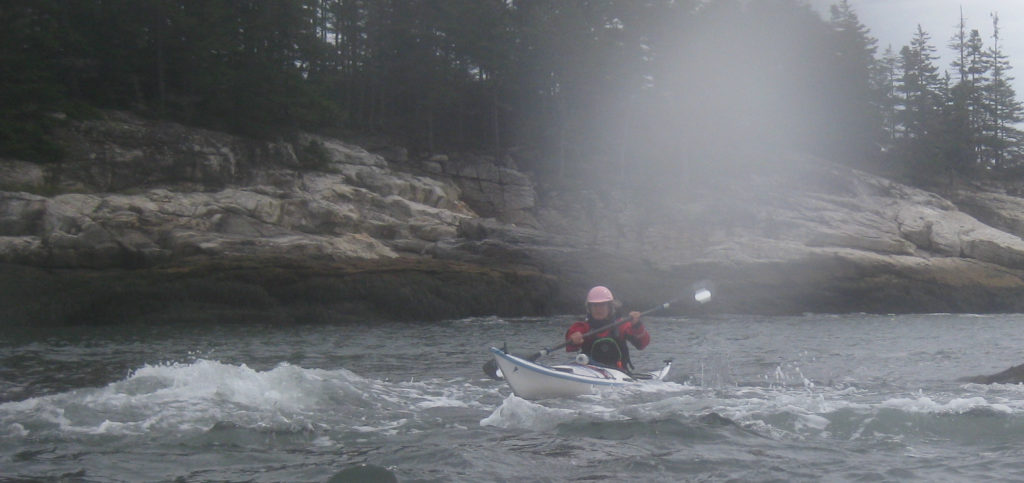 As we continued on, we found some other interesting areas to play in, and JO and I both encouraged our fellow paddlers to practice backing up to rocks and then away. I even found a wee slot to slip into backwards.
The only disappointing aspect was, I mistakenly loaded a very small memory card in my camera, which meant I couldn't take a picture of JO in his boat up on a pair of rocks, waiting for some more water to come in!
At the end of the day, we packed up and put our boats back on our cars. BW and I set out on the long drive home, chatting all the way about the day we'd had – sometimes as peers, sometimes with more questions or musings about the session I'd run, or our paddling with JO.
Maine is a great place to paddle, with many more features than we get in New York City. I highly recommend it for all sea kayakers. The water is quite chilly year-round though, and it is exposed and rocky, so it's not for novices without supervision. Still, it's a great place to develop sea kayaking skills.