Every girl knows her first time should be special. The weather should be beautiful, rose petals should line the way, and someone more experienced should take her hand.
That is how I finally got to Sandy Hook, as a day trip with my good friends at Wind Against Current, JJ and VB.
I'd been wanting to go for quite a while, and even had a camping trip planned last year, that was washed out by the weather. JJ & VB do this trip regularly, and had one planned already. The weather was predicted to be near perfect – by my standards at least – sunny with little wind.
So, beautiful weather and good company. I was off to a good start.
We left Pier 40 early Sunday morning, leaving the embayment by 0745. JJ and I both paddled Tiderace boats (me in an Xcite, she in her Xplore-S) while VB paddled his trusty red Feathercraft. With little traffic so early in the morning, we quickly went past the Battery, over the shoals of Governor's Island, and on into the upper harbor, past sleeping giants, moored and at rest.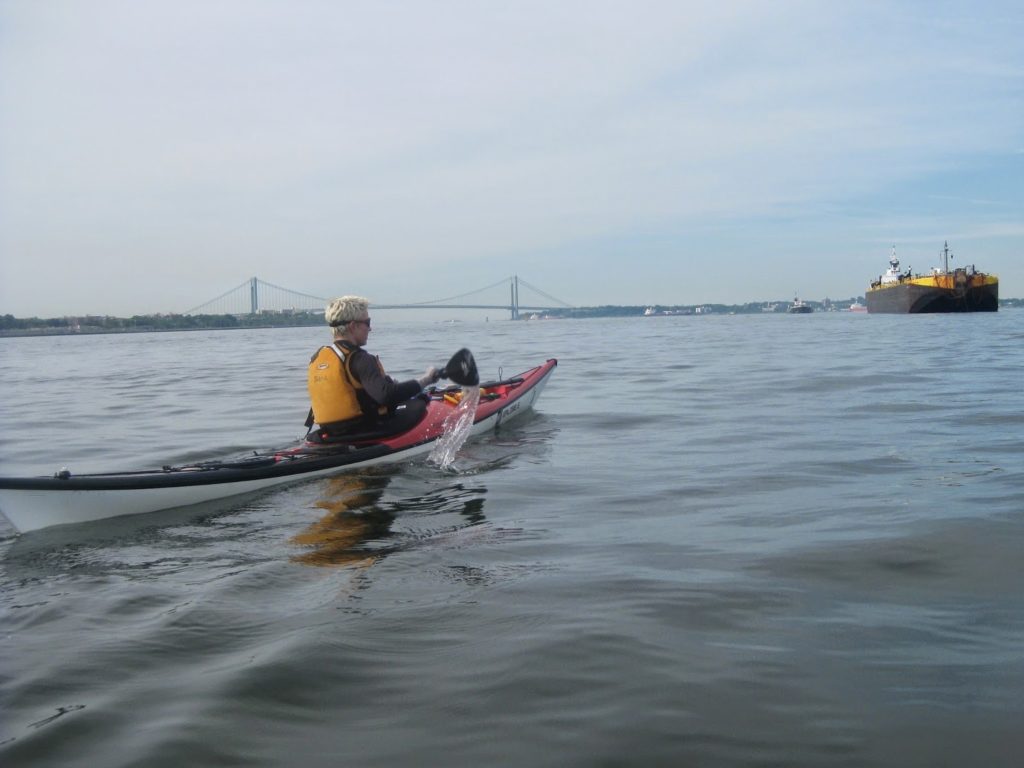 I've been this far a couple of times, but only once along the eastern side. After Governors, we kept left, past Red Hook, and on down to the Verranzano Bridge, where JJ showed me a handy little beach to know about in case a trip goes awry.
Along the way, at various points the water was alive with jumping fish. It was like a rainless storm, plop plop plop, I'd stop to look but only saw the water, not the fish. As the morning warmed and the sun came out, it was downright magical.
Then we saw birds flying in. It was morning still, time for the breakfast crowd.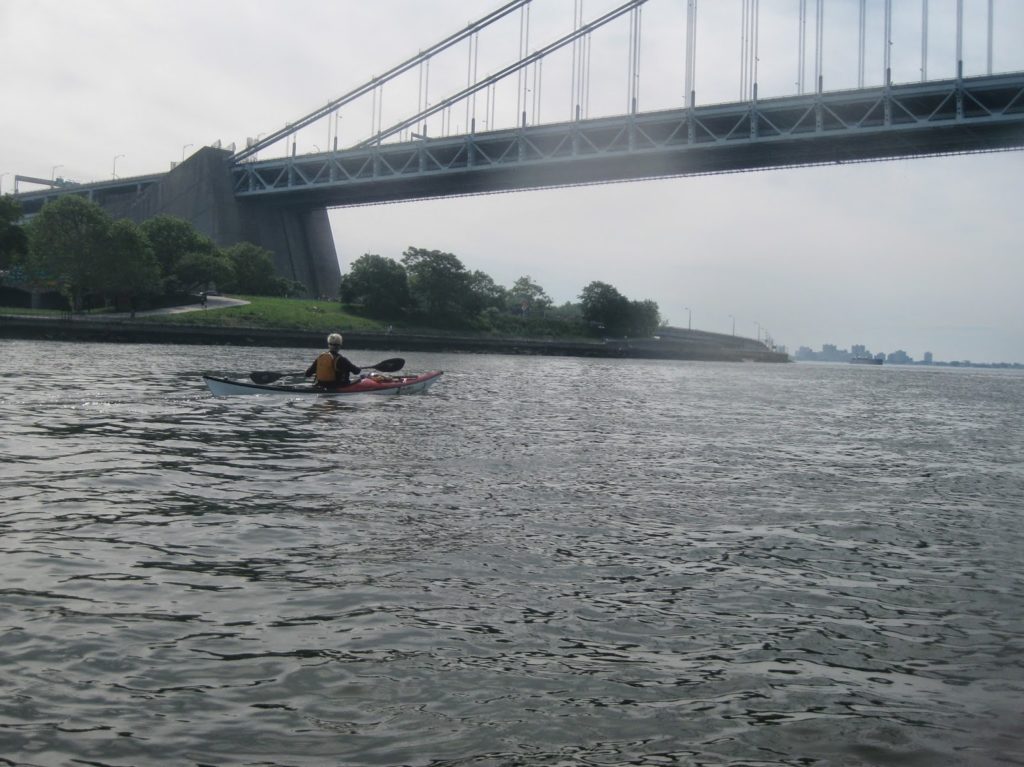 Below the bridge, we waited for some acquaintances, two chaps who put in at Liberty State Park. One was a friend JJ & VB knew from the Water Tribe community, and the other was his friend, paddling a wooden CLC kit boat he'd assembled himself.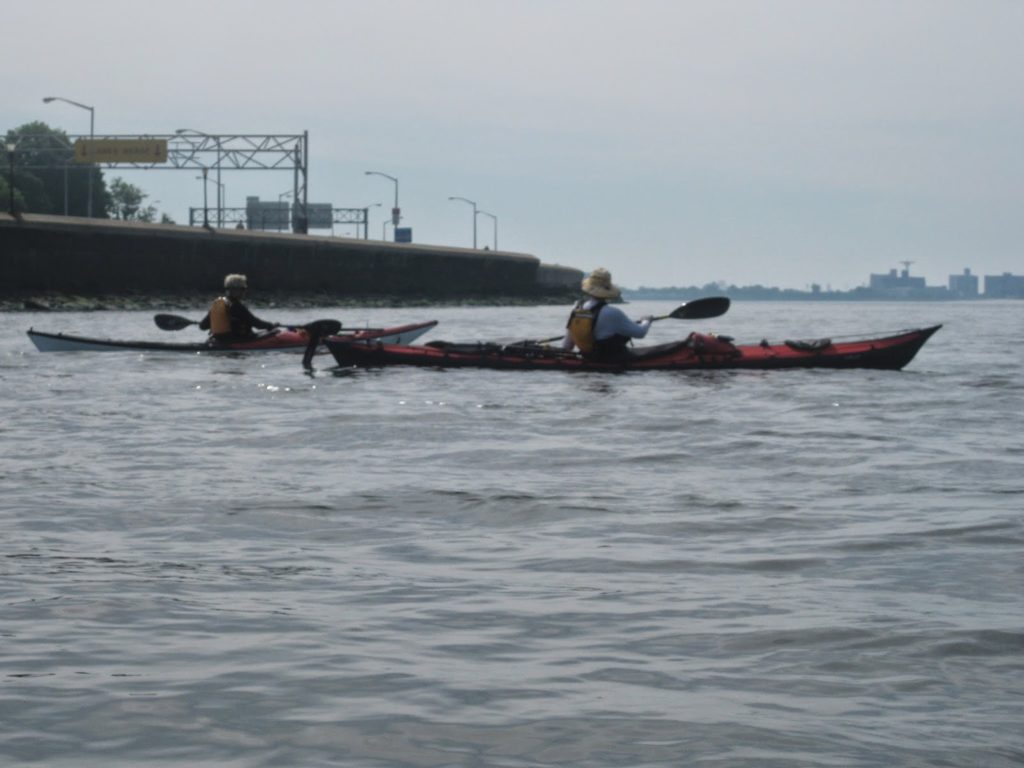 We set off, paddling past Gravesend Bay towards Norton Point, our company of five, talking about boats and adventures on the water. Close calls, with nature or sometimes law enforcement, as well as mutual admiration of boats and paddles.
Our friends decided to stick with their original plan to paddle to Dead Horse Bay. They rounded Norton Point and set off towards the east, as we confronted the lower harbor and the miles before our destination.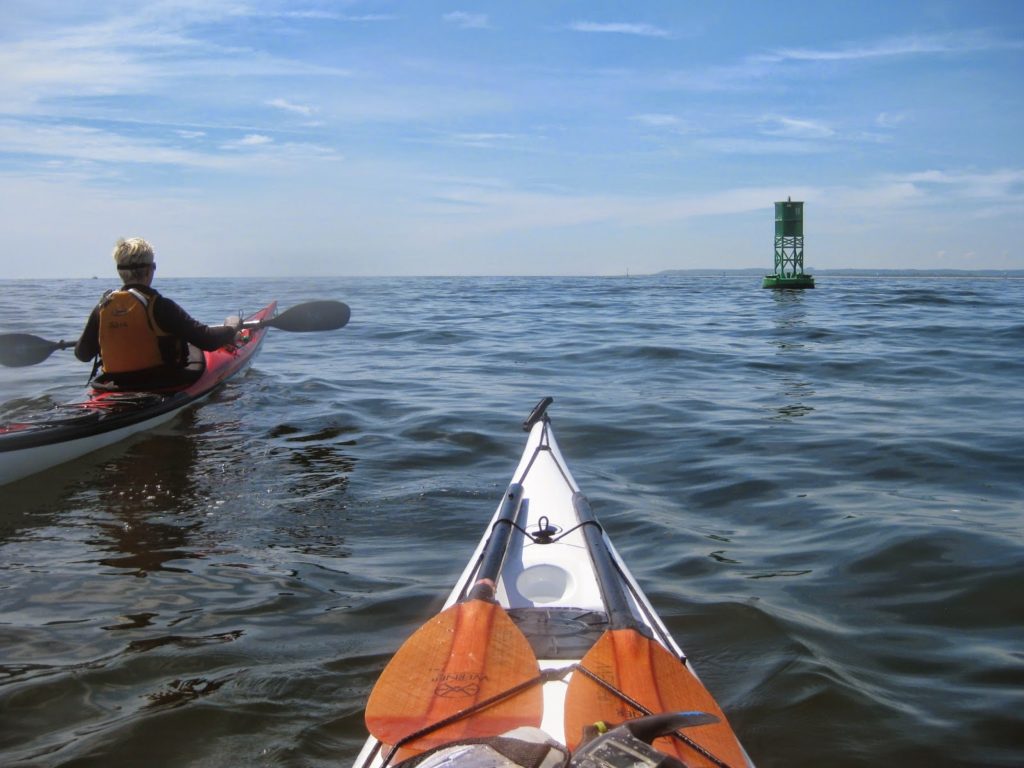 "See that low haze of beige," said JJ. "That's Sandy Hook. It will seem far away for a long time."
She was right – but it was great! Here I was below the Verranzano, paddling across the lower harbor, exposed to the open sea, making a proper open crossing at last.
Along the way, we spotted a few unusual sights. We saw these oddly angled objects that, at a distance, looked like a fellow paddler about to make a high angle forward stroke, or perhaps a bow rudder. On closer inspection they were just markers of some kind.
We also saw roses, or at least, rose petals. First just a few, then, at one point, a cluster. A good omen?
"My money's on either a wedding or a burial at sea," I said. But then we saw a partially deflated Happy Birthday balloon near a pile of stems and petals.
I used the crossing to practice some of my navigation skills. Since I was in a borrowed boat I only had my hand compass, but I'd look at, say, West Bank lighthouse far in the distance, then another landmark or a buoy, and triangulate my position to see where we were. I got pretty good at guessing what the next object would be.
As we paddled, we saw more fishing boats – mass charter boats with a ridiculous number of fishermen hanging their rods out. It didn't look like much fun, for the fishermen or the fish.
We saw more rose petals scattered along the way. The more we saw, the weirder it got.
Our course was unusual in that we went farther east than JJ and VB normally go. Whales had been sighted the day before off Romer Shoal, which we were paddling directly over. However, while we saw plenty of fishermen, we saw no whales. We later heard they've moved over to the Rockaways, farther to the east than we would go.
We wound up just north of Gunderson Beach – the nude beach – and paddled in the eddy back westward, up and around the point. There were tons of private boats out fishing, plenty of people enjoying the sun, with a little bounce from the waters coming in. We threaded past them, clearly an odd sight to some. Where had these kayaks come from? There was disbelief from one fellow when we told him Manhattan.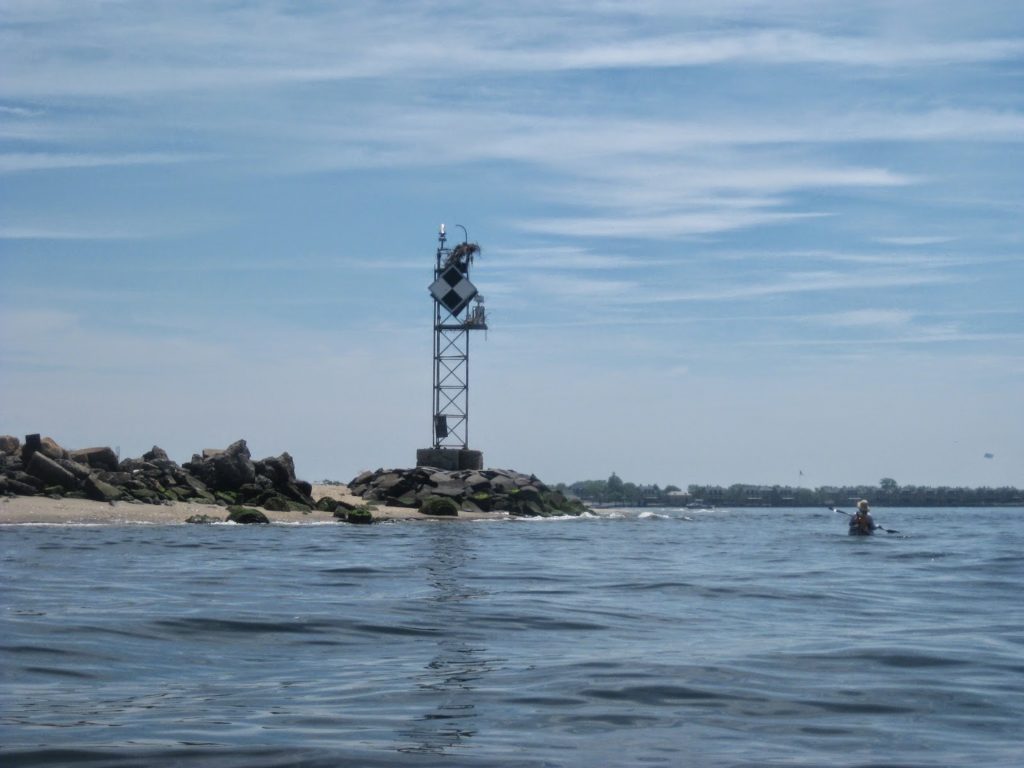 Once we rounded the hook, our water was nearly flat water paddling. With no wind, and no current, we slogged through the midday heat. For the first time that day, I started to feel a bit warm in my paddling jacket.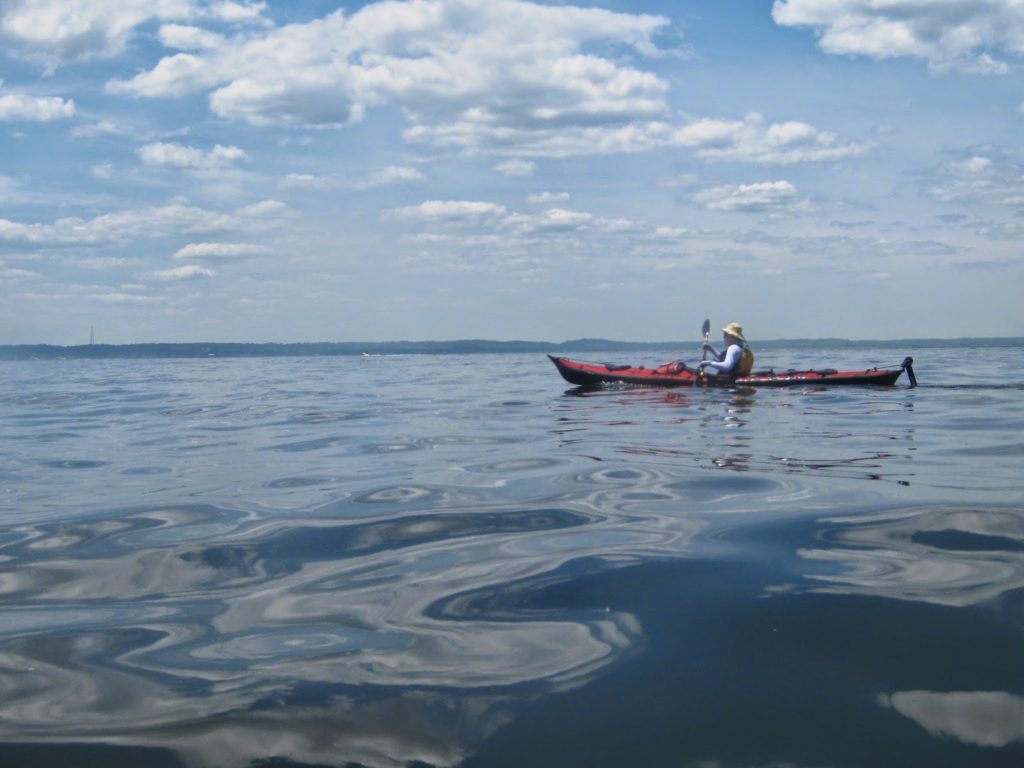 We paddled to just short of Horseshoe Cove, landing on the outer edge of one of its sides. We pulled the boats up to the high water line, then unpacked and climbed up for lunch.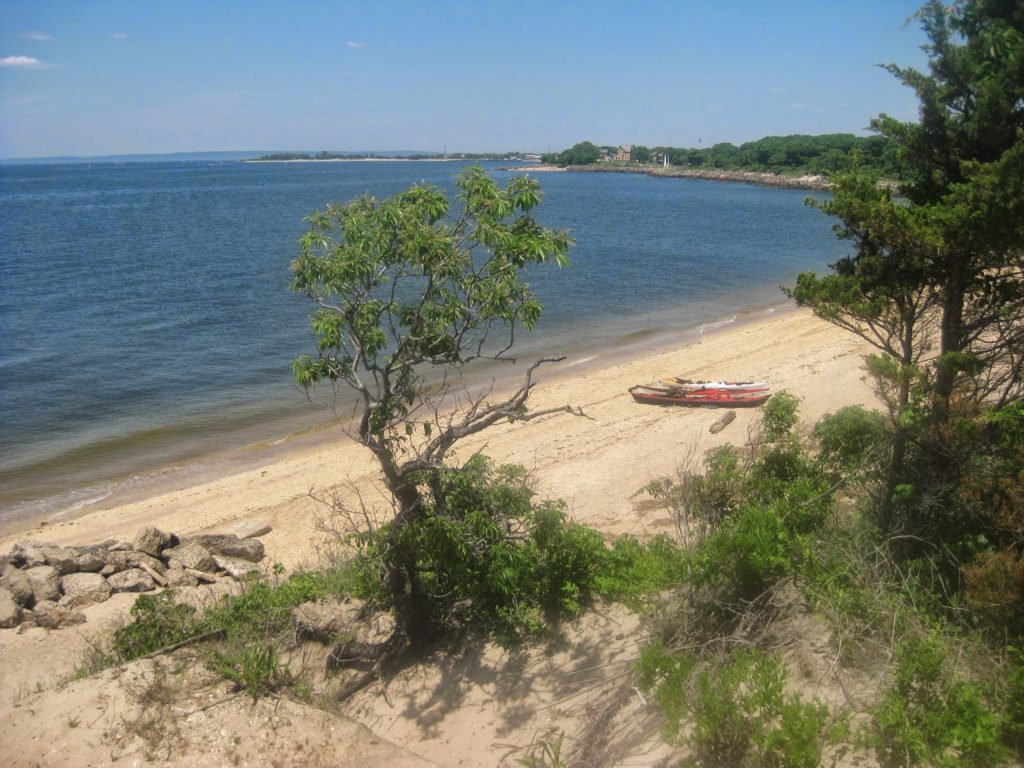 Sandy Hook has a ton of history. Among other things, there was once a Nike air defense battery located there. The Nike system was an early anti-aircraft system intended to shoot down enemy bombers. Now, they're just rundown, low-slung bunkers that almost look like post-modern housing, overgrown with sand and shrubs.
That was where we ate lunch.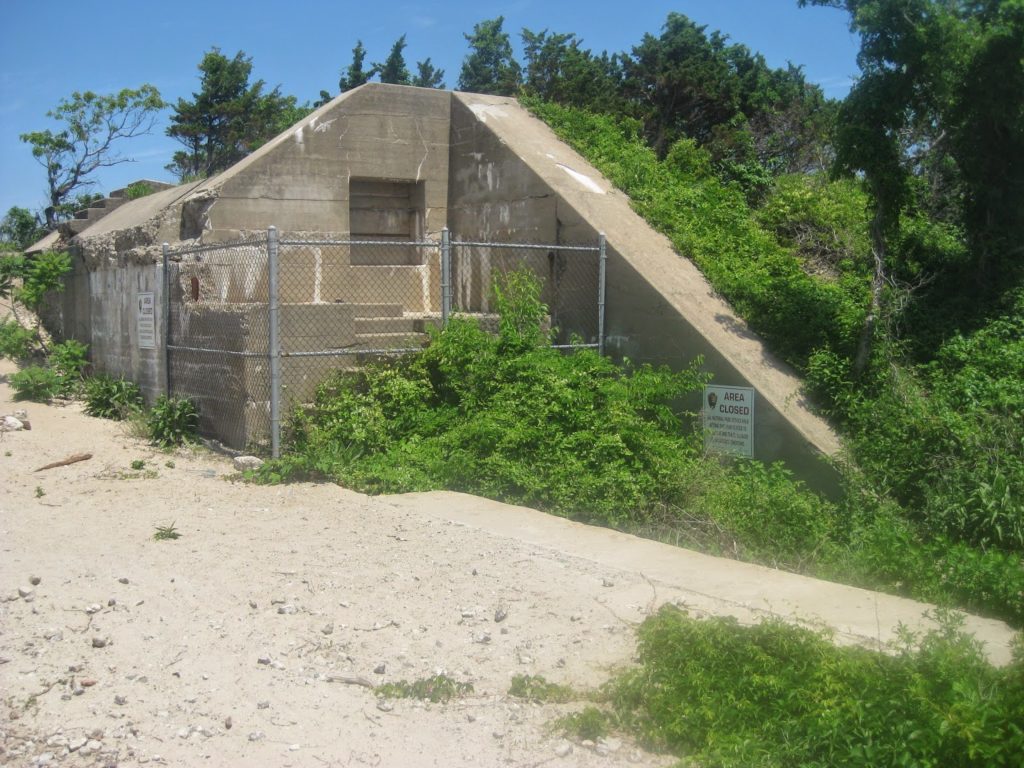 While JJ and VB chatted, I did a little recce and saw some land-based fishermen, all mounted on the crumbles ruins of the missile battery overlooking the sea. I saw some dead fish parts here and there – bait, or unlucky fish? And then I saw the oddest sight.
A row of rose petals, aligned with the high water mark.
After lunch, we stepped into the marsh behind us, and looked for fiddler crabs. These little guys live in tiny holes in the mud. If you stand still for a minute or two, they creep out, but if you move or make a sound, they scurry back to their holes. It must have been mating season because the males tried to hook up by standing straight and waving their big claw. It was rather comical when viewed at a distance, if you could make out four or five of them at once, swaying back and forth.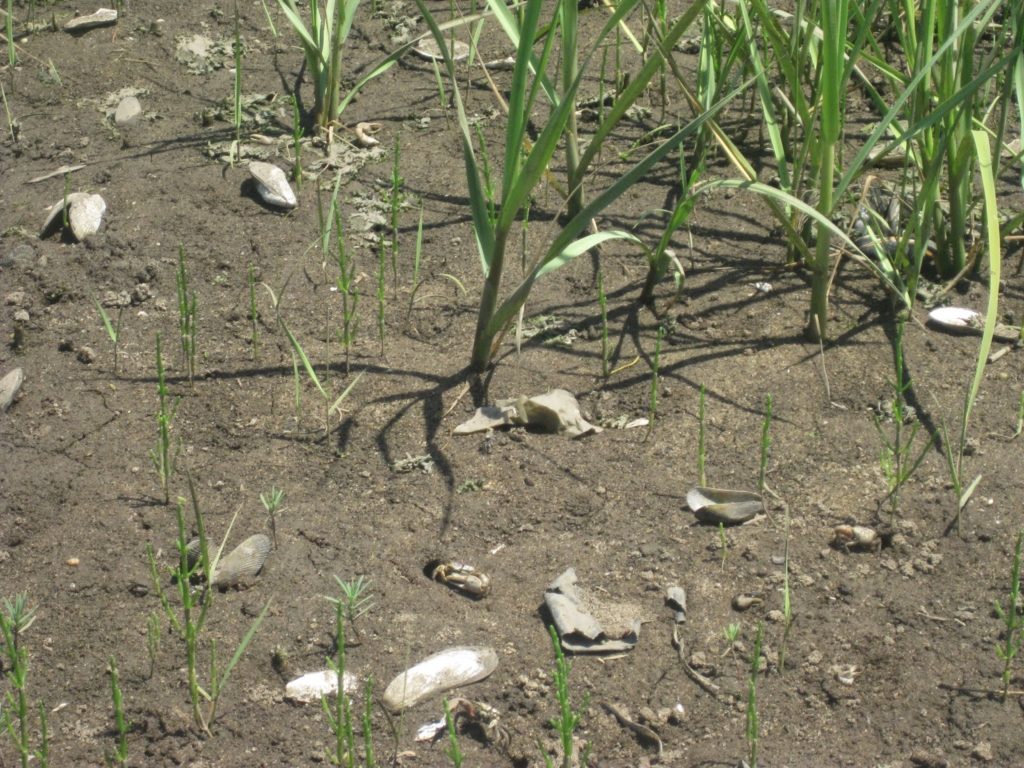 As addictive as it was to play peekaboo with the fiddler crabs, eventually we had to load up to catch the current back. We returned largely the way we came, not as far east, but to the eastern end of the hook's point, before venturing out and letting the current move us west and north.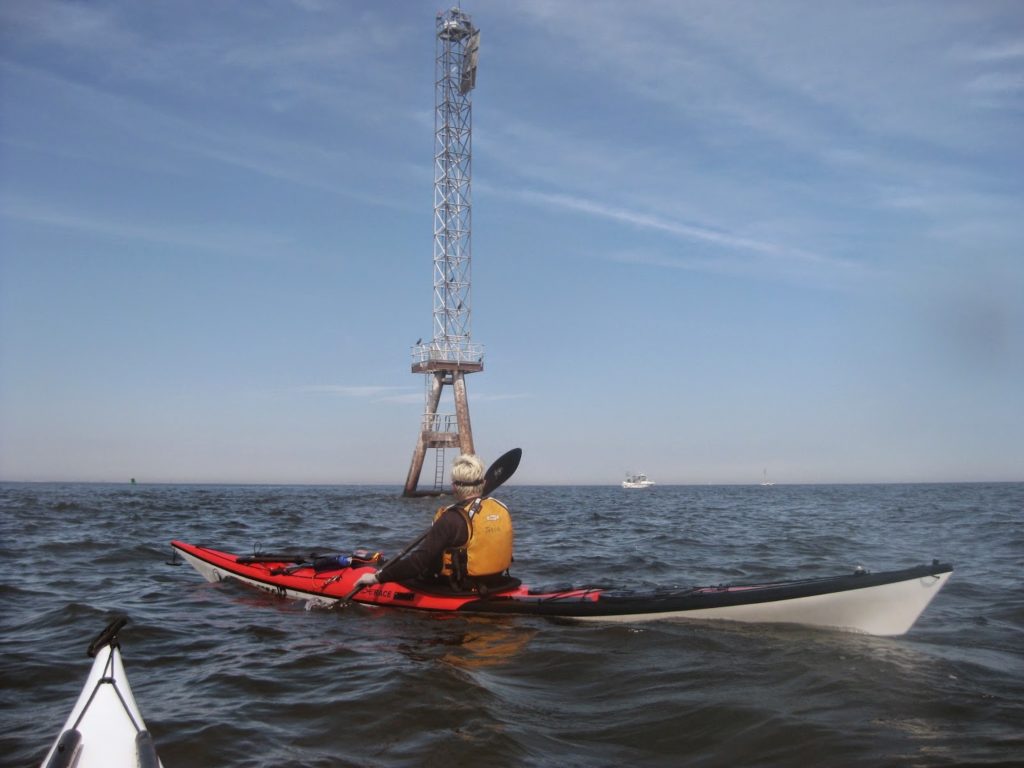 Not too far from Sandy Hook, we could already see the fruits of our efforts. Even five or so miles away, we could clearly see that we were moving sidewise as we looked towards Coney Island. We nosed out a bit and committed to paddling northward in what is probably the longest and most relaxed ferry glide I've ever made, eventually ending up immediately east of Romer Shoal horn. It used to be a full-fledged lighthouse, but is now an empty shell with an automated foghorn.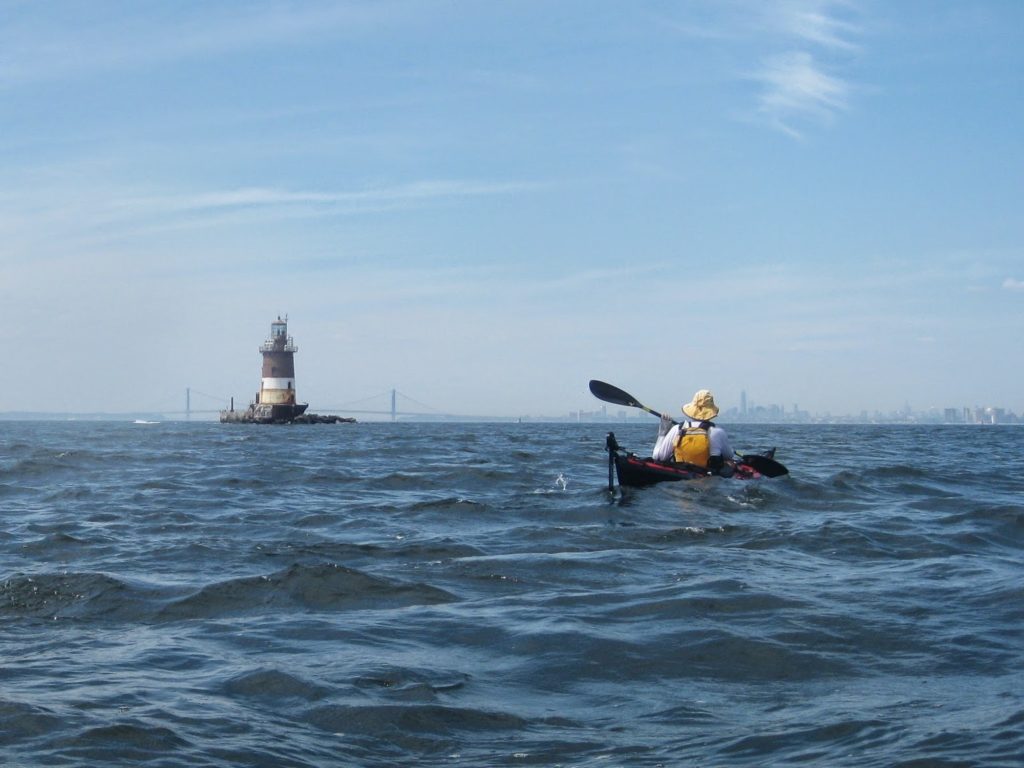 The wind picked up, and that was annoying because my boat had a broken skeg, so it was all paddle and edging to keep straight. I managed to keep the Parachute Jump at Coney Island as a heading until we got to where the Ambrose Channel – the major shipping channel into and out of NYC – turned north-ish, and after that it was less effort to move forward with the current, leaving me with more effort to keeping the boat straight.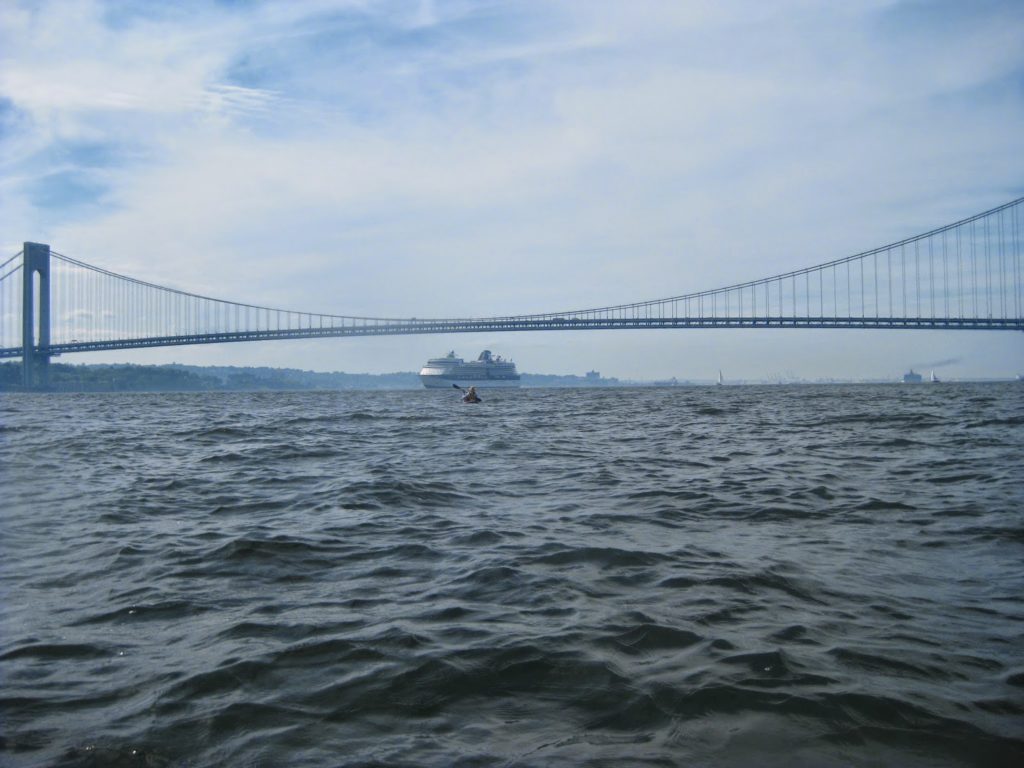 Celebrity Cruises Summit, bound for the sea.
While there had been no major vessels on the way out, as we headed in, we saw one pass behind us in Sandy Hook Channel, and we saw one container ship leave the city as three more came in – and two more after we passed under the Verranzano and were in the upper harbor. We also saw two cruise ships depart.
As long as we kept to the right of the red cans, I was happy.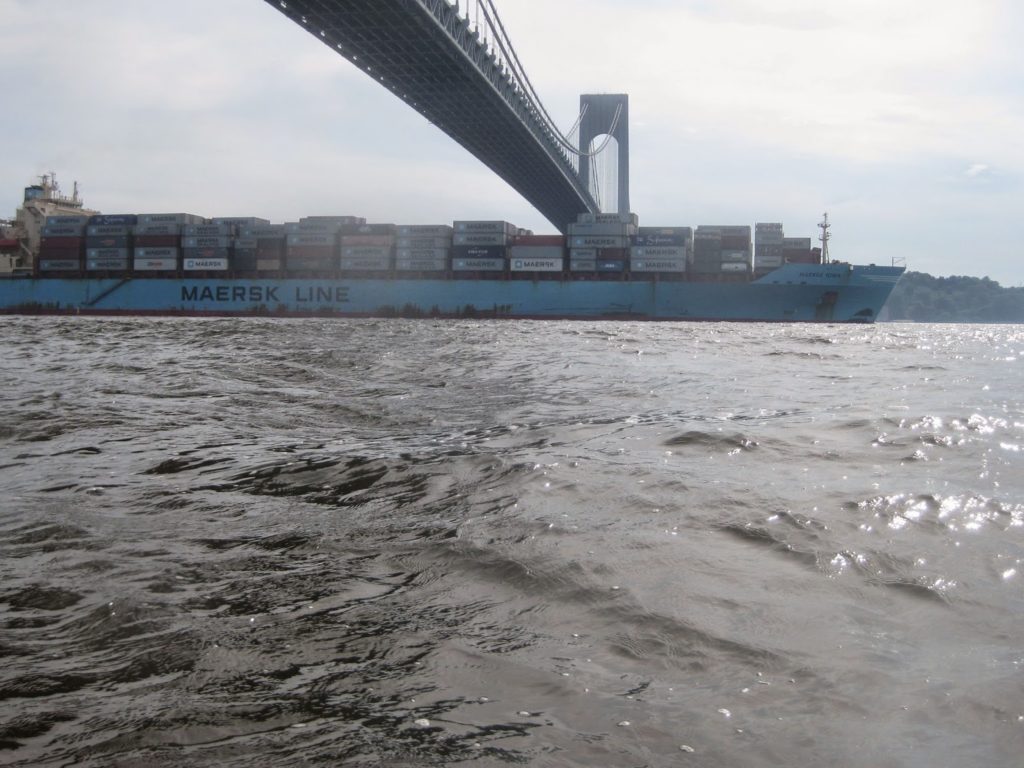 We made our way back the way we came, along the eastern edge of the harbor. The harbor was more alive now than before – still plenty of fish jumping, but also barges moving, along with the big container ships moving in to the Kill Van Kull. A couple of tugs crossed our path at different points, from Jersey Flats to Red Hook, or Gowanus. Also, the Staten Island Ferry was more active, and we saw a couple of runs as we made our way across the harbor. Fortunately, our timing was such that we were ready to cross from Governors to Battery right after one of them landed at Whitehall.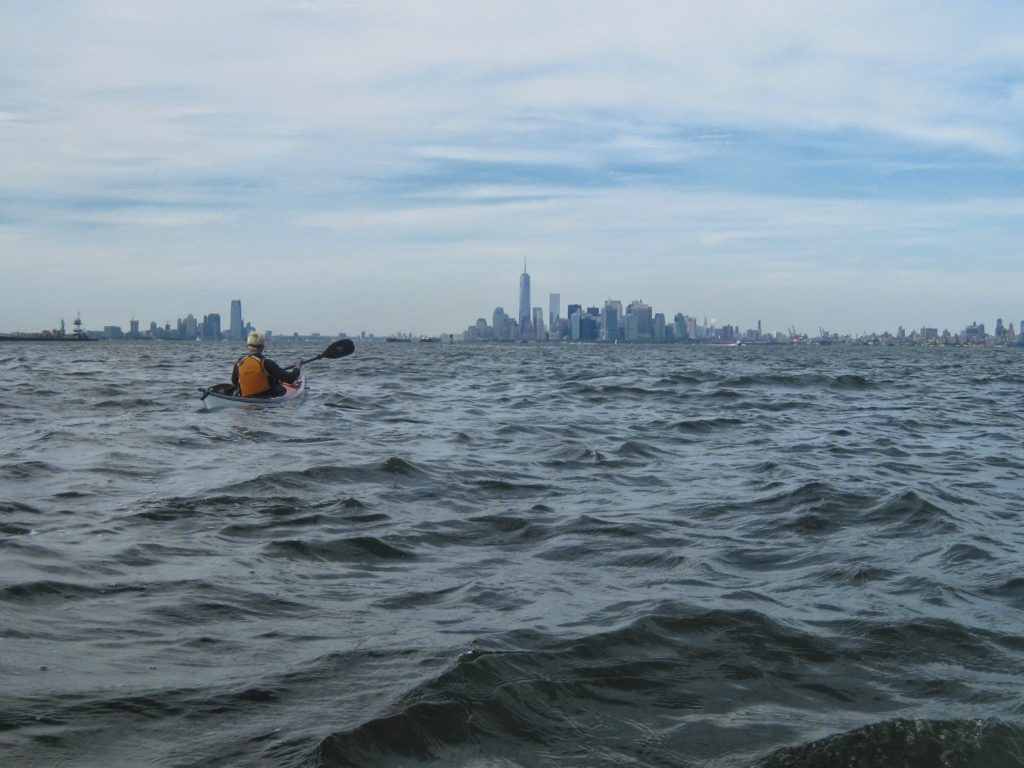 All in all, it was a great trip. I was feeling it near the end – with the wind, the way in was harder than the way out. But, from Battery onwards, it was "just another day at the ranch," the kind of trip we run with even the most basic clients. As we paddled into the embayment, we surfed some waves coming in, and then JJ and I did victory rolls – spotting each other in case we flubbed, of course, but we both made our rolls.
I kinda regretted it while I unpacked my boat and washed it up. Even with my dry clothes on, I was a little chilly in the wind. I took a hot shower at the shop before putting on street clothes and a jacket. I kinda stood out at dinner, with all the regular folks dressed for a nice summer day.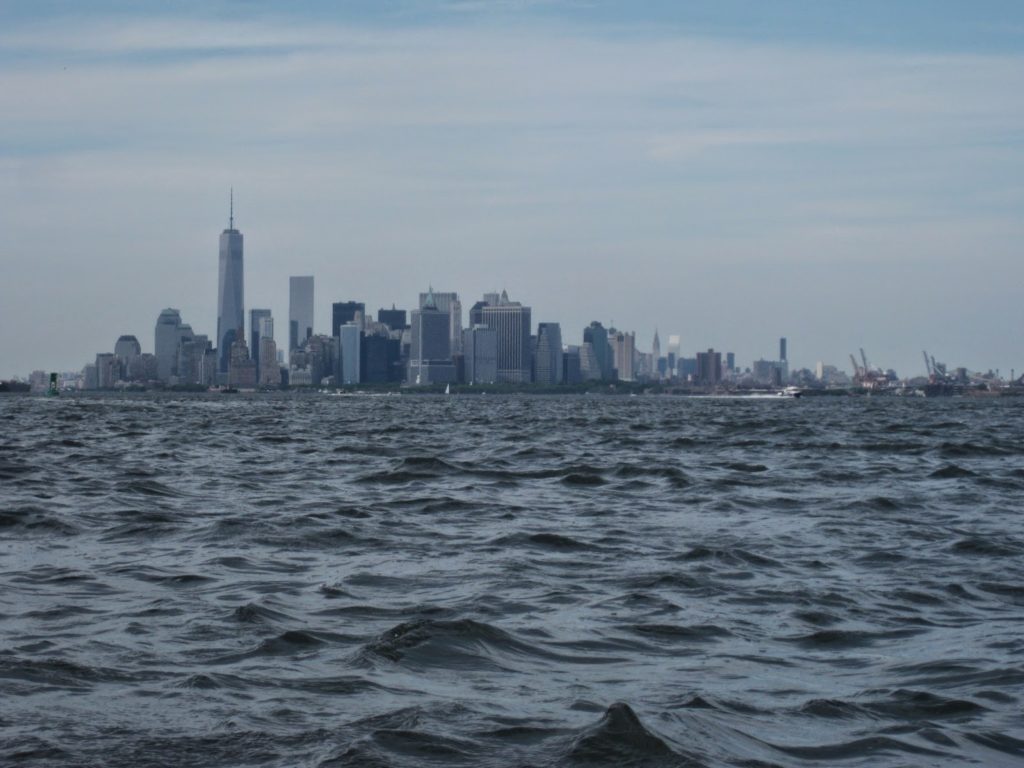 To know I can paddle that far, and in at least the low end of the spectrum of conditions out there, is a great feeling. On a more practical level, to have simply been there, and be able to associate actual experience with data on a chart, is huge. Now I know what five miles looks like, and what I should expect when navigating – as well well as what to be worried about when visibility is lower. There's a lot of fetch – in stronger winds, we would have had a completely different paddle.
Sandy Hook is a destination with all kinds of fun history, and a pleasant place to visit in its current state. It's a moderately challenging trip from NYC, and one I hope to make again, and again and again.