Sometimes, it isn't the last mile, but the mile before last, that is most challenging.
On Saturday I paddled with my good friend and fellow Inwood Canoe Club member AW from Inwood to the Throgs Neck Bridge. It's a trip we'd planned for two weeks earlier, but AW and other company were unable to make it, so we postponed until the 14th and moved the departure time up by about an hour. Other company were still unavailable, so it was just the two of us.
Ideally we would have left at 0745, but left at 0815. For the ride out, this wasn't a huge deal- if anything we would cut our trip short. Ultimately we did not have to, as we were able to make up the time.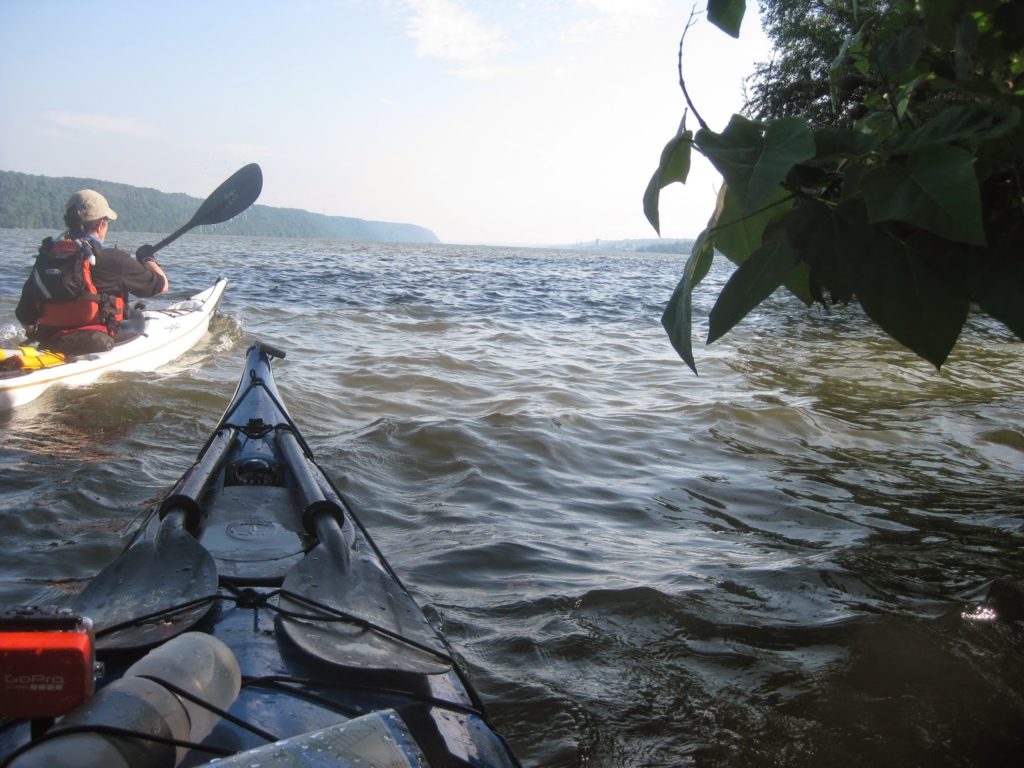 It was a sunny but cool morning as we glided down the Harlem.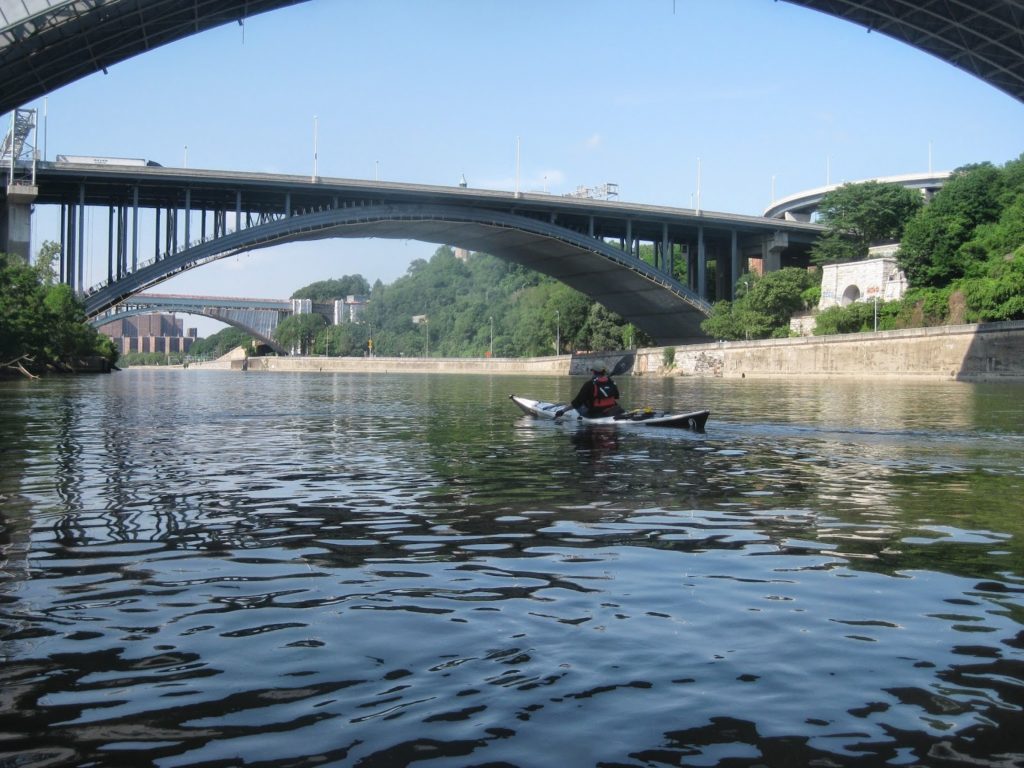 We took a shortcut through Bronx Kill, a narrow creek – technically a tidal strait – to avoid going around Randalls Island. The kill is underutilized by most NYC kayakers – they're either going past Randalls entirely, or going through Hell Gate. No one seems to come from the north.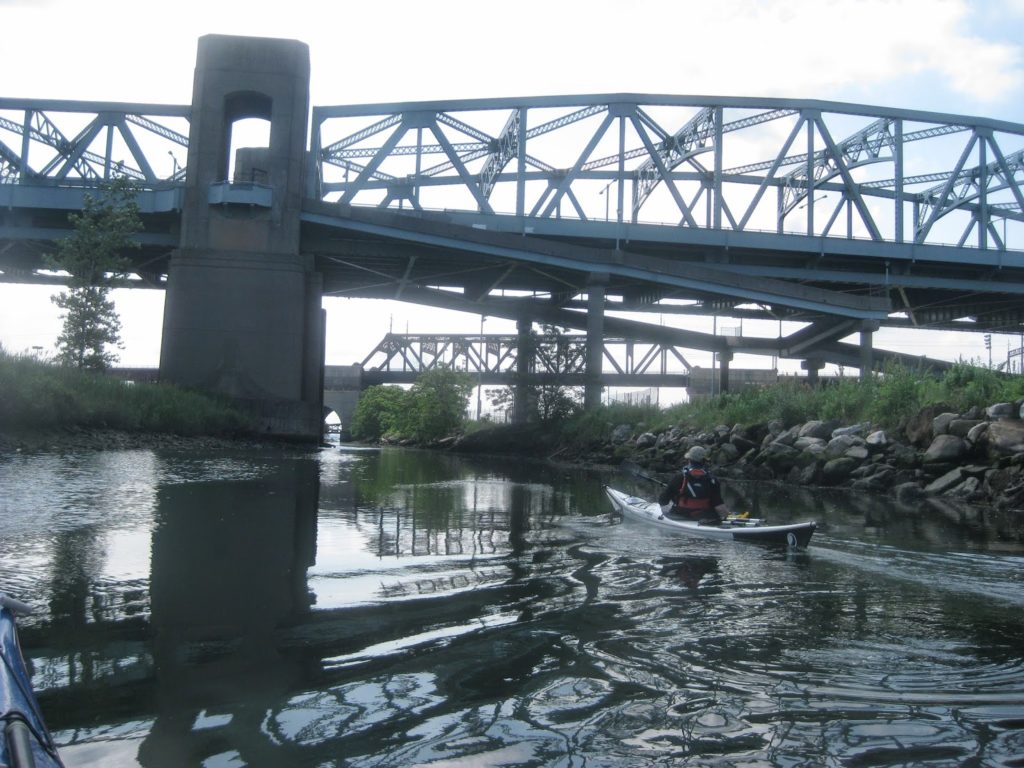 In short order, we were staring at the Upper East River – the part of the river between Queens and the Bronx, home to Rikers Island, Flushing Bay, and further out, the Bronx-Whitestone and Throgs Neck bridges.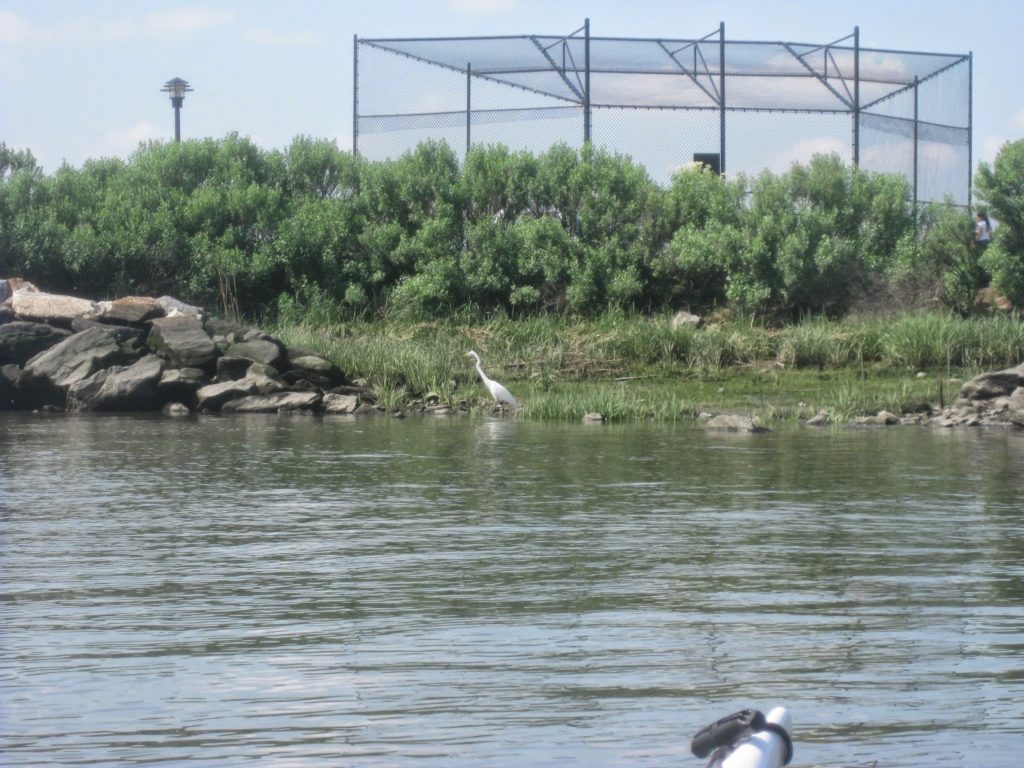 Paddling out was fairly straightforward. We used a chart to keep track of our location, finding waypoints on the chart and matching them to fixed objects we could see. A succession of barges headed out, along with a few small pleasurecraft. At one point a sailboat gave us confusing signals; her captain later radioed, "sorry".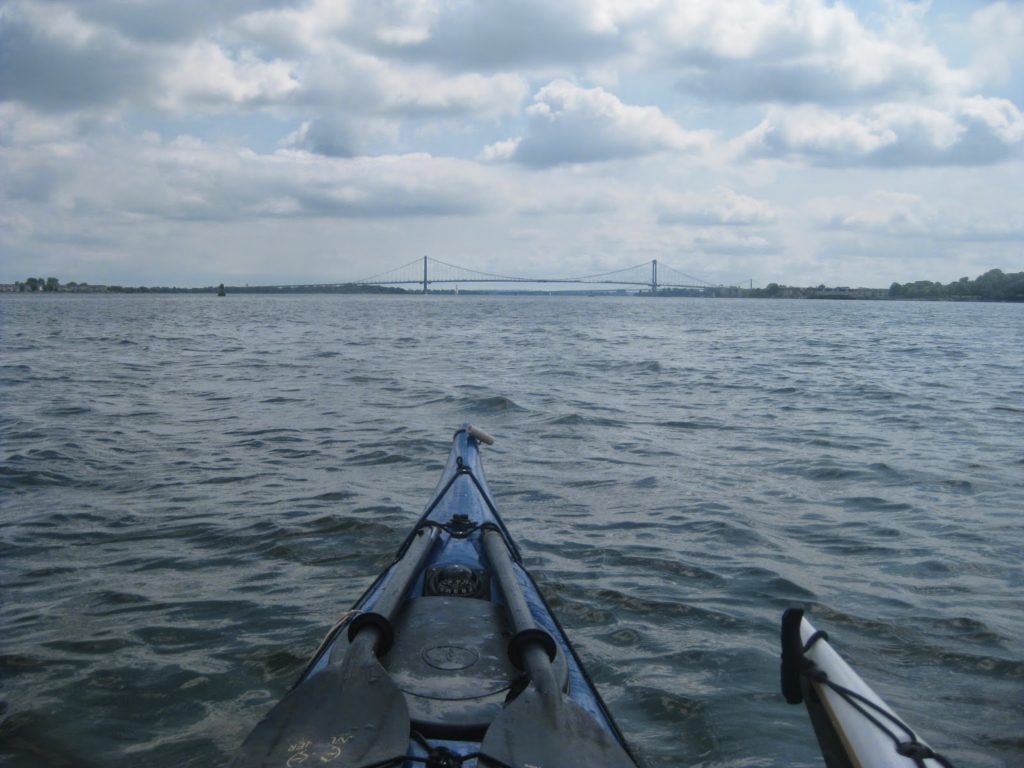 Past the Bronx-Whitestone, we saw some large, expensive houses on the Queens shore. One even had both a boat garage with ramp and a lift on a pier holding a sizable pleasurecraft out of the water. Some had weird architecture; a few had clearly new construction at the waterline, presumably from Sandy rebuilding.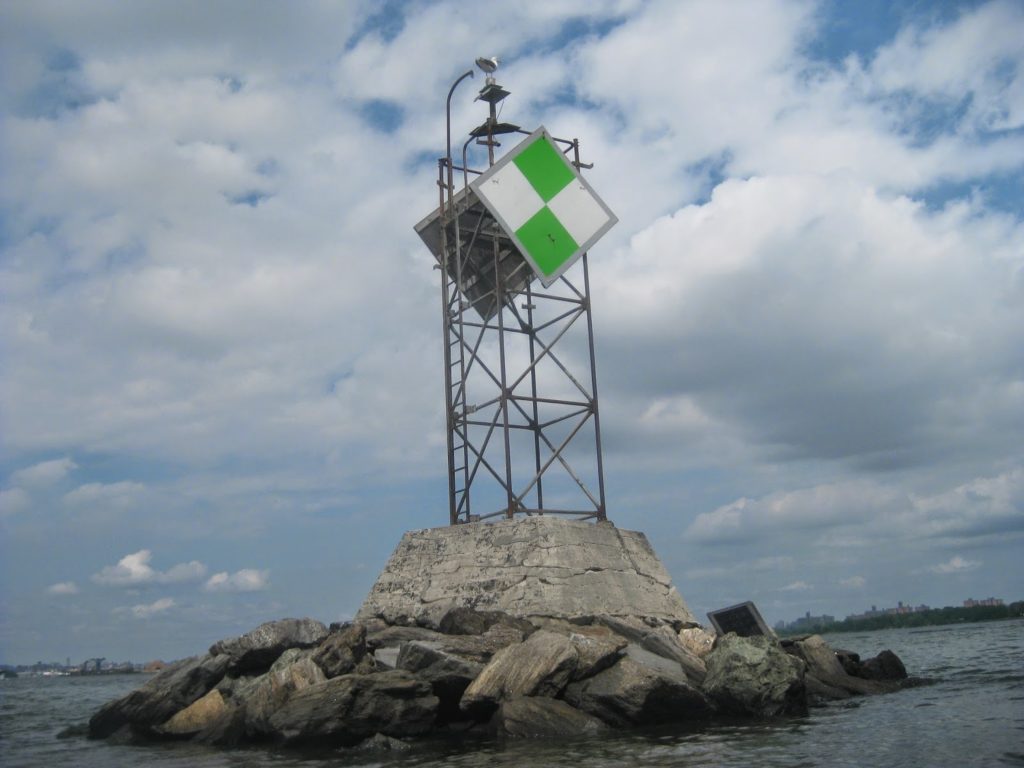 We crossed north, getting a little bit of ferry current and cutting just past an anchorage. Soon we were near the SUNY (State University of New York) maritime college, with a campus on the north end of the Throgs Neck Bridge. We passed a small beach, and paddled on around the neck, avoiding fisherman's lines.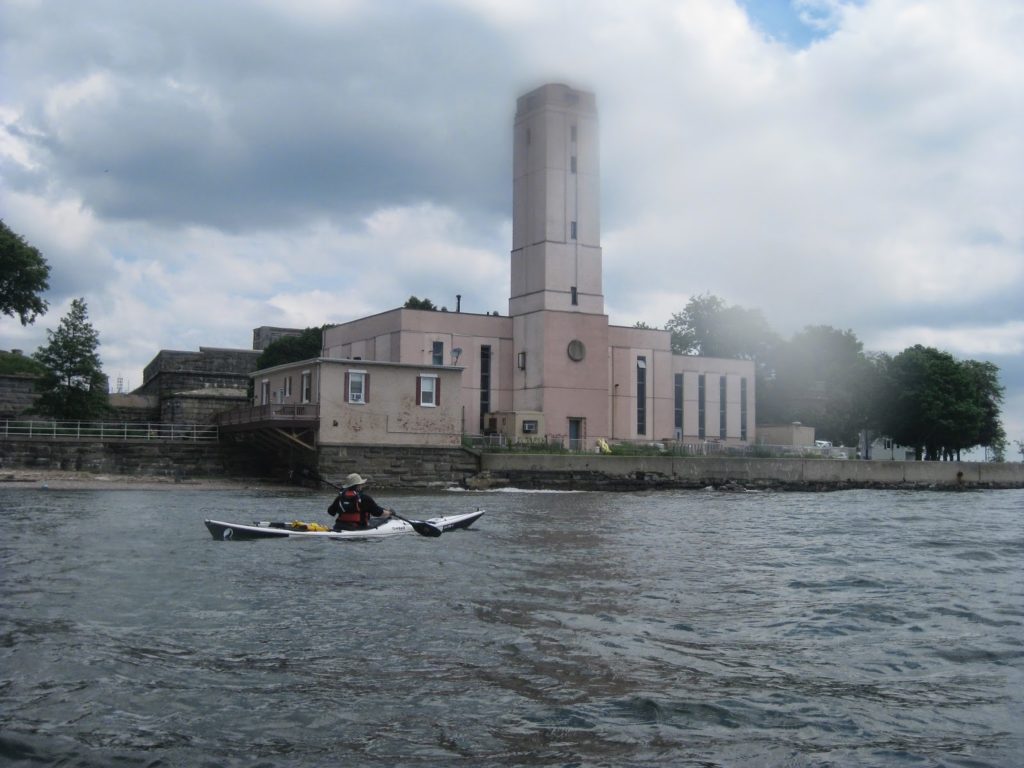 We were looking for another beach, but it was almost all rock landing. We turned around, giving the fisherman a wider berth. Off in the distance we could make out the lighthouse at Execution Rocks – a tempting target, but not for that day.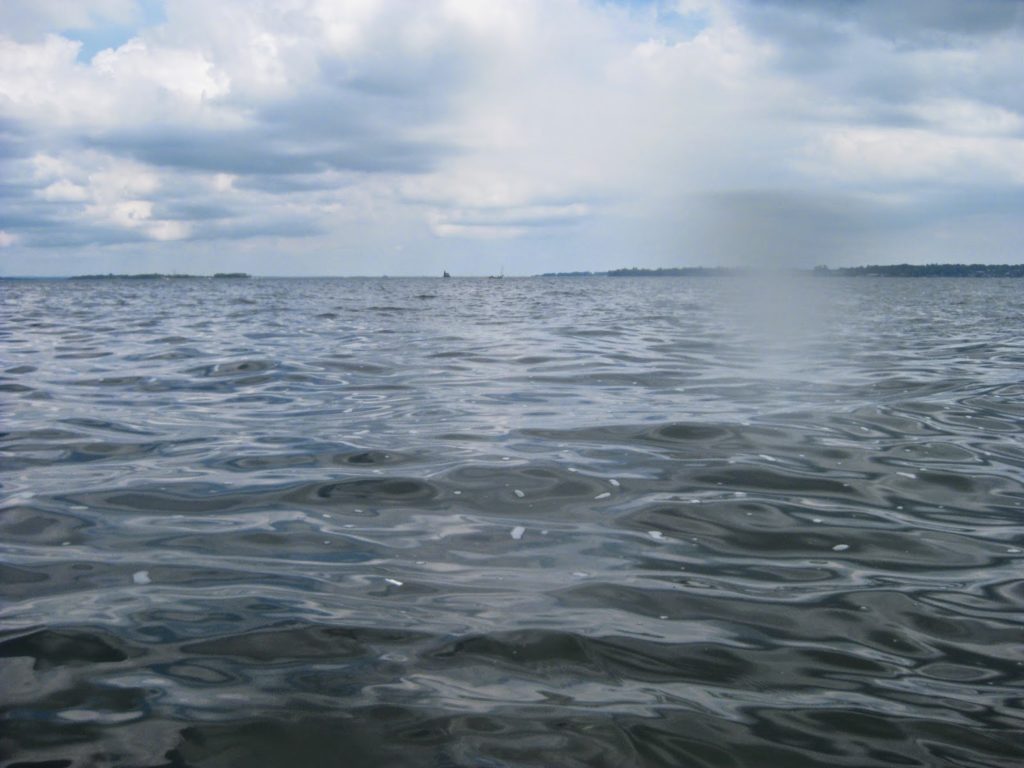 We landed back at the beach and pulled our boats up to the high tide line. We unpacked for lunch, and negotiated a space-sharing agreement with some geese and goslings. Poppa was VERY protective. They later took a little walk. They were cute in their formation!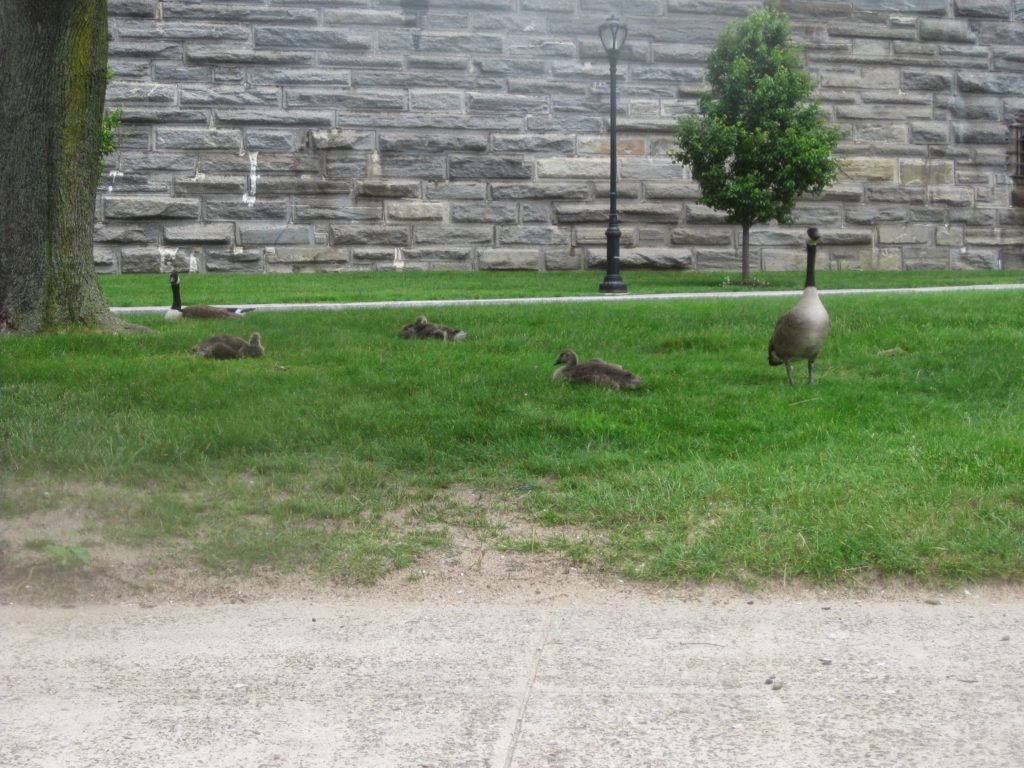 While we ate, a security guard came by. Mr. Wong was actually very nice, demanding only to see our ID and get or names. Normally people checked in at the gate. We had bypassed that. "You're so brave," he said. "I used to outrigger, at least we had the arm to keep us from falling in!"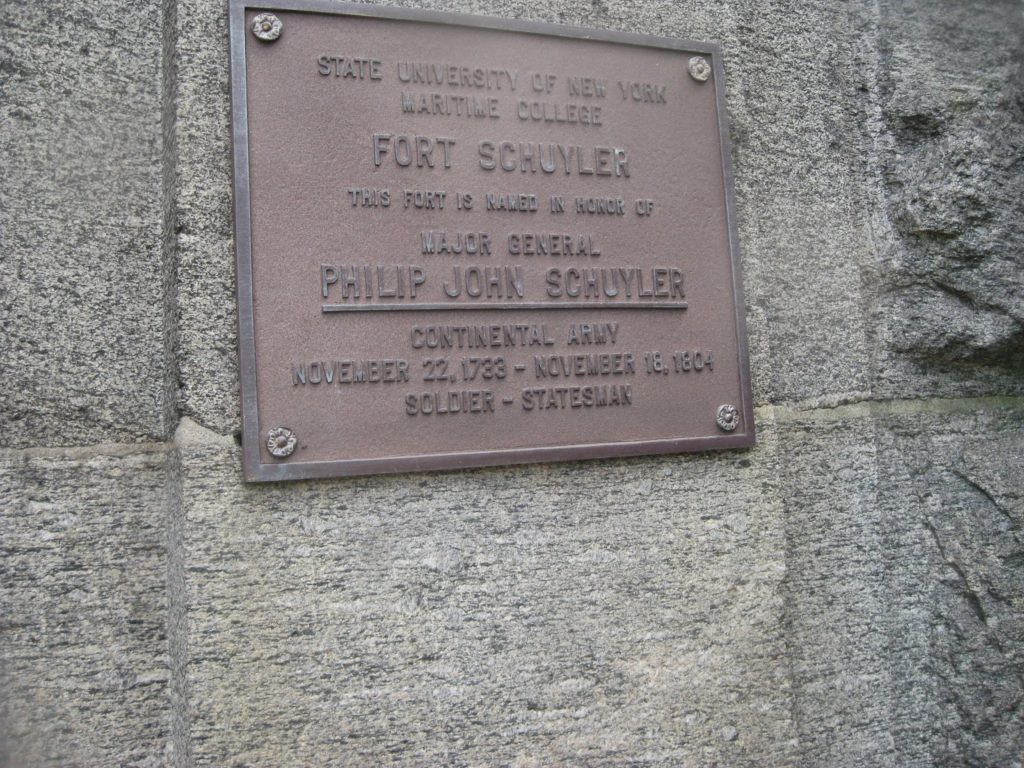 We found our landing spot rather mesmerizing. The campus of SUNY Maritime is a fort dating back to the Revolutionary period, used to defend approaches to the city and later used as a POW camp during the Civil War. The grounds cover a lot of history, including a propeller blade from the SS United States. Old ships' bells and plaques to commandants past adorn the exterior walls, and supposedly there is a decent museum on campus.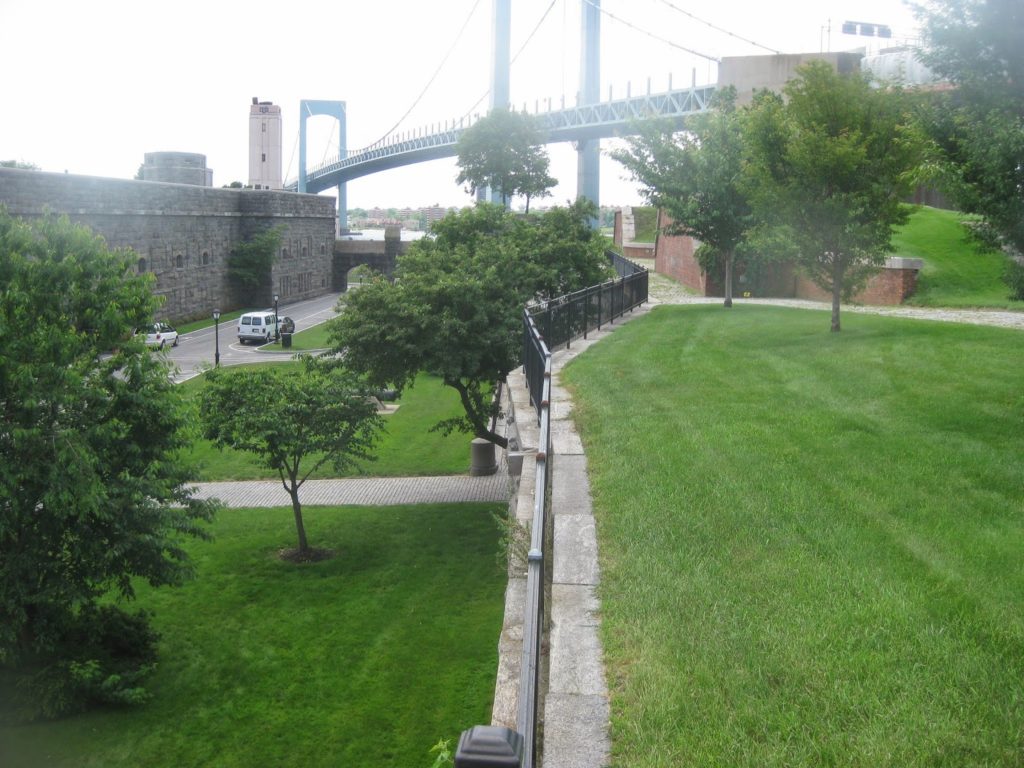 We left, half an hour or so later than planned, but figuring we'd make up the distance. What we didn't account for was the stiff headwind on the way back across the East River. The current was with us and we made relatively good time, but it felt slow. It was only when we passed a barge in the anchorage areas that we could see how steady our progress was.
This was one of those trips where you realize sea kayaking is a mental game. We felt beaten back, but we weren't. We simply had to paddle into the wind and keep going.
On the way back, we got a closer look at the Vernon C. Bain, an immense prison ship/barge moored in the Bronx directly across the river from Rikers Island. The boat, as it is called, holds about nine hundred inmates and is named for a well-regarded prison warden. Who wants their name on a prison ship?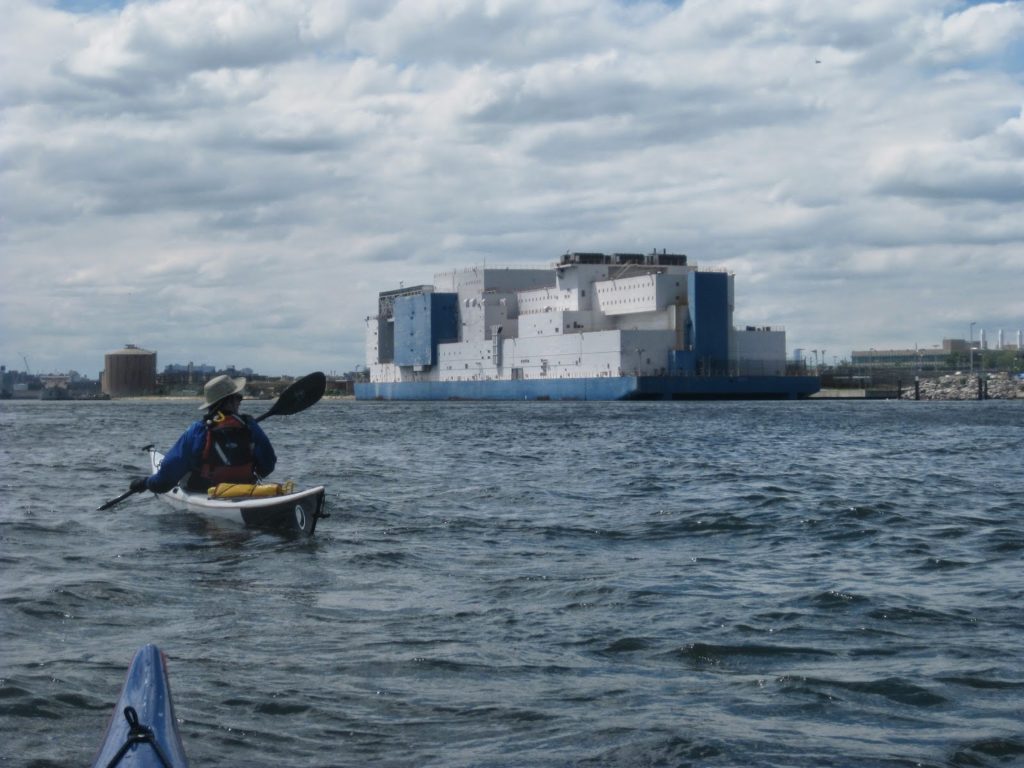 Onwards we went, rounding the Brothers the long way to the north until we came back in to the kill. We paddled along, and found that the rapids we'd passed on the way out were now flowing in! This makes it technically a tiderace . . .although a meager one.
Moving up the Harlem, we continued to experience headwind. Even when we attempted to use Manhattan as a windbreak, he wind shifted to come more from the north. It wasn't terrible but it wore us down psychologically. Even after singing some trail tunes, we were ready to be home long before we would be home.
Around Peter Sharp Boathouse, I noticed he current had turned against us. It wasn't bad, but it meant we had to get past the next mile before we'd be back to friendly current. As we rounded the corner to the Broadway Bridge, it became more pronounced – the old Spuyten Duyvil creek is a constriction that makes the whole thing go faster. Also, the wind came howling down the canyon. With steep cliffs and hills on both sides, any westerly wind off the Hudson funnels into a tunnel in this stretch.
We pulled out all of our tricks. We eddy-paddled. We used low angle strokes. We fell into that sea kayaker cadence to keep into a steady rhythm. We were fortunately in that the wind was mostly straight at us. Abeam or quartering would have been worse.
As we crept along, we saw signs of how struggling this would be – strong eddy lines, water building up against fixed objects. In particular, the Columbia dock looked very strainer-ish. I'd remembered earlier that the night before had been a full moon, making this a spring tide. The mudflats seemed especially high, and the current therefore stronger.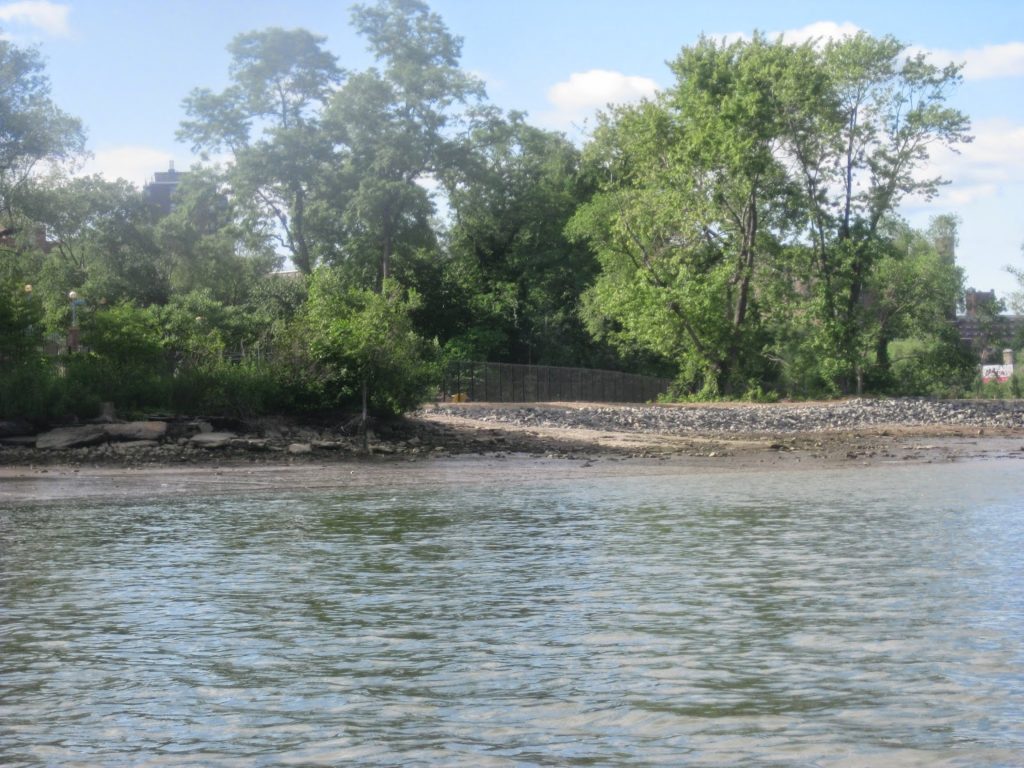 We eventually arrived at the little nook near the railroad bridge, which afforded a brief respite. We ran into fellow club member IB and his niece and nephew. While chatting, we drifted a bit, and by the time we parted company we were about to be pulled over the eddy line into the current. We had to paddle backwards to stay in the eddy, and then charge out through the current into the Hudson.
And then we were . .free. The Hudson was flowing steadily south. Free from the Harlem's grip, we paddled lazily, resting half the way, back to the boathouse.
And that was that. The penultimate mile, from Peter Sharp to Spuyten Duyvil, was the hardest. I never thought I would say the Harlem river was the most challenging part of the trip, but it was.
While it was challenging, I didn't feel exhausted afterwards. I didn't ache. Oh I was tired in the moment, but once through, I thought, that's it. That's kayaking. We practice these skills for when we need them. Oh sure this wasn't high surf, or the rocky coast of Maine, but we were fighting current and wind, and crossed from one tidal stream to another. The weather changes. You miss your waypoint. You've got to make up for it. That is kayaking.