Scheduling was ambivalent, the day uncertain until right before. Mister Cowgirl's friend TH was emailing various friends about paddling on the weekend. Busy on that day was one response, brrr it's cold was another. We were on the fence ourselves, but once TH agreed to meet us on the water near Inwood, it was too convenient to pass up.
We schlepped our gear to the Inwood Canoe Club, finding parking relatively easy now in winter, walking down the bike path from the road to the boathouse. In short order we pulled down and kitted out boats, talking to another club member who arrived right as we were leaving.
The wind was a bit perkier than we'd expected. The prediction was 7-9 mph NNW, and this felt . . .more. Perhaps 12. It was a steady wind, too, and when we weren't moving, it chilled us easily.
On top of that, the current was ebbing at near its max rate; the tidal cycle this day was such that it would have been ebbing essentially all day, from the earliest we might have arrived till dusk. We'd worked out that we'd meet TH near the boathouse, with him paddling over from New Jersey, and head north.
That's essentially what happened. As we saw TH come across the water, we saw how strong the current was. He tried a ferry angle and kept pretty good at it, till we signaled it was OK to drop down with the current by paddling out towards him and then coming back to the eddy.
While we were waiting in the lee of Tubby Hook, we spotted first one . . .then two . . .and finally a third cat in and on the rocks near the restaurant.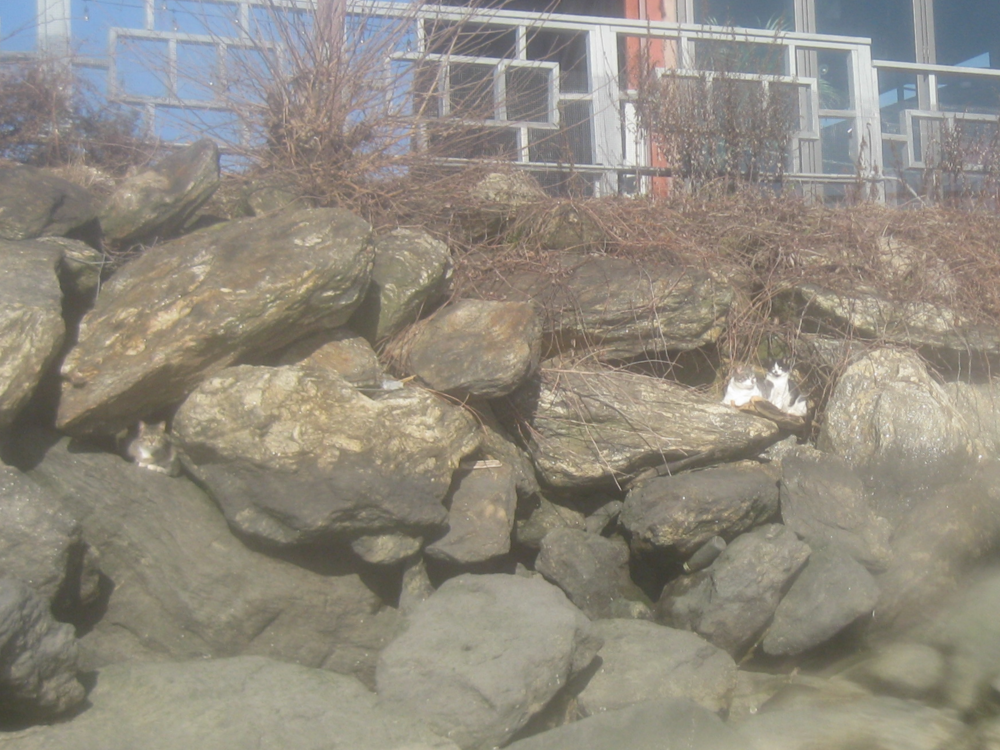 It's not often I can open a paddling post with a cat pitcure.
TH reported that the wind was very strong on the Jersey side, and thus that while the current might have been easier to attain against, the wind was strong and chilling. We decided to attain against the current (Or "buck tide" as I've heard tug captains say) and get into the Harlem, where we would be somewhat sheltered from the wind.
I have to say, having done this before, that this particular attainment was quite invigorating. The current was very strong and so we hugged the shoreline, my paddle striking rocks on several strokes. There are a couple of dips in the shoreline that can be used for brief respite, and we used them, but there are also a couple of stretches where paddling into current is unavoidable. People in the park watched us inch up along the coast; I imagine they were wondering what kind of lunatics would struggle so hard in cold water during the winter.
In any case, we made it into Spuyten Duyvil, where we took a quick break.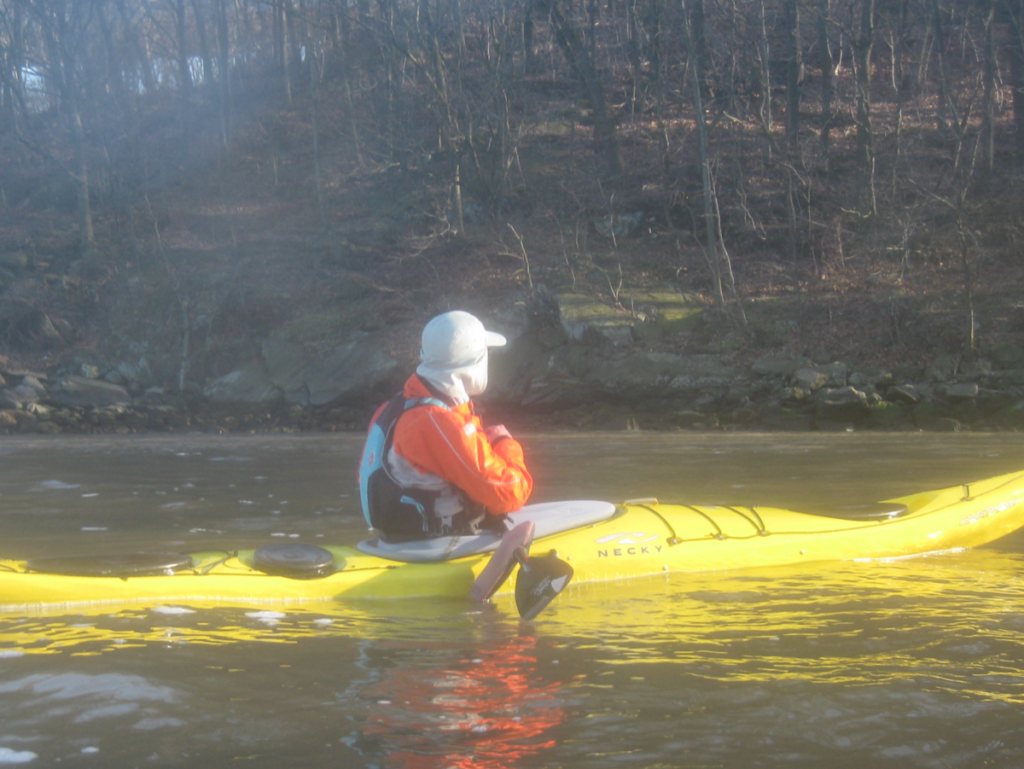 Paddling had warmed us up, though my toes were still cold. I hadn't bothered with a second pair of socks.
The water in the Harlem was flowing east and then south. It's complicated to explain, but essentially the current would be flowing down the eastern side of Manhattan, and we would have to fight it coming back if we wanted to return before dark. This constrained our plans a bit, but we went with it – moving easily past Inwood Hill Park, the Henry Hudson Bridge, Columbia University's landmark C and their sports facility, and past the Broadway Bridge to the Harlem proper.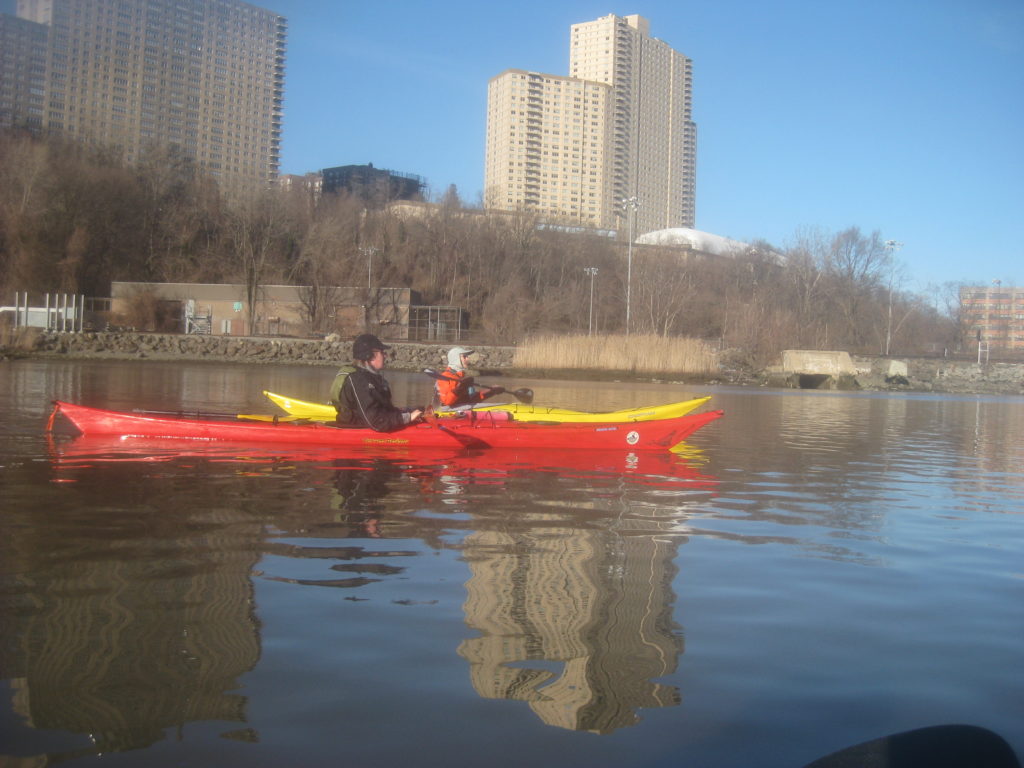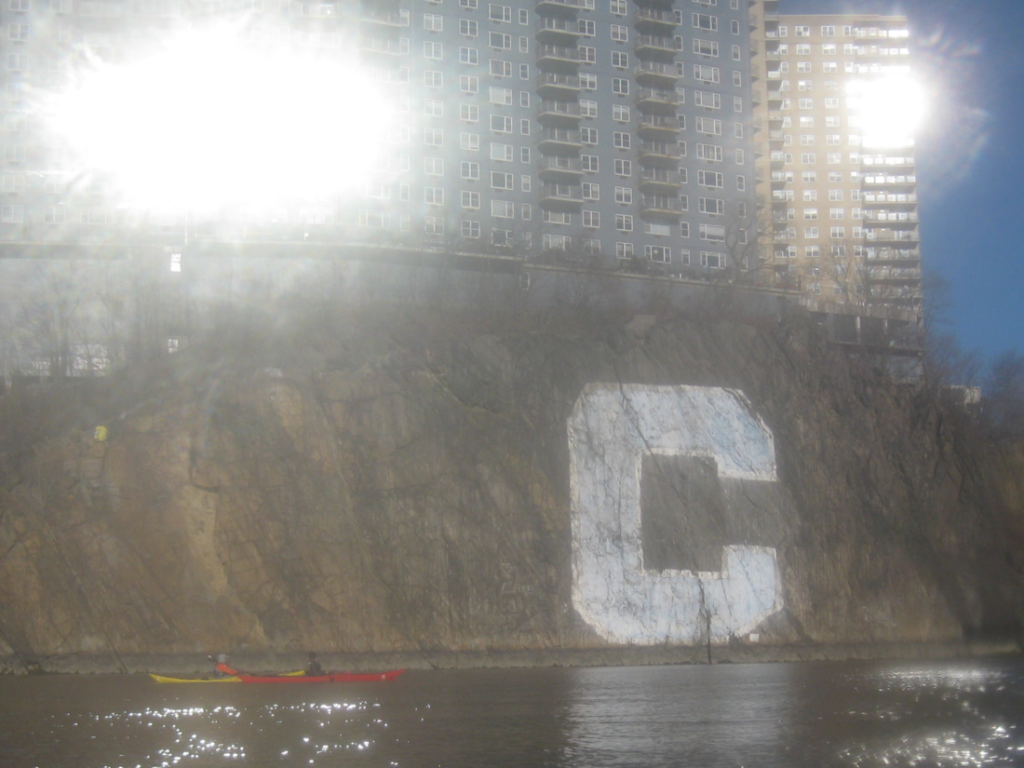 We continued on – it was so easy, with the current – eventually settling on a plan to go perhaps as far as High Bridge. We passed the MTA trainyard, 207th Street Bridge, and Peter Sharp Boathouse, north of High Bridge, near High Bridge Park.
Here, the sides of the shore are smooth walls. No eddies. Turning around meant a bit of a slog back, until we got to the rough shore of the northern tip of Manhattan. It wasn't so bad, but it took a bit of sustained effort, and more frequent breaks along the way.
It also meant staying clear of potential hazards, like a barge, or a large set of tree branches. We might attain alongside that against the current, and then have to go a bit further to be sure we didn't get sucked into a strainer.
Eventually we came back around, coming to the Columbia area with just enough daylight left. I was pleased to see that while some rain earlier in the week had washed away nearly all the snow, a small patch of ice was left from my last trip.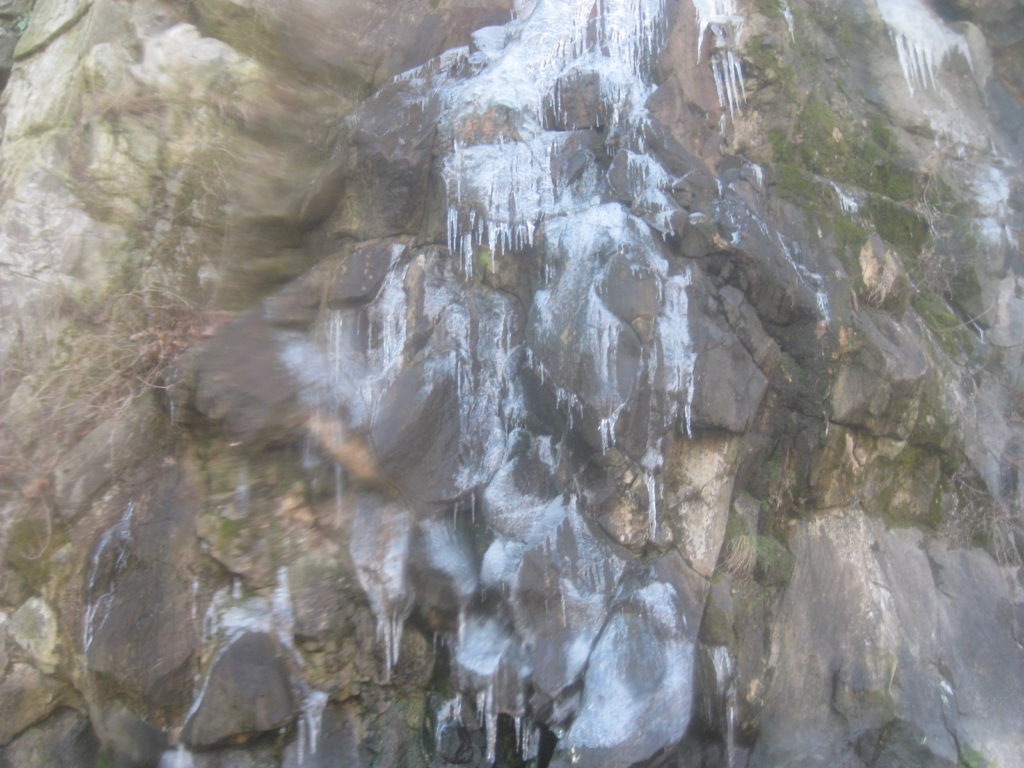 Additionally, as the day had worn on, by now we were getting some great light. Unfortunately my camera didn't capture it very well.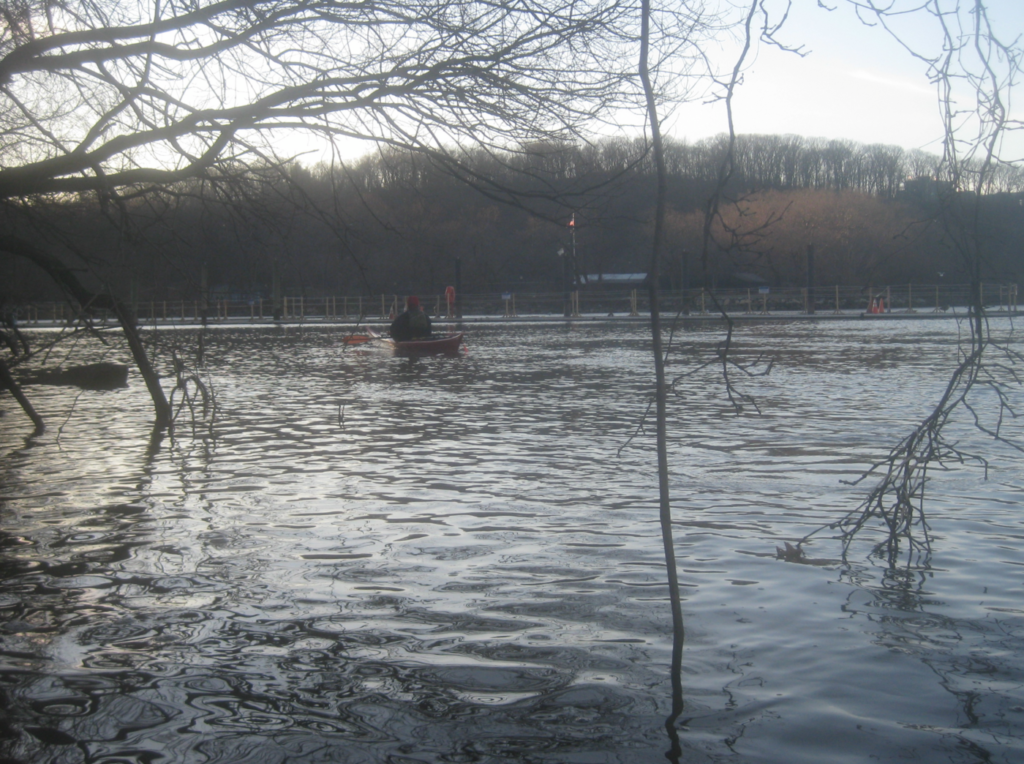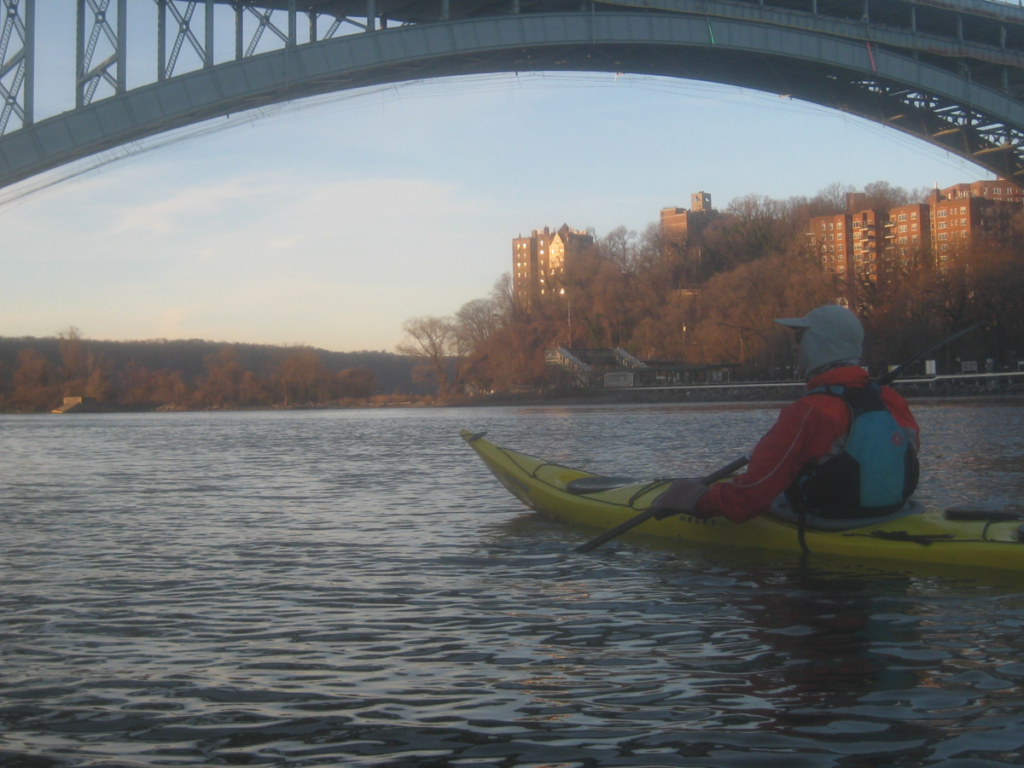 We came out of the Duyvil expecting the current to have begun to flood north, or at least be slack-ish. Whether it was the wind or my predictions were off, it seemed to be running south. We parted company with TH, who began paddling back across the river while we returned to the boathouse.
There were a few more people around and, owing to socializing, it took us a bit longer to pack up, but we walked out after dark, back to the car, back to warmth, and on the way home after a brief stop for take-out food.