I've been paddling for about fifteen or sixteen years now. For the first few, I was very amateur, belonging to a club and only venturing out in a group using club boats and equipment.
Then, about ten or eleven years ago, I bought my own boat, and from that point on I began to paddle more adventurously, making solo trips and eventually, after moving to a different part of town and joining another club, teaching and guiding. I worked for a now-defunct kayak shop, and afterwards set up my own lil' company to teach and guide.
Eventually, I gravitated towards a set of coaches who operate primarily in Maine, New Hampshire, and New York's North Country. Just a few years later, I was assisting at a sea kayaking symposium organized every October, wherein a few dozen participants arrive near Georgetown, Maine, to be taught and guided by these coaches.
---
To some people, especially non-paddling people, the idea of a symposium for sea kayaking sounds odd, perhaps a bit pretentious. In particular, I know academics and professionals for whom the word has a slightly different connotation, a gathering of experts to present new findings in their field, and perhaps review best practices.
However, that's very much what a kayaking symposium is. The term's not unique to this event; there are others described in this way. A handful of coaches teach a number of paddlers, with the coaches comparing notes on coach-y things, and participants getting experience and guidance on how to paddle in and around certain features. Symposium's the right word for it.
What is somewhat unique about this symposium is how it's organized. Most symposiums offer classes for people to sign up for: this class on that day, that class on this day. Top coaches are headliners meant to attract more participants.
However, this one is different. Participants fill out a short form about their experience and their goals. They organizers group them into pods of a half-dozen or so people, and generally people stay in their pods (inevitably, a couple move around if after the first day they report being challenged too little or too much). A coach is assigned to the pod to stay with them the entire weekend, and then the pod rotates through pairings of two other coaches each day.
The result is that the group learns and practices together, the "anchor" coach gets to know them and shares information with the coaches-of-the-day, and there is a great deal more flexibility around choosing the venue and activities. This better supports a learner-centric approach.
In any case, for two or three years I was an anchor coach, and this year was my first as a floating (figuratively, not literally) coach.
---
This year, there were a few adaptations for Covid. I won't go into them, other than to say that like several coaches, I opted to sleep in a tent rather than in the cabin. We still used the cabin for warmth and food prep, but I have to say, this year the weather was unusually warm.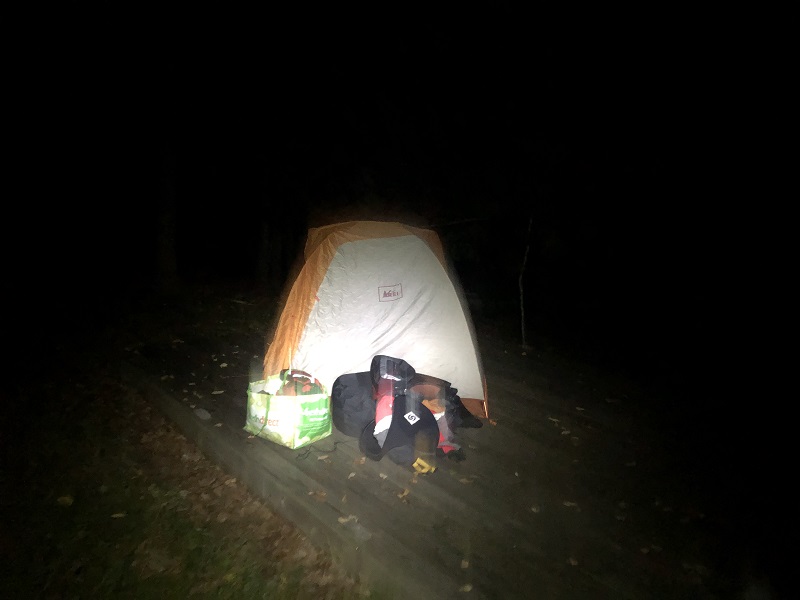 Thursday night, after we arrived, was alright. However, Friday night we received a lot of rain, and I had a tiny leak owing to not having closed one of the vents correctly. I woke up dry but had to fix it before we left.
Saturday night, a great wind blew through, a cold front blowing out the stalled low pressure system that had deposited the rain. I spent a couple of hours in the wee portions of the night awake, wondering if a tree or branch would fall and injure me.
Friday
Friday's group was lovely. All but one were new to me, and she had been one of my students when I assessed for the Sea Kayak Coach award a couple of years ago. Conditions were favorable to launching and landing from the campground where everyone met each morning, and from there we paddled out to a small tiderace at the mouth of the Kennebec river.

I worked with A and GP that day, both experienced coaches. We worked out a set of exercises to get the participants a little more mindful about controlling their boats in the tiderace, and then split them into two groups to sort out how to ferry to the tiderace.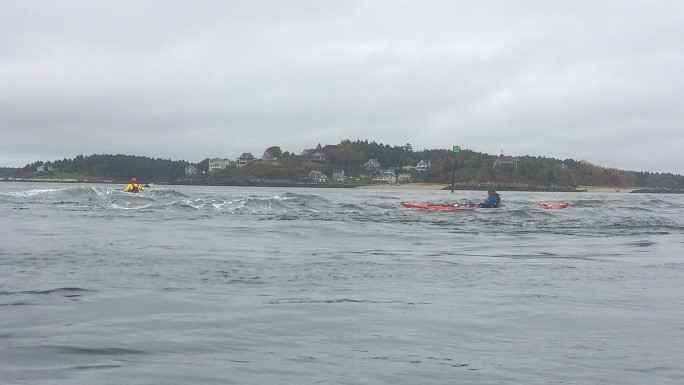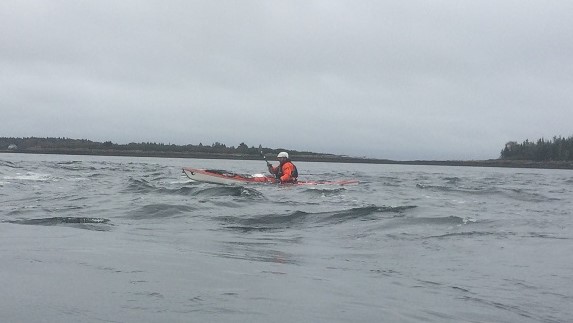 Once there, we all took a few rides. I got one of the best surfs of my life, feeling a suck indicating a large incoming wave behind me. I managed to ride it halfway through the race before carving out.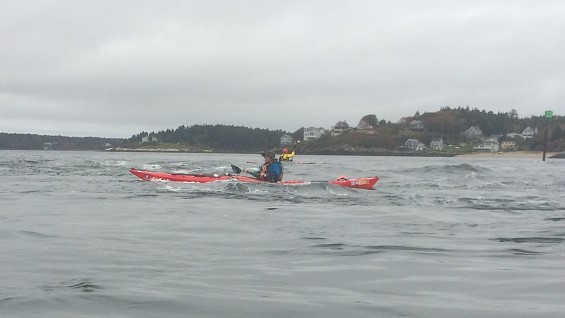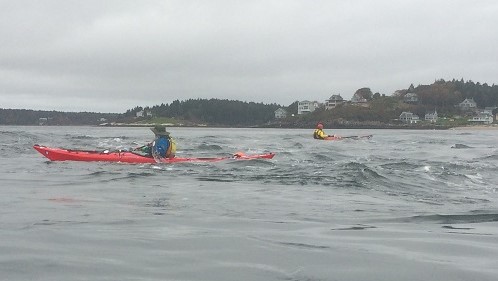 We stopped on the island for lunch. We weren't the only group that did so.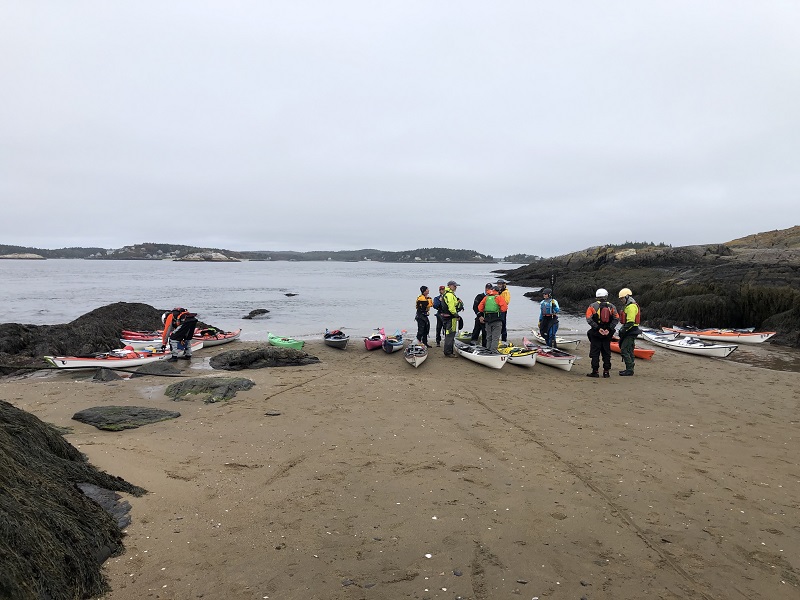 We could see another group trying to surf in a different area. At a distance we could see the swell was a longer period, and therefore harder to catch, but a couple of people caught rides – and at least one wiped out and rolled up.
When we paddled back, however, we were a bit early, and had to wait for the tide fill in. Other groups arrived, and in short order, about two dozen kayakers were milling about in a shallow bay.
Some people couldn't wait to paddle in.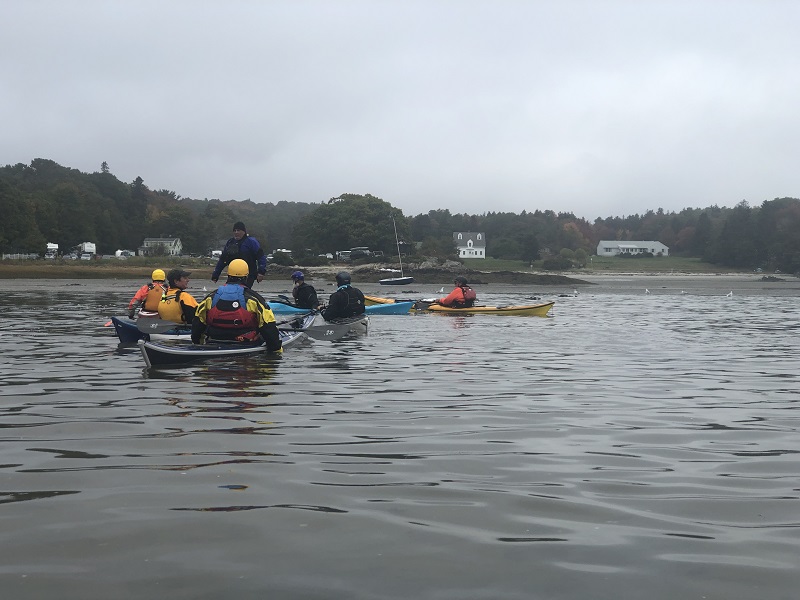 Saturday
Saturday was rainy. The overnight downpour continued steadily while we all woke up, made breakfast and lunch, then got ready. After putting on my drysuit, I fixed my tent and set down an extra spraydeck to act as a bucket/sponge, then went to the parking lot to see only one car left. I caught a ride with A and C, the last car leaving.
When we arrived, we had to wait a while to be sure no lightning would show up, and by the time the groups were organized and leaving, the rain had abated and we were left with only overcast skies.
Saturday's group was lovely. I worked with JC and MF. We spent some time paddling around Five Islands; the wind was a bit stiff on the Sheepscot river, and we were able to shelter behind the islands to practice some moves, and then take them out in the bigger environment.
Make no mistake, while conditions were within remit, the wind on the river side produced tall swells that our group found adventurous. To be able to go so easily between calm, protected water and bigger, more open water, is one of the best aspects of Five Islands.
I don't have pictures from that day, but I was paired with one of the organizing coaches. I definitely learned a bit on how to coach, not only what I normally teach, but a couple of things to add to my bucket of tricks.
Sunday
Sunday is always a short day, since it's the last day, and many participants have long drives home before going back to their weekly routines. Mister Cowgirl and myself had taken Monday as a vacation day as well, and our plans were to stop and visit a friend and family before driving home Monday evening.
In any case, Sunday's group was lovely, and also the largest group. Altogether, there were four of us coaching(CL, K, C, and myself) and eight participants, so we were able to work with people on a very individualized basis, and support the group splitting into smaller teams ad hoc.
We paddled out of Five Islands again, this time heading north and then south to play along different features as the tide ran out. The weather was gorgeous, owing to that cold front blowing through overnight. Rather than stopping for lunch, since it was a short day we simply snacked on the water, and managed "shore leave" for biological necessities as needed.
I didn't have pictures of this day either, but it was quite nice.
At the end, we landed with several other groups at Five Islands, wrapped up, and then slowly went our separate ways.
---
I went back to the cabin and began packing my gear after texting Mister Cowgirl that I and all my things were in one place. I chatted with other coaches as they, too, packed. A few were staying an extra couple of days to take part in skills and coaching assessments. When so many paddlers are in one place already, it makes sense to coordinate other activities around the same time.
There was no formal coach's party, but while I waited, and everyone arrived and got their gear sorted, we began to hang around the couches and share snacks and beverages. We talked about our groups; this incident or that incident (nothing major, just stoke-y). Plans for the coming year and things we'd missed having had a year off due to Covid.
I later mentioned my "coach stoke". There's a feeling one gets as a paddler in going out in unusual conditions, in practicing things you're not normally able to do; I had the same feeling as a coach, being with other coaches, watching them and comparing notes. I've come away with a feeling of inspiration I was completely lacking last year. It's good.
Hopefully, we'll continue next year as well. Meanwhile, as we move into cooler weather in my area, thoughts turn to planning and more gear-intensive, cold-water paddling.